This Sunday, the Chicago Bears host the New York Giants in their 2020 Soldier Field debut. While both teams experienced hiccups of their own in week one of the NFL season, each team came away with different results. The Bears struggled early against the Lions in Detroit but managed to put it all together in the end. The Giants were embarrassed on national television by the Pittsburgh Steelers, who enjoyed a vintage performance from Ben Roethlisberger.
Both teams showed rust likely due to short training camps, but the Bears hold the edge in the offensive numbers while the Giants allowed fewer yards overall. While most people outside of New York would agree that Chicago's defense is the far more talented unit, it is concerning to see the yardage allowed last week.
| | | |
| --- | --- | --- |
| Week One Stats | Bears | Giants |
| Points (For) | 27 | 16 |
| Yards (For) | 363 | 291 |
| Passing Yards (For) | 214 | 262 |
| Rushing Yards (For) | 149 | 29 |
| Points Allowed | 23 | 26 |
| Yards Allowed | 426 | 349 |
| Time Of Possession | 29:05 | 28:16 |
Deja Vu?
If you weren't paying attention, you'd think the Bears playing the Giants were a yearly occurrence. Sunday's matchup will be the fourth time in five years the two teams meet in the regular season, with the most recent contest taking place in 2019. In that game, it was the first matchup between Giants' quarterback Daniel Jones and Bears' quarterback Mitchell Trubisky. Jones put up the more impressive stat line, but Trubisky came away with the victory.
| | | |
| --- | --- | --- |
| 2019 Matchup | Mitchell Trubisky | Daniel Jones |
| Attempts/Completions | 25/41 | 21/36 |
| Touchdowns | 1 | 2 |
| Interceptions | 2 | 0 |
| Yards | 278 | 150 |
| Completion Percentage | 61% | 58% |
| Passer Rating | 69.0 | 86.6 |
X-Factors
Now, to the heavy hitters of this week's matchup. Once again, I'm joined by fellow Bears On Tap contributors Kevin Gora and Aalap Desai.
Duke: C Cody Whitehair
"I'll say it until I'm blue in the face: IT ALL STARTS AT THE LINE OF SCRIMMAGE. While I came away last week impressed with the interior of the offensive line, Cody Whitehair finds himself in a tough matchup this week. Leonard Williams is one of the best young defensive tackles in the game and Whitehair is going to see a ton of him on Sunday. If he can contain Williams and win the physical game, it'll open up some runs to the second level."

– Duke Coughlin (@ThatPodGuyDuke)
Kevin: CB Kyle Fuller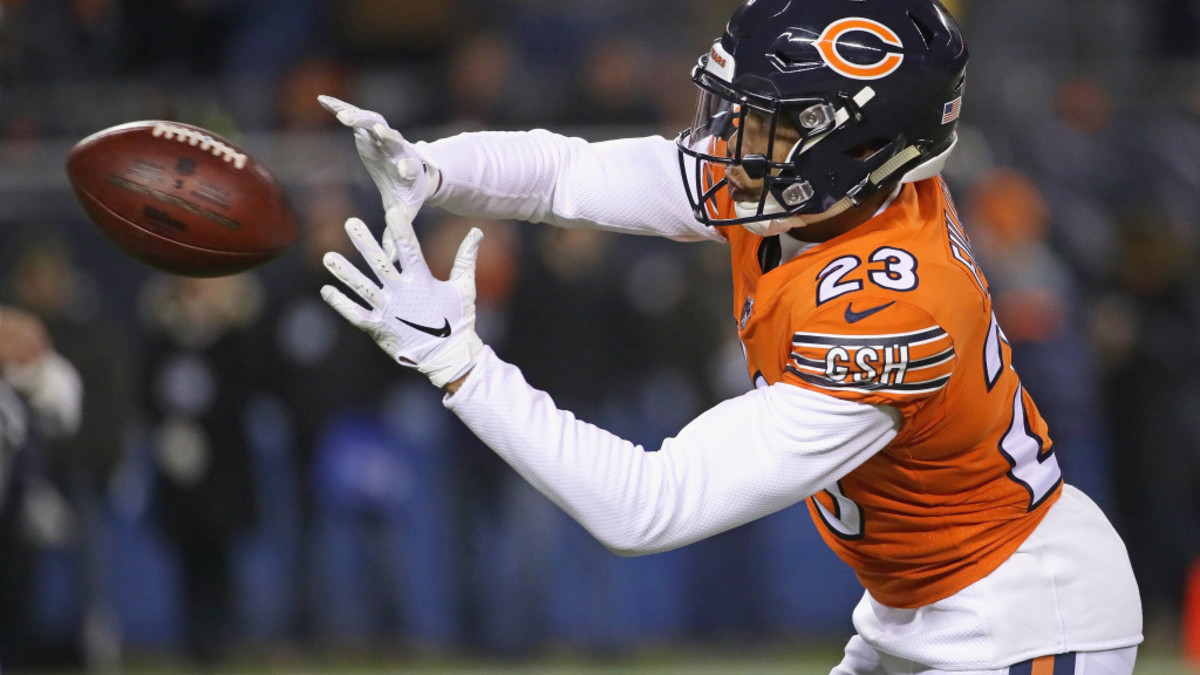 "Kyle Fuller playing well will be of great importance for a Bears win in week two. The Giants may have lost in week one to the Steelers, but their receivers are no joke. Most notably, youngster Darius Slayton has a chance to become their WR1 this week. Slayton put together a solid rookie campaign and a stellar week one last week. If Fuller is matched up against him and can lock him down, then that will help the Bears' chances of going 2-0 after the first two weeks."

– Kevin Gora (@kevingora21)
Aalap: The Entire Defense
"The Bears defense let the ghost of Adrian Peterson, at 35 years old, dash them for 93 yards on 14 carries in week one. If the Bears thought what AP did to them was bad, wait until they see Saquan Barkley this week. Don't be fooled by his 15-carry, six-yard performance on Monday Night Football. The Bears were shaky in week one and the absence of Eddie Goldman was glaring. The entire defense will have to rise to the occasion and contain Barkley, otherwise it'll be a long day."

-Aalap Desai (@ADesai410)
Predictions
Duke: 35-17 Bears
"I think Mitchell Trubisky carries over his confidence from last week into a statement performance against New York. I think Matt Nagy draws up a game plan to expose the Giants' weak secondary and linebacker room, using a balance of an inside/outside rushing attack with a heavy dose of Jimmy Graham. I'm very excited to see what Khalil Mack can do opposite of Robert Quinn, as well as a bounce-back game from Danny T. Expect turnovers to be served."
Kevin: 31-21 Bears
"Chicago heads into this week with confidence after beating a Lions team on a historic 17-point fourth-quarter comeback. The Giants' offensive line is atrocious. If the Bears can go into this game with all of their defensive starters healthy, they have a chance to put a beating on Jones and Barkley. Do not expect Barkley to have as quiet of a game as he did against the Steelers defense last week. After last week's fourth-quarter dominance, the Bears' offense has shown what they can be at their best. If Mitchell Trubisky can continue trending upward from the fourth quarter of last week's game, then the Bears can come out on top."
Aalap: 26-20 Bears
"Look for Mitchell Trubisky to carry his fourth-quarter performance vs. Detroit into this week two matchup. At least that's what Bears fans are hoping for. It doesn't hurt his chances that the Giants' defense doesn't strike fear into anyone. Expect the Bears' offense to move the ball. The key will be whether or not they improve on third downs and convert on red-zone opportunities. The offense will have to pick up the slack in order to limit the exposure of the defense's weakness to Saquon Barkley."
---
That does it for the On Tap Sports Net's crew's Bears week two preview. For further analysis and commentary on all things Bears, be sure to tune in to the Bears On Tap podcast.
---