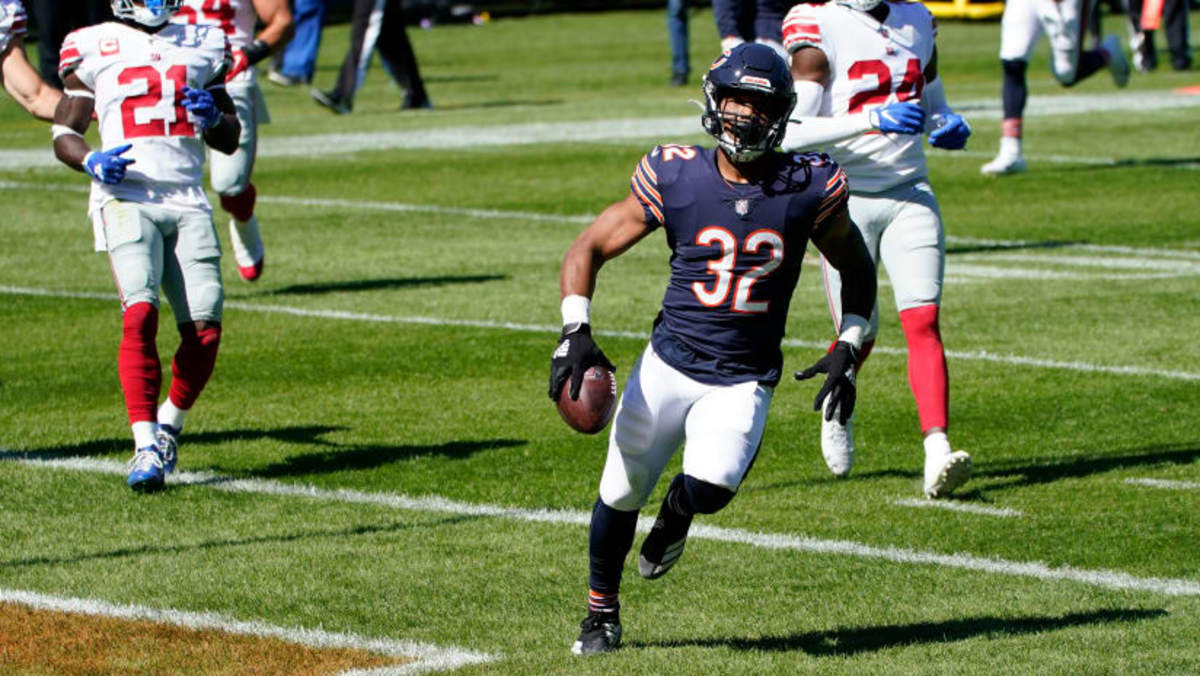 Week two marked the first Bears game at Soldier Field in 2020, but it felt odd without diehard Chicagoans filling the seats. However, the Bears walked away with a 2-0 record, which is all that matters. It doesn't matter how they do it, getting wins in the NFL is hard. Sure, it hasn't been pretty through the first two weeks, but it's hard to complain about the end results: the Bears have their first 2-0 start since 2013.
For the second week in a row, the Bears won an ugly game, leaving fans wondering what they watched for three hours on Sunday. There was a lot to absorb from the week two victory over the Giants, so let's dive right in.
David Montgomery
Have yourself a day, David Montgomery! The second-year running back carried the ball 16 times for 82 yards, good for an average of 5.1 yards per carry. Montgomery's longest run of the day came late in the fourth quarter on first and 25 when he gashed the Giants' defense for 23 yards. He was clearly the most effective runner on the day for the Bears.
Not only that, but Montgomery was the leading receiver for the team too. He recorded three catches for 45 yards and a touchdown. The TD came in the first quarter when Mitch Trubisky improvised and rolled out to the right and hit Montgomery up the sideline. The speedy back then weaved his way through a mess of Bears blockers and Giants defenders into the end zone.
The Tale of Two Mitches: Part II
This might be a recurring segment all season long. Mitchell Trubisky picked up where he left off in the fourth quarter of the Bears' week one victory at Detroit. His first half against the Giants was as good as anyone has seen since the six-TD game (9/30/18 vs. TB).
The second half was a totally different story, as Trubisky's line read: 5/10, 31 yards, 2 INT. One could say that one or even both of the INTs were not on the QB. Regardless, Trubisky will need to put together a more complete effort from start to finish if the Bears want to be competitive against higher-quality opponents going forward.
One knock on Mitch from this past Sunday was that he held onto the ball way too long at times, resulting in unnecessary sacks. For the most part, he was good, but there is clearly room for improvement.
Third Down Conversions
The Bears were significantly better on third down this week than they were in the season opener. At one point, they were 9-for-12. Overall, they finished 9-for-16 compared to an 0-for-6 showing vs. Detroit in week one.
Defense
Before anyone panics over the defense, let's put things into perspective. They held the Giants to 13 points and under 300 total yards (295), with or without Saquon Barkley and Sterling Shepard. The defense recorded four sacks and forced two turnovers (strip-sack, INT). If it wasn't for a ticky-tack defensive pass interference call by the refs, Eddie Jackson should have added a pick-six as the cherry on top.
The Giants capitalized on two Bears turnovers, which resulted in two field goals (six points). New York put together one impressive drive in the third quarter where they marched 95 yards for a touchdown. That drive was aided by an awful unnecessary roughness call on Roquan Smith, however.
Yes, it's true. The Bears defense did play softly in the second half when they allowed most of their yards. However, they were basically playing prevent, which allowed Daniel Jones and the Giants dink and dunk their way to 13 points. When it mattered, they made the stop.
Let's not forget defense is still a super talented group. Robert Quinn finally made his first start as a Bear, but he was limited because he's returning from an ankle injury. Even so, he was able to record a strip-sack to introduce himself to Chicago. His presence will undoubtedly make the defensive line much better. The unit as a whole should only get stronger as they get more snaps under their belt.
Danny Trevathan
If there is one real concern about the defense, it's Danny Trevathan. He played only 31 of 65 defensive snaps while Deon Bush came in to replace him in sub packages, primarily on passing downs. Trevathan has looked significantly slower and hasn't been able to hold his own when matched up with RBs or TEs.
Whether this is a conditioning issue or a tentativeness due to his injury from last year, it's something to keep an eye on going forward when evaluating the Bears defense.
Anthony Miller
The wide receiver dropped two crucial passes in this game. The first came on a third-and-six with 4:46 remaining in the first quarter. Trubisky threw a beautiful pass with great anticipation and touch that dropped into Miller's hands in the end zone, but it ultimately fell incomplete. That mishap left six points off the board.
The second drop happened, again on third and six, this time from the Giants 38-yard line. Trubisky perfectly timed the out route to Miller amidst tight coverage. The pass would have been a first down or at least close to it, which would have extended the drive or given the Bears a shot a field goal. Instead, the Bears were forced to punt and cut short an otherwise promising drive.
Miller did not record a reception on the day. The aforementioned drops in crucial moments of the game could be make-or-break scenarios going forward. Luckily, the Bears got the win this week, but Miller's issues could loom large against tougher opponents.
Darnell Mooney
The rookie receiver is quickly climbing up the ranks for the Bears. He's clearly earned the trust from Mitch Trubisky. Mooney hauled in three catches for 36 yards and a touchdown against the Giants. The TD was a thing of beauty, as Trubisky bought himself time with his legs and threw a 50-50 ball to the opposite side of the field, which Mooney came down with.
Cairo Santos
Here's the first negative mention of a Bears kicker so far in 2020. Santos shanked a 50-yard field goal wide left with 2:02 left in the game, which would have given the Bears a seven-point lead and a little more breathing room down the wire. Eddy Pineiro is due to return from injured reserve in week four, so the Santos experience will continue at least one more week.
Bobby Massie
Game-saving catch by the right tackle? You better believe it.
Fun fact: at 312 pounds, Bobby Massie is the heaviest NFL player to catch a pass this season.
Coaching
On the offensive side of the ball, the coaching staff has done a relatively solid job through two weeks of this young season. For the most part, Matt Nagy has done a decent job at calling plays. While there are some mistakes and lingering issues, fans should commend Nagy's commitment to the running game and his attempts to better cater to Mitch Trubisky's strengths.
The new faces on the coaching staff have done wonders as well. Bill Lazor and John DeFilippo's influence on Nagy seem apparent. Experienced NFL coaches are proving a fresh new perspective to the still raw head coach.
One can't discuss the Bears' coaching staff without mentioning Juan Castillo and the job he's done with the offensive line. The pass blocking has vastly improved. Fans have hardly noticed any holding or false start penalties. Charles Leno, Bobby Massie, and Germaine Ifedi were the weaknesses coming into the season, but all of them have been pretty solid thus far.
An honorable mention also goes out to tight ends coach, Clancy Barone. Whether it comes to run blocking or the passing game, this unit is probably the most improved position group from last year. Does anyone miss Trey Burton or Adam Shaheen? (Don't answer, that was a rhetorical question).
The coaching is night-and-day better than in 2019. They aren't where they want to be just yet, but it's breath of fresh air.
Still Rusty?
The Bears still look like they're working out the kinks and knocking off the rust early on in the 2020 season.
Offensively, they're leaving too many points off the board, as they don't look totally in sync yet. 17 points against a questionable Giants defense is frustrating. Going forward, it's imperative that they put a complete game together. It's been one quarter and one half, respectively, through the first two weeks.
Defensively, it might just be about getting their legs under them and applying a more consistent pass rush. The defense has not yet proved that they're back to their dominant ways, but they're close.
What's On Tap Next?
The Bears will travel to Atlanta to take on the Falcons on Sunday, September 27th at 12 PM central time. The Falcons suffered a brutal loss to the Cowboys in week two, one that was highly publicized because blew a 29-10 halftime lead.
The Bears will be visiting Mercedes-Benz Stadium for the first time since its opening in 2017.
Be sure to tune in to the Bears On Tap podcast for postgame reactions, updates and analysis throughout the week, and discussions on a variety of other Bears-related topics.
---