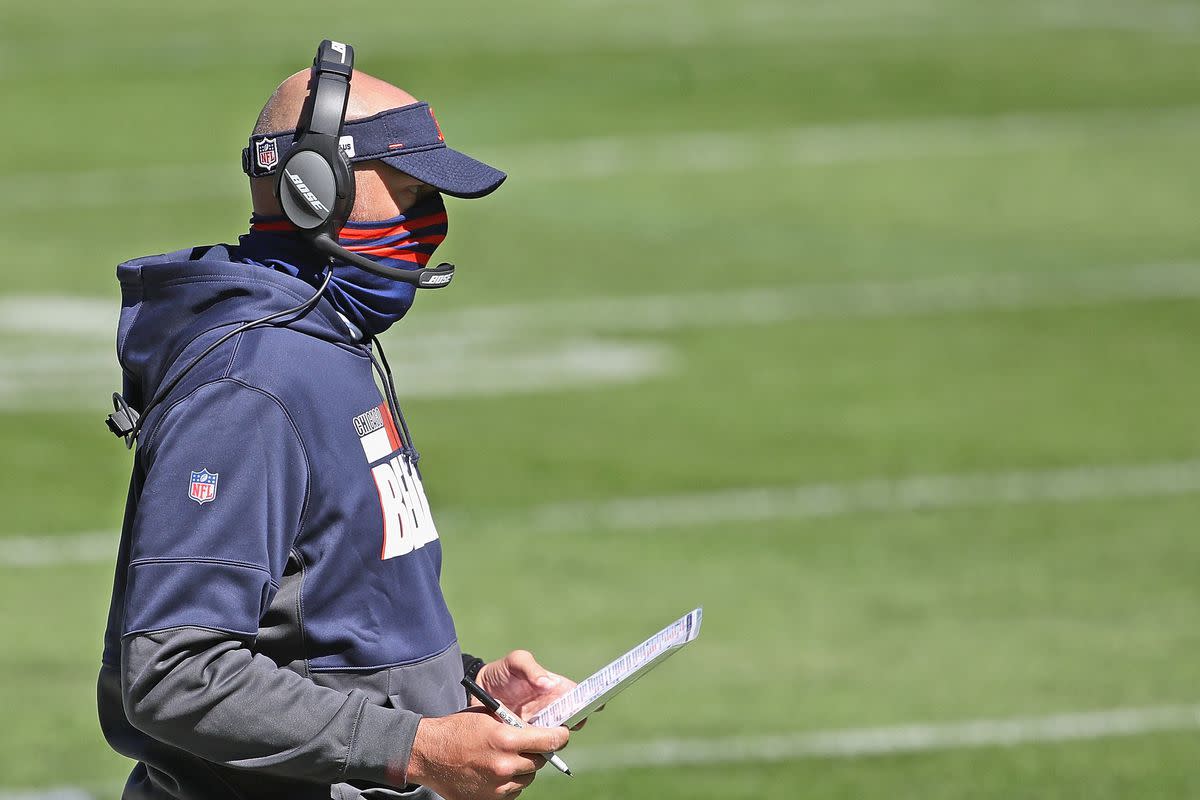 During his team's week three contest in Atlanta, Chicago Bears' head coach Matt Nagy was pressed into a difficult decision. In a game that was quickly becoming one-sided, Nagy knew it was time to make a change. The Mitchell Trubisky experiment was officially over. After over two seasons working to develop the former first-round pick, Nagy pulled the struggling quarterback in favor of former Super Bowl MVP Nick Foles. The rest, well, is history.
After an incredible comeback led by Foles, Matt Nagy looked like the smartest guy in Atlanta. Finally, a quarterback that could thrive in Nagy's system and a spark for an already undefeated team. The Bears offense is saved… right? Not so fast.
The Point Of No Return
While the move to bench Mitchell Trubisky worked out this past week, it was a move that really has no other options moving forward. With Matt Nagy choosing to have his offensive coordinator break the news to Trubisky on the benching, many believe that the relationship is done.
On top of that, Trubisky was undefeated on the season and has proven that he has the ability to come back in late-game situations. While it's hard to argue with the final result, it's also hard to imagine Nagy could ever go back to his young QB — which might be for the best in the long run.
The Narrative Has Played Its Course
Now that the 'Trubisky Experiment' is presumably over, something else can also be laid to rest. Since their first season together, many have speculated that Coach Nagy scaled back his playbook. The reason being that Trubisky couldn't handle the complicated concepts, reads, and audibles. This argument was consistently used as the excuse as to why Matt Nagy couldn't produce a top-ten offense year in and year out. Many believe now that Foles has the keys, the 'new-look offense' has the potential to finally take off in Nagy's vision.
This leaves us with one final question.
If Foles Fails… Who Do We Blame?
How exactly does it get spun if Nagy's offense doesn't take this giant leap forward? Where does this team go if the numbers look the same four weeks from now? Hopefully this is a question that doesn't need to be answered, but it can't simply be ignored. Nick Foles is a veteran quarterback who has proven he can succeed in Andy Reid's and Doug Pederson's system, the exact system that brought Matt Nagy to Chicago in the first place.
As noted earlier, Matt Nagy could always fall back on the 'Trubisky Experiment' every time critics brought up offensive ineptitude. Now that Foles is in the driver seat, that excuse will no longer hold water. If the offense struggles to score points going forward, there's only one man to blame: Matt Nagy.
---