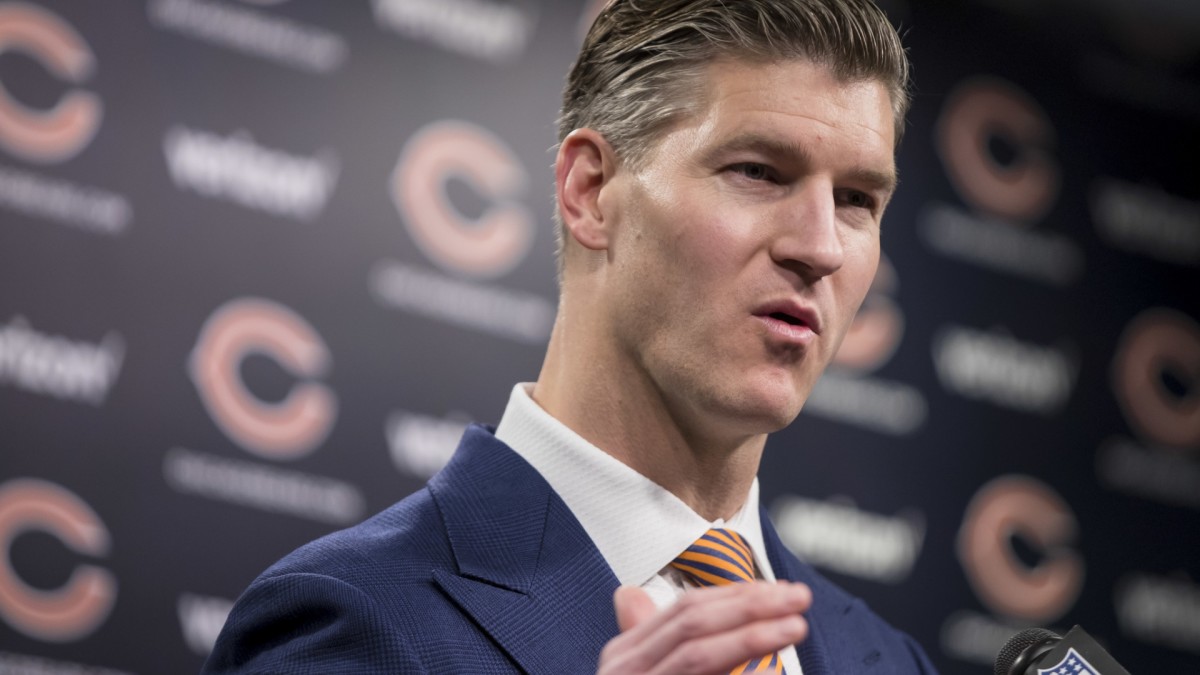 Lately, a lot of Bears fans have been vocal about former players finding success on other teams. One week, Kevin Pierre-Louis will lead the league in tackles and the next Mike Davis will score 25 fantasy points. On the surface, it seems like a negative, which leads many to ask, "How could the Bears let them walk away?" When you dig a little deeper, however, it leaves plenty of room for optimism.
This isn't an article advocating for Ryan Pace. This is simply a matter of stating the facts. Either way you want to look at the Mitch/Nagy argument, that's Pace's most egregious mistake. Either he drafted the wrong guy or hired a coach that didn't know how to utilize him, but that's not what this is about. So why should Bears fans be optimistic when they see Adrian Amos playing at a high level somewhere else?
Let's look at this from a numerical standpoint. Below is a chart that analyzes how many Bears' unrestricted free agents (UFAs) were on the market, how many UFAs the Bears re-signed, how many UFAs earned a contract elsewhere, and how many of those players didn't earn a contract at all. It starts in 2015, which was Ryan Pace's rookie season, and runs through his tenure with the Bears.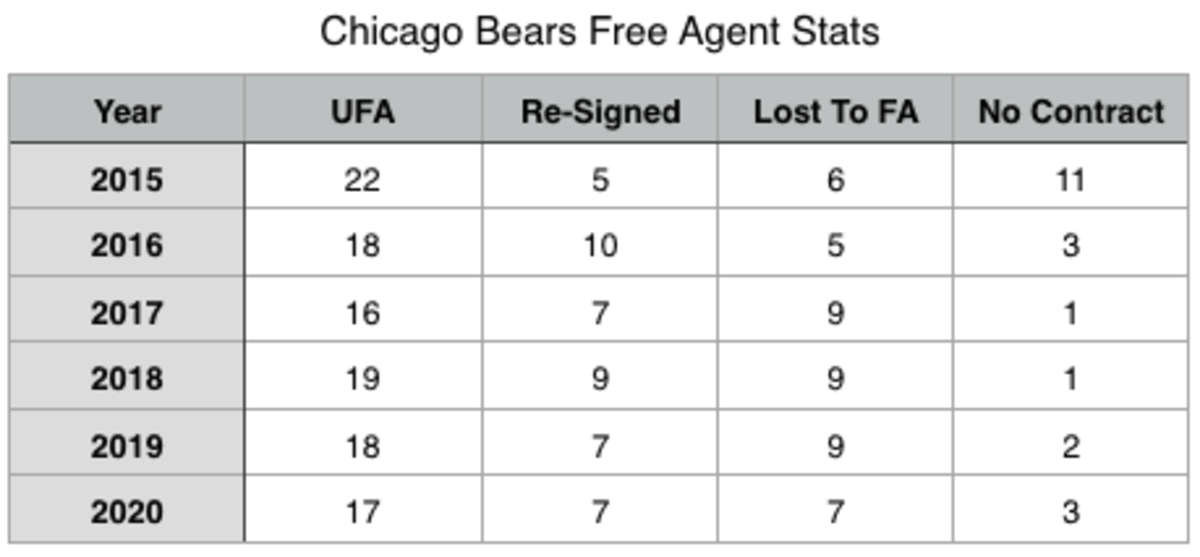 The first thing that jumps out is how much fat Ryan Pace had to trim in 2015. 11 of 22 players set to hit the market in 2015 were not offered a contract by anyone. To put that in perspective: in the next five years combined, ten players were not offered contracts by any team. An average of 35% of the 2015 and 2016 UFAs were not signed to any contract, while the 2017-2020 classes only had an average of 10%, a 25% decrease.
There is also a trend with the players lost to free agency. In Pace's first two years, the Bears lost an average of 5.5 out of 20 players. In the next four years, they lost an average of 8.5 out of 17.5 players. From 2015 to 2016, the Bears lost 28% of their UFAs to other teams and from 2017 to 2020, 49% of their UFAs were signed with other teams, a 22% increase.
As John Fox would say, "I was a math major, I wasn't actually." But even if you didn't make it to pre-calc, it's clear those numbers are moving in the right direction. The numbers show that the Bears have decreased the amount of UFAs that didn't get signed while increasing the amount of UFAs that left in free agency. Those trends prove that the acquisitions and draft picks Ryan Pace has made have improved the roster dramatically.
When you move past the math and toward the eye test, it still checks out. Yes, you can pick apart certain things. Danny Trevathan has gotten off to a slow start and in hindsight, it looks like Nick Kwiatkoski and Kevin Pierre-Louis may have been the smarter decision. It's easy to see that now, but going into the offseason many people prioritized Danny Trevathan as a must-sign free agent. Since he was brought to the Bears in 2016, the defense has been noticeably better while he was on the field, especially in that 2017 season. I know, the NFL is a 'what have you done for me lately' business, but the leadership that Danny Trevathan brings to the team is something that shouldn't go unnoticed. He has also been dragged through the mud a little too much this season. While his Week 1 showing was uncharacteristic, he's improved every game since then and almost looked to be back to normal against the Buccaneers in Week 5.
You also have to factor in contract values, but this isn't a math lesson anymore. At the end of the day, Ryan Pace signed players like Kevin Pierre-Louis and Nick Williams to veteran minimum deals and now those players 2020 contracts combine for eight million dollars. Even though Mike Davis is stringing together a few nice games, it was still an obvious move to cut him last year. He wasn't being used, and that may be more on Nagy. We're now seeing that Mike Davis has talent but Ryan Pace doesn't choose who is on the field, so he was smart and decisive. Pace saw an opportunity to cut an unutilized Mike Davis and got the Bears their first comp pick in over a decade. This is another good sign that the roster is trending in the right direction.
How many times have we seen Bill Belichick sign a player for the vet minimum, sign with another team for a way larger contract, and the Patriots get a comp pick out of it? It's something that can't be understated. We see all of the well-oiled machines that we call NFL franchises do this year after year. It's a good start, but the Bears need to be in the comp pick formula every year moving forward.
Sometimes you have to look past the big misses and look at the grander scheme of things. The starting lineup is lightyears ahead of what Ryan Pace walked into, but more importantly, roster spots 24-53 have dramatically improved.
The offensive line is really the only position without quality depth, and now we'll see that depth put to the test with James Daniels on IR for the rest of the season. Defensively, Ryan Pace has it all figured out. How many teams can lose both of their starting linebackers and pick up the pieces as if nothing happened? That's what the Bears did last year. Injuries always happen and teams need depth because of that. But more importantly, quality teams also let high-ticket players walk in free agency, replace them with former quality depth players, get the comp pick, and repeat that process.
Like every other GM in the league, Ryan Pace has made some terrible draft picks and UFA signings. There is no denying that, but you also have to see that the foundation is in place. All the numbers indicate that Ryan Pace is trending upward. It was moving at a rapid pace until the Kahlil Mack deal happened. That's a move you have to make, but also a move that tightened things up the last couple of offseasons.
Even though it sucks watching Patrick Mahomes light the league on fire while the Bears offense flutters in every game, it's still okay to appreciate what you have as a Bears fan. The Bears are 4-1 and are going to make the playoffs. Not only do the Bears contractually have the defense locked up for a few years, but they also have three picks in the first three rounds of next year's draft — a luxury they haven't enjoyed since the Mack acquisition.
---