After Notre Dame's scare against Louisville on Saturday, it's quite evident the Irish defense is once again on another level compared to the Irish offense. Ian Book and company were only able to muster up 12 points against a Louisville defense who allowed a whopping 46 points to a bad Georgia Tech team just eight days prior. While ND was still able to move the ball on the ground to the tune of 232 yards and 4.7 yards per carry, the offense could not get the job done in the redzone (one TD in five redzone appearances). This is largely because Notre Dame had no answers when Louisville loaded the box to stop the run.
Notre Dame's Struggles Through the Air
Nothing in the air seemed to work for Ian Book and the Notre Dame offense, as they accumulated only 106 passing yards on the day. While Book did a better job of stepping up in the pocket and keeping his eyes downfield, the end result was the same in that most of his dropbacks resulted in him tucking the ball and running. This is because ND's wide receiving corps struggled all game long to create any separation from the Louisville defensive backfield, leaving Book with really no other options.
Fans are too quick to cast blame on Book when the passing game stagnates because Book has struggled in the past (even at times this year) by getting happy feet in the pocket once pressure hits or his first read isn't open. While Book was by no means perfect on Saturday and did, at times, miss throws and escape the pocket too quickly, from my point of view, the bigger issue was on the perimeter at wideout. This group of receivers has severe deficiencies and appears to be Notre Dame's most glaring weakness.
No Chase Claypool or Miles Boykin in that Locker Room
It's worth noting that this receiving group has dealt with a whole host of injuries. Kevin Austin, Ben Skowronek, Lawrence Keys, and Braden Lenzy, four of ND's six top receivers going into 2020, have been sidelined via injury already this season. However, in the small amount of time each player has seen the field, none have been particularly impressive, and every time Chase Claypool scores a touchdown in the NFL, it's another reminder of what this Notre Dame offense does not have this season.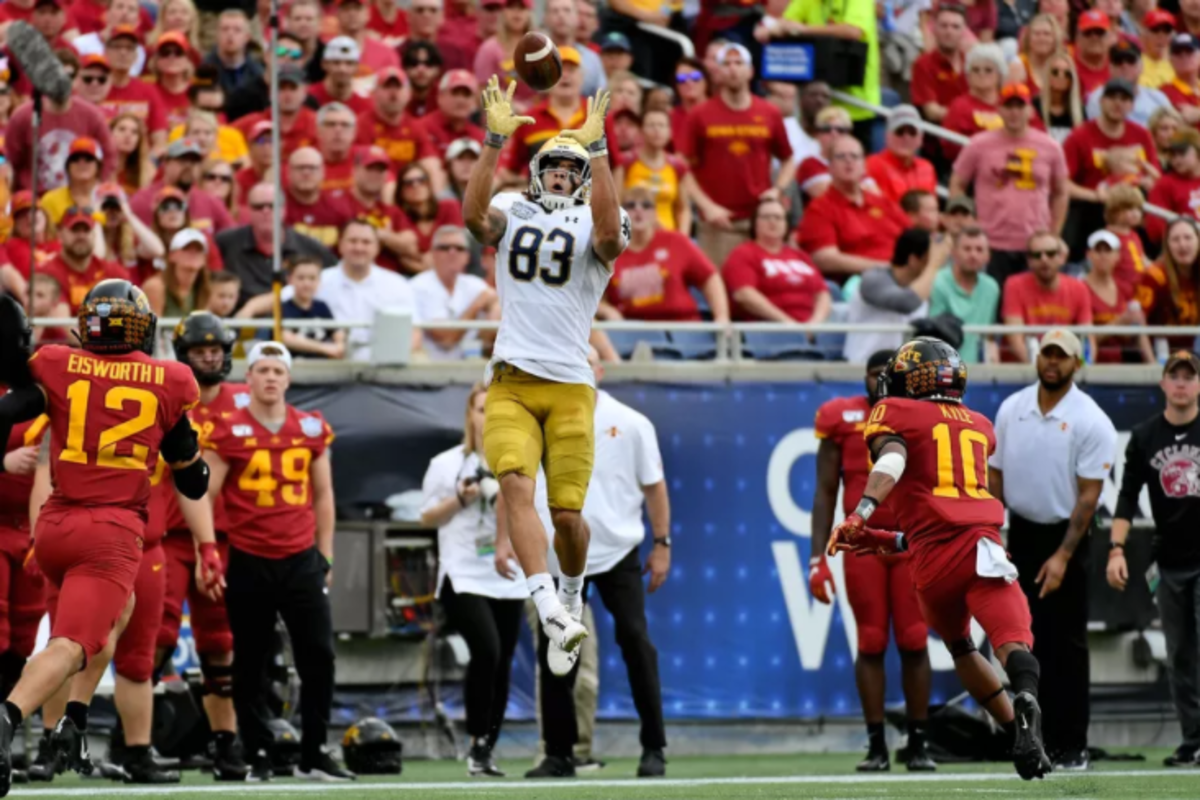 As painful as it is for Notre Dame fans to realize, there's no Miles Boykin or Chase Claypool type of talent in that locker room in 2020. Ben Skowronek is a big body receiver but lacks the explosiveness to win one-on-one matchups with his feet. Braden Lenzy absolutely has that NFL explosiveness, but he's more of a deep threat, rather than a possession receiver, due to his size. Javon McKinley has shown some flashes this season as that go-to guy, but has dropped many catchable balls, which is becoming a severe concern.
The fact of the matter is this: Notre Dame is missing that big body, explosive receiver that Ian Book can rely on to consistently create separation in one-on-one situations. Kevin Austin is the one player that has the physical makeup to blossom into that role, but the clock is ticking. It's his third year in a Notre Dame uniform and at some point, potential needs to turn into production.
At This Point, We Know Ian Book's Deficiencies
Look, I'm by no means saying Ian Book played fantastic and should be immune from criticism. But at this point of his career, every ND fan should know exactly what to expect from Ian Book as a quarterback. He's a very good QB that makes good decisions with the football, rarely turns it over, is pinpoint accurate within 15 yards, and can make plays with his feet. However, he has physical limitations. We've seen this for years. Book struggles to stretch the defense because he lacks the arm strength to throw the football beyond the field side dash marks. This inability renders an entire third of the field worthless, which really limits an offense's potential.
This is why having receivers who Book can rely on to create separation within 15 yards is vital for this offense. It's also why Miles Boykin and Chase Claypool were so crucial for past ND teams (as well as Cole Kmet). Sure, Braden Lenzy has NFL speed that is tough to cover downfield one-on-one. But, that does not play into Book's strengths, as he has never shown the ability to accurately throw the ball downfield to receivers in stride.
Notre Dame's Offense is as One-Dimensional as Can Be
Right now, Notre Dame's receivers aren't explosive enough to create any real separation against opposing defensive backs within 15 yards. Couple that with Ian Book's inability to throw accurately downfield, and you have a very anemic offense. Not to mention the offensive line's struggles in pass protection against quick, athletic defensive fronts (as shown by Duke and Lousiville). Put all this together, and you have an offense that is the exact opposite of dynamic. Through four games, one thing is clear: If the offensive line is unable to bully opposing defensive front sevens via the run game, Notre Dame will struggle to score points.
I mean, you can only ride Kyren Williams and this elite run-blocking offensive line so far. At some point, you have to air it out and score points. This offensive line, as great as it may be, won't be able to bully that Clemson front seven. They'll load the box to stop the run, man up on the perimeter, and force these receivers to create separation and Ian Book to throw the ball accurately downfield. This defensive gameplan by Clemson shut down Notre Dame to the tune of 3 points in 2018. If ND doesn't do something to mask this weakness and improve the passing game in the next three weeks, we're looking at the same results on November 7th.
---