The Chicago Blackhawks are entering have entered a new era. An era that most modern-day Blackhawks fans are not used to. An era that some fans may not come out on the other side of.
As of Tuesday, October 20th, 2020, the Chicago Blackhawks have officially declared they are rebuilding no longer responsible for poor on-ice performances.
In a letter directed to fans, the organization finally stated its "clear" intentions.
Gone long ago are the days when we were graced with watching the likes of Hall of Fame winger Marian Hossa, shot-blocking extraordinaire Niklas Hjalmarsson, and pure goal-scorer Patrick Sharp routinely give Blackhawks fans the pleasure of hearing The Fratellis blasting from the United Center rafters as the clock expired.

Gone is Hall of Fame and second all-time winningest head coach Joel Quenneville, and the same goes for the marketing mastermind behind the "One Goal" mantra, John McDonough.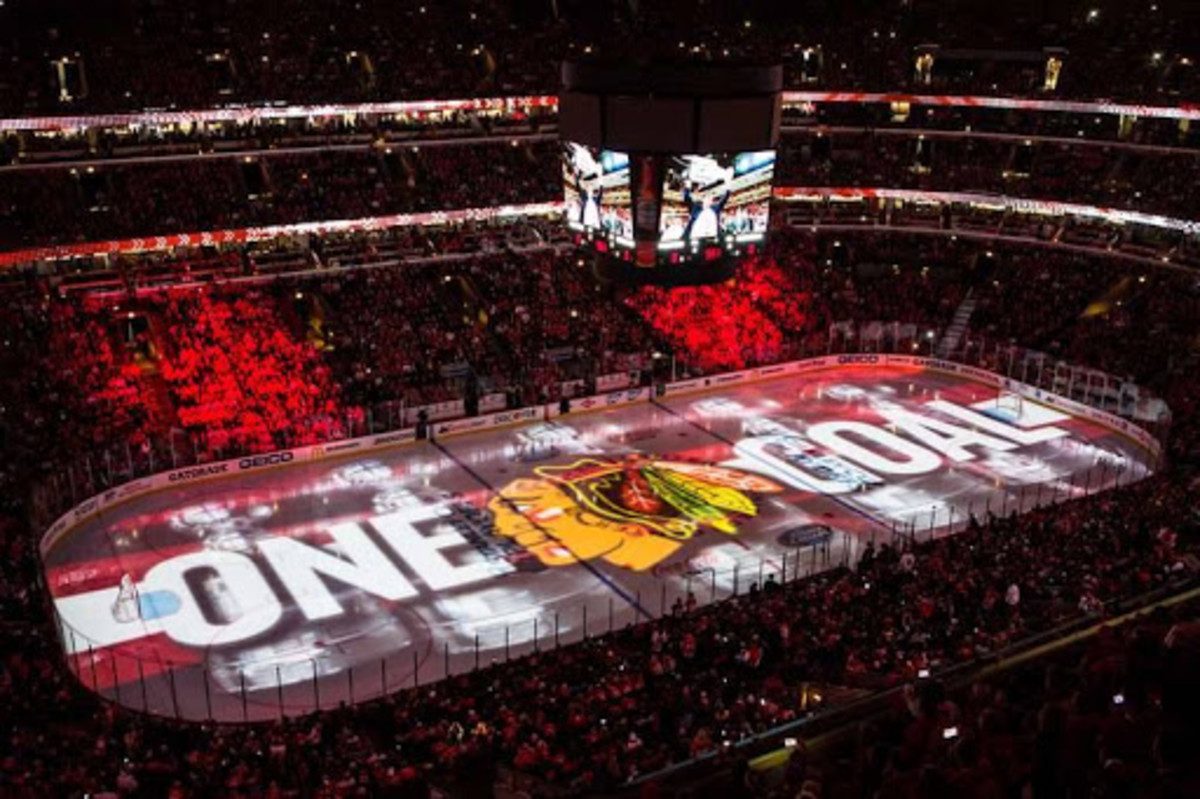 Now, Corey Crawford has a new home in New Jersey after the Blackhawks decided to move on instead of offering the two-time Stanley Cup-winning netminder a new contract.
Brandon Saad has once again been moved in a deal that causes most around the game of hockey to scratch their collective heads and say, "Why exactly did you do that?"
What was once a Blackhawks dynasty has slowly but surely been torn to pieces, and gone with it is the joy of watching the Blackhawks play meaningful hockey into late May and early June. Gone with it are likely also to be many of the fans that packed the United Center on a consistent basis watching what was once the best professional sports team in Chicago for nearly a decade.

One constant has remained, however.
This guy…
Just look at that fucking smile. He knows. He isn't going anywhere. This is the kind of smile reserved for two types of people: serial killers and those who know they cannot be held accountable for their actions.
Stan falls into the latter category here. In fact, Stan Bowman knows he lives so far above the law that he did not even feel the need to let team captain Jonathan Toews know the direction in which the franchise was headed.
After the open letter to Blackhawks fans was released stating the organization's focus on rebuilding, Stan Bowman proceeded to take a victory lap around Chicagoland and national media, appearing on multiple podcasts and interviews spewing out head-scratching statements.

If you like the feeling of your blood pressure skyrocketing, read this bit from his interview with Emily Kaplan of ESPN:
There is a lot to unpack here. First and foremost, if the team is on the same path as last year, or the year prior, why are we all of the sudden being presented with a letter of intent? Letters of intent are normally reserved for changes of direction or an actual intent to carry out an action. What exactly is being carried out here? Are the Blackhawks actually committing to rebuilding, or are they simply shedding salary and the high expectations that the organization had once rightfully set for themselves? Still, the question remains: why say all of this NOW?

Were Blackhawks fans being lied to for two years whenever a member of the front office stepped in front of a microphone and stated the team was built to compete in the playoffs? Were fans being lied to every time a "One Goal" commercial delivered a message of competing for hockey's highest honor into our living rooms, basements, and drinking establishments? Apparently, the answer here is yes.

Beyond that is Bowman's willingness to speak for his team's captain, only to follow speaking for him by saying, "I don't want to speak for him, (but) I'm just guessing."
Well, Stan, I'm guessing that Jonathan Toews is currently on the phone with his agent.

Only time will tell if Toews, Patrick Kane, Duncan Keith, and Brent Seabrook remain a part of the Blackhawks organization, but in the immediate future, only one man seems safe.
---