This Monday, two of the top teams in the NFC meet in a Week 7 matchup that carries serious playoff implications. The Chicago Bears currently hold the second-best record in the NFC at 5-1, while the LA Rams sit only one game behind at 4-2. Both the NFC North and NFC West are respected around the league as being consistently two of the tightest divisions in football. In fact, the last 15 NFC Championship games have included at least one team from either division. A win for either team in this contest will almost certainly boost their chances of making it 16 in a row.
Offensive Matchup
For the Bears, it seems to be the same old song and dance, which might not be a bad thing. Obviously the box scores have been ugly and legitimate concerns about play-calling are warranted, and quarterback Nick Foles seems to be very aware of it. When pressed on the issues on offense, Foles embraced the idea of winning ugly and continuing to improve every week. As long as the Bears continue to win, it doesn't seem that too many in the building are worried about it.
For the Rams, Sean McVay and Co. have had no issue moving the football. They just can't seem to seal the deal. While sitting in the top ten in yardage this season, the Rams rank 19th in scoring offense. Lacking a legitimate speed threat has limited what they can do, as the team traded Brandin Cooks this past offseason. The absence of a goal-line running back has also been noticed, with Todd Gurley going to Atlanta.
| | | |
| --- | --- | --- |
| Per Game Stats (Offense | Bears | Rams |
| Points | 21.3 (27th) | 25.3 (19th) |
| Total Yards | 312.8 (28th) | 388.2 (10th) |
| Passing Yards | 222.8 (24th) | 253 (15th) |
| Rushing Yards | 90 (29th) | 135.2 (10th) |
Defensive Matchup
For the Bears, the 'bend, don't break' style has worked so far. When the pass rush isn't terrorizing quarterbacks, the secondary is stopping receivers quickly after the catch. Danny Trevethan has been noticeably improving week by week, while rookie Jaylon Johnson has been making the most of every matchup he faces. Add Akiem Hicks playing at an All-Pro level and Eddie Jackson getting pick-six touchdowns called back, and the defense seems to be hitting their stride.
For the Rams, their defense is also starting to click. While the 49ers gave them a tough time last week, the pass rush continues to be dominant with Aaron Donald leading the way. Jalen Ramsey leads the fourth-best pass defense in football, which has been causing pass-happy offenses to revert to the run game. While maybe not as recognizable as some of the names on the Bears defense, this Rams unit is not to be trifled with.
| | | |
| --- | --- | --- |
| Per Game Stats (Defense) | Bears | Rams |
| Points | 19.3 (7th) | 19 (5th) |
| Total Yards | 337.2 (7th) | 318.5 (4th) |
| Passing Yards | 224.2 (11th) | 209.5 (4th) |
| Rushing Yards | 113 (14th) | 109 (12th) |
X-Factors
Per usual, I am joined by fellow Bears On Tap contributors Kevin Gora and Aalap Desai to give our X-Factors of the week.
Duke: LB Roquan Smith
"The defense is only as strong as its leader and Smith has become just that. The third-year linebacker has already logged 52 combined tackles on the season while only missing three. He has also taken on play-calling duties in the huddle, which is a role he seems to have embraced. With a matchup against two pass-catching tight ends in Tyler Higbee and Gerald Everett, Smith will need to be on top of his game. Jared Goff makes his living in the seams, which is where Roquan is usually at his best in coverage. If he can be a constant presence in the middle, expect Goff and the Rams offense to have a long day."
– Duke Coughlin (@ThatPodGuyDuke)
Kevin: WR Anthony Miller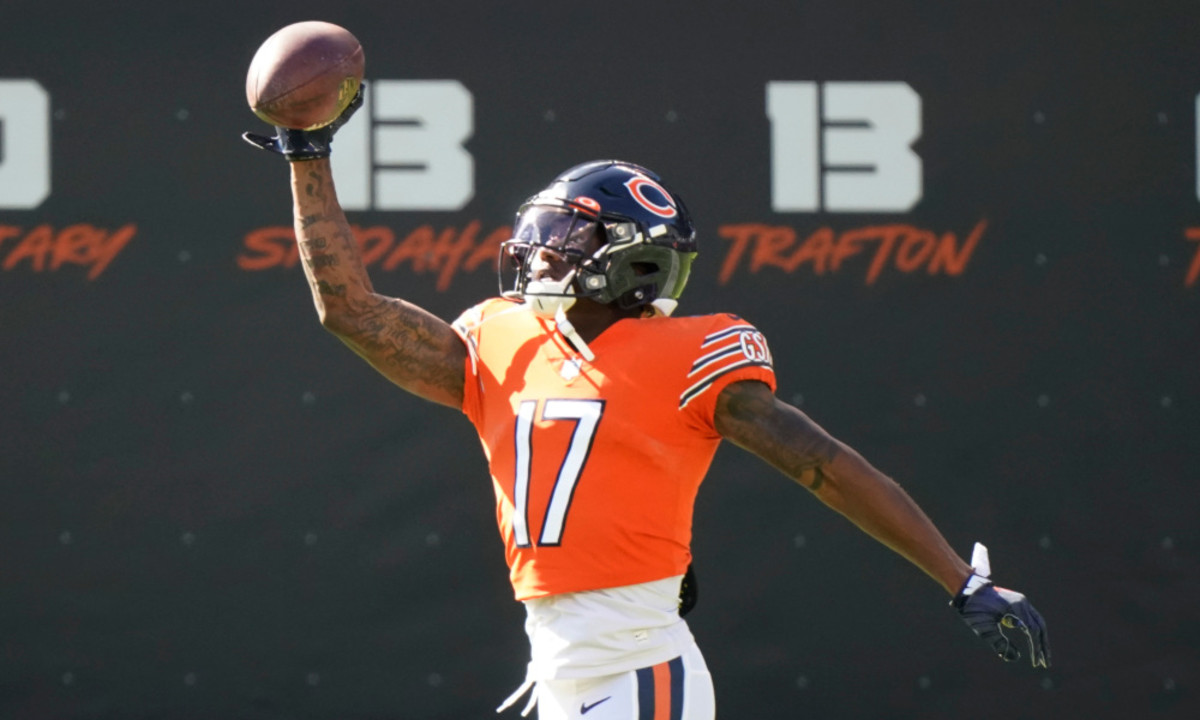 "Miller is the type of guy that has the talent, but for whatever reason, he can only show glimpses of it at a time. At his best, Miller is a promising young WR2. At his worst, he is a Riley Ridley — someone who is a frequent healthy scratch. When Miller puts his talent on display, he is a great player to have on the field. If Ramsey shuts down Allen Robinson and the two rookies in Cole Kmet and Darnell Mooney get shut down as well, then Nick Foles will need someone to throw to. Enter Anthony Miller. Despite what his numbers look like this year, he managed to have some big games late last year and as we inch closer to the midway point of the season, hopefully he can start to pick up some steam."
– Kevin Gora (@kevingora21)
Aalap: TE Cole Kmet
"George Kittle ate the Rams defense's lunch last week. The middle of the field should be there for the taking. While Jimmy Graham has emerged as a red-zone threat, but he really hasn't done much between the 20s. This would be a good time for a Kmet breakout game. After catching his first career touchdown last week against the Panthers, one would have to imagine that Matt Nagy will find a way to get him on the field. Or at least, you'd think."
– Aalap Desai (@ADesai410)
Predictions
Duke: 27-17 Bears (5-1)
"While I might not be completely satisfied with the Bears offense this deep into the Matt Nagy era, I've come to accept it. This defense can win games and a guy like Nick Foles can score ENOUGH. While I think it could hurt the Bears down the line against high-powered offenses, I truly believe this approach can work against a team like the Rams. I expect Khalil Mack, Akiem Hicks, and Robert Quinn to give Jared Goff problems. It won't be pretty, but if the Bears can establish the run and Foles makes the layups, the Bears head into Week 8 with a 6-1 record."
Kevin: 24-21 Bears (4-2)
"I have completely bought into this Bears team. Despite their offensive struggles and being a one-sided team, they are winning. It may not be perfect but they find ways to win. As they go up against the Rams, they will need extra help from their offensive line to contain Aaron Donald enough so that he doesn't murder Nick Foles. The Rams' offense is going up against an outstanding Bears defense and when the pressure is on, Jared Goff doesn't typically seem to come out on top. The Bears' offense just needs to play "good enough". If they do that, then they have a great chance to go 6-1."
Aalap: 23-20 Rams (4-2)
"Halloween is in a week and the scariest thing fans will see is Rashaad Coward on Aaron Donald. Truth be told, the last two times the Bears and Rams have squared off it's been super ugly. I wouldn't expect anything different this time around. This game will come down to which side will make just enough plays. However, in the name of "necessary sacrifice", I'll take the Rams. Picking against the Bears the previous two weeks has worked out well for them.
---
That does it for the On Tap Sports Net crew's Week 7 preview. The Bears and Rams kick off 7:15 PM CT on Monday, October 26th. The game will be broadcast on ESPN. For further analysis and commentary on all things Bears, be sure to tune in to the Bears On Tap podcast.
---