For the first edition of Bears player prop bets, Lucas Perfetti (Bears On Tap) and the #OnTapBets experts (Ron Luce and DJ Musterd) break down their favorite props of the week in the Bears vs. Rams Monday Night Football matchup. It's a glorious night to bet random statistics in a football game. What better way to start our On Tap Prop Bets series than a Bears game in primetime! Without further ado, here are your staff favorites for tonight:
Nick Foles – O/U 22.5 Completions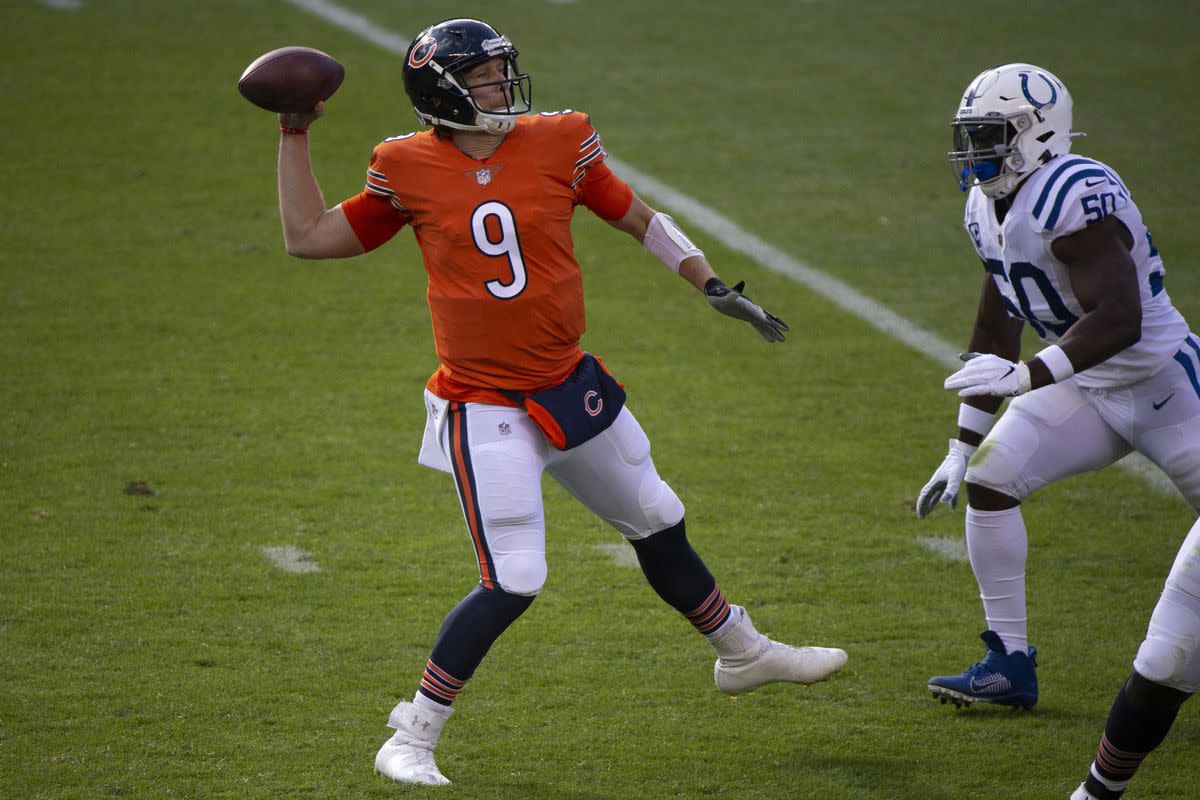 Outside of Foles' regular-season debut with the Bears and the benching of former starter Mitchell Trubisky, Nick Foles has completed at least 23 passes in all of his starts. That trend should continue tonight. He only averages 5.08 yards/attempt, but given that Foles flourishes under pressure with a hurry-up offense, this would only work in bettors' favor if they are willing to go over. More than likely, plenty of these passes will go to Allen Robinson, so this could potentially be paired with an over for completions or yards for the Bears star wideout.
Pick: Foles – Over 22.5 Completions (-106)
Nick Foles – O/U 0.5 INTs
On the other hand, Foles has the propensity to throw a bad pass or two with around 40 passing attempts per game. He has a pick in every game and, with the pressure coming from possibly the best player in the game (Aaron Donald), Foles should be ready to pass right away or the ball could end up in a defensive back's arms.
Pick: Foles – Over 0.5 INTs (-152)
Jared Goff – O/U 0.5 INTs
Like Foles, Jared Goff has a tendency to make a bad play on occasion. With 31.67 pass attempts per game, one of those attempts is bound to be picked by the Bears' secondary. Kyle Fuller and Jaylon Johnson are two of the best defensive backs in the league this season. Goff will also have to deter the pressure from the Bears' defensive front, which includes the likes of Akiem Hicks and Khalil Mack. The combination of those two paired together could potentially lead to an interception. The number is relatively short, so go ahead and grab it now.
Pick: Goff – Over 0.5 INTs (-134)
VALUE BET: Jimmy Graham 2+ TDs
This is a pick to take at your own discretion. Jimmy Graham has the most red-zone targets for the Bears this season (28.95%). In fact, he has six catches in the red zone and five of them have gone for touchdowns. Given his abilities on the jump ball (and yes, he played basketball), Foles should target him a few times in Rams territory tonight. It may be worth throwing a couple of bucks down to get a large payout.
Pick: Graham 2+ TDs (+1300)
---
There it is, folks. Be sure to follow @BearsOnTap on Twitter. Going forward, we will be providing you with our favorite #OnTapBets on props in every Bears game. Best of luck and Bear Down!
---