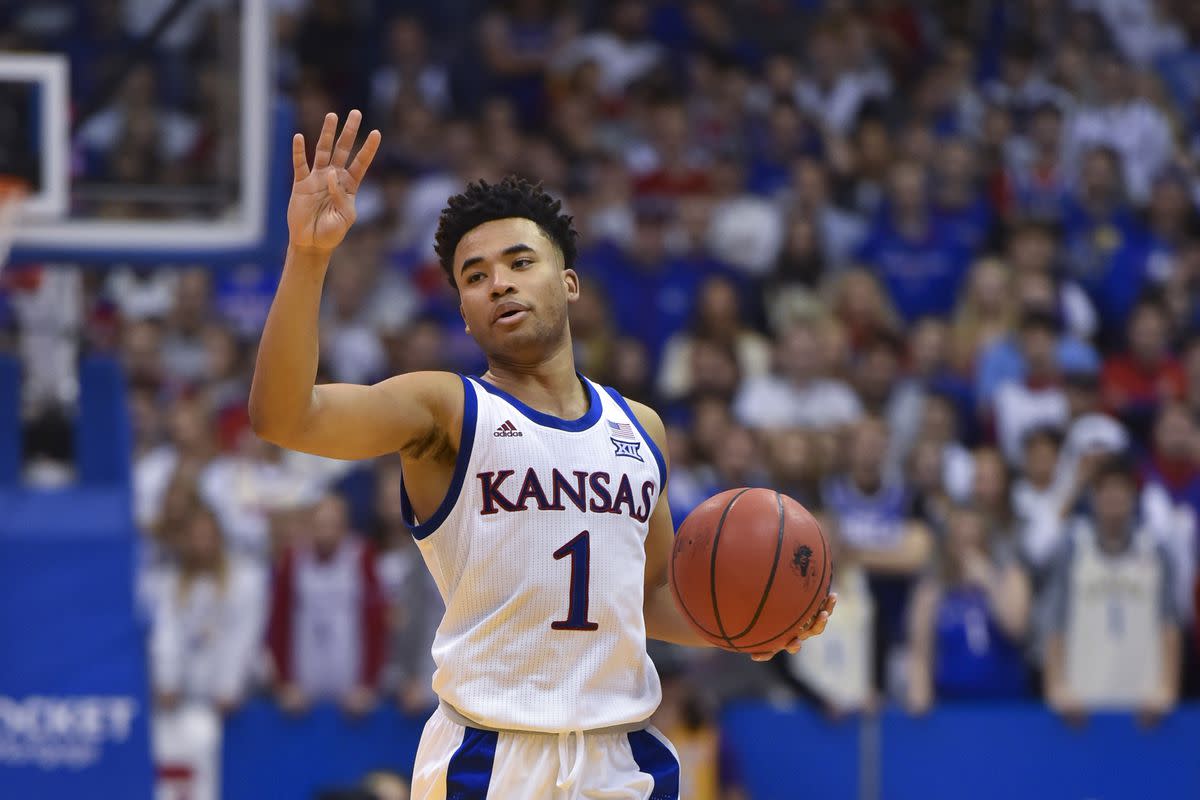 Chicago Bulls To Sign Kansas Guard Devon Dotson
Chicago native Devon Dotson will reportedly sign with the Bulls.
After the conclusion of the 2020 NBA Draft, Adrian Wojnarowski of ESPN reported that the Chicago Bulls will sign Kansas guard Devon Dotson.
Dotson stands at 6-foot-2 and weighs 185 lbs. The Chicago native grew up idolizing former Bull, Derrick Rose, which is why he wore #1 at Kansas.
Over two seasons with the Jayhawks, Dotson averaged 14.9 points and 3.7 assists per game while shooting 47.7% from the field and 33.2% from beyond the arc. The table below provides a complete overview of Doston's collegiate statistics:
Per Game Table

| Season | School | Conf | G | GS | MP | FG | FGA | FG% | 2P | 2PA | 2P% | 3P | 3PA | 3P% | FT | FTA | FT% | ORB | DRB | TRB | AST | STL | BLK | TOV | PF | PTS | | SOS |
| --- | --- | --- | --- | --- | --- | --- | --- | --- | --- | --- | --- | --- | --- | --- | --- | --- | --- | --- | --- | --- | --- | --- | --- | --- | --- | --- | --- | --- |
| 2018-19 | Kansas | Big 12 | 36 | 36 | 32.4 | 4.1 | 8.5 | .482 | 3.2 | 5.9 | .533 | 0.9 | 2.5 | .363 | 3.2 | 4.1 | .782 | 0.6 | 3.1 | 3.7 | 3.5 | 1.4 | 0.1 | 2.3 | 2.5 | 12.3 | | 12.79 |
| 2019-20 | Kansas | Big 12 | 30 | 30 | 34.9 | 6.1 | 13.0 | .468 | 4.8 | 8.9 | .541 | 1.3 | 4.1 | .309 | 4.7 | 5.7 | .830 | 0.6 | 3.5 | 4.1 | 4.0 | 2.1 | 0.1 | 2.4 | 1.8 | 18.1 | | 11.63 |
| Career | Kansas | | 66 | 66 | 33.6 | 5.0 | 10.5 | .474 | 3.9 | 7.3 | .538 | 1.1 | 3.2 | .332 | 3.9 | 4.8 | .808 | 0.6 | 3.3 | 3.8 | 3.7 | 1.7 | 0.1 | 2.3 | 2.2 | 14.9 | | 12.21 |
Dotson was believed to be a potential late-pick steal in the 2020 NBA Draft, so the Bulls decided to pounce on the opportunity to add him after he went undrafted. Here's a look at Dotson's highlights from his 2019-20 season at Kansas:
---