It's no secret that Tyler Chatwood's time with the Chicago Cubs was a disappointment. After Theo Epstein and Jed Hoyer signed him to a three-year, $38 million deal in December of 2017, Chatwood slid in as the fifth starter behind Jon Lester, Yu Darvish, Kyle Hendricks, and Jose Quintana. This was presumed to be a lethal Chicago Cubs starting rotation for the next three seasons, but that scenario did not come to fruition.
Tyler Chatwood's Command Issues
Chatwood exhibited severe command issues to the tune of an 8.25 BB/9 in 2018, the worst in MLB. The next worst was 5.29. So, yeah, "severe" is putting it lightly. Chatwood's ineffectiveness caused Theo Epstein to acquire Cole Hamels at the trade deadline, as Epstein had to shore up the rotation before the postseason. The Cubs were contending for a pennant and could not just sit on their hands and pray that Chatwood would figure it out. After just 3.5 months, Tyler Chatwood was demoted to the bullpen.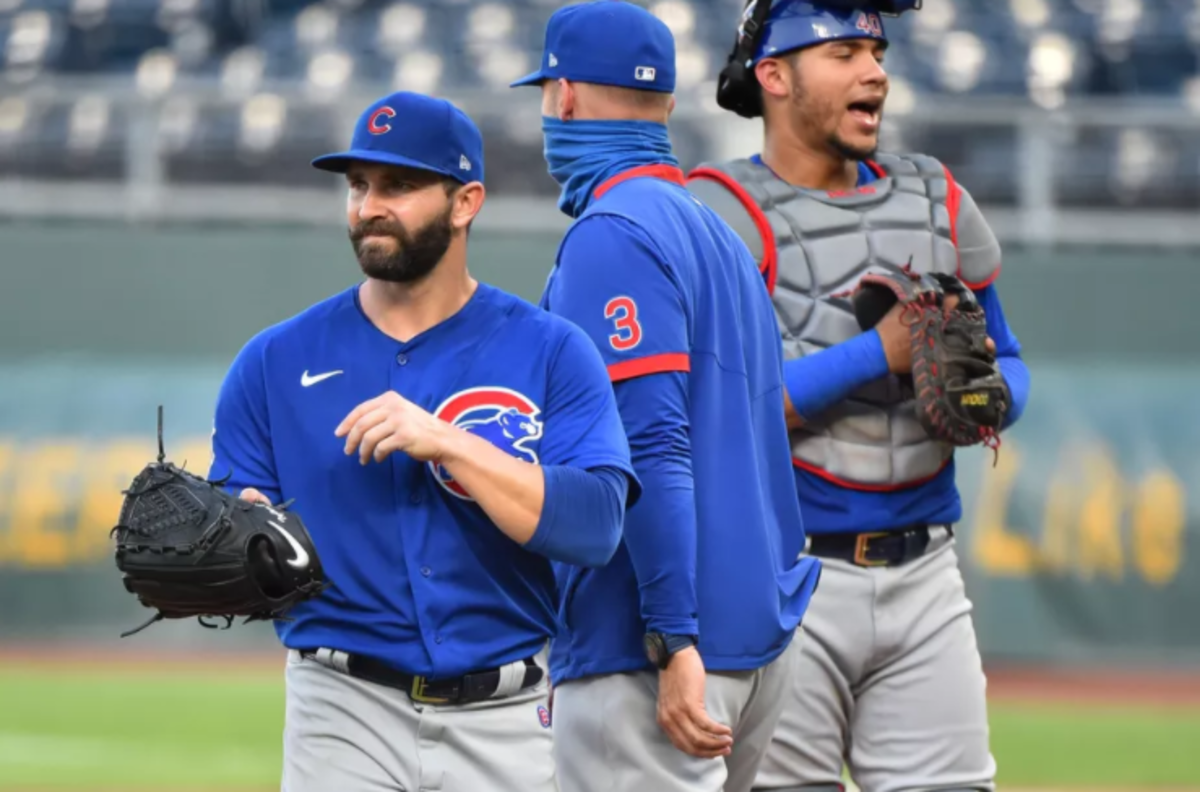 Although acquiring Tyler Chatwood was a mistake by Theo Epstein and Jed Hoyer in hindsight, the thought process did check out. Epstein and Hoyer likely figured that Chatwood would improve upon his 4.09 ERA on the Colorado Rockies, as he would not have to pitch in altitude every other start. Chatwood always flashed elite stuff but had trouble with command. His 4.08 BB/9, which was sixth-worst in MLB from 2012-2017, exemplifies that fact. The Cubs thought they could mitigate his command issues and tap into his potential, all while giving him the scenery change he needed.
Instead, Chatwood racked up a 4.70 ERA in his three seasons on the Cubs. Although that sounds bad enough, it gets worse. Chatwood only started 30 total games in those three seasons. An effective starter racks up that many starts in one season. So, the Cubs effectively paid ~$13 million annually for a middle reliever. Offseason acquisitions just don't get much worse than that. Signing Tyler Chatwood was one of Theo Epstein's worst mistakes while running the Cubs, right up there with trading Tommy La Stella.
Cubs will Target Low-Risk, High-Upside Free Agents
I'm sure at this point, you're wondering why I'm underscoring how bad Chatwood was on the Cubs while simultaneously advocating that Jed Hoyer should bring him back in 2021. The answer is simple: cost. The Cubs will not add significant payroll this offseason. We all know this. So why not give Chatwood a chance with a low-risk, one-year "prove it" deal? Between his historical command issues, his inability to stay in the starting rotation, and his 2020 injury, organizations won't offer him anything more than $1-1.5 million annually. Hell, he may only be given a minor-league deal.
Not only will Chatwood be cheap, he still has upside. He flashed a nasty new cutter at the beginning of 2020 that directly caused his 0.71 ERA through his first two starts. See for yourself how nasty that cutter was.
Then, he got knocked around in his third start and was injured shortly after. In a regular, 162-game season, Chatwood would've had the chance to prove if those first two starts were indicative of who he truly was in 2020. But the shortened season eliminated that chance. Now, nobody will hold those first two starts in high regard.
Instead, organizations will look at Tyler Chatwood's miserable 2018 and 2019 seasons and think he's washed up. And that is precisely why he's a fit for the Cubs. He's a low-risk, high-upside free-agent target that perfectly aligns with the Cubs' financial situation. If Chatwood would have been healthy in 2020 and exhibited those strong numbers for 4-6 more starts, he'd likely be out of Jed Hoyer's price range this winter.
If There's One Cubs Pitcher Jed Hoyer Should Bring Back, it's Chatwood
There have been rumors floating around regarding which pitcher the Cubs should bring back: Jose Quintana, Jon Lester, or Tyler Chatwood. Honestly, the correct answer is fairly obvious. While Quintana is the safest bet due to his durability (besides last season) and consistency over the years, he doesn't possess the upside Chatwood does. He'll also be much more expensive.
Obviously, Jon Lester is the fan-favorite. However, he is undoubtedly the worst decision of the three. He's the oldest, has no bullpen flexibility, and has lost life on practically his entire pitch repertoire. And that's not a knock on Lester. He would likely admit to all these weaknesses himself. Yes, he's the best free-agent signing in Chicago Cubs history. But making decisions based on past accomplishments and nostalgia is exactly what the Cubs should not do this offseason.
The organization needs to move on, and Theo Epstein has positioned the Cubs to do exactly that. Non-tendering Kyle Schwarber and Albert Almora was a step in the right direction. But it doesn't stop there. Jed Hoyer has to make more moves if the Cubs endeavor to win a very winnable NL Central, assuming a full-fledged teardown is not happening.
Unlike Quintana and Lester, Chatwood will be cheap, has upside as an effective starter, and has proven he is a productive reliever as a backup plan. Chatwood is absolutely worth a shot given the Cubs' financial condition. Theo Epstein and Jed Hoyer acquired Jeremy Jeffress last season as a cheap, high-upside free agent. How'd that signing work out for the Cubs?
---