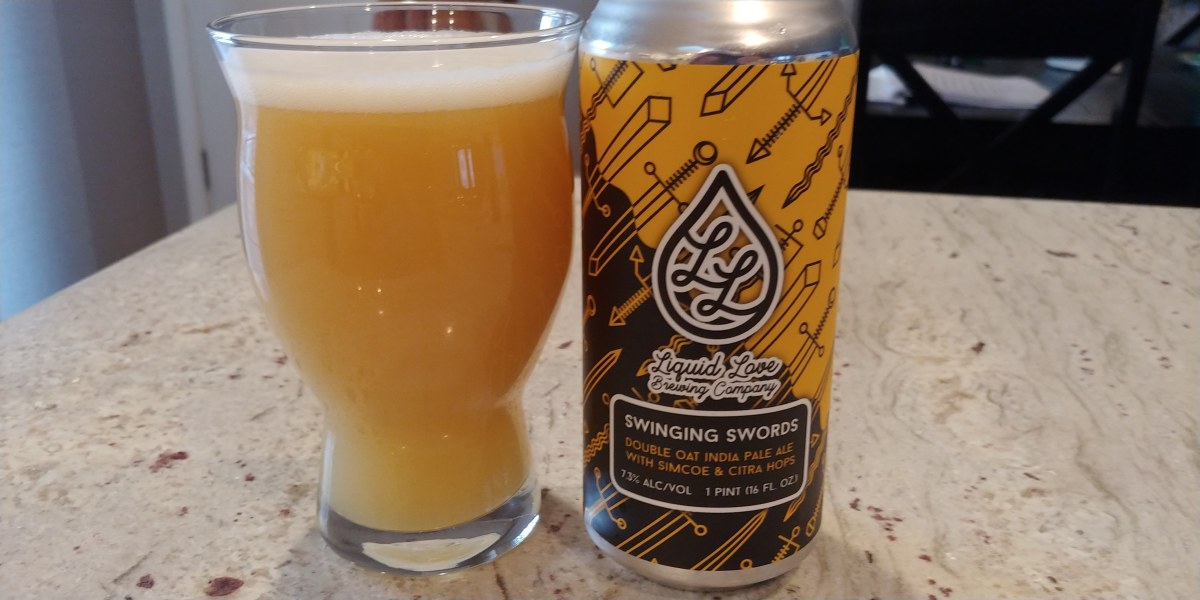 Located in Buffalo Grove of all places, Liquid Love is fairly new to the craft beer scene. It's where "Prairie Kraft" used to be, but they have since been bought out, and for the better. I visited the brewery when it was the old place and it was alright, but nothing special. I found out about the change in ownership from Twitter and knew I needed to check it out. So, I went in for a visit last week and I was happy to see the same bartender that was there before. He's a really nice guy. He was happy to give me the rundown of brews, and even gave me about five samples before I decided on a 4-pack to take home.
I was able to sample all of the IPAs they carried on tap. While all very good, Swinging Swords was my favorite of the bunch. You can see it has that beautiful pale orange juicy color and completely opaque. It has a nice quarter inch of white head that leaves a light amount of lacing on the glass. It has the tropical citrus taste that you want in a hazy IPA, but the oats give it a smoothness that I really like. The mouthfeel is light to medium with a resinous texture. Overall a really great beer that could be put up with the best in Chicagoland.
I really enjoyed my experience at Liquid Love and talking beer with the man up front. It's not something I get to do very often living in the NW suburbs. There just aren't many places up here. I really look forward to going back for more and trying out the other styles they have.
Liquid Love is a self distributor, and therefore haven't reached the big places like Binny's yet. Luckily, they try to distribute to as many mom and pop type stores as they can. They have a locator on their website for where you can grab their beers here. Check them out and help out a company that is just getting their footing. You won't be disappointed.
Happy Drinking!
---