The Blackhawks knew it was going to be a tough 2021 campaign before their season opener on January 13th against the Tampa Bay Lightning.
Corey Crawford was not going to be the starting goaltender for the first time in a decade, Kirby Dach needed surgery after suffering a broken wrist at the World Junior Championships, Alexander Nylander underwent knee surgery that will likely keep him out the entire season, and captain Jonathan Toews was absent from training camp and has yet to play this season due to an undisclosed medical issue.
After ten games, the Blackhawks hold a 3-4-3 record. Collecting nine points out of a possible 20 doesn't make for a great percentage, but in the first season after the franchise finally admits they are rebuilding, it is important to look deeper than the record.
Offensive Grade
Grade: C+
The Blackhawks have scored 26 goals this season for an average of 2.6 a game. Unsurprisingly, Patrick Kane leads the team in goals (four), assists (six), and points (ten) after ten games. Dylan Strome has elevated his play in the absence of Toews and Dach to record six points, but five of those have come on the man advantage.
Welcomed surprises have been free-agent signing Mattias Janmark and rookies Pius Suter and Philipp Kurashev. Janmark has played up and down the Blackhawks' lineup and has six points on the season. He has a knack for retrieving pucks in the corners and a keen ability to finish around the net. Suter has also been tremendous. His four goals lead all NHL rookies. Lastly, Kurashev has netted three goals himself and seems to play best when he is given time with skilled players. He has competed hard and his future looks bright.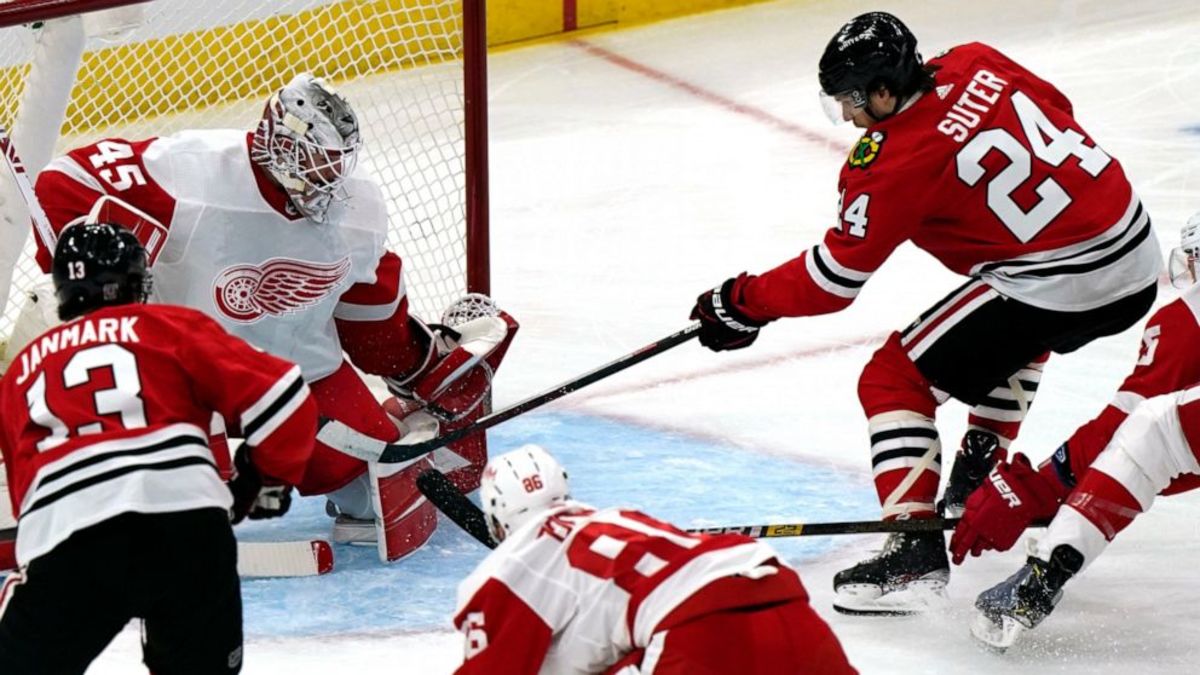 Of their 26 goals, only 15 have come at even strength, but luckily the power play ranks in the upper echelon of the league. At a success rate of 33.3%, the Blackhawks' power play is currently the sixth-best in the NHL. Dylan Strome and Dominik Kubalik have five power-play points apiece while Patrick Kane and Alex DeBrincat have four. Unfortunately, the power play has stalled as of late, converting just once out of their last nine attempts.
The Blackhawks have been held to two or fewer goals in six of their ten games and will need to find a way to score more at even strength the remainder of the season.
Defensive Grade
Grade: C+
Everything is relative, right? Over the last three seasons, the Blackhawks have allowed the fourth-most goals in the NHL (759). It has been a problem for some time now and head coach Jeremy Colliton has been trying to implement a new defensive system seemingly every year he's been the bench boss.
Through ten games, the Blackhawks have allowed 30 goals for an average of three goals a game. There have been times this season the Blackhawks look structurally sound in their own end. Players are keeping opponents to the outside and protecting the slot better than in years past. However, there are still gaffes in their play and they have been burned more than once this season.
All eyes were on rookie Ian Mitchell prior to the season. The former Denver University captain has played in every game and has averaged 14:04 of ice time. His -5 rating is tied for worst on the team, but his play overall has been solid. He shows great poise for a rookie defenseman and has displayed an ability to slow the game down, resulting in clean outlet passes.
The brightest spot for the Blackhawks defensively to start the season has been the play of Connor Murphy. In his fourth season in Chicago, Murphy is finally showing signs of being a true top-pair defenseman. His average ice time of 23:08 minutes a game trails only Duncan Keith by eight seconds for the team lead. He has also chipped in offensively, potting two goals and dishing out three assists in the first ten games.
Goaltending Grade
Grade: A-
The most disheartening part of the Blackhawks' lineup prior to the season is now the most reliable. Malcolm Subban and Collin Delia have each started two games apiece, but either has yet to earn a win. Subban has a .889 save percentage while Delia's is even worse at .863.
Enter Kevin Lankinen.
After allowing five goals against the Florida Panthers in his NHL debut, Lankinen has been superb since. He has a record of 3-1-2 with a remarkable 1.97 goals-against average and a .937 save percentage, which is the fifth-best in the NHL. His play has kept the Blackhawks in games they have no business being in and he has firmly planted himself into the starting role.
Looking Ahead
The Blackhawks will need to build on the positives from their first ten games as the season progresses. They need to find a way to generate more offense at even strength, while the power play needs to return to their hot start. Defensively, the Blackhawks have improved overall in their own but will need to find a way to cut down on major mistakes that their opponents capitalize on.
Yes, it will be a long 46 games to finish out the season. There will be good nights and terrible losses, but it is important that the Blackhawks compete and give themselves a chance in every game.
---