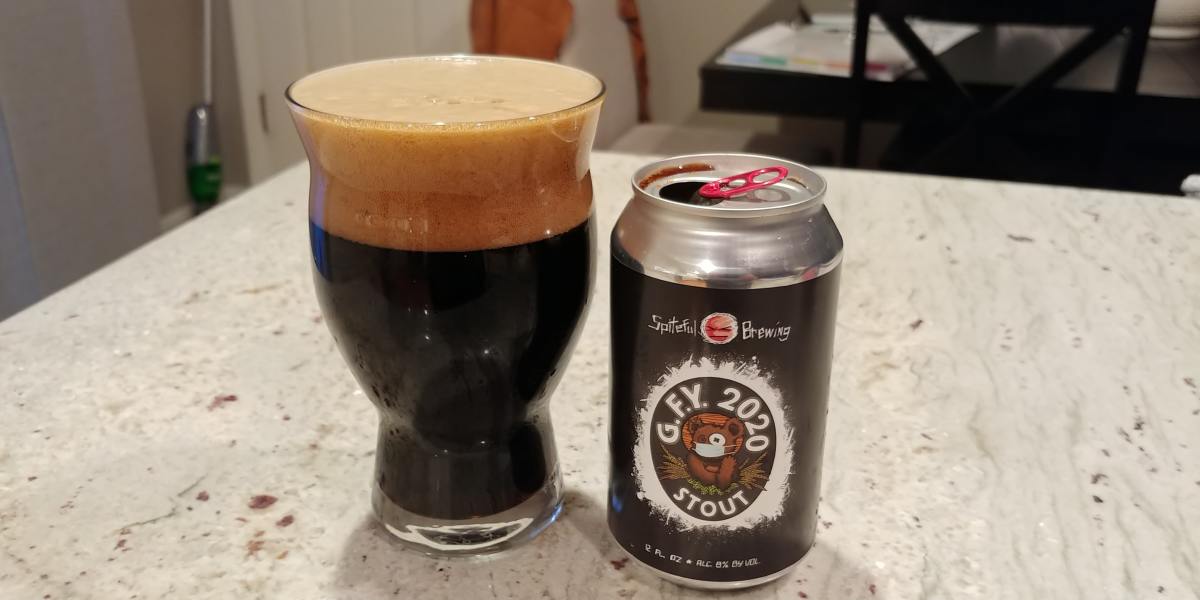 I love me a good Spiteful beer. Most beers I've had from them have been IPAs and lagers. I've seen this one around for a long time but this is my first time trying it out. I always loved the name and the cute little bear on there with a button for an eye. This winter I've been busy trying out more stouts than I ever have before. After having Spiteful's G.F.Y. Stout, I am excited to announce that I think I have found my go-to stout. So let's take a look at the stout dedicated to the year that was 2020.
G.F.Y. has a jet black color and with a perfect mildly vigorous pour, gives an inch and a half of beautiful, aromatic, frothy, desert sandstone head. Now to the good stuff. G.F.Y. is what I consider to be a quintessential stout.
A lot of these stouts nowadays are into the vanilla bean, graham cracker, marshmallow, milkshake, blah blah blah realms. While all of those are fine, it's not really something I want to drink all night long. G.F.Y. contains the perfect balance of roasted malts, dark chocolate, and dark fruits. It's nothing fancy, but when I think of a stout, this is exactly what comes to mind. Additionally, it's not one of these light stouts that tastes like a morning coffee. G.F.Y. has an 8% ABV with a medium velvety body to it.
Spiteful Brewing's G.F.Y. is officially going to be my go-to stout. I see it's brewed year-round so that helps with availability. I found G.F.Y. at Binny's in a four-pack for $9.99, which is extremely fair. I'm pretty sure you can find this one at almost any major liquor store. I'm ecstatic I finally gave G.F.Y. a try and you should G.F.Y. too.
Happy Drinking!
---