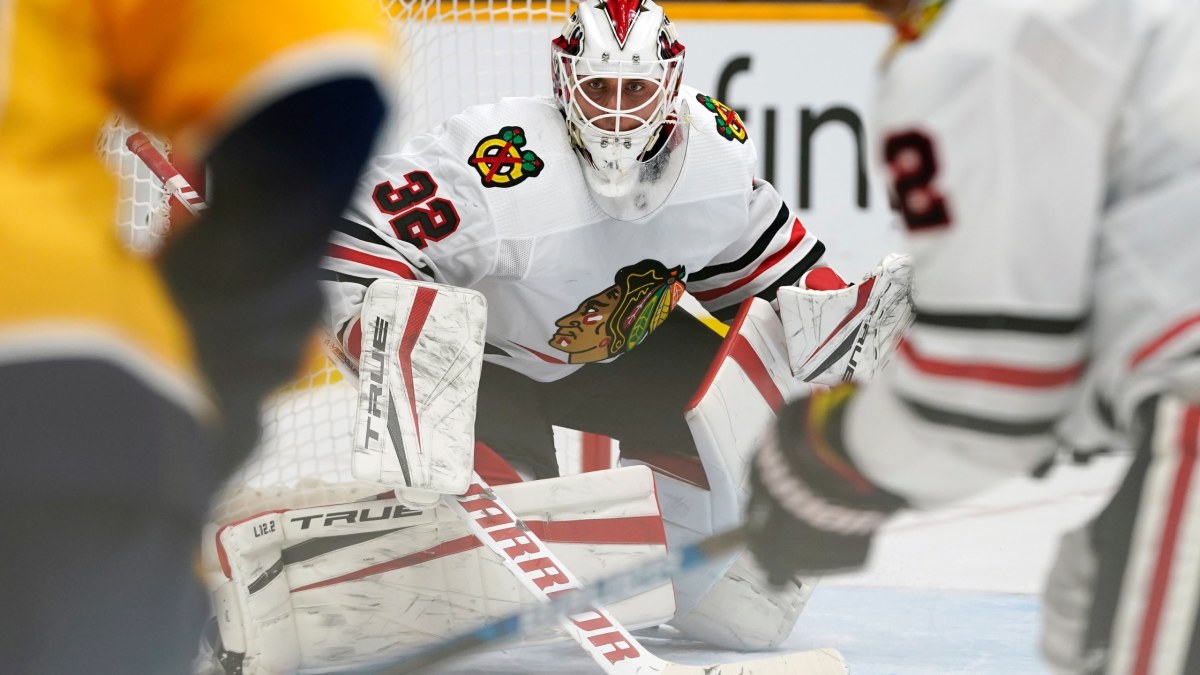 Few would have predicted the early success of the 2021 Chicago Blackhawks. As the team began the season without a proven goaltender, analysts and fans alike expected it to be a painful rebuilding season. Early on, those expectations were correct. With Malcolm Subban and Colin Delia between the pipes, the Blackhawks struggled mightily against both the defending Stanley Cup Champion Tampa Bay Lightning and the Florida Panthers to start the season. In the first three games, Subban and Delia combined to allow 15 goals on 106 shots for a combined save percentage of .858%. As Pete Campbell from 'Mad Men' would say: "Not great, Bob!" After poor performances from both goalies, General Manager Stan Bowman and head coach Jeremy Colliton called up their 25-year-old Finnish netminder off of the team's taxi squad.
Enter Kevin Lankinen.
In his first start against the Florida Panthers, Lankinen would see similar results as his predecessors, mustering up 25 saves on 30 shots and allowing five goals. However, many noticed a more calm and collected approach from Lankinen, who plays a conservative style in front of the net and depends on quick reflexes to make saves. It wasn't pretty, but it instilled confidence in many that he could build off of the performance.
Calm. Cool. Collected. Kevin.
Despite the result, Lankinen's first start still showed plenty of promise. The team then returned to Chicago for the next two games against the Detroit Red Wings. The Blackhawks won both those contests with Lankinen in net, allowing just three goals while facing a combined 58 shots on goal. With a pair of strong performances and a ton of confidence, the 25-year-old rookie was about to go on a run nobody expected. Lankinen recorded a save percentage of at least .927% in seven of his next ten contests, including his first career shutout against the Red Wings on February 17th. He posted a 5-3-2 record during that stretch, becoming a source of consistency in a place nobody expected before the season began. There have even been Calder Trophy discussions, which shouldn't be all that surprising when looking at Lankinen's stats through 13 starts.
| | | |
| --- | --- | --- |
| | Kevin Lankinen 2021 Statistics | NHL Rank |
| Wins | 7 | 8th |
| Shots Against | 440 | 4th |
| Saves | 408 | 4th |
| Save Percentage | .927 | 5th |
| Goals Against Average | 2.43 | 9th |
| Shutouts | 1 | 7th |
| Goalie Point Shares | 3.6 | 1st |
Is Lanks The Future?
As it stands right now, it's nearly impossible to tell if Kevin Lankinen can continue to play at this pace. For many around the league, their first matchup against the Blackhawks this season will be the first time they ever see the Finnish product. What can't be overstated, however, is the confidence he's shown against some of the game's best. Players such as Dylan Larkin, Matt Duchene, and Patrik Laine found ways to score on the rookie, but he didn't make it easy with his quick reaction time and back close to the net. It's also worth noting that he did deliver a gold medal performance in the 2019 Ice Hockey World Championships against some of the best hockey players in the world, which many are pointing to as the true potential of Lankinen's game.
One thing is certain. If Kevin Lankinen can continue this performance moving forward, Stan Bowman might've found his long-term replacement for Corey Crawford.
Follow On Tap Sports Net on social media!
---