The highly anticipated Nikola Vucevic debut fell short of expectations as the Bulls lost to the San Antonio Spurs on Saturday night, 120-104.
The Spurs trotted out a well-balanced attack, with seven players scoring in double figures. Jakob Poeltl and DeMar DeRozan led the Spurs in scoring, putting up 20 and 17 points, respectively.
Legendary coach Gregg Popovich reached an impressive milestone in the win, as he became the fastest coach to achieve 1,300 career wins.
While the Bulls lost this one, the newest members of the franchise had good games. Nikola Vucevic led the Bulls in scoring in his first game in the red and black. The newly acquired center dropped 21 points on 9-16 shooting and narrowly missed a double-double, hauling in nine boards.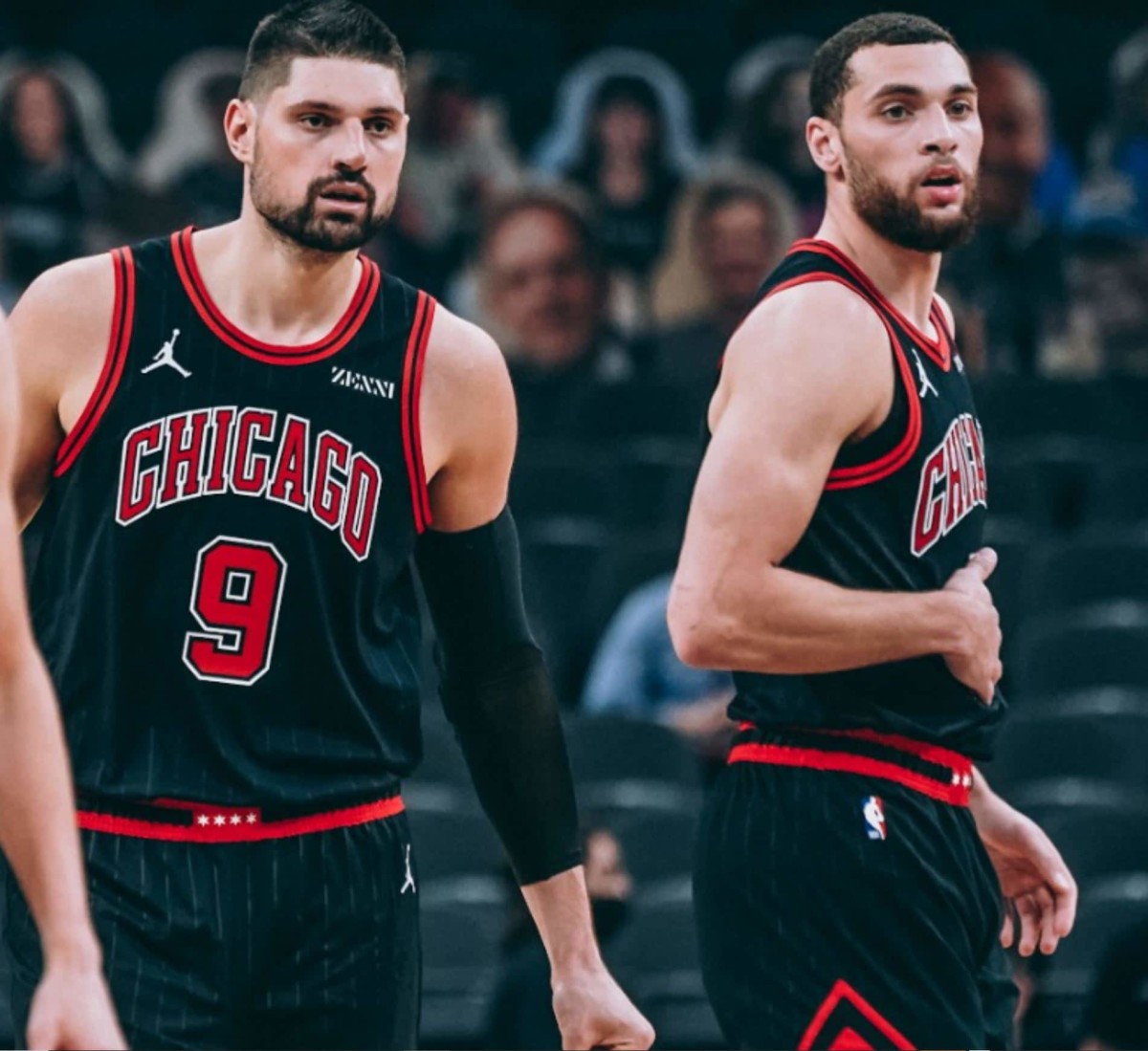 Troy Brown Jr. also had a very efficient game. The former Wizard scored eight points in just 13 minutes of play, going 3-4 from the field and pulling in three rebounds.
Bulls Lost This One In A Hurry
The Bulls stumbled out of the gate, quickly falling behind to the Spurs early. After an early lead in the first few minutes of the game, the Bulls fell behind on a Dejounte Murray (14 points, 8 rebounds, 8 assists) jump shot at the 9:35 mark of the first quarter, a lead the Spurs would not relinquish.
San Antonio was excellent from the field, especially in the first half, shooting at a 62% clip in the first 24 minutes as the home team had a 65-39 lead at the half.
On the flip side, the Bulls were poor from the field, going 17-49 (35%) from the field in the first half, including 3-19 (16%) from beyond the arc.
Too Little, Too Late
The Spurs continued to play well in the third quarter, extending the lead to as many as 35 points. The Bulls showed a little spirit at the end of the quarter, outscoring the Spurs in the third and getting the lead back down to 23 points.
The Bulls continued to their good second-half play into the fourth as they held the Spurs to just 38% shooting from the field. In fact, the Bulls cut the lead to single-digits with 5:35 to play in the game.
But the damage was done and the Spurs continued to keep the Bulls at arm's length. A couple of key threes from Poeltl and Derrick White put the final nail in the coffin as the Bulls ended up losing this one in Texas.
What's On Tap Next?
The Bulls (19-25) head to San Francisco to take on the Golden State Warriors (22-24) for the second game of this four-game road trip. Tip-off will be at 9:00 PM CDT on NBC Sports Chicago.
As always, you can catch up on all the latest Bulls content, podcasts, articles, and more with Bulls On Tap presented by On Tap Sports Net.
---