The Chicago Blackhawks have the 12-best odds to acquire the No. 1 overall pick in the 2021 NHL Draft at 2.7% and a 5.2& chance at the No. 2 pick.
There will be one lottery drawing for the No. 1 pick, a second for the No. 2 pick then teams 3-16 will fall in line based on their point totals for the 2021 season.
The NHL announced the draft lottery odds Wednesday following the completion of the regular season. The Buffalo Sabres have the best odds at the top pick at 16.6%, followed by the Anaheim Ducks (12.1%) and expansion side Seattle Kraken (10.3%), who will begin play next season.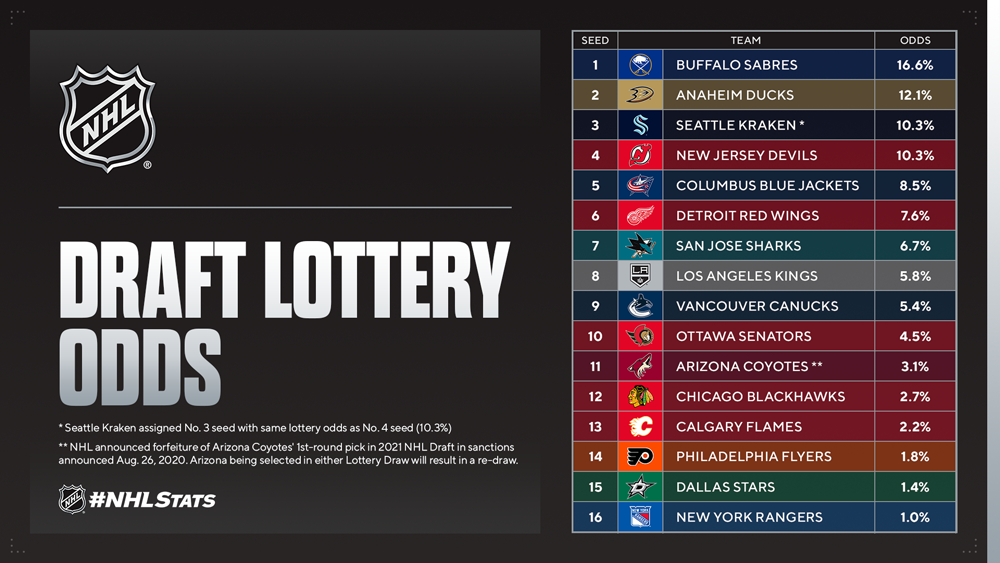 The Blackhawks have selected from the top two spots in the NHL Draft twice in their history, with Patrick Kane at No. 1 in 2007 and Andy Culligan at No. 2 in 1965.
If the Blackhawks do not move up to a top-two pick, they will likely have the No. 11 pick because the Arizona Coyotes forfeited their first-round selection for NHL combine testing violations.
Chicago has selected five players at No. 11: Wayne Davidson (1963), Dave Manson (1985), Alex Roberts (1989), Pavel Vorobiev (2000), and Kyle Beach (2008). Manson and Vorobiev each played for the Blackhawks, while Davidson, Roberts, and Beach did not. Manson played 431 games for seven seasons (1986-91, 1998-2000) and Vorobiev played 57 games in two seasons (2003-06).
The draft lottery is Wednesday, June 2, at the NHL Network studio in Secaucus, New Jersey. The draft is July 23-24, delayed one month from its normally scheduled time in June because of the COVID-19 pandemic. A location has yet to be determined.
---