If you would have walked into my childhood bedroom around the year 1999, you would've seen a pretty standard pre-teen dwelling. It would've been quite disheveled; clothes on the floor, a few empty pop cans, and snack wrappers on the desk. There would've been posters of my sports heroes on the walls and a stack of hip-hop CDs next to my stereo.
However, if you were to walk over to my small box TV, and hit the "eject" button on the VCR sitting on top of it, out would have popped one of the most prized possessions of my youth, my VHS copy of the movie Happy Gilmore.
An Iconic Classic
If you've been living under a rock for the last 25 years, Happy Gilmore is a 1996 comedy starring Adam Sandler that chronicles a failed hockey player as he unexpectedly finds a new talent in the game of golf. The movie was Sandler's second writing project, the first being Billy Madison, one year earlier.
My copy was a blank-tape VCR recording off of broadcast television. It had commercials and was edited. All the same, I couldn't even begin to guess the number of times I watched it. I watched that tape so many times it wore out. I knew every word to that movie.
There were so many iconic scenes in Happy Gilmore. The batting cage training, Happy trying to get the ball in the hole, Ben Stiller's nursing home sweatshop, the Virginia Venit themed "happy place" dream, the mini-golf clown, and of course… BOB BARKER.
It's an absolute classic and my personal favorite Adam Sandler movie.
Whether related or not, around that time I also got my first set of golf clubs and started playing the game. Like every kid who grew up around that time, I tried the Happy Gilmore drive over and over. I also messed around with his unorthodox, hockey-inspired putting grip.
In the movie, Happy held his putter with a hockey grip from day one, and initially, he used a standard putter. However, leading up to the climactic Tour Championship, his coach and mentor Chubbs Peterson had a custom putter made for him.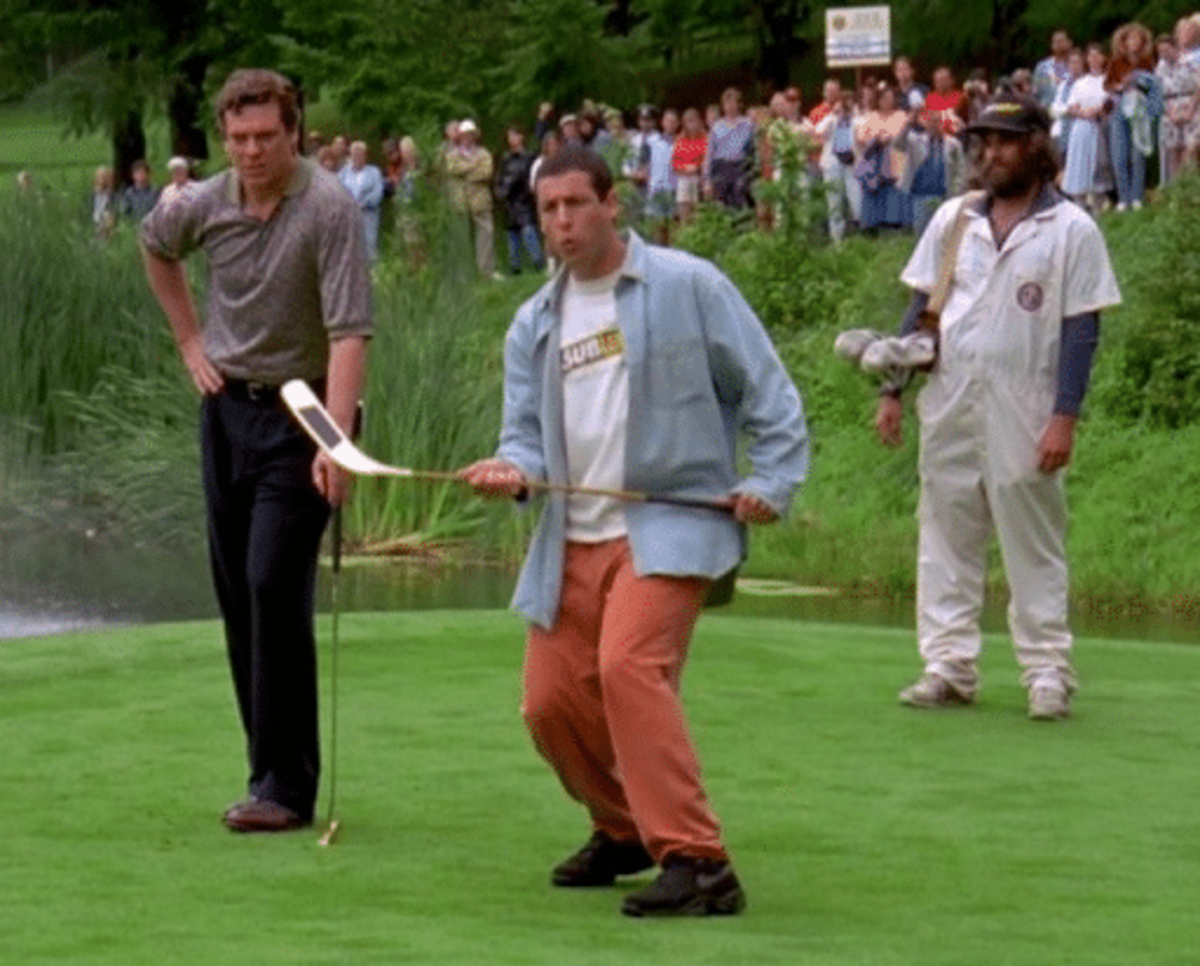 This custom piece had the shaft of a putter, but a gold-plated hockey blade as the putter head. It would propel Happy to one of the biggest upsets in Sports Movie history, a Gold Jacket and Tour Championship victory over Shooter McGavin. He also got the girl, and his grandmother's house back.
We all wanted to be Happy Gilmore.
Well, fret not my nostalgic '90's brethren. We now have a chance to be like Happy, at least on the green.

So You're Saying There's a Chance?
Today, Odyssey Golf announced via Twitter that they have manufactured a very limited number of Hockey Stick Putters through their Toulon Design Small Batch line of putters.
When I say we have a chance, I mean a very slim and pricy one. Odyssey only manufactured 25 of these beauties. Interested buyers (in the US only), must submit an online entry by the end of today (May 27th) for a chance to purchase the putter. Winners will be randomly selected at a later date.
If randomly selected, the cost of the putter is a whopping $700.
Sure, it's low probability and outrageously expensive for the average person, but come on, can you really put a price on this level of nostalgia?
Apparently Odyssey has.
---
Follow On Tap Sports Net on social media!