"1920 Football Drive" is back! The series made its inaugural debut last August for a three-episode first season. The Chicago Bears dropped their fourth episode of the web series on Thursday evening, which also marked the season two debut.
Nevertheless, the first episode of the new season primarily covers the team's draft weekend success. It takes the fans behind the scenes from the pre-draft scouting through draft weekend itself. The episode concludes with the first practice of rookie minicamp. There's a lot to take in for Bears fans in this twenty-six minute episode.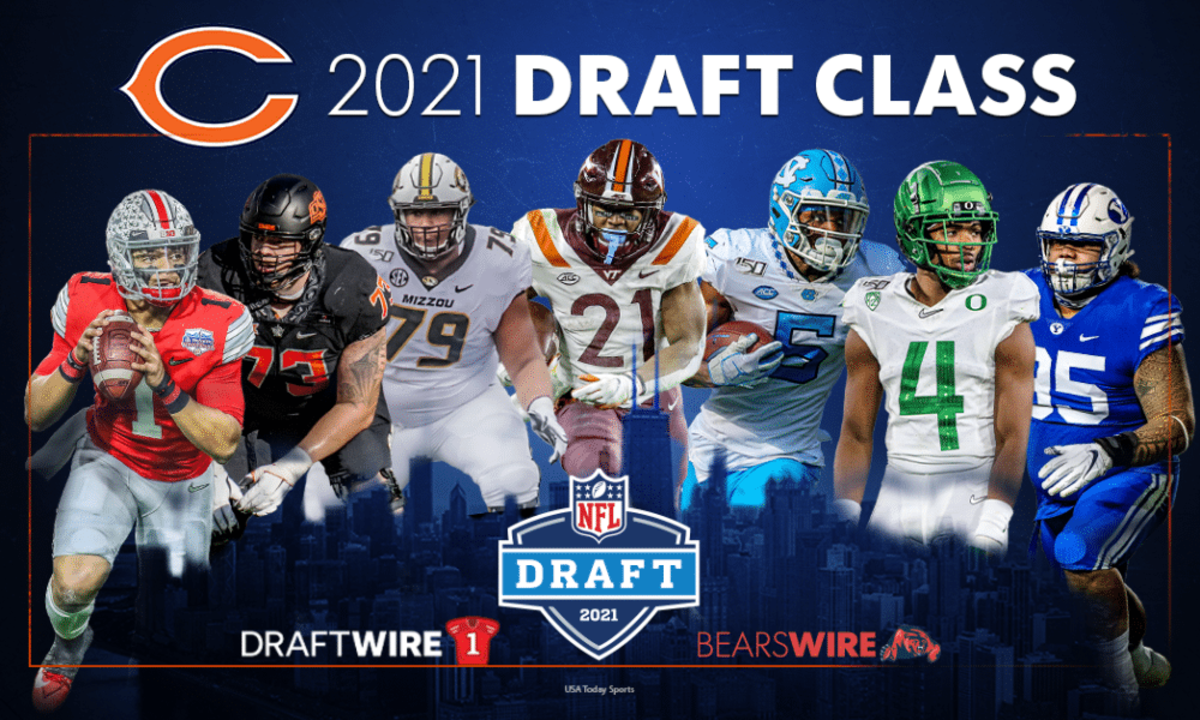 Episode Four Rundown
Intro
Episode four kicks off with the warm and familiar voice of Bears play-by-play man, Jeff Joniak. In fact, Joniak gets things started by mentioning how "the NFL Draft is beacon of hope for a hungry fanbase. For a franchise, it signals opportunity to build a foundation for the future". Then it cuts away to the Bears war room on draft night where Ryan Pace and Matt Nagy embrace while Ted Phillips is fishing for anyone to acknowledge his presence. All the while, Rich Eisen narrates the scene. "The Chicago Bears just traded into pick number eleven". Joniak's voice returns to tell the audience "months of intense information gathering, evaluation, and discussion culminates in one weekend."
Life of a Scout
Area scouts Sam Summerville and David Williams are the focal point of this segment. Both men discuss what the life of a scout is actually like and the sacrifices they make for the betterment of the team. Summerville is shown pulled over at a truck stop somewhere between Atlanta and his destination, Auburn, to conduct an interview with a different draft prospect. Williams, on the other hand, is in Colorado for the Colorado State pro day. He also goes on to discuss that after his work at Colorado State concludes he has to drive down to Boulder for the University of Colorado's pro day to repeat the same process. The area scout also mentions that his work day begins at 6:30am and wraps up at 5:30pm only for him to catch a flight to Los Angeles for UCLA's pro day. Next, Summerville and Williams both attend Alabama and Oregon's pro day's, respectively.
Then, both scouts discuss the amount of time they miss from their families and the adjustments and sacrifices they have to make for their love and passion for football. Williams specifically mentions the hotel food and how over the year he has grown accustomed to eating it. Meanwhile, Summerville says during the year he spends over 150 nights in a hotel room. Mainly during the fall and spring for college games, campus visits, pro days, etc. He also mentions his favorite part of the job is when he finally comes home to relax and see and spend time with his family.
Pre-Draft Interviews
In the next segment, Bears position coaches are seen interviewing their draft picks via zoom during the pre-draft interviews. Khalil Herbert spoke with running backs coach Michael Pitre. Meanwhile, Tevin Jenkins and Larry Borom got to chat with offensive line coach Juan Castillo. Thomas Graham Jr. is interviewing with who viewers presume is the defensive backs coach. Nevertheless, the Justin Fields pre-draft interview is revealed. Fields is seen saying:
"I just want to be great so bad and that passion inside just burns a lot. So I just think my dedication to this game, my passion for this game, and my passion to be great is next level."
DeFilippo's rebuttal was instant:
"It shows on the field. You play your ass off. It shows on the field…your passion about playing this game. It shows on your tape."
The most compelling part of Fields and DeFilippo's interaction? The breakdown of film and Field's dissection of the play and DeFilippo gushing over his throws.
Draft: Night One
Without delay, "1920 Football Drive" takes the fans right into night one of the NFL Draft. Hence, it starts with the Bears draft war room and the trade with the New York Giants. Celebrations were aplenty as Pace, Nagy, and the team rejoice. For what it's worth, Ted Phillips was in the room as well. His presence alone makes Bears fans cringe. Why would he of all people be in the draft room? At any rate, his attempt to celebrate with and third-wheel the General Manager and the Head Coach was hilarious.
Next, fans got a glimpse at Nagy's phone call with Justin Fields before the camera cut to the reaction from Fields' side and the Bears' side. Nagy was wearing his emotions on his sleeve over the pick as he shouts "turn that bad boy up!" as they await the announcement of the selection.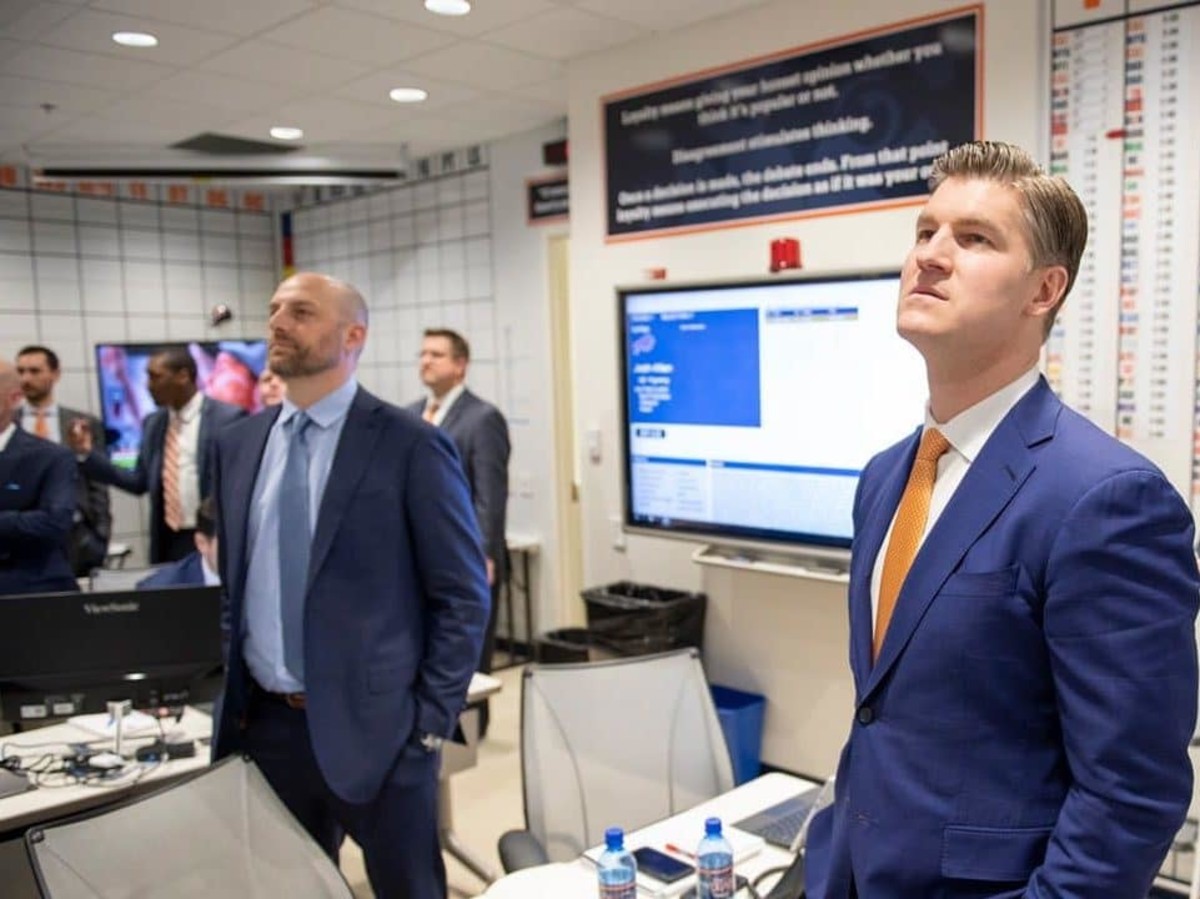 Immediately, it cuts to O'Hare airport early the next morning as Justin Fields arrives in Chicago. As Fields gets into his ride, someone asks him "how do you feel?". The new Bear responds by saying "I feel good. I mean, I'm just kinda glad this process is over and glad I got to come to a place like this. Chicago. It's such great city". Finally, he arrives at Halas Hall and does his press conference and takes a tour of the facility.
Draft: Nights Two & Three
"1920 Football Drive" then fast forwards to later that evening for the second night of the draft. It then shows the front office calling and drafting Oklahoma State tackle Tevin Jenkins. Following that, on day three of the draft, various coaches are now announcing the the final draft picks. It starts with Nagy on the phone informing offensive tackle Larry Borom that he has been drafted. Then, Director of Player Personnel Josh Lucas announced running back Khalil Herbert. Now it was Assistant Director of Player Personnel Champ Kelly's turn to announce wide receiver Dazz Newsome. Which he followed up with a "Bear down". Executive Scout Jeff Shiver was allowed to make the announcement for cornerback Thomas Graham Jr.
If Bears fans fans haven't seen it already, the reaction of Graham getting the call from Matt Nagy is priceless.
With the final pick in the draft, new defensive coordinator Sean Desai announced the selection of nose tackle Khyiris Tonga. At the conclusion of the draft, Matt Nagy took the time to thank all his scouts, coaches, and gave a special thank you to Ryan Pace for a job well done.
For Ryan, I want to thank you for frickin' grindin' your ass off and listening to us and making us a better football team. So go take a vacation. Get out of here. Drink some bourbon. Let us hold it down for a little bit and go be a dad for at least a week.

– Matt Nagy on Ryan Pace
[Justin] Soldier Fields
Just before the rookie minicamp, Justin Fields took the time to go and snap a few pictures at Soldier Field. Not only that, but he got a quick tour of the building he'll be calling home for at least the next four years. If all things go according to plan, he will soon become a legend inside those same walls.
Rookie Minicamp
Matt Nagy got the rookie minicamp started with a zoom call and informed his players that he would be watching the first two days via FaceTime due to COVID protocols. Next comes the arrivals of the players as they hop off the bus at Halas Hall. As the practices get underway, Bill Lazor and John DeFilippo are mic'd up as they lead the charge. The most compelling part of this segment was the interaction between DeFilippo and Fields. Especially this one, where Fields acknowledges his disdain for the Packers.
Justin Fields' first glimpse at minicamp impressed DeFilippo and Lazor. Neither one of them could contain themselves from gushing over the QB after practice.
Thoughts on Episode Four
What a great way to get Season Two started. The behind the scenes from the pro days with the scouts, to the pre-draft interviews, to draft night, and minicamp were fantastic. The clips of Justin Fields' first day as a Bear and touring Soldier Field were the cherry on top.
The main takeaway from the first episode of the second season was that the content will be so much better. The improvement on the COVID front will allow for more filming and flexibility. In turn, this will provide Bears fans with the true content they crave during the summer. What Bears fan wouldn't want to see more of Justin Fields? Last year we all got to see Trubisky vs. Foles. Now, it'll be Dalton vs. Fields.
Here is 1920 Football Drive: Episode 4 in its entirety if any Bears fans missed it last night.
Follow On Tap Sports Net on social media!
---