This upcoming week is a busy week for the NHL. Festivities begin on Wednesday night as the Seattle Kraken select their expansion roster for the 2021-22 season. In addition, numerous young men will have their names called this weekend as the NHL Entry Draft approaches. However, we will first focus on Wednesday and who the Chicago Blackhawks could potentially lose to Seattle.
Over the weekend, the NHL's trade freeze took effect and all teams announced their protection lists. The Blackhawks' list became official on Sunday, with few surprises in the names protected. The Blackhawks benefit from being a younger team, not having to expose many of their players that they expect to be a part of the future.
For sake of reference, here are the names who were protected:
Without further ado, let's examine some players who could be a member of the Kraken by week's end.
Brett Connolly
Last season, the Blackhawks made a flurry of trades ahead of the NHL Trade Deadline. One such move included acquiring veteran winger Brett Connolly from the Florida Panthers. The move also helped the Blackhawks acquire two players that they re-signed and protected in this expansion draft, Henrik Borgstrom and Riley Stillman.
That said, many thought Connolly was a throw in due to his $3.5 million cap hit through the 2022-23 season. However, although Connolly had a tough season in 2021, he is a player with a lot of skill. The 29-year-old is coming off 22- and 19-goal seasons in 2018-19 and 2019-20 with the Capitals and Panthers, respectively. He has a scoring touch and could provide excellent depth for the expansion Kraken.
Although he likely won't be chosen, Connolly is actually a player I prefer the Blackhawks keep around. In need of depth scoring, Connolly could provide solid middle-six scoring for Chicago. He only played ten games for the Hawks last season, registering a goal and an assist. However, given the right opportunity, Connolly can be worth his contract to a young Blackhawks team.
Ryan Carpenter
Although 30 years old and traditionally a fourth line player, Ryan Carpenter brings a ton of value for a Kraken team looking to compete in year one. Carpenter has playoff experience, having played 17 games with Vegas and nine with Chicago in his career. He also possesses the ability to play good defense and win face-offs. Defensive-minded forwards are always helpful to have on a competitive team, and Carpenter would become a fourth line staple for Seattle.
Carpenter's penalty killing ability, as well as his hard-nosed game, is necessary for any complete forward group. Every player has their role, and Carpenter not only knows his, but executes it incredibly well. With a modest $1 million cap hit for the 2021-22 season, he's a low-risk, high-reward selection for the NHL's 32nd team. That said, there is no doubt that the Blackhawks would like to see Carpenter remain on the roster and continue his dynamic defense with David Kampf.
Carpenter doesn't have flashy offensive numbers, registering five points in 40 games last season. But, he can be an important piece for a contending puzzle such as the Kraken.
Calvin de Haan
Yes, unfortunately the Blackhawks highest paid defenseman is exposed for selection on Wednesday. After the Duncan Keith trade, Calvin de Haan's $4.55 million cap hit is now the highest for any defenseman on the team. That said, the Hawks opted to protect undisputed new number one Connor Murphy, and young blue liners Caleb Jones and Stillman.
de Haan's biggest knock is his availability. Unfortunately, de Haan only played 44 games last season, and 29 the year before, due to injury. If de Haan stays healthy, he is definitely one of the better defensive defensemen in the league. Although not a major scorer, de Haan's role on any team is incredibly important and necessary.
It's unlikely de Haan's $4.55 million contract is taken by the Kraken, especially given his health track record. However, the case is certainly there if the money worked for Seattle. That said, Blackhawks fans can assume de Haan will be in the Chicago next season.
Nikita Zadorov
Perhaps the most intriguing name available for the Kraken, Nikita Zadorov is a polarizing player amongst the Blackhawks fan base. His impressive 6-foot-6, 235-pound frame makes fans and front offices alike salivate at the potential, but he has yet to put it all together on the ice. One example, earlier this season he made a sensational hit at the blue line, only to go to the box seconds later because of a dumb tripping penalty behind the play.
The Blackhawks supposedly want to keep Zadorov around for the long term. He is only 26 years old, so the intrigue to have a prime aged defenseman with his size is certainly understandable. However, he is reportedly asking for a five-year contract, somewhere in the neighborhood of $5-6 million per season. Any reasonable hockey fan can re-watch the Blackhawks' 2021 season and know Zadorov is not worth that price tag. The Blackhawks seem to agree after learning his desired price tag.
Rumors surfaced over the weekend that the Hawks were attempting to trade the RFA's rights ahead of the trade freeze. However, the team was unsuccessful, exposing him to possibly be taken by the Kraken on Wednesday night. If the Hawks lose Zadorov for nothing, then the second iteration of the Brandon Saad trade can be considered a failure in helping the team long term.
If Zadorov survives the Expansion Draft on Wednesday night, there is a good chance his rights are traded ahead of the Entry Draft. He can add a lot of value to any team. Hopefully, the Blackhawks can find a willing trade partner and improve for the future. All of that assuming he isn't lost for nothing.
Malcolm Subban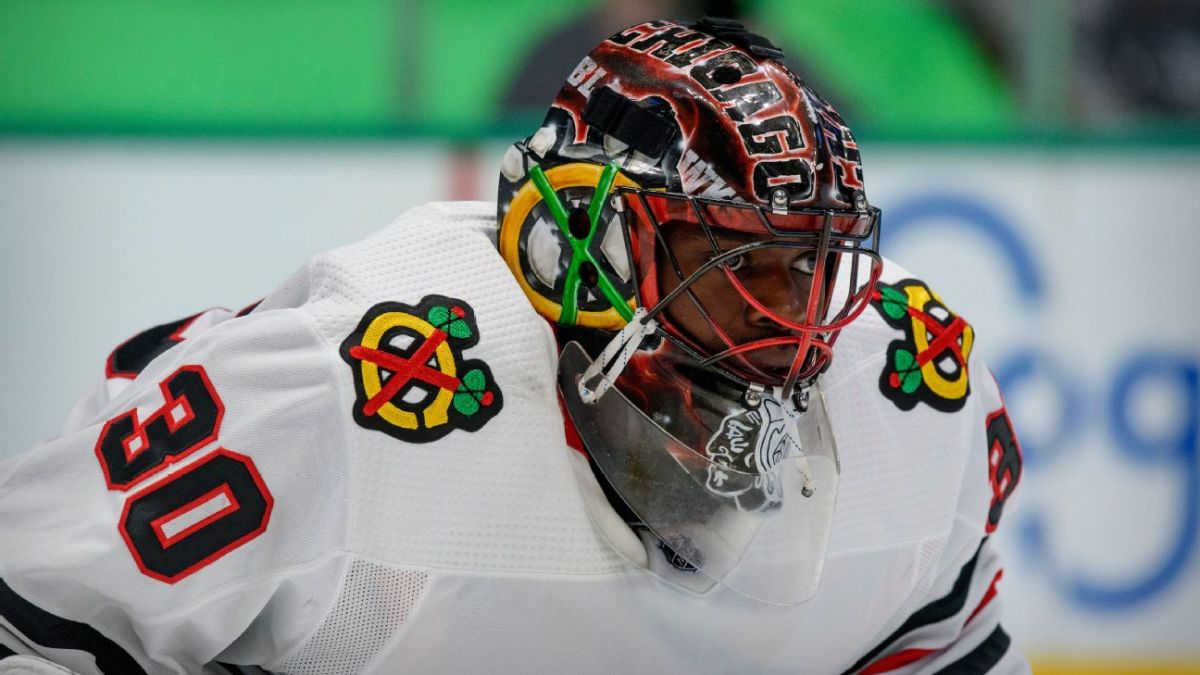 Blackhawks backup goaltender Malcolm Subban could once again be chosen in an expansion draft. He was the expansion choice by the Vegas Golden Knights from the Boston Bruins when they selected him ahead of the 2017 season. Subban found some success toward the end of the season in 2021, but has not lived up to the hype as a former first-round pick.
Subban finished the 2021 season with a 3.20 GAA and .900 save percentage. Although not impressive numbers, his $850K cap hit is an appealing option for the Kraken. Goalie depth is invaluable, and even if he is a third option for Seattle, that's better than some other teams in the league can say.
There is no guarantee that Subban helps the Kraken, but due to the need for goalie depth, as well as a reasonable contract, he makes a lot of sense as the pick.
The Pick
Ultimately, either Subban or Zadorov makes the most sense as the pick. Based on reports surfacing on Monday, Zadorov seems to be the preferred pick for the Kraken.
Although Subban makes sense, the Kraken appear to have found at least one goalie ahead of the Expansion Draft, meaning Subban becomes less desirable. The team is already working on locking up one of their goalie positions ahead of Wednesday.
With the Kraken already locking up Chris Driedger for $3.5 million per season, there is more doubt that Subban is coveted by Seattle. Now, Zadorov looks like he's taking his talents to Seattle.
---
That said, we'll learn which Blackhawks player is the casualty of the Expansion Draft on Wednesday, July 21 as the Seattle Kraken select their expansion roster for the 2021-22 season.
Follow On Tap Sports Net on social media!