The Chicago Bulls have been linked with Lonzo Ball for what feels like an eternity at this point. This week, NBA free agency finally begins. By the end of the week, we will finally have our answer on if Ball is joining the Bulls or not. In anticipation of this, I wanted to go through some film and talk about what Lonzo Ball would add to the Chicago Bulls.
Lonzo is possibly the most polarizing and misunderstood player in the NBA. On one hand, there are people who believe Lonzo to be an elite point guard who has been limited through injuries and poor situations. Yet, on the other side, you find people who think Lonzo will never live up to his potential and should be used only as a 3-and-D player.
Personally, I think Lonzo is a phenomenal player. However, both sides are somewhat right and also somewhat wrong. This is part two of my series on the Chicago Bulls' offensive struggles, part one can be found here. Let's look at the NBA's misunderstood prodigy Lonzo Ball and his potential fit with the Chicago Bulls.
Modern Ball
Lonzo has been a well known player in the basketball world since his days in high school. While the media coverage has slowed down since his move to New Orleans, his growth as a player has not. I want to start off by talking about some of the things that make Lonzo such a great player.
High Point Diet
Lonzo's shot was terrible when he entered the league in the 2017-2018 season. However, he's currently a very much above average shooter. You can say Lonzo's shooting form improved, and you wouldn't be wrong. But, if we look deeper, Lonzo has improved so much more than just his shooting form to become the three-point sniper he is today.
Let's compare rookie Lonzo to 2021 Lonzo. In his first season, Ball made 90-of-295 total three-point attempts or 30.5%. This past season, he shot 172-for-455 from deep, giving him a 37.8% mark. What's interesting about this is HOW he's taking these shots.
There are two basic ways to take three-point shots. Either you receive a pass then shoot immediately after, which is called catch and shoot, or you have possession of the ball and then shoot which would be a pull-up shot. In his rookie season, 175 of his 295 (59.3%) three-point attempts were catch and shoot attempts. However, this season 323-of-455 (71%) of his three-point attempts were catch and shoot. Why does this matter?
It matters because Ball shoots only 31.3% on pull-up three-pointers. Whereas he shoots 40.2% on catch and shoot attempts. In Lonzo's rookie season, over 40% of his long range attempts were inefficient pull-up shots. In contrast, that number was down to 29% this season.
This improved shot diet is an example of something that can be felt all throughout Lonzo's game. Lonzo Ball is exceptional at putting himself and teammates in positions to succeed.
Keep It Moving
Usually players who take such a high percentage of their shots on the catch need their teammates to force rotations to get them open. Lonzo certainly benefited from Zion Williamson and Brandon Ingram's ability to force rotations. However, he is one of the most exceptional off-ball movers in the NBA. He constantly relocates himself to the perfect spot along the three-point line for his teammates to find him open. It's beautiful to watch and I wanted to show you guys some of my favorite examples.
Here Lonzo makes a cut to the basket and finds himself in a crowd of defenders. Ricky Rubio is guarding Ball on this play. Ball notices that Rubio is looking to help on the Zion drive. As a result, he quietly backpedals himself to the far corner. Zion throws a pass over the defense to Eric Bledsoe, who quickly shuffles the ball to Lonzo for the wide open three.
This time, Ball starts by throwing the in-bound pass to Williamson. He stops for a brief moment to lull his defender to sleep. Lonzo quickly makes a cut along the baseline. Zion throws a pretty poor pass, but Ball is able to haul it in. He sets his feet and nails the open look.
This one is subtle, but hilarious. Lonzo starts near the right sideline. It's Kevin Porter Jr.'s responsibility to cover Lonzo on this play. Jaxson Hayes catches a pass in the paint and is surrounded by Rockets defenders. Meanwhile, Lonzo has relocated himself 10 feet closer to the right sideline. Jaxson Hayes fires a pass to the open Ball. The funny part is that Kevin Porter Jr. turns over his right shoulder. Porter Jr. then has to make a 270 degree turn before he finds Lonzo releasing an open 3-pointer.
Lonzo The Playmaker
Lonzo's ability to create open shots for his teammates is where the divide of opinions occurs. On one hand, you have people who think Lonzo has no ability to create open shots. And on the other, you have people who think Lonzo is exceptional at creating open shots for his teammates.
This disagreement is why some consider Lonzo a point guard, yet others view him as a 3-and-D wing. In reality, Lonzo is part of a rare class of players that fit a role somewhere in between the two. Let's look at why both sides feel the way they do, and then talk about what Lonzo really is.
Point God Lonzo Ball
Lonzo Ball has averaged 6.4 assists per game across 217 career games so far in his NBA career. There are no 3-and-D wings in the NBA that come anywhere close to that number. This is usually the point made by those who argue Lonzo is a point guard. It's a very good point, and it shows just how good of a passer Lonzo is.
Here Lonzo picks off an easy pass and finds a trailing Zion Williamson for the easy finish at the rim. Zion was only open because Lonzo forced a turnover and pushed the pace in transition. And without Lonzo's pass Zion never would have been able to score.
Lonzo uses his back and left arm to hold off Ricky Rubio. Zion Williamson sets a screen to Lonzo's right, and Ball quickly dribbles across the screen. He squares himself to the basket, and nails the pull-up three-pointer. This is just one example of Lonzo's improving ability to create shots off the dribble.
Ball is rapidly improving at hitting three-pointers after dribbling across a screen. As a result, defenders are going to need to change how they defend Lonzo. Defenders may try and go over screens to keep tight to Lonzo along the three-point line. This isn't always possible however, and sometimes defenders are going to need to help their teammates cover Lonzo. If Ball is able to force these rotations he can easily use his excellent passing and court vision to hit open teammates.
In addition to this Lonzo shot 29-for-72 (40.3%) on mid-range shots this season. Which is by far a career-best, and within 1% of the NBA average. If Lonzo can keep improving his game in this way he could certainly be a good NBA point guard.
3-and-D and Lonzo Ball
However, there are a lot of reasons to think Lonzo is nowhere close to being an NBA point guard. For one, Lonzo scored a massive amount of his points on catch and shoot chances this season. 390 of Lonzo's 802 points this season came off catch and shoot three's. That's 48.6% of Lonzo's total points. In the modern NBA, a point guard needs to be able to create shots for themselves, and Lonzo getting nearly half his points off chances created by teammates is worrying.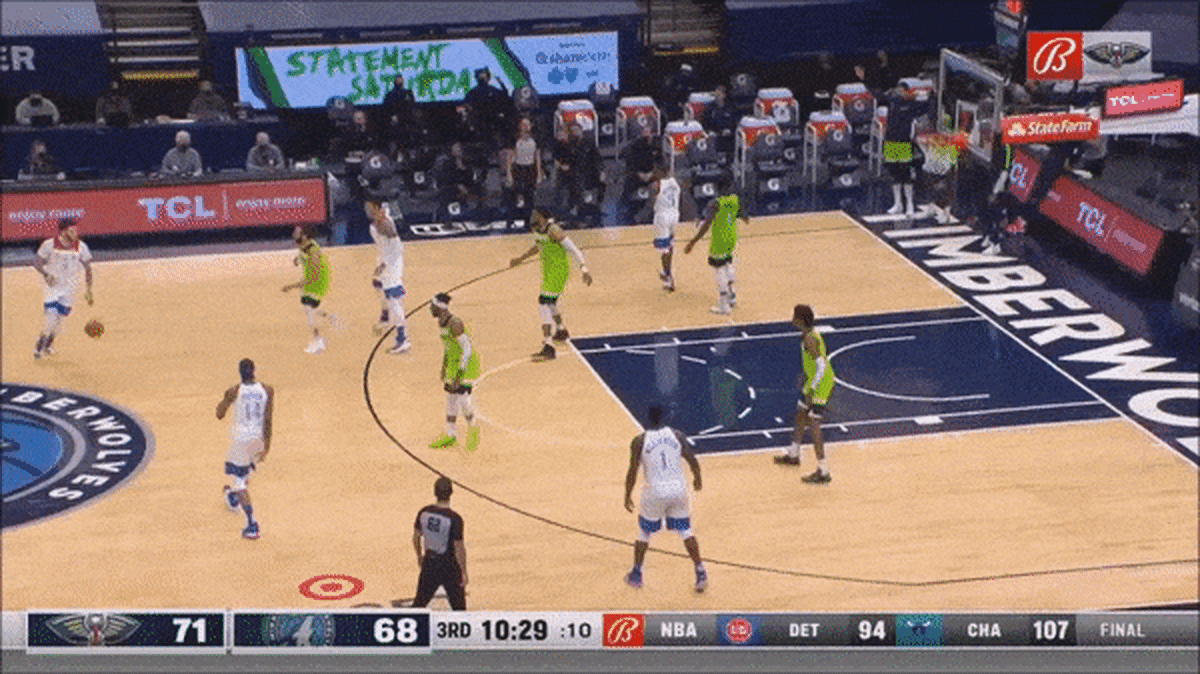 Ball has a loose handle when driving to the basket, and can often lose control of his dribble. Lonzo doesn't possess great burst. This lack of burst combined with his average-at-best ball handling make him not much of a threat when driving to the basket.
When looking at top point guards in the NBA, we often think of names like Luka Doncic, Trae Young, and Steph Curry. They rank 2nd, 3rd, and 44th in drives per game, respectively. Ball ranks 141st.
Some argue this lack of drives is due to his role on the team. However, even if this is correct, Lonzo is only generating points on 33.7% of his drives, which is horrifying considering the NBA average is 54.5%. Lonzo's also turning the ball over on 8.3% of his drives, far less nice than the league average of 6.9%.
Out of all of these categories, Lonzo is only more than 1% better than league average in two of them:
Restricted Area FG%
Paint (non-restricted) FG%
Mid-Range FG%
Corner 3pt%
Above the Break 3pt%
Catch and Shoot 3pt%
Pullup Shot FG%
Drive FG%
Driving PTS%
Drive AST%
Drive TO%
Most NBA teams run man-to-man defense. If Ball isn't able to force rotations due to his lack of being a scoring threat, how can he get his teammates open?
What is Lonzo?
I said earlier that Lonzo plays a role that is exceedingly rare. The role that Lonzo Ball is best used as is called a connector. It's an extremely useful role, and would help the Bulls' offense tremendously. Off the top of my head, only five players including Ball come to mind when thinking about this role. Those other four would be Tyrese Haliburton, Joe Ingles, Draymond Green, and Ben Simmons.
Before you panic, Lonzo is a lot closer to Haliburton and Ingles due to his high level catch and shoot three-point scoring. Offensively, Lonzo might be the best of the group. So what makes these players different from a point guard or a 3-and-D player?
What is a Connector?
Well first, these players are all highly intelligent and have a great feel for the game. Second, they are all extremely gifted passers. In addition, they are unable to consistently create open shots for themselves.
You want the ball in these players' hands due to their blends of intelligence, decision making, and passing ability. However, their inability to force the opposing defense to rotate leaves them unable to create open shots for their teammates consistently enough to run an offense.
They're essentially flawed point guards. However, they're so good at passing and knowing where the ball needs to go that they are still highly useful to an offense. This is why the term connector is used. They aren't really making plays, but they are getting the ball where it needs to go in order for plays to be made. Let's look at an example of this in action.
Lonzo starts with the ball above the break. He quickly identifies Brandon Ingram, who has a mismatch being guarded by the much smaller Ricky Rubio. However, Rubio plays it well and uses the sideline as a second defender. Ingram, unable to do anything with the mismatch, gives the ball back to Lonzo.
What should Ball do here? He could try and drive to the open right side of the court, but like we talked about he's not a good driver. Maybe he can try and create separation from his defender and take a jumper? However, like we said, Lonzo is below average at pull-up shots. Let's look at what Lonzo chooses to do.
Lonzo calmly waits for Ingram, who is still in a mismatch to get himself into a good position. The Minnesota defenders are forced to rotate, as they can't allow Brandon Ingram to take an open shot at the rim. This rotation leaves Eric Bledsoe wide open in the corner. By some miracle, Eric Bledsoe actually makes an open three-pointer, and the Pelicans take the lead in a close overtime game.
Connectors are at their best when paired with star offensive players. They can get the ball to these players whenever they need it. However, they can't really run an offense on their own.
The Lonzo Fit
The Bulls' have two All-Star offensive forces in Zach LaVine and Nikola Vucevic. Ball, a connector, needs to play with star offensive players to succeed. The fit is phenomenal, and it's why the Bulls front office was so adamant on adding Lonzo this offseason.
With that said, the Bulls should probably still be looking to add a player who can run the offense and create open shots when LaVine is off the court. This is probably why we're hearing reports that the Bulls want both Lonzo and Derrick Rose.
Not only would Lonzo bring much needed stability to the Bulls offense, he would also add floor spacing. The Bulls ranked 15th in the NBA on catch and shoot 3pt%. Lonzo Ball's high volume 40%+ shooting on the catch would help work towards improving that ranking this coming season.
Defensively, Lonzo is well known for his high awareness and ability to read plays before they happen. Lonzo's point of attack defense would certainly pair well next to Zach LaVine's high flying offense.
In Conclusion
It seems extremely likely that Lonzo Ball will end up a member of the Chicago Bulls this offseason. This week, NBA free agency begins, and we should finally find out if Lonzo will actually join the Bulls. Lonzo is one of the most polarizing and misunderstood players in the NBA. People constantly argue about his role. Lonzo isn't a point guard, nor is he a 3-and-D player. He is a connector, who can't frequently create open shots for his teammates, but he can get the ball to the players who can. Ball blends intelligence, awareness, and passing ability together to be an extremely useful offensive player. In addition, Lonzo's improved catch and shoot three-point ability and off-ball movement give him the scoring threat that other connectors such as Draymond Green or Ben Simmons lack.
Free Agency starts today! Stick with us here at On Tap Sports Net and Bulls On Tap for all your Bulls free agency coverage and analysis. This was part two in my series about the Bulls' offensive struggles. Part one can be found here at On Tap Sports Net.
Follow On Tap Sports Net on social media!