It's no secret the Chicago Bears are thin at both offensive tackle spots. The level of concern shouldn't be through the roof just yet, but with each passing day it's starting to mount. Starting left tackle Teven Jenkins continues to deal with back issues early on in training camp. Starting right tackle Germain Ifedi also remains sidelined due to a hip flexor injury.
Beyond those ailments, Elijah Wilkinson landed on the COVID-19 reserve list. Consequently, the team will be without their backup tackle for a period of time.
Current Offensive Line Injuries
Teven Jenkins (back)
Germain Ifedi (hip flexor)
Elijah Wilkinson (COVID-19 reserve list)
James Daniels (thigh)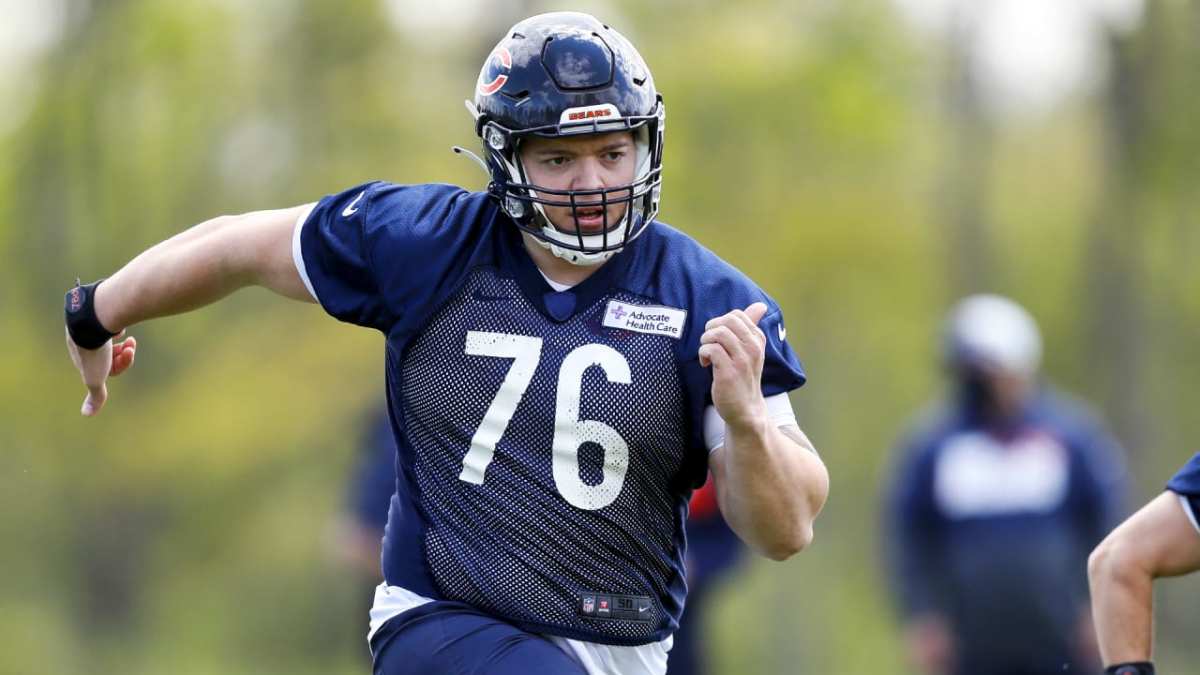 Current Starting Offensive Line
Left Tackle: Larry Borom
Left Guard: Cody Whitehair
Center: Sam Mustipher
Right Guard: Alex Bars
Right Tackle: Arlington Hambright
Depth at Tackle
Due to these circumstances, the Bears' depth at offensive tackle takes a major hit. As a result, 2021 fifth-round pick Larry Borom is penciled in as the starting left tackle for the time being. Similarly, 2020 seventh-round pick Arlington Hambright slides into the starting right tackle spot. Beyond those two, it's slim pickings at that spot. At the moment, the Bears can not afford another injury to the offensive line.
The following players represent current in-house options behind Borom and Hambright to play tackle:
Badara Traore
Lachavious Simmons
Tyrone Wheatley Jr. (converted to tackle from tight end)
Dieter Eiselen (guard)
Dareuan Parker (guard)
Adam Redmond (guard)
Alex Bars might be in line to take over at guard with James Daniels suffering a thigh injury at practice on Tuesday. However, he could be kicked out to tackle in a pinch. It will be interesting to see how the coaching staff reshuffles the offensive line as injuries and absences persist.
The bottom line is that the Bears nor their fans should be comfortable with the current situation at tackle. Even if Jenkins and Ifedi were healthy, there is a significant decline in talent behind them. Outside of Wilkinson and maybe Bars, there isn't much help at the position. Does anyone feel comfortable with Simmons, Traore, or Hambright getting playing time in case of injury?
Even When Healthy, Are Jenkins and Ifedi the Right Fits?
Despite playing most of his college snaps at right tackle, Jenkins did play some on the left side. However, thrusting him into that position during his rookie season is still a gamble. But if anyone is built to handle it, Jenkins might be the guy.
The real concern comes with Ifedi, who struggled in Seattle when asked to play right tackle. In fact, Ifedi played mostly at right guard last year and did well for himself. He seems better suited to play on the interior. But the return of Daniels coupled with the emergence of Mustipher, which has pushed Whitehair to guard, leaves the Bears with no choice.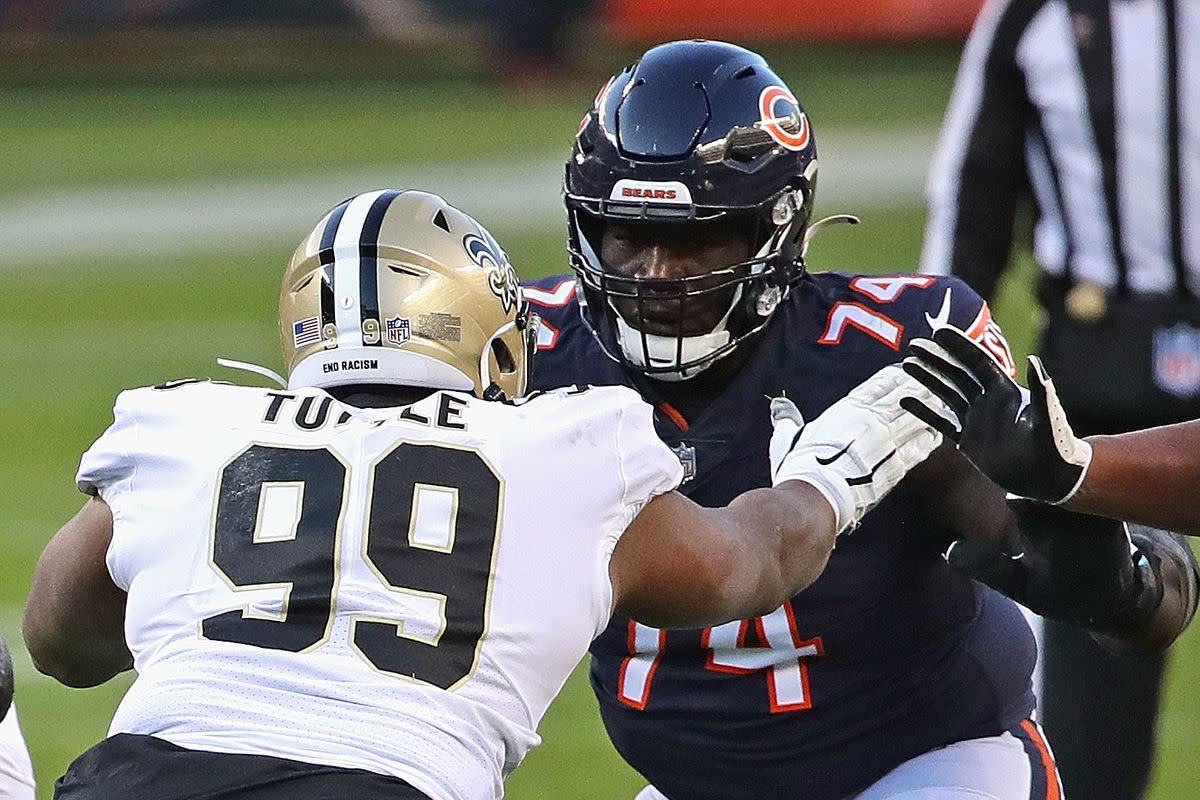 Bolstering Offensive Line Depth
There isn't much cause for concern regarding the interior offensive line. The area of focus is the tackles. In an ideal world, the Bears would have signed a left tackle and let Jenkins play his natural position on the right side, but that ship has sailed. The team chose to cut tackle Charles Leno as a salary cap casualty this offseason, which is unfortunate because he was fairly reliable and did not miss a game over the past six seasons.
Beyond the depth chart itself, there's another massive incentive for the Bears to bolster their depth at tackle: their 2021 first-round pick and future of the franchise, Justin Fields. If the plan is to play Fields at some point in 2021, the current offensive line uncertainty doesn't make for an ideal situation when trotting out a rookie quarterback. If the plan is to sit Fields as long as possible, that would make sense given the circumstances.
However, throwing Andy Dalton to the sharks might only buy the Bears a little time. It may ultimately result in Fields playing after all. A young quarterback playing behind a questionable offensive line and running for his life can't be good for his development nor his safety. Should the Bears starters on the line go down during the season, it wouldn't hurt to have trustworthy players step up. The last thing the Bears need is a carousel on the offensive line, much like the one we saw in 2020.
First of all, the Bears would ideally prefer to have Jenkins, Ifedi, and Wilkinson healthy. Next, the team needs to get Jenkins snaps at left tackle to gauge how comfortable he looks. But that's not the case at the moment. That's not to say all three won't be back sooner than later and it all works out. However, they're currently they're down to third-string players in starting spots, which means depth at the position is an issue.
Who's Available on the Market?
There are a few available tackles available on the market. One name that instantly comes to mind is left tackle Russell Okung, but he may be a pricier option. Even so, Okung at left tackle and Jenkins at right tackle would be an ideal fit in the short-term.
A more realistic solution for the Bears might be right tackle Rick Wagner. The 31-year-old was considering retirement but has not officially announced it. Wagner should be a name Bears fans are familiar with, as he played three years with the Lions before spending last season in Green Bay. Wagner would be a solid depth piece that the team is looking for. However, even the possibility of adding him to the mix is dependent on whether or not he continues with his playing career.
Snap Counts Table
Games
Off.
Def.
ST
Year
Age
Tm
Pos
No.
G
GS
Num
Pct
Num
Pct
Num
Pct
2013
24
BAL
71
16
2
131
12%
0
0%
67
14%
2014
25
BAL
RT
71
15
15
969
90%
0
0%
73
16%
2015
26
BAL
RT
71
16
16
1128
100%
0
0%
69
15%
2016
27
BAL
RT
71
15
14
924
82%
0
0%
68
15%
2017
28
DET
RT
71
13
13
791
76%
0
0%
62
13%
2018
29
DET
RT
71
15
15
984
92%
0
0%
59
14%
2019
30
DET
RT/T
71
12
12
753
70%
0
0%
31
7%
2020
31
GNB
rt
71
16
9
610
59%
0
0%
71
17%
Career
6290
0
500
4 yrs
BAL
62
47
3152
0
277
3 yrs
DET
40
40
2528
0
152
1 yr
GNB
16
9
610
0
71
All that being said, the Bears could also wait until preseason roster cuts take place to pick up tackle help. Even if the currently injured players return to the practice field in the near future, it would behoove Ryan Pace to check in with potential depth options to shore up the tackle position.
---