The Chicago Blackhawks announced jersey numbers for three new players Thursday afternoon.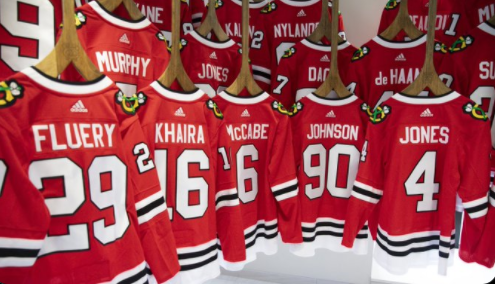 Forward Jujhar Khaira will stick with No. 16, which he has worn since 2017 with the Edmonton Oilers. Khaira previously had No. 54 with the Oilers from 2015-17. He'll be the 32nd player in Blackhawks history to wear No. 16, and the first since defenseman Nikita Zadorov (2021), who was traded to the Calgary Flames this summer.
Forward Tyler Johnson and defenseman Jake McCabe will each have a new number. Johnson will make the change from No. 9 to No. 90, and McCabe will go from No. 19 to No. 6.
The Blackhawks have retired No. 9 in honor of Bobby Hull, so Johnson had to choose a new number. Johnson wore No. 63 during a 14-game stint with the Tampa Bay Lightning in the 2012-13 season. No. 63 is available with the Blackhawks, but Johnson opted to stick with the No. 9 and add a zero to it. He'll be the second player to wear No. 90, joining goaltender Scott Foster (2018).
McCabe had Nos. 29 (2013-17) and 19 (2017-21) with the Buffalo Sabres. Blackhawks captain Jonathan Toews (No. 19) and newly-acquired goalie Marc-André Fleury (No. 29) each hold those numbers. McCabe will be the 49th Blackhawks player to have No. 6, and the first since defenseman Olli Maatta (2020).
The Blackhawks announced the news on social media, but quickly deleted the post when fans pointed out that Fleury's surname was misspelled.