College Football officially kicked off earlier this week. However, everything leading up to this weekend has just been an appetizer. With one of the greatest Week 1 slates in recent memory, Saturday offers up the main course.
There are so many great games to wager on this weekend, but I wanted to specifically break down a few of the ranked marquee matchups. So without further adieu, here we go!
#19 Penn State at #12 Wisconsin
Spread: Wisconsin -5.5
Over/Under: 50.5
Game Info: 11:00 am CST (FOX)
The Badgers and Nittany Lions are both looking for bounce-back seasons after what each would consider disappointing showings in 2020. Both schools entered 2020 pre-ranked in the top 25 but ended their seasons on the outside looking in.
With the world of college football in a more normal state, these two teams are ready for a reset. The polls agree, as both teams enter the 2021 season ranked once again.
Wisconsin
Wisconsin is returning nine starters on offense including sophomore QB Graham Mertz. Senior TE Jake Ferguson, who hauled in the most touchdowns by a Big Ten tight end, is back as well.
However, Wisconsin's two-headed backfield from a year ago is now cut in half after losing Garrett Groshek to the NFL. The Badgers will be comfortable leaning on their young workhorse, freshman Jalen Berger, who more than matched Groshek's ground production last season. However, the loss of Groshek's receptions out of the backfield may be felt by a team that was second to last in the Big Ten in passing yards per game a year ago.
On the defensive side of the ball, Wisconsin also lost their top two safeties in Colin Wilder and Eric Burrell. But they are bringing back a very talented front four and linebacker core that held opposing offenses to a Big Ten-best 96.1 rushing yards per game a year ago.
Penn State
Penn State will be looking to build on a strong 4-0 finish to close out 2020 and should be in a great position to do so.
Dual-threat senior QB Sean Clifford was second only to Justin Fields in 2020 in terms of passing yards and his chemistry with WR Jahan Dotson is guaranteed to be on full display again this year.
With a semi-full season under his belt and wildcat QB Will Levis now at Kentucky, second-year RB Keyvone Lee will be carrying the load in the rush game in an attempt to take some of the pressure off Clifford's legs.
Penn State took a huge hit on defense, losing their top three 2020 sack producers, led by Shaka Toney. Toney, along with DE Jayson Oweh, departed for the NFL, while DT Antonio Shelton and DE Shane Simmons moved on to other things. The Lions will need to dig deep to replace this level of production by the big boys up front.
The Pick
This is a brutal first game to try to pick in a loaded Saturday slate. I do view this game as a toss-up, and the public agrees. At the time of writing, the tickets are being placed 54% to 46% in favor of the Badgers. The money is even tighter with a 51% to 49% split. But in early-season games, I tend to lean offense, and in this case that scale is tipped in Penn State's favor. The Badgers will need to be fully dialed in to stop the Big Ten's most prolific passing offense. Penn State will be picking on the inexperienced Wisconsin secondary all day, and I see them breaking off some big plays.
Pick: Penn State +5.5
#1 Alabama at #14 Miami
Spread: Alabama -19
Over/Under: 61.5
Game Info: 2:30 pm CST (ABC)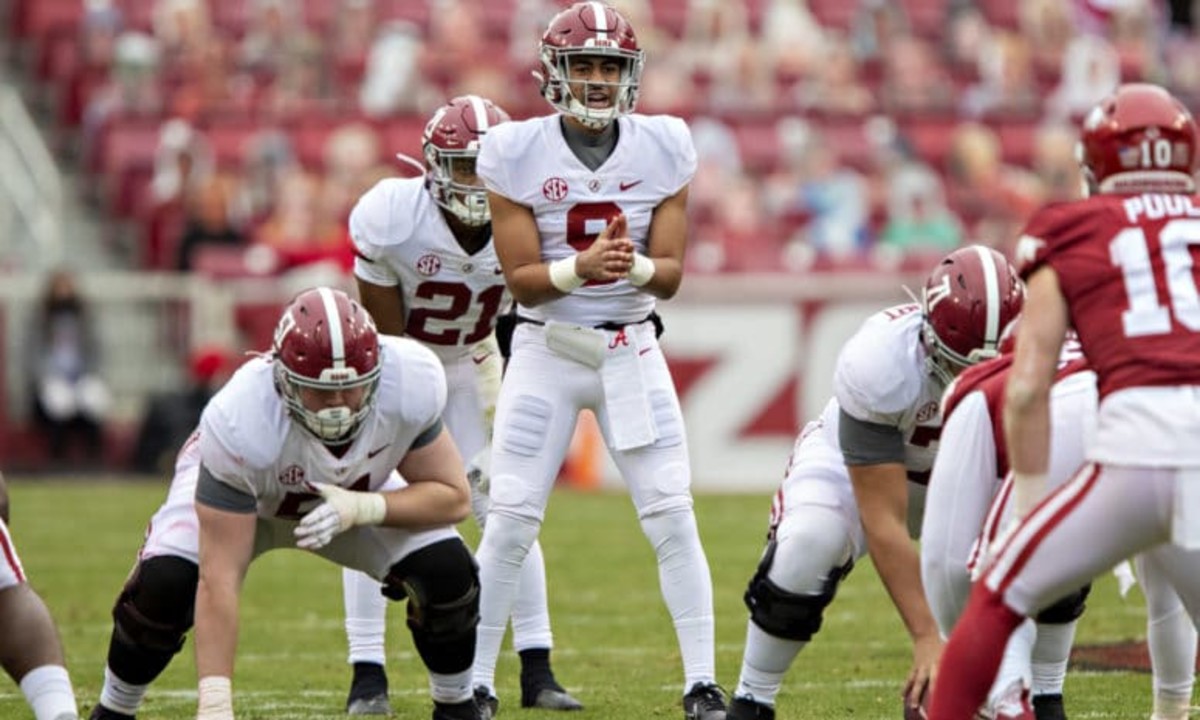 Alabama
The defending champion Crimson Tide are returning just 11 starters from their 2020 roster, and only three of those are on offense. Only five teams in the entire FBS are returning fewer starters. Yet at +300, Alabama is again the favorite to win the National Championship.
This team's ability to reload year after year is simply astonishing and something we may never see again in sports. But, winning begets winning, and if there's one thing Nick Saban knows, it's winning. You would think losing a player as prolific as Mac Jones, who threw for 4,500 yards with a 77% completion rate, would hurt. But here we are in Week 1, and Alabama's next man up, sophomore Bryce Young, is getting the second-best Heisman odds in the country (+900). This is a player who has taken just 22 snaps in his college career. That's how good Alabama's program is right now.
How do you lose the production of DaVonta Smith, Jaylen Waddle, and Najee Harris and still succeed? You simply pass the baton to John Metchie, Slade Bolden, and Brian Robinson Jr. It's that simple… right?
That, by the way, is just the offense. Alabama should also have one of the best defenses in the country again this season.
Alabama will again be the team to beat this year. There's no question about it. But their road to another championship starts with a formidable foe.
Miami
Unlike their opponent, the Hurricanes had very little restocking to do leading into this season. Miami is returning 19 of 22 starters from 2020, a year in which they went 8-2 in the regular season with their only losses coming against No. 1 Clemson and No. 20 North Carolina.
The Hurricanes were top-five in the ACC in passing touchdowns per game, and senior QB D'Eriq King was fourth in the conference with 2,686 yards on the season. All of that took place while battling through the third most difficult schedule in the conference.
D'Eriq King took his free year of eligibility and is returning for a second run with the 'Canes since transferring from Houston after the 2019 season. King, who rushed for over 500 yards himself last year, will again be joined by a plethora of solid running backs in Cam'ron Harris, Donald Chaney Jr., and Jaylan Knighton. Each of these backs saw a healthy split of the carries in 2020 and a very even distribution of pass targets out of the backfield. Add in Miami's deep receiving core and it's safe to say that third-year coach Manny Diaz should be able to put points on the board however he likes this season.
It is important to note that D'Eriq King has been nursing a slight knee injury, but it is not projected to impact his status for Saturday.
The Pick
This game is a matter of head over heart. The heart aspect of me is struggling to grasp how a team with just 50% of their starters returning, and quarterback at the helm who has just 22 snaps worth of experience, are 19-point favorites over this talented and experienced Miami team. It's a lot of points to be laying this early in the season.
Then again, it's Nick Saban. It's ALABAMA. Under Saban, the Tide are 11-2 ATS in season openers against FBS teams. They are also 21-13 ATS when favored by 14 or more points over the past three seasons. Some may point to the fact that this game is being played on a neutral site at Mercedes Benz Stadium, but care to guess the Tide's record on neutral site openers under Saban? That's right… a perfect 10-0. I simply can't bet against the trends here.
Pick: Alabama -19
#5 Georgia at #3 Clemson
Spread: Clemson -3
Over/Under: 51
Game Info: 6:30 pm CST (ABC)
We may have NEVER seen a Week 1 college football matchup with as much potential to impact the season outcome like this one. Both of these teams are serious contenders for the College Football Playoff and National Championship. A one-loss team can still contend, but a win this week will be monumental for these teams as they start their 2021 campaigns.
Georgia
With a third-best +1000 odds, Heisman hopeful JT Daniels will lead the Bulldogs in an attempt to take the SEC crown for the first time since the 2017 season.
However, Georgia will need to make sure they can successfully reload what was the second-best defense in the SEC a year ago. The Bulldogs' secondary was depleted during the draft, where they sent four DB's to the NFL. They lost two more LB's to the pros as well. Overall, Georgia is getting back just five starters from their 2020 defense, which could pose an issue against this Clemson team.
To make matters worse, Georgia has been decimated by a rash of offseason injuries, the most notable being the ACL tear of star wide receiver George Pickens. That immediately elevated junior Kearis Jackson to the top of the depth chart, but he is nursing a knee injury as well. Jackson is expected to be fully available for Saturday's matchup. In addition, DB Tykee Smith, a key addition on defense brought in through the transfer portal leading into the season, is out with a foot injury.
Clemson
The last time we saw the Tigers they were getting blown out in the Sugar Bowl against Ohio State after claiming the ACC title. However, it's a new year, and you can bet Clemson will be returning with something to prove.
The biggest question is how the Tigers will fair in a post-Trevor Lawrance world. Fortunately for Clemson, they got a nice taste of the future last year with their new starter D.J. Uiagalelei, and the future looks bright. Vegas agrees, offering up 12-1 odds on the sophomore to win the Heisman.
Luckily for Uiagalelei, he'll be throwing to one of the most loaded WR cores in the country. Amari Rodgers and Cornell Powell are both now in the NFL, but E.J. Williams and Frank Ladson Jr. stand poised to fill those gaps. Clemson will also see the return of prized prospect Justyn Ros who hasn't played since 2019 due to a neck injury. Add in a pair of solid tight end targets in Braden Galloway and Davis Allen, and the options are plenty for the young quarterback.
Clemson only lost two starters from their 2020 defense, a unit that allowed the second-fewest points in the ACC.
If Clemson can work its way through this difficult Week 1 matchup, it's a safe bet that they'll be well in the hunt for the playoffs again this season. It's an opportunity at redemption they desperately desire.
The Pick
For me, there's just too much working against Georgia in this game and too much motivation for Clemson. Georgia will be trying to find themselves again on defense and live up to the success of last year's squad. That's just not a good recipe for a Week 1 matchup.
The injuries are a killer for Georgia here. I feel like Clemson will be able to pick apart this Bulldog secondary and break off some big plays. Playing in the weaker ACC, a loss Saturday by Clemson may be enough to keep them out of contention later in the season.
Clemson knows this and will enter this game as if it were already a playoff game.
Pick: Clemson -3
---
Bet Slip
While I broke down just a few of my favorites above, there are so many amazing matchups this weekend with a ton of value available. Here is my full bet slip for Saturday's marquee games.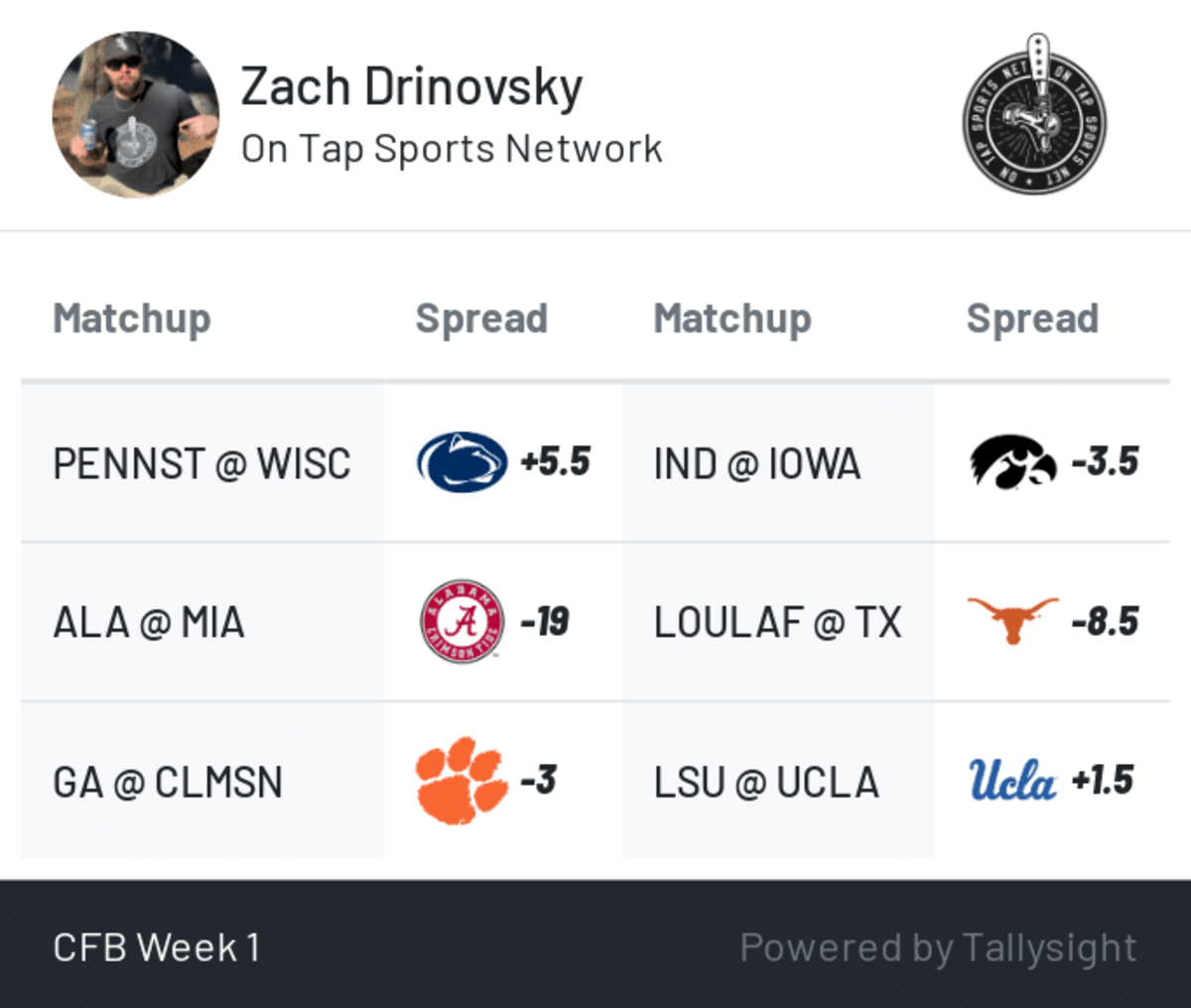 ---
Be sure to follow On Tap Sports Net and On Tap Bets all season long for NCAA and NFL picks plus additional sports gambling news.
Looking for a better place to bet online? Check out BetRivers and use Promo Code: ONTAP for a free deposit match up to $250.