The wait is over, football fans. Beginning on Thursday night, NFL football returns to our living rooms. For the Chicago Bears, their season begins on Sunday Night Football against the Los Angeles Rams. While this will be the third time in three seasons that the two teams have matched up, this Bears team has a significantly different look. Gone are the days of Kyle Long, Charles Leno, and Bobby Massie upfront. In their place? A mixture of new and old faces, each with a different level of expectations and job security.
Heading into Week 1, let's take a look at who will be donning the line of scrimmage for the Monsters of the Midway.
Left Tackle: Jason Peters
When taking a look at former Philadelphia Eagles left tackle Jason Peters, there's a lot to be excited about. Over a 17-year career, Peters has started 203 games, been selected to nine Pro Bowls, earned two All-Pro selections, won a Super Bowl in 2017, and has made a name for himself as one of the best offensive linemen of his era. He will also likely be selected to the Pro Football Hall of Fame when he decides to hang up his pads. Ideal fit, right?
Not so fast. While it's certainly possible that Peters has some good football left in the tank, durability has become a serious issue. At a ripe 39 years old, Peters has started just 44 of a possible 64 games in the past four seasons. He also played on arguably the worst offensive line in football last season, which saw quarterback Carson Wentz get sacked a staggering 50 times in 12 games. While that can't fall on Peters completely, it's something that should be watched.
If the future Hall of Famer can produce at even a fraction of his prime production, the Bears got a steal in Peters.
Left Guard: Cody Whitehair
In his five seasons in Chicago, Cody Whitehair has only missed two games due to injury and is the unofficial captain of the offensive line. From 2018 to 2019, Whitehair did not miss a single offensive snap. He has seen time at nearly every position on the line and has never aired a complaint about it. Besides some snapping issues early on in his career, he has been successful at nearly every turn. What more can you say?
Whitehair is consistently seen getting to linebackers, being the first man downfield on screens, and setting the tone physically at the line of scrimmage. While he doesn't receive the recognition he deserves from peers and fans alike, there is no doubt about what Whitehair brings to the table. Expect that to continue in 2021 at his preferred position.
Center: Sam Mustipher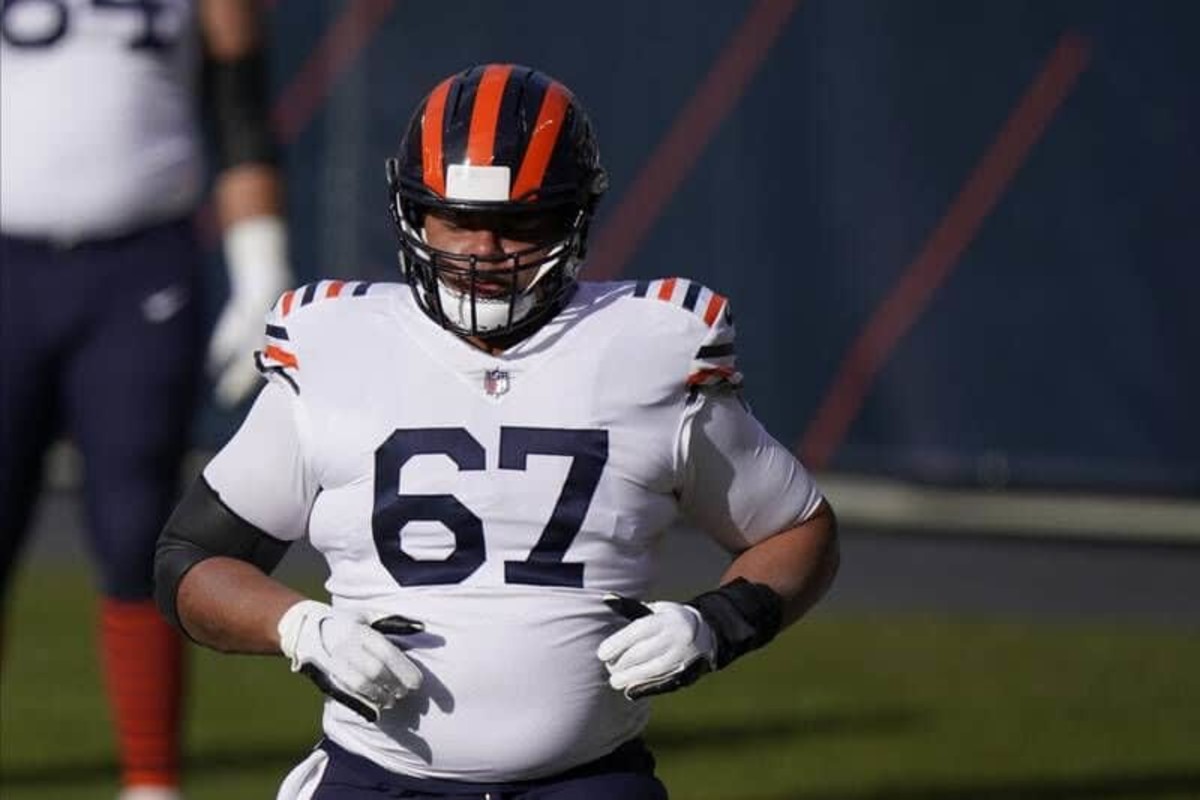 What Sam Mustipher lacks in experience and raw talent, he makes up for in grit. While the Notre Dame product has only appeared in nine games in his young career, he has certainly made an impression on the coaching staff. Offensive line coach Juan Castillo has praised the center for his leadership and ability to make calls at the line. He has also been quoted as saying he believes Mustipher is a 'starting-caliber center.'
While it's a great story for the undrafted free agent, Mustipher has been far from perfect. Though he is experienced at the center position itself, he has struggled in both pass and run coverage in the past. His showing in the preseason game against Tennessee was especially concerning, looking consistently outmatched on running assignments. Mustipher will be given every opportunity to solidify himself as a starter, but he still has quite a bit to prove before he can be seen as a long-term answer at the position.
Right Guard: James Daniels
When Chicago Bears GM Ryan Pace selected James Daniels in the second round of the 2018 NFL Draft, most assumed Daniels would be the long-term answer at center. However, Daniels has made himself at home at both guard positions. Despite a short stint at center in 2019, Daniels has shown far more promise when he doesn't have to make calls at the line and can focus on the matchup in front of him. His ability to pull and get to linebackers has made him especially valuable in the run game.
However, Daniels finds himself in a bit of a strange situation. While he didn't miss a game his first two seasons, he only played in five contests in 2020 due to a torn pectoral muscle that sidelined him for the season. With his contract set to expire after the 2021 season, Daniels is playing for long-term stability. At just 24, a great season could make him a very, very rich man.
Right Tackle: Germain Ifedi
When the Chicago Bears signed Germain Ifedi last offseason, it was with the intention of moving him inside. The former first-round pick out of Texas A&M struggled mightily at tackle his first few seasons in the league, which is why the Seattle Seahawks ended the experiment. However, OL coach Juan Castillo did get quite a bit out of Ifedi at guard last season. Playing mostly in place of injured starters James Daniels and Bobby Massie, Ifedi looked impressive at guard early on and started all 16 games at various positions.
While it was easy to mask some of his issues inside, it became clear quickly why Seattle had moved on from him. Ifedi consistently struggled with edge rushers and had a hard time getting to the second level in the run game from the tackle position. It should be noted that he wasn't expected to play much tackle at all, but with him set to start the season at the position, one has to wonder if he has improved enough to not be a liability.
The plus side? Ifedi is still fairly raw and is an impressive specimen. If Castillo is as good as billed, he should be able to find some production here.
Next Man Up
With most of the starters set in stone moving forward, it's also important to examine some of the depth in the offensive line room. While there will be players who bounce around the practice squad and potentially get cut once other players return, two bench pieces will almost surely stay in place.
In two seasons, Alex Bars has appeared in 21 games, starting eight of them. While he hasn't found a long-term home at any one position, his ability to be the first man off the bench is extremely valuable. It's no coincidence that the offensive line improved when he was inserted into the lineup last season and at just 26, Bars could be a starter within a matter of a few snaps.
Selected in the fifth round of the 2021 draft, Larry Borom has impressed fans and coaches alike this offseason. The former Missouri Tiger lost a staggering 45 pounds over the summer. Seeing time at both tackle positions in the preseason, Borom is expected to log some snaps this season. The team has him unofficially listed as the backup at left tackle and if Germain Ifedi were to struggle this season, it wouldn't be a surprise if Borom took over at right tackle.
Follow On Tap Sports Net on social media!