The Chicago Bears began their 2021 season where the 2020 campaign left off. After suffering a humiliating 34-14 defeat at the hands of the Los Angeles Rams, the Bears open the season with an 0-1 record.
However, there is a silver lining to all of this. The Bears are in a four-way tie for first place in the NFC North. The Packers, Lions, and Vikings all lost their respective games as well on Sunday.
Matt Nagy and his team went into Los Angeles and came away with a loss, but there was quite a bit to dissect from the season opener. So without further ado, here are the takeaways from Week 1.
Defense: The Big Plays
Normally, the offense would take precedent here but this time it's the defense at the forefront. This was hardly their best performance. In fact, their showing against the Rams had feelings of 2013 and 2014 at times.
Sean Desai and his unit had a rough go of it from the onset. On the Bears' first defensive possession, which occurred after a turnover by the offense, they yielded a 67-yard touchdown to Van Jefferson on a busted coverage. Of course, the cherry on top was that Jefferson was never downed by Eddie Jackson or Tashaun Gipson after the reception and he scampered into the end zone untouched.
It was hard to believe what had happened in real time, but the still shots of the play made it so much worse.
The bad times didn't end there. Once again, the defense got torched on another busted play, which resulted in Cooper Kupp roaming free down the field with Marqui Christian, Eddie Jackson, and Tashaun Gipson just watching on from about 11.3-yards away, according to Nex Gen Stats.
Consequently, the end result was a 56-yard touchdown for Kupp.
Just one game into the 2021 slate, the Bears have matched their season-high on 50-plus yard touchdowns allowed over the past seven years.
Additionally, they allowed a 37-yard pass from Matthew Stafford to Tyler Higbee late in the third quarter. These three plays were the biggest plays of the night at SoFi Stadium.
Pass Defense
In case anyone was wondering, yes, the Bears' defense looks like it's regressed quite a bit from 2018. It's been a steady decline over the past three years. That unit looked dreadful against the Rams.
The Bears allowed 386 total yards on 50 plays, which equates to an average of 7.7 yards per play. Breaking it down further, they allowed 312 passing yards. In particular, Matthew Stafford carved them up with a final line of 20/26, 321 yards, 3 TD, 0 INT, and a near-perfect 156.1 QB Rating. The ex-Lions QB, who was sacked only once for a nine-yard loss, had a nearly historic night for the Rams. He averaged 12.3 yards per attempt, which seems ridiculous to think about. Furthermore, the Bears' defense got torched by the Rams' playmakers thanks to Stafford's big night.
Cooper Kupp: 7 receptions, 108 yards (15.4 yds/rec), 1 TD
Van Jefferson: 2 receptions, 80 yards (40.0 yds/rec), 1 TD
Tyler Higbee: 5 receptions, 68 yards (13.6 yds/rec), 0 TD
Robert Woods: 3 receptions, 27 yards (9.0 yds/rec), 1 TD
DeSean Jackson: 2 receptions, 21 yards (10.5 yds/rec), 0 TD
Darrell Henderson: 1 reception, 17 yards (17.0 yds/rec), 0 TD
Run Defense
For the most part, the Bears' run defense held firm. They allowed 74 yards on 23 rushes, which is good for 3.2 yards per attempt. However, these numbers seem a bit skewed as Darrell Henderson carried the ball 16 times for 70 yards (4.4 yards/attempt). The rest of the Rams' ball carriers evened out the numbers to make it look a lot more palatable.
Robert Woods: 1 carry, 7 yards (7.0 yds/att)
Sony Michel: 1 carry, 2 yards (2.0 yds/att)
Matthew Stafford: 5 carries, -5 yards (-1.0/att)
The longest run of the day came from Henderson when he popped off a 15-yard scamper late in the fourth quarter. While the Bears' run defense wasn't the primary issue, there are still aspects of it that could use cleaning up.
Third-Down Defense
The Bears' third-down defense faltered down the stretch of the game. They were fine in the first half but completely unraveled after halftime and couldn't get off the field.
First Half
| | | | | | |
| --- | --- | --- | --- | --- | --- |
| Quarter | Drive | Down | Distance | Converted? | Drive Result |
| First | 2 | 3rd | 5 | No | FG |
| Second | 3 | 3rd | 1 | No | – |
| Second | 3 | 3rd | Goal | No | FG |
| Second | 4 | 3rd | 19 | No | Punt |
Second Half
| | | | | | |
| --- | --- | --- | --- | --- | --- |
| Quarter | Drive | Down | Distance | Converted? | Drive Result |
| Third | 5 | 3rd | 10 | Yes | TD |
| Third | 6 | 3rd | 5 | Yes | – |
| Third | 6 | 3rd | 1 | Yes | TD |
| Fourth | 7 | 3rd | 13 | Yes | – |
| Fourth | 7 | 3rd | 9 | Yes | – |
| Fourth | 7 | 3rd | Goal | Yes | TD |
| Fourth | 8 | 3rd | 13 | No | End of Game |
Defense: Tackling, Effort, Angles of Pursuit
Over the course of the game, it became evident that the defense's effort wavered. The tackling was poor and the angles taken by some of the defenders while pursuing the ball were equally woeful. The first half wasn't nearly as abysmal outside of the busted coverage on the aforementioned Van Jefferson touchdown. Although, the angles taken by Eddie Jackson and Tashaun Gipson were dreadful and their effort level was not up to par. Neither of them could get a hand on Jefferson just to down him at the spot of the catch.
The second half was a totally different story. The entire defense crumbled. The overall tackling and effort level worsened and it felt like a Mel Tucker-led defense. The Cooper Kupp touchdown had Chris Conte busted coverage written all over it.
Defensive Backs
This group is going to be a liability all year long. It's best for Bears fans to brace themselves now. Outside of Jaylon Johnson, can anyone in the secondary be trusted?
Eddie Jackson almost seems like he's mailed it in after getting his contract extension. One would think that a veteran like Tashaun Gipson Sr. would help with the miscues and lack of communication. Nope. Now, they're left with Marqui Christian, Kindle Vildor, Xavier Crawford, Artie Burns, and Duke Shelley. All the aforementioned names are unproven players and some of them were not active for the game.
Right now, outside of Johnson, Deon Bush, and DeAndre Houston-Carson, nobody is really reliable. Eddie Jackson has definitely lost the trust of Bears fans, which now makes the decision to part ways with Kyle Fuller that much more foolish. Good to know the front office prioritized Jimmy Graham over a proven cornerback!
Sean Desai
This was a tough spot for Desai. His first official game as Bears defensive coordinator pinned him up against a wizard like Sean McVay with a loaded Rams offense at his disposal. Yikes. The busted coverage and lack of communication isn't a great look at all. Coach Desai has to figure it out and make do with what he's got. The Vic Fangio disciple looked nothing like his teacher on Sunday night.
Now, the task gets tougher as the schedule rolls on. Next up is the Bengals offense, which ran circles around the Vikings. Joe Burrow, Joe Mixon, Tyler Boyd, Ja'Marr Chase, Tee Higgins, and C.J. Uzomah come into Chicago looking to feast on this Bears' defense. Woof. Good luck.
Khalil Mack?
Where was Khalil Mack? He was hardly noticeable against the Rams. The star pass rusher logged only ONE total tackle on the stat sheet. While he does make his presence felt on most days, Sunday night was not one of them.
Roquan Smith
The inside linebacker led the team in tackles. Smith recorded 11 total tackles and six of them were solo efforts. #AllPRoquan
Robert Quinn
It was nice to see Robert Quinn show up against his former team with his five-year, $70 million contract. His one total tackle and 0.5 sacks were real difference-makers.
Tackles for loss
Overall, the Bears defense combined for… ZERO tackles for loss. That is simply unacceptable.
Matt Nagy: The Play-Caller
In case you're new here, a recurring segment in the weekly Chicago Bears Takeaways is Matt Nagy. Once again, Matt Nagy showed his true colors as a play-caller. Though it was only Week 1, Nagy employed more of the same gameplan that has haunted him since 2019.
Nagy got extremely conservative in his play calls and hardly ever took a shot down field. Whether that's attributed to the Rams defense or Nagy not trusting his offensive line, it was an odd sight to behold. However, it was a mildly effective strategy. The Bears were able to move the ball by dinking and dunking their way through the game. But on the opposite sideline, Sean McVay schemed his approach against a Bears defensive weakness and took full advantage with Matthew Stafford slinging the ball all over the field.
That being said, Nagy's horizontal play calls and quick pass game may very well be due to the presence of an elite game-changer in Aaron Donald at the forefront of an aggressive Rams defense. But what good is having a speedy wide receiver corps if their strengths aren't utilized? Matt Nagy's play-calling still has no cohesion or rhythm to it, which makes me sound like a broken record when discussing it. It's almost disjointed and at times gives the impression that he's just picking plays at random.
Matt Nagy: Decision Maker
The fourth-year head coach made a couple of questionable decisions as well. He went for it on fourth down on four occasions and the Bears failed to convert a single one. The most egregious occurrence came late in the game when Nagy elected to go for it on fourth-and-15 down 13 points. The decision itself was understandable given the defense couldn't stop anything at that point. However, seemingly everyone knew Nagy didn't have a play for that down and distance. That scenario played out as predicted as the pass attempt was well short of the first down even though it was incomplete.
The second part of this breakdown will be a segment of its own.
Handling of Justin Fields
How Matt Nagy and his coaches handled Justin Fields against the Rams was beyond bizarre. There were rumors of Nagy using Fields for a small package of plays, which proved true, but the five plays that Fields checked in for were very gadgety. Nagy essentially used Fields in a Taysom Hill-esque role last night.
Justin Fields
Despite only logging five plays, Fields made his presence felt. While in the game, he attempted two passes and completeled both for a total of 10 yards. The rookie then checked in two more times to just to hand the ball off to the running back. On his final play, Fields kept the ball on an RPO and scampered in for a three-yard touchdown, which happened to be the first of his career.
Justin Fields' first touchdown of the year was momentous.
David Montgomery
Not enough can be said about the 2018 third-round draft pick. Montgomery is aware of the disrespect shown to him and wants to carry the ball frequently. Against the Rams, Montgomery saw touches early and often and took advantage of them. In the first half alone, Montgomery carried the ball 10 times for 79 yards with one touchdown, an average of 7.9 yards per carry.
Unfortunately for Montgomery, the game unfolded in such away that Nagy was forced to shy away from the run game. Maybe, it was just Nagy being Nagy? Nevertheless, in the second half, Montgomery rushed only six times for 29 yards. For the game, he finished with 16 carries, 108 yards and 1 TD — just a handful of rushes short of Nagy's goal of giving him 20 touches in a game.
How awesome was Montgomery? Check out these nuggets per @BearsPR.
Jason Peters
The 39-year-old left tackle held his own until he left the game with an injury. A play that particularly stood out came in the second quarter when Peters snatched the soul of the blitzing Taylor Rapp.
Offensive Line
As a whole, the Bears' offensive line fared pretty well against Aaron Donald and the Rams' defense. The unit only allowed three sacks on the night, and two of them were Andy Dalton's fault for hanging onto the ball too long. They even held the 2020 AP Defensive Player of the Year in check. Donald only had three tackles and one sack, which occurred at the end of the game. The offensive line was able to move Donald around just enough in the run game to create lanes for Montgomery as well.
Andy Dalton
The Game Manager of the Week award goes to Andy Dalton. He was efficient but didn't dazzle anyone with his performance. Dalton was exactly what anyone would expect from him. The 10-year veteran found the open targets most of the time and occasionally scrambled to pick up a first down or extend the play. Dalton's style extemely vanilla — that of a backup QB going through the motions as a starter because of his head coach. The Red Rifle should be called "Checkdown Charlie" as he kept the ball very close to the line of scrimmage and never really took a shot deep.
Can anyone really blame Dalton? He did what was asked of him: carrying out Matt Nagy's offense.
Here is the breakdown of Dalton's 38 pass attempts, per Bears On Tap contributor @LucasOnTap:
Overall Offense: Dinking and Dunking
Despite being somewhat more efficient, the Bears' offense essentially featured more of the same. They did funnel the offense through the running game early, which kind of worked? By the end of the game, the Bears controlled the clock and had 10:28 more time of possession than the Rams. Normally, one would think the Bears would have won with that kind of ball control. But alas, the offense could only muster up 14 points. To their credit, however, both touchdown drives were impressive and the play-calling seemed clean.
Touchdown Drive 1: 9 plays, 55 yards, 4:08 (Montgomery rushing TD)
Touchdown Drive 2: 16 plays, 81 yards, 9:38 (Fields rushing TD)
The Bears managed to hang around with the Rams until midway into the third quarter, but the dink and dunk offense would only get them so far. In general, Nagy's play-calling and offensive game plan were very conservative, which led to the Bears nickel and diming their way to a massive advantage in time of possession. The offense lacked explosive plays, something the Rams used numerous times.
Once again, the offense's performance was a tale of two halves.
First Half
By halftime, the Bears' offense looked semi-competent. They held the advantage over the Rams in a handful of categories.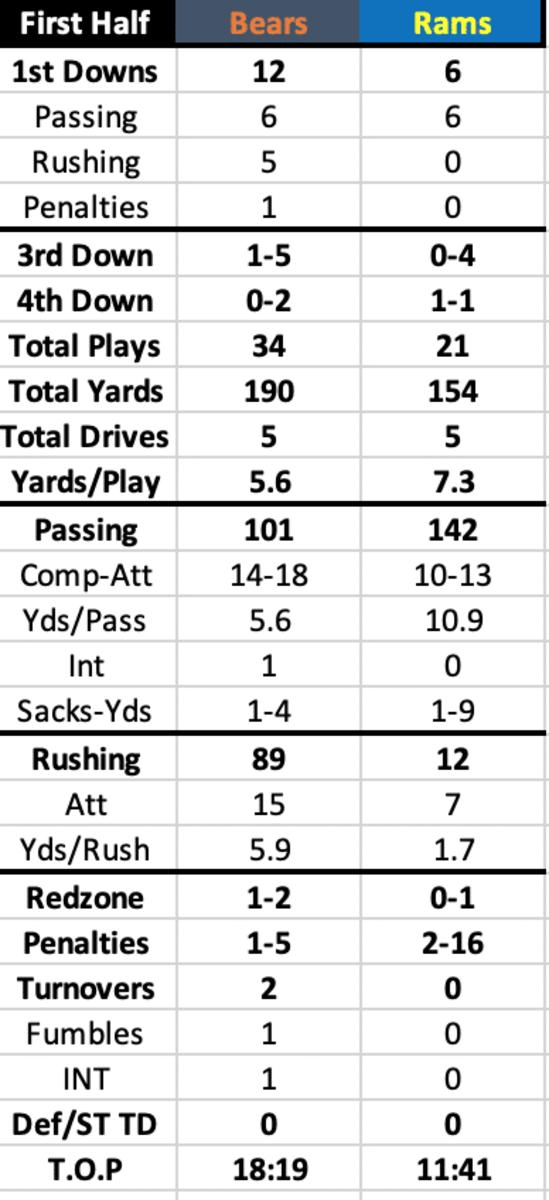 Second Half
After the Rams came out of the half and put up a touchdown within a minute, the feeling of "Oh boy, here we go" set in.
As the game seemingly felt like it was slipping away, the Bears' offense responded with a scoring drive of their own. A methodical 16-play, 81-yard drive finished with fireworks as Justin Fields rushed into the end zone. Following that drive, the offense continued to move the ball a bit but ultimately stalled out twice. Both instances resulted in a turnover on downs, which would end the day for the Bears.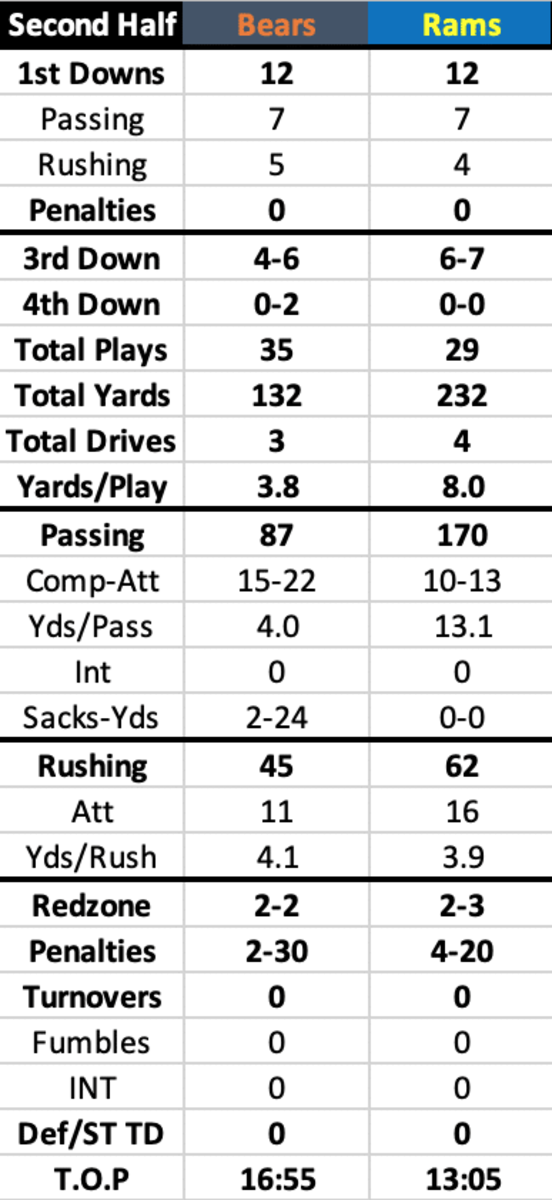 How bad was the game plan? Look at Allen Robinson's depth of routes run from the game.
Injuries
The Chicago Bears suffered two major injuries in their season-opening game. Unfortunately, both ailments fell upon the left tackle position, which was an area of weakness to begin with.
First, Jason Peters exited the game due to a quad injury just before halftime.
Peters's departure allowed Larry Borom to enter the game. In his limited time, Borom played well and held his ground at the position. That was until he suffered an ankle injury that caused him to leave the game as well.
On top of that, for a brief moment, David Montgomery went back to the locker room with an ailment of his own.
Overall
Simply put, this game was a mess from start to finish. Yes, the Bears hung around for a while, but they proceeded to get their doors blown off in the second half. The offense continues to be handcuffed by the quarterback, head coach, and play-calling while the future of the franchise rides the bench and until he enters the game to run gadget plays. Meanwhile, the Bears' defense appears to have taken a massive step backward.
The hope is that the Bears just ran into a buzzsaw of a Rams team. However, it's just Week 1 and we will have to ride this out for the next 17 weeks before significant change. Hopefully they can clean up their issues just enough and deploy Justin Fields at QB1 in the near future to save us all from misery.
What's On Tap Next?
The Bears will play their home opener in Week 2. Chicago will host the Cincinnati Bengals at Soldier Field on Sunday, September 19 at 12 PM CT. The game will be televised on FOX. In Week 1, the Bengals pulled off a stunning 27-24 overtime win against the Minnesota Vikings. Cincinnati has an uber-talented group of offensive players led by quarterback Joe Burrow, which will pose a real threat to the Bears' defense.
Be sure to tune into the Bears On Tap podcast for postgame reaction, updates, and analysis throughout the week in addition to discussions on a variety of other Bears-related topics.
Follow On Tap Sports Net on social media!