Pat's High Praise
Two-time NBA champion head coach Erik Spoelstra was coaching Bulls' forward Patrick Williams over the summer, along with the rest of the United States Select basketball team. When asked about Williams this is what Spoelstra had to say.
"Just from a physical standpoint, the US main team has this incredible firepower, right? Lot of 30-point scorers. Lot of guys that can facilitate and help space for those guys," Spoelstra said. "But it starts with having players who are physically even capable of being even on the same court. Patrick is quite a physical specimen. Extremely strong and agile. [Patrick] can play either the wing position or play that versatile 4 position. I think [Patrick's] set up in the future to be a great two-way basketball player, to be able to defend virtually everybody on the floor, whatever your scheme may be. And then offensively [Patrick's] game has really grown. You can tell [Patrick's] extremely dedicated to have that kind of improvement."

-Erik Spoelstra via Rob Schaefer
Patrick Williams' Two-Way Greatness
Two points standout from that lengthy Erik Spoelstra quote. "I think [Patrick's] set up in the future to be a great two-way basketball player." as well as "And then offensively [Patrick's] game has really grown."
Patrick Williams wasn't the name most Bulls' fans expected the team to select with the No. 4 pick in the 2020 NBA Draft. While Williams performed well enough to earn himself a spot on the 2021 NBA All-Rookie second team, that was mainly attributed to his defensive abilities.
Pat only averaged 9.2 points and 1.4 assists last season. Those numbers rank him 15th and 27th among all rookies. Considering Williams was the 4th overall pick, those numbers can feel disappointing. However, Pat earned the praise of guys like Erik Spoelstra and LeBron James along the way. Though it may not seem like it, Patrick Williams established himself as one of the best young talents in the NBA, with serious potential to become an All-Star. So, let's start by looking into why one of the best coaches in the NBA is so excited about Patrick's offense.
The Hypermodern NBA
The NBA game is constantly evolving and one of the biggest modern changes is the prevalence of 3-and-D players. While it feels like 3-and-D players just got here, they're already starting to become outdated. While Patrick Williams offers both shooting and defense, his fit into a more hypermodern role is why his offensive game is so tantalizing.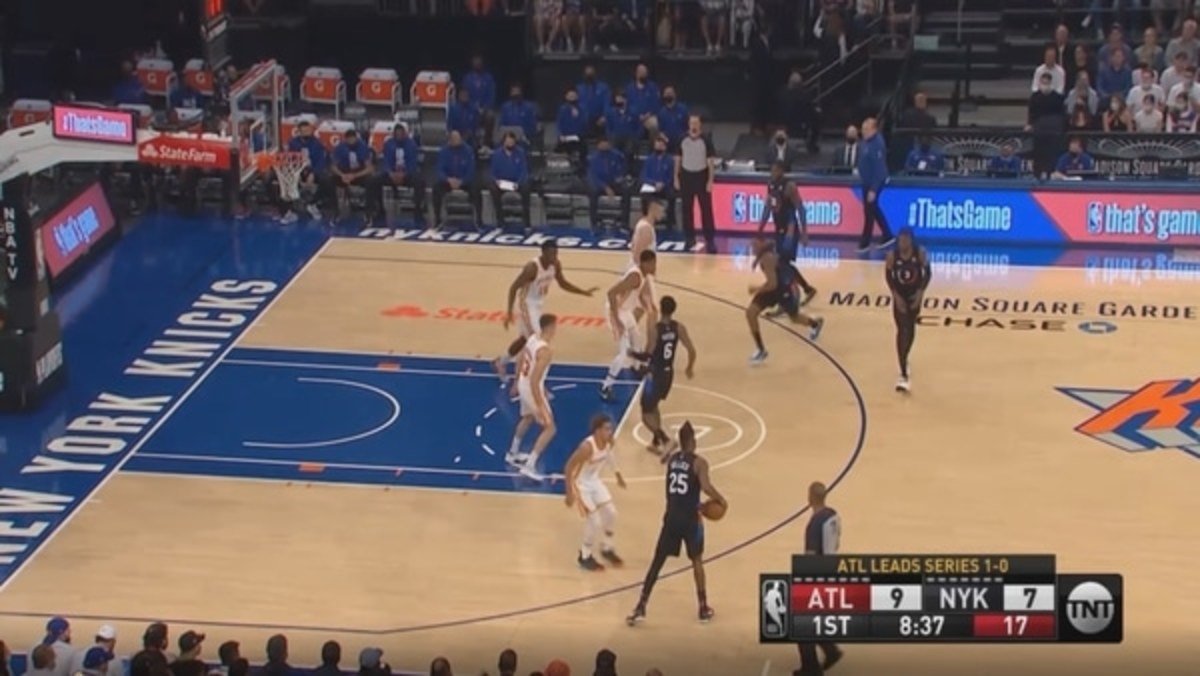 Trae Young sucks at defense, he's truly one of the worst defenders in the NBA. We often talk about bad defenders being played off the court in the playoffs. Yet, when the Atlanta Hawks took on the New York Knicks in the 2021 NBA playoffs, that didn't happen. Trae played in 76% of the total minutes in the series, and the Hawks defense was only three points worse when Trae was on the court. So, why couldn't the Knicks expose Trae's weak defense?
At the start of this clip, the Knicks have Trae Young isolated on-ball as a defender. However, this possession ends up with no points for the Knicks. Instead of having Trae guard the Knicks point guards like Derrick Rose and Immanuel Quickley, he's guarding their wing Reggie Bullock.
Bullock shot 41% from 3-point range this season, and offered the Knicks good defense. This makes him a great 3-and-D wing. The problem is that spot-up 3-point shooting is Bullock's only offensive skill. Bullock made 248 shots this season, but only 16 of them were unassisted. The Knicks can isolate Trae Young all they want, but as long as Young is guarding Bullock, all he has to do is put his arms up and contest a 3-point shot.
The Knicks were reliant on Bullock, and he filled that 3-and-D role perfectly. But Bullock's inability to create his own shots allowed the Hawks to hide Trae Young's weak defense. 3-and-D players allow opposing teams to easily hide weak defenders, and luckily for the Bulls that won't work against Patrick.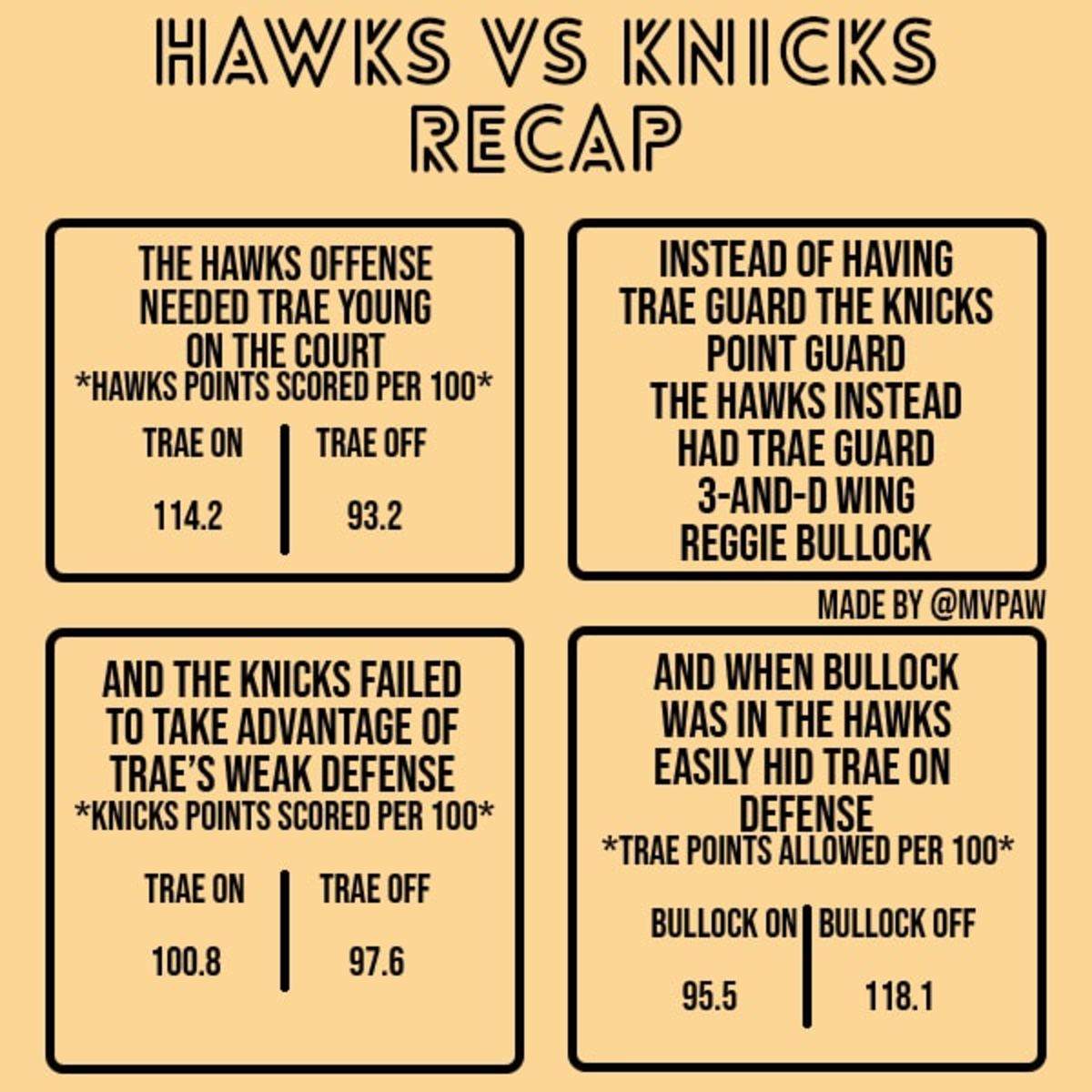 Patrick Williams' Offensive Role
Offensively, Patrick Williams is what the modern basketball nerd would label as a dribble, pass, shoot wing. Let's oversimplify things for a second. When you get the ball offensively you can either dribble, pass, or shoot. These three skills are the basic building blocks of offensive basketball. A dribble, pass, shoot wing isn't good enough at those three skills to run an offense by themselves. However, they are good enough that they can use their skills to be highly impactful offensive players.
The 3-and-D wing is only helpful offensively when a teammate provides them with an open shot from 3-point range. In contrast, the dribble, pass, shoot wing can convert the same open 3's, but also create shots for themselves. In the right circumstances they can create open shots for their teammates as well. These players beautifully blend their on-ball skills together to significantly raise the ceiling of their team's offense.
When Dribbling Meets Shooting
The important skills for these hypermodern wings to create their own shot are dribbling and shooting. Pat was able to combine those skills together to convert on 63 pull-up jumpers this season.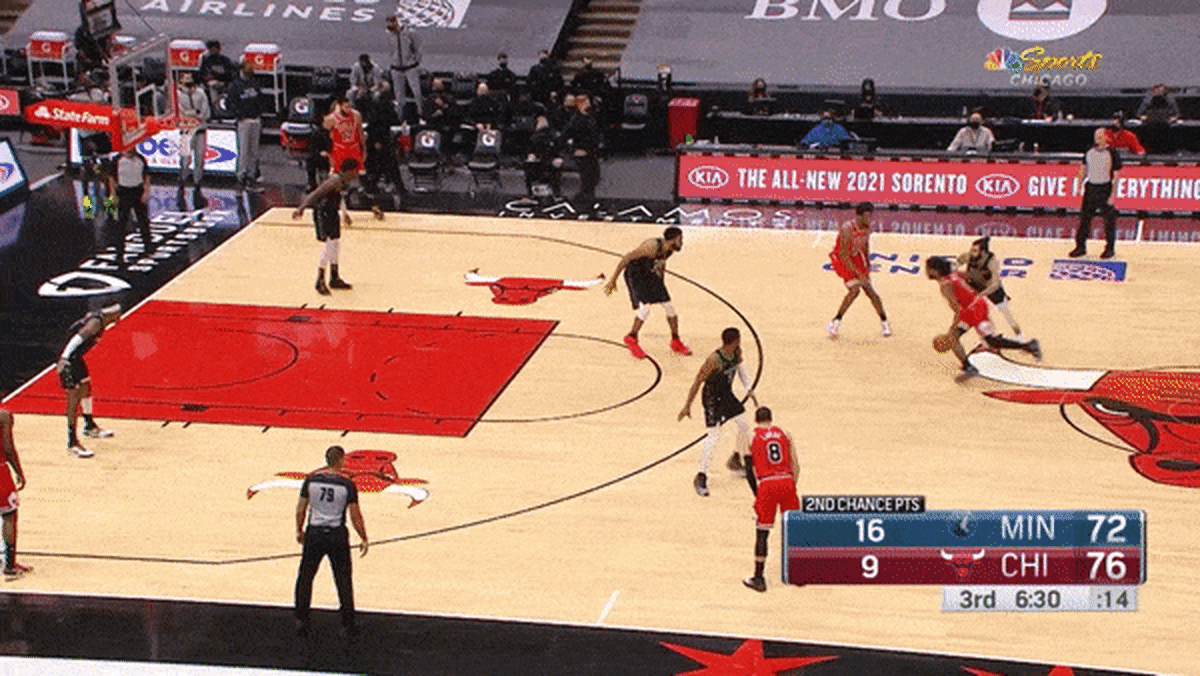 If Williams shoots as soon as he gets the ball in this clip, it would be a slightly contested 3-pointer. So instead of settling for a mediocre shot, Williams uses his dribbling to relocate to the open space at the elbow. He then rises and fires for an easy two points.
Here, Pat quickly speeds up and attacks Danilo Gallinari off the dribble. He then uses his strength and deceleration to create separation between himself and the defender. Finally, he banks in an easy shot and draws the foul for an and-1.
Symphony of Playmaking Skills
When given the right circumstance, these dribble, pass, and shoot wings can masterfully blend their skillset together to manufacture points for their teammates, much like team's expect from their stars.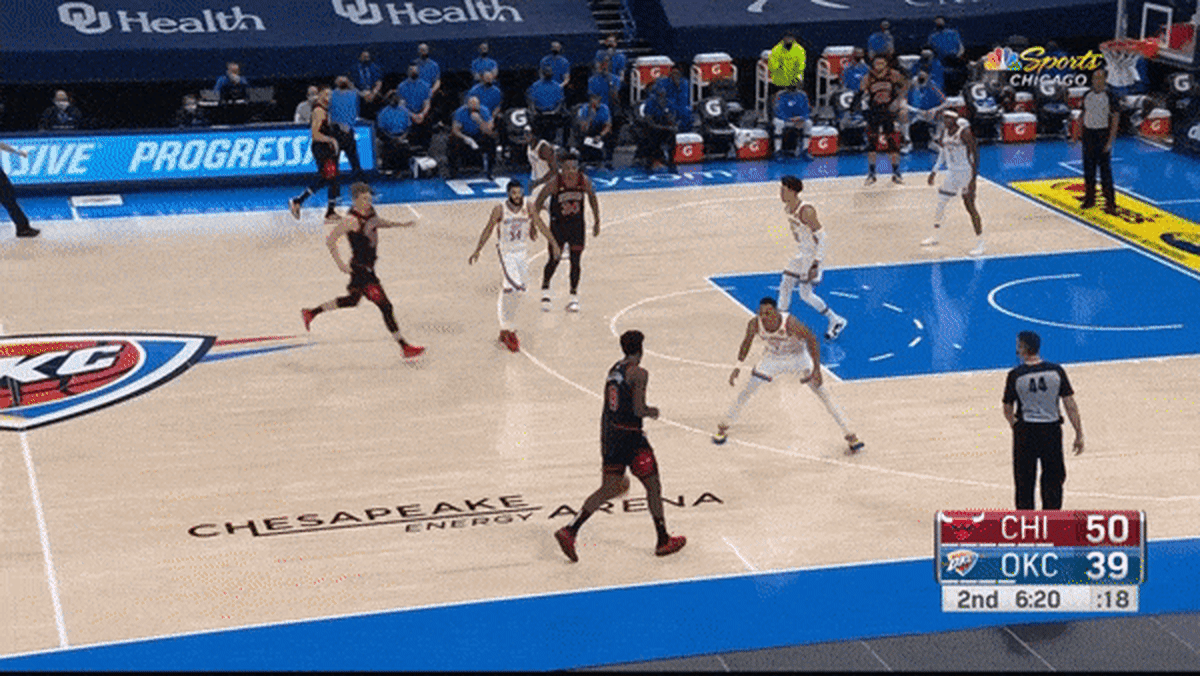 Here, Williams slows to a stop, then quickly bursts past his defender using his dribbling ability. Because Patrick is a threat to shoot, a second defender is forced to rotate and prevent Pat from scoring. As a result of this second defender rotating, Wendell Carter is now wide open. This allows Williams to use his passing ability to rifle the ball through a tight window to the open Carter.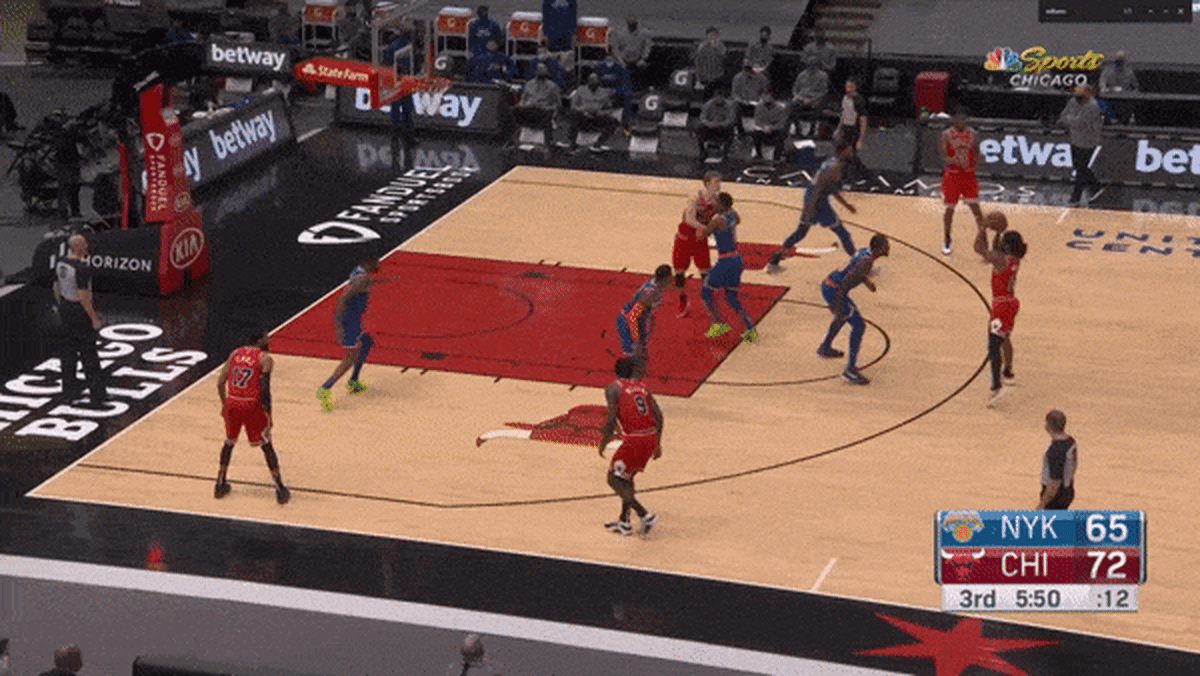 Because Pat is a threat to shoot, R.J. Barrett has to play him close on the 3-point line. Then, the dribbling shines as Pat fakes right and quickly bursts to his left past the defender. Again, Patrick's scoring threat pops up, drawing in an extra defender. Finally, the Bulls' rookie is able to fit in a quick pass to Lauri Markkanen for an easy finish.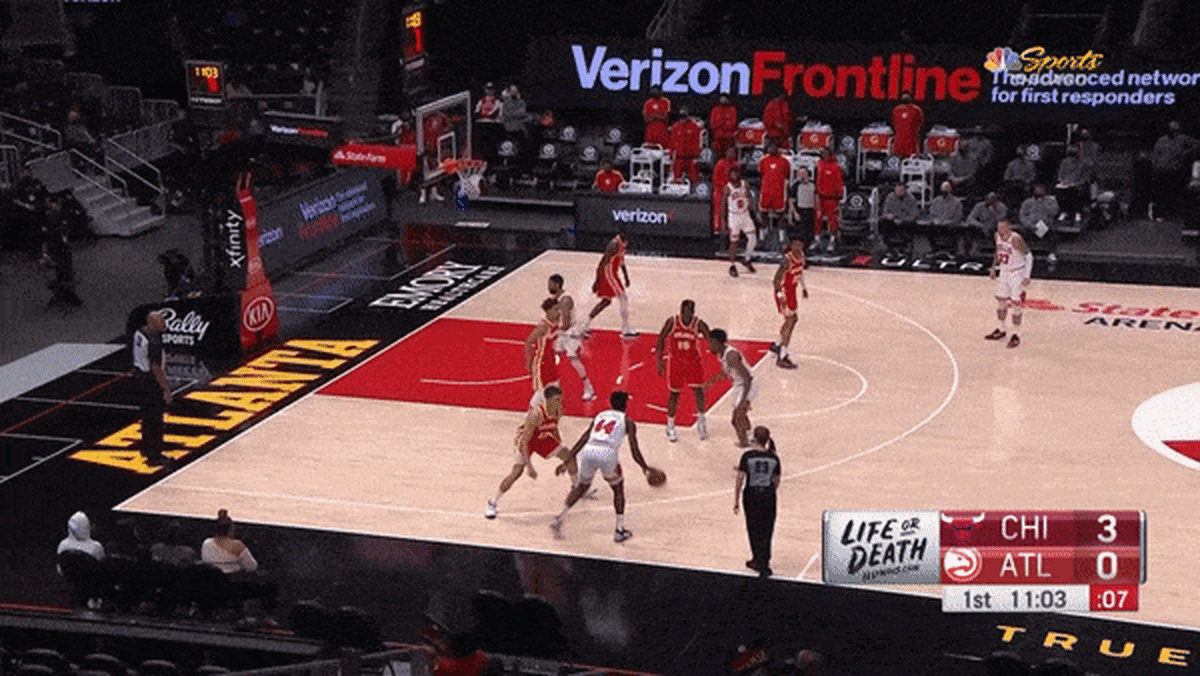 Here, the Bulls' rookie is operating the pick and roll with Thad Young. When Williams comes around the screen, Hawks' center Clint Capela has to step up because Williams is a threat to shoot. That's all Pat needs as he gracefully rises above the defenders and fires a perfect pass to Thad Young.
Patrick Williams' Offensive Outlook 2022
With the additions of Lonzo Ball and DeMar DeRozan to the Bulls' starting lineup, most people are projecting Patrick Williams to take a downtick in scoring. However, I'm not sure I agree with that notion. Pat's trio of cornerstone offensive skills makes him a good offensive player, but he's not good enough yet to break down defenses by himself.
Where Pat shines is when a teammate starts to break down the defense. This allows Williams to leverage his budding skills against an already somewhat broken opposition. This season's roster adds DeMar DeRozan, Lonzo Ball, and Nikola Vucevic. All three of those players are great at creating these advantageous situations for Williams. It could already be seen last season, as Williams' offensive rating jumped 8.2 points when Zach LaVine was on the court.
The bottom line is, Patrick Williams wants to play with players who help him get to situations where he can leverage his offensive skills. Last year's team sucked at this, and this year's team should be great at it. Yes, there will be more scorers around Pat, but he'll be in a far better situation to leverage his skills. These offensive skills make him a good offensive player. He isn't an offensive star yet, but he has the basic tools to work towards that.
Patrick Williams is a Modern Defensive Weapon
Patrick Williams' athleticism and frame make him a defensive weapon, molded perfectly for modern NBA defense. In the past, most NBA offenses were run through a point guard, however this is no longer the case. In the 2021 season, 17 of the 30 NBA teams ran a majority of their offense through a player 6-foot-6 or taller. As a result, the players needed to defend these offensive initiators have changed.
NBA teams now need someone who is both quick enough and strong enough to defend these new age offensive juggernauts. Patrick Williams' combination of quickness and 6-foot-7, 215-pound frame make him an ideal player to fill this new age defensive role.
With 80.6% of NBA plays occurring in a half-court setting, it's imperative that teams have a player who can defend these jumbo initiators in the half-court.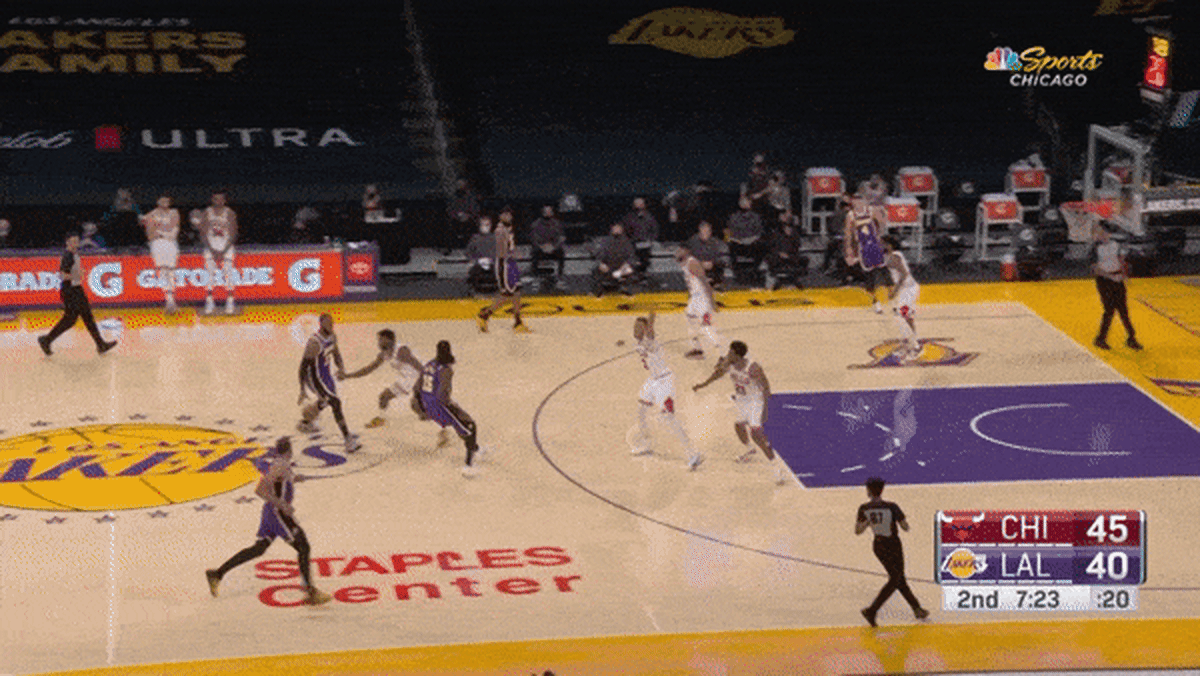 In this clip, the Lakers are running their offense through LeBron James. LeBron comes around a screen which creates some space. But Williams is able to quickly maneuver around two Lakers players, and gets himself back in front of LeBron. James then uses his shoulder (this is an uncalled offensive foul) to try and move Williams out of the way. However, Pat absorbs the contact and stays right next to the four-time MVP.
In this clip, Kawhi Leonard uses a pair of spin moves and a push with his shoulder to try and create separation from Williams. However, Pat's able to stand strong and contest the shot, leading to a rare Kawhi miss from the mid-range.
There aren't a lot of players that have the physical profile to guard players like LeBron and Kawhi. However, Patrick Williams is one of them. Of those defensive gems, even less have the offensive upside that Pat possesses. That's why Williams is such a valuable player. Of the dudes who offer the same defensive and offensive skill sets as Patrick, most are all-stars.
Doing It All Defensively
Williams' greatest strength defensively will always be his ability to guard the best jumbo initiators in the NBA. But, even when Pat isn't guarding the opposing team's best player, he still impacts the game. Two of his standout off-ball defensive skills are his weak-side rim protection and his event creation.
Williams starts on the weak-side in this play, away from the ball. But, he's able to quickly relocate himself and block this shot from behind.
Williams is also a phenomenal event creator, which is a term used for defenders who do things like block shots, tip passes, and get steals. Here, he manages to deflect a pass headed for John Collins from behind, and right into the path of Coby White.
Another way Williams creates these events is his fantastic swipe down ability. Jaylen Brown is able to create separation from Patrick, but with some help from Daniel Theis, Williams recovers just in time to swipe his arm down and force a Jaylen Brown turnover.
Patrick Williams' Defensive Outlook 2022
In the upcoming season, the Bulls are going to need a lot defensively from Patrick Williams. A lot of teams in today's NBA rely on their power forwards to generate a lot of their offense. With Williams as the Bulls' best power forward, it will be his responsibility to defend players like Jayson Tatum, Kevin Durant, and Giannis Antetokounmpo.
If Williams is going to be successful, he'll need to improve his screen navigation. He frequently gets caught on screens along the perimeter and it lets opposing players get a step ahead of him. While Williams is able to close this gap against lesser players, he won't be able to do so against the league's best. If the Bulls want to consistently beat the best teams, they're going to need Williams to improve in this aspect.
In Conclusion
When the Bulls drafted Patrick Williams he was a bit of an unknown. However, during his rookie season he proved to be an impressive defensive player. Though it wasn't consistent, he showed a lot of offensive upside as well. Williams' offensive abilities were enough to earn him praise from many successful NBA figures. Patrick's unique and valuable defensive skill set, combined with his offensive potential, make him one of the best young players in the NBA.
Despite mundane rookie season stats offensively, Patrick Williams can thrive as a modern dribble, pass, shoot wing. Williams combines dribbling and shooting ability to create shots for himself. Pat also blends in his smooth passing skill to create chances for his teammates. He's at his best when he's leveraging advantages created by his teammates, and with the Bulls new offensive firepower, Williams should get more opportunities to do just that.
Defensively, Patrick Williams has the rare combination of quickness and strength that is needed to defend opposing stars. Pat also impacts the game off-ball defensively with his weak-side rim protection and event creation. With Williams as the teams best power forward option, the team will need big defensive contributions from him in order to compete with the NBA's top teams.
The 2022 NBA season is rapidly approaching, and Patrick Williams will be a key piece in the Bulls' playoff push. With his combination of both offensive and defensive skill, Williams is well equipped to push his team to their first playoff berth since 2017.
Follow On Tap Sports Net on social media!