Zach LaVine is currently in the final season of his four-year contract with the Chicago Bulls. At the conclusion of the 2021-22 NBA season, LaVine will become an unrestricted free agent. Zach was recently on The Draymond Green Show and the two discussed quite a lot in less than an hour. From LaVine playing with DeMar DeRozan, to the Bulls' rookie sensation Ayo Dosunmu, Draymond really shined a light on Zach's personality and his future after the season.
Zach LaVine Playing with DeMar DeRozan
Draymond Green asked about playing with DeMar DeRozan, how he came to the Bulls, and how Zach felt about the whole situation. Zach responded by saying:
"I was all for it. We needed someone that I could go to battle with. Someone who has experience in the playoffs that I don't have and has a presence in the fourth quarter. Me and him could be a 1-2-punch. It's been a match made in heaven."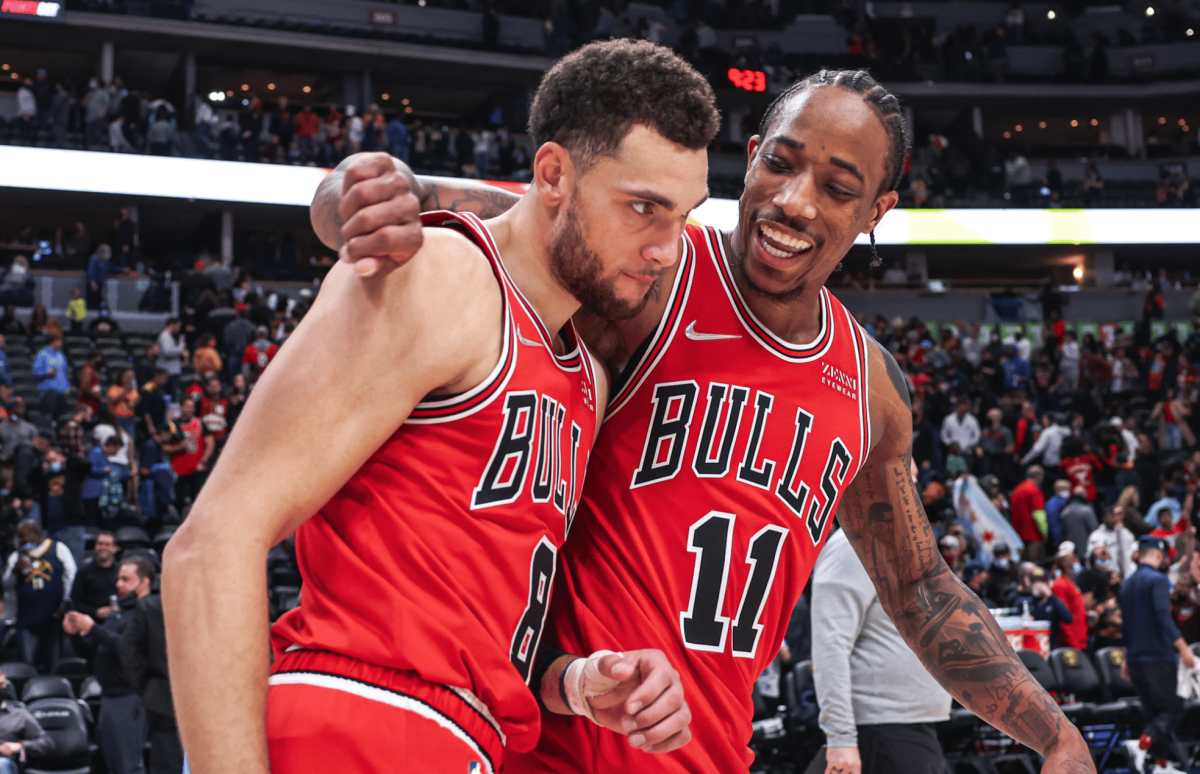 Anyone who has watched the Chicago Bulls this season can see how well these two players work together. The pair dominates the fourth quarter and they force teams to double team each individual. This leads to scoring chances, making them one of the toughest duos to play against.
The Bulls surprised the NBA this season with how well they've played and their improbable rise to the top of the Eastern Conference. The likelihood of this group dispersing after this season concludes isn't that high because of the chemistry. However, at the season's end, the team will likely tackle adversity together attempting to bring a championship to Chicago.
What Does Zach LaVine's Excitement About Free Agency Mean?
Zach LaVine has never been an unrestricted free agent. The only time he was a restricted free agent, he signed an offer sheet. He said the following to Draymond Green:
"I'm excited about free agency because it's a new experience. I've never been able to have the choice before. Obviously, now I'm focused on winning and Chicago is my home. But it's an exciting new experience."
Draymond then commented on their mutual agent Rich Paul and Klutch Sports Group. He said Rich is a unique agent who showed Green a side of contract negotiation that he didn't see with his previous two agents. Zach is heading into free agency with an absolute bulldog leading his financial negotiations. That could be great for the Chicago Bulls. Arturas Karnisovas is a smart man and he undoubtedly wants to keep Zach in Chicago. But at what cost?
Will the cost to keep Zach LaVine be too high for AK? Can the two sides mutually agree on enough compensation for the NBA All-Star to keep him happy alongside a happy DeMar DeRozan? We'll find out sometime in June, but Bulls fans can explore those possibilities after the team hopefully brings home a trophy to Chicago.
Follow On Tap Sports Net on social media!