It's safe to say we all have MLB lockout fatigue. There has been little to no movement in terms of ending the ownership-led stalemate that has brought the sport to a standstill since the calendar flipped to December. One development emerged from last week's owners meetings, however. The National League is finally ready to stop giving away outs by having pitchers "hit" and will embrace the Designated Hitter. The universal DH will provide uniformity across the sport, no longer putting half the league at a disadvantage.
With this news, National League teams will now be able to employ another actual hitter on their rosters nightly, thus enhancing their abilities to score runs with more regularity. Now, I'm still struggling to understand how we will survive without the strategery of the ultra-complex double switch, but I think we'll manage.
Nevertheless, 15 teams now have the ability to augment their rosters with bats that can make them more dangerous. There is a shortage of classic DHs today, with Nelson Cruz being the last of a dying breed, so teams will look to utilize this spot in a more flexible manner from day to day.
Providing A Helping Hand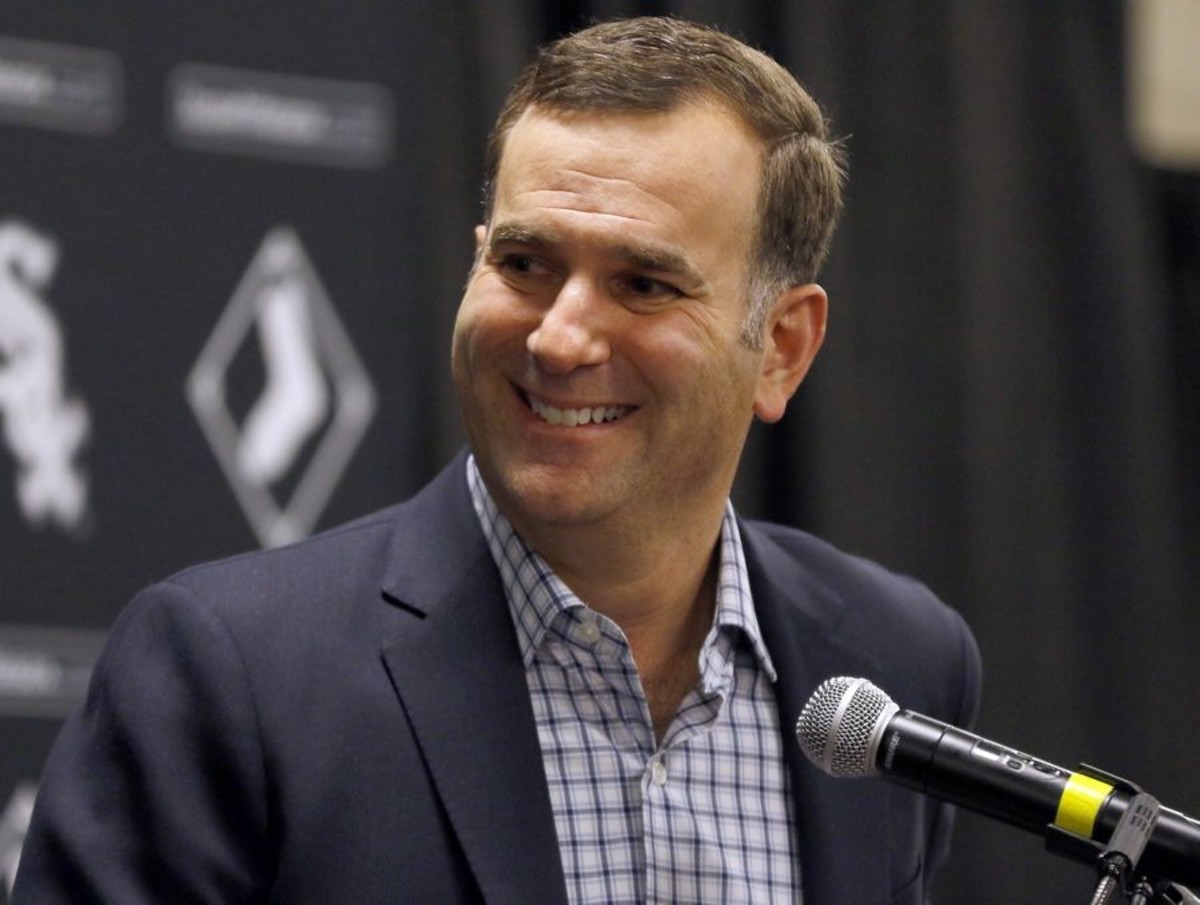 Did you hear that? That's Rick Hahn's music, and he's coming to talk to a National League GM near you. While the Chicago White Sox certainly don't have a 40-man roster that is so overflowing with talent that they can afford to freely give away talent, they are clearly in championship-or-bust mode. With that mindset comes the realization that, outside of Jose Abreu, nobody in the organization is safe. Because of this, I think the Sox are in a position where they can move some of their surplus corner bats to fill other holes on the roster in their efforts to bring the Commissioner's Trophy *gags* back to the corner of 35th/Shields.
For the first time in ages, our White Sox were able to get positive contributions from players within their system last season. Youngsters Andrew Vaughn, Gavin Sheets, and Jake Burger all acquitted themselves well in their first tastes of big-league action. There's a slight issue, however, and it is one that has been talked about ad nauseam among the fan base. This team has an abundance of players that are confined to corner positions defensively, and not enough spots to provide consistent playing time.
I've been very adamant that I don't think a team with serious World Series aspirations should deploy Eloy Jimenez, Andrew Vaughn, or Gavin Sheets in some combination flanking Luis Robert in the outfield with consistency. We all can agree that this team's greatest deficiency last season was on the defensive side of the equation. As currently constructed, that issue will not improve in 2022. Couple that with the fact that Yoan Moncada and Jose Abreu have the infield corners locked down, and a young player like Jake Burger will not be able to fully show what he can do on a nightly basis.
Sure, the Sox themselves have DH at-bats to give out. However, it simply becomes a numbers game with all of these players. Somehow, someway, one or two of these players will likely be moving to another city when the dust finally settles and the sport returns.
The White Sox have a few areas of need to address if they are to get over the hump and get back to the fall classic. They need a true right fielder, a second baseman, and, in my opinion, one more quality starting pitcher. It stands to reason that utilizing some of their surplus corner talent can help to address these areas of need. Again, I think in their quest to have 21st-century lineups, National League clubs that are trying to compete would represent a great trading partner with our Sox.
Players such as Vaughn, Sheets, and Burger will have their 2022 salaries at or near the league minimum, which makes them very enticing to potential suitors. Enhancing the number of trading partners available to the Sox will only help to get them a higher quality return should they decide to move any of the aforementioned players.
Mutual Benefit
Ensuring that National League teams use nine actual hitters on a nightly basis could be a tremendous beacon for the White Sox trading fortunes. They will have enhanced options as they attempt to augment their current core and push toward a World Series-caliber roster. The universal DH opens up new doors with contending teams in the senior circuit that are looking to add more potency to their lineups.
Will the White Sox move a young player with upside like Andrew Vaughn, Gavin Sheets, or Jake Burger? Only time will tell, however, they're in a better position today to do so than they were before we knew the DH was coming to 15 new teams.
There is tremendous opportunity for the Sox to make a mutually beneficial deal with a team at either end of their competitive cycle in the National League. Rebuilding teams can acquire young developing talent to plug into their future plans. On the flip side, teams with championship aspirations can add to their squads by bringing in low-salary options that have shown brief flashes of success at the game's highest level.
In either circumstance, the White Sox can be a great trading partner with NL clubs. It takes two to tango in the trade market, but with a truly level playing field for the first time in close to 50 years, it will be fascinating to see if the Sox and a potential NL club can strike a mutually beneficial deal in the coming weeks. There are more doors open from a trading perspective than there were a week ago, and hopefully the Sox can open one of those to help them take the 2022 club to the next level.
Follow On Tap Sports Net on social media!