The announcement of the animated spin-off show 'The Boys' Presents: Diabolical from Amazon Prime was sincerely exciting. If you're already a fan of The Boys, learning about this show was a treat! Now the time has come with all eight episodes of Diabolical out, and boy did they do this right.
The different episodes were unique not only with every show imaginable but within itself. The anthology-like nature of this show was a perfect choice and there is so much talent flooding the lifeblood of this series that it's almost hard to believe such a collaboration exists. Buckle up buttercup, this is about to get wild.
Warning: Major Spoilers Below
Episode 1: Laser Baby's Day Out
This episode is what most of you will be familiar with from the trailer. A Vought scientist chases after a baby on the loose. That baby has laser vision and kills all the soldiers trying to stop her. It's absolutely hilarious and disgusting. Seth Rogen and Evan Goldberg co-wrote this fantastic Looney Tunes-style episode. There is no dialogue and enough physics-forgetting stunts that quite literally made me laugh out loud.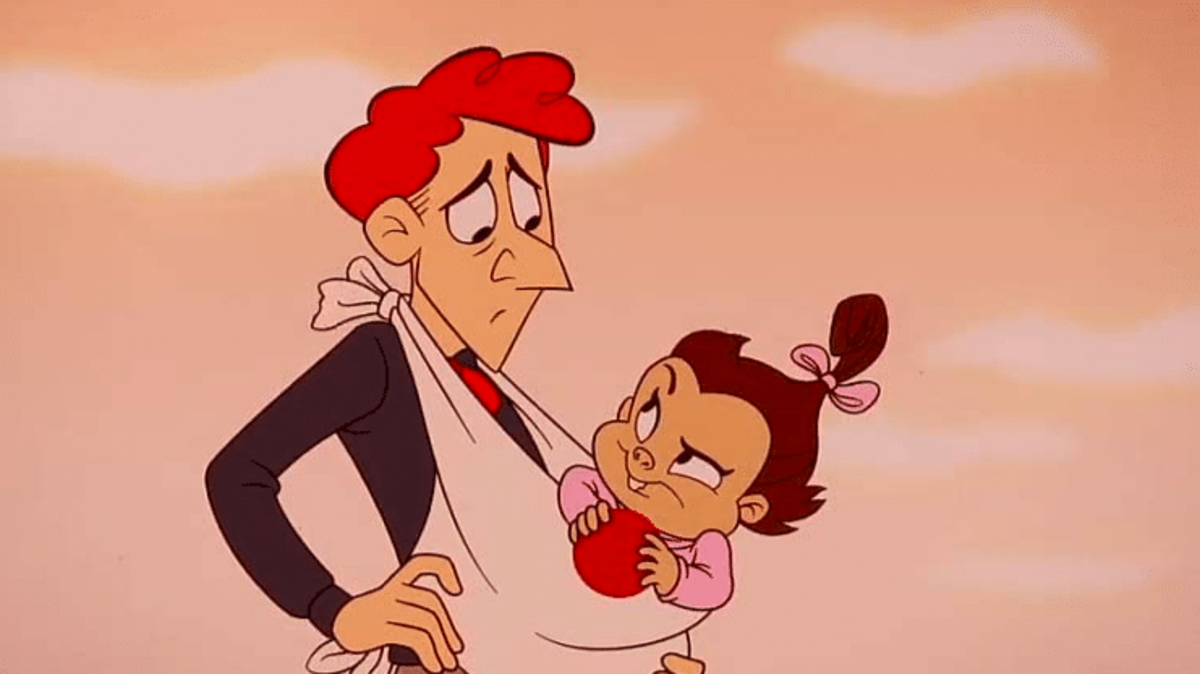 The whole time I felt like I was watching the Wile E. Coyote chasing after the Road Runner with ridiculous stunts that go oddly well for the baby. But for everyone else, they get a little "toasted". This episode starts slow — for only about 90 seconds considering it's 14 minutes long — and then before you know it, the wild goose chase begins.
Episode 2: An Animated Short Where Pissed-Off Supes Kill Their Parents
When you learn what Compound V is in The Boys and how Vought was injecting it into babies, it makes you wonder: What happens to the Supes that don't work out? Well in this episode, we got that answer and it's sincerely depressing. But on a comedic level, it's absolute brilliance.
This episode follows a bunch of Supes who live confined in a 'Land of Misfit Toys' for Supes. They didn't exactly get the best powers from Compound V. There are powers like becoming a ghost, having boobs growing out of your face, living in slow-motion, and having your entire body be a tongue. No worries on that last one though, you'd be 100% muscle!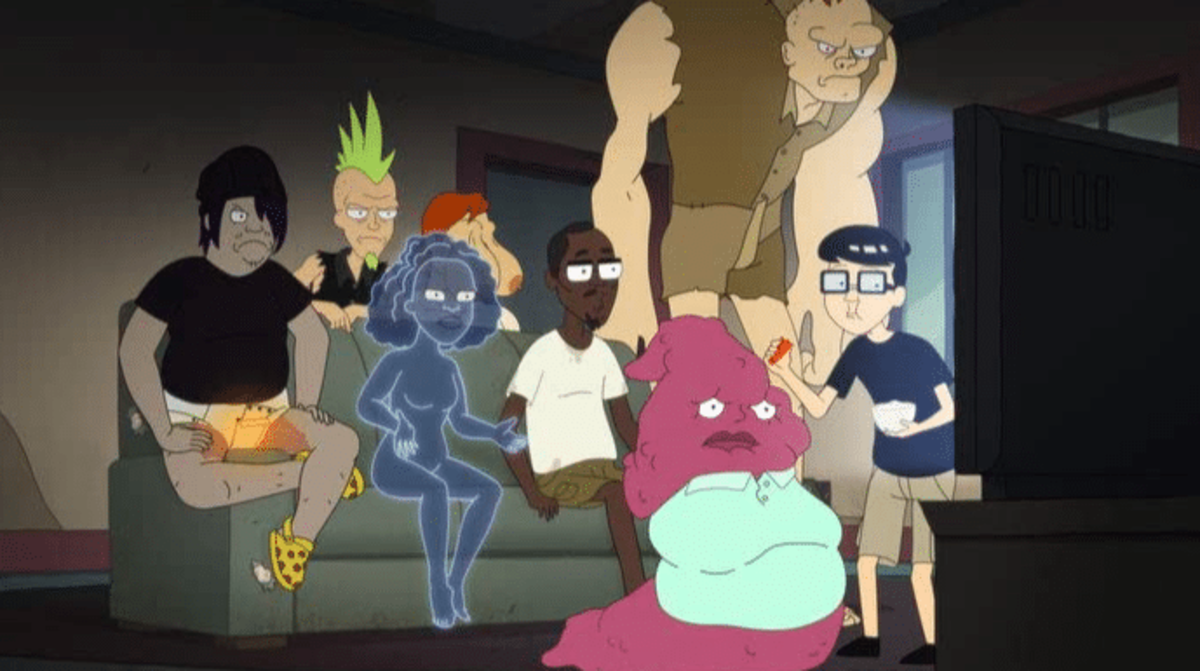 These teen Supes break out, find where their parents live, and go on a murderous killing spree. It's funny, dark, and a little sad.
Episode 3: I'm Your Pusher
Billy Butcher finally makes an appearance in The Boys Presents: Diabolical, and thankfully so because he is one of the best in the show. Unfortunately, Karl Urban doesn't voice Butcher but Jason Issacs does a bloody-well job in his place.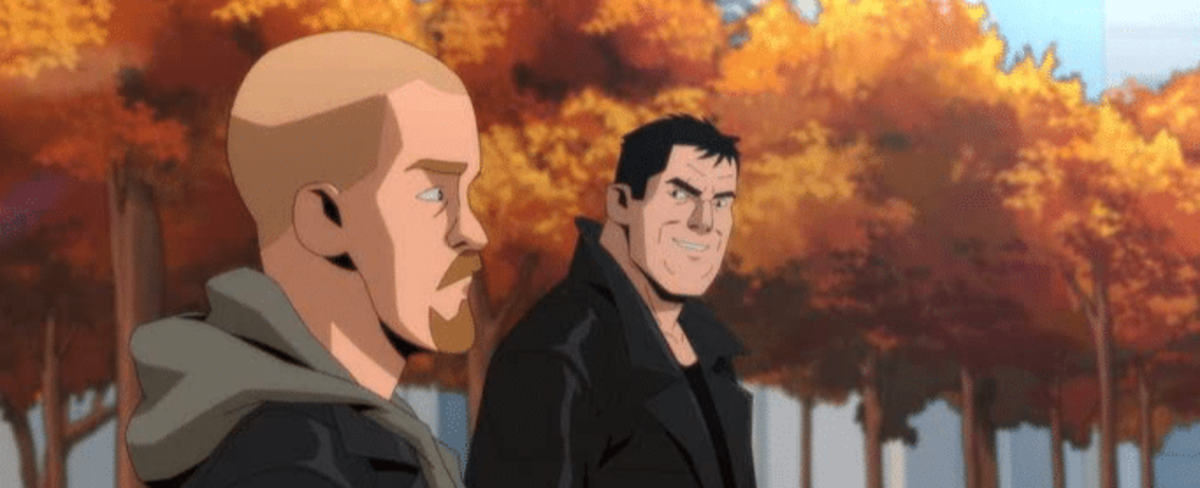 This episode shows Butcher interrogating a drug dealer to get information about a certain Supe. After enough persuasion, they agree to temporarily partner up. Butcher forces him to spike the Supe's heroin suppository — yes you read that right — and he goes totally bananas. He flies around the city like a jerk, going much too fast, and ends up killing someone and himself, all while on live TV. It's funny, gross, and we finally see a quick moment with Homelander.
Episode 4: Boyd in 3D
Out of all the episodes in Diabolical, this one has the most 'Black Mirror' feel to it. I've said it countless times, but Black Mirror is without question the most terrifying show that isn't horror. That kind of applies here as well but in a less dystopian future way.
This episode follows a young man who has a crush on his next-door neighbor. He's not exactly the attractive type so he seeks out Vought Industries for help. He signs up for this trial to experiment with a face cream that allows you to change your face to whatever you want it to be. It works and he becomes handsome.
He then hooks up with the neighbor but she finds the cream. Instead of freaking out, she uses it too. Then they become this social media power couple. They get intense wealth and fame beyond anything they could have imagined. But then it all crumbles around them and reality sinks back in.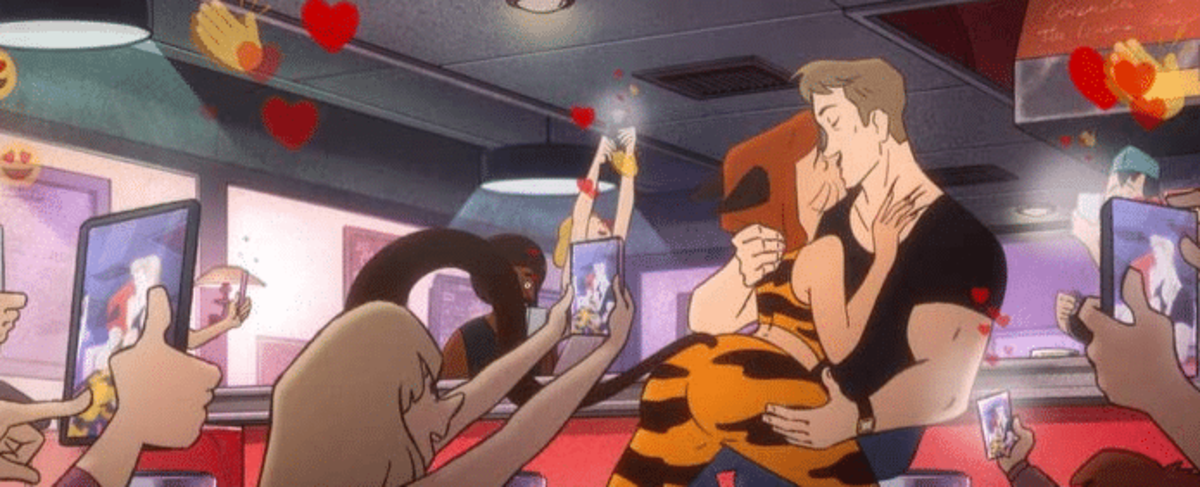 This episode is scary because of the effects of social media, which is similarly showcased in Black Mirror. It has a light undertone that beauty is in the eye of the beholder and what's underneath is what counts. But don't get me wrong, applying a Vought cream to turn my Dad-bod into washboard abs is truly enticing.
Episode 5: BFFs
This episode is NOT what you expect it's going to be in the beginning. Awkwafina wrote this episode and stars in it as well. I admit that until Shang Chi, I had no idea who she was, but her hilarious talent is on full display here.
Three teens head out to buy "one $20 marijuana bag and that's about it" before this takes a wild turn. Sky, voiced by Awkwafina, gets into the car with the drug dealer and they get into a crash. She finds a vial of Compound V and steals it.
When she's home, she sinks into her own mind and how depressed she is. She's a loner and a misfit and decides to drink the Compound V instead of injecting it, which we haven't seen anyone do yet. Well, the V went into her body and literally brought her poop to life. They become BFFs, hence the title of the episode.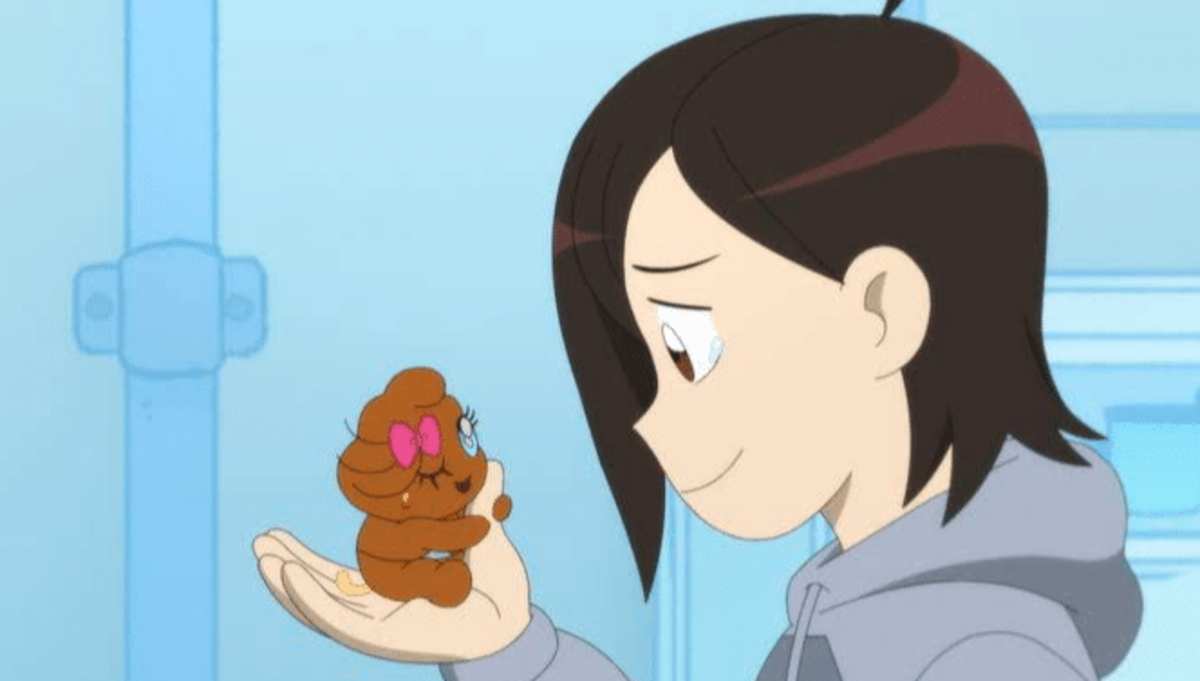 Vought finds out, tracks her down, and The Deep is now after her. They make their way to the sewers and the full extent of Sky's powers are realized. The Compound V didn't just give her poop life. It gave her the ability to control shit EVERYWHERE!
Awkwafina wrote an incredible episode for Diabolical and it has a great Anime feel to it. A funny subject matter and ridiculous but crappy — pun intended — action sequences make this one of the best episodes in the series.
Episode 6: Nubian vs Nubian
Aisha Tyler wrote this episode and stars in it alongside the legendary Don Cheadle. Two Supes fall in love after teaming up to take down a villain. They wed and have a child but the stress of Supe life sets in after a few years.
Their marriage is failing and their daughter Maya doesn't want them to get divorced. She seeks out the villain they beat, Groundhawk, to bring them back together. Groundhawk informs Maya that all Supe vs. Villain fights the world sees are all staged by Vought. She begs him to attack her parents because they are only truly happy when they are fighting together. He obliges and gets his butt whooped by the Nubians who embrace after victory.
Maya is happy but not for long. The next day her parents are back to fighting with each other and Maya gives in to the divorce.
Episode 7: John and Sun-Hee
Andy Samberg added his writing skills to Diabolical with this intense episode. John works at Vought as a janitor. His wife, Sun-Hee, is dying of inoperable cancer. He's not ready to lose her so he uses his credentials to break into the restricted area at Vought to steal some Compound V.
He goes back to the hospital and injects it into Sun-Hee. It worked! She's alive and able to walk, which she hadn't done for a while. But the Vought soldiers find out everything and chase the elderly couple down. Sun-Hee uses her strange new powers to kill all the soldiers and they get away.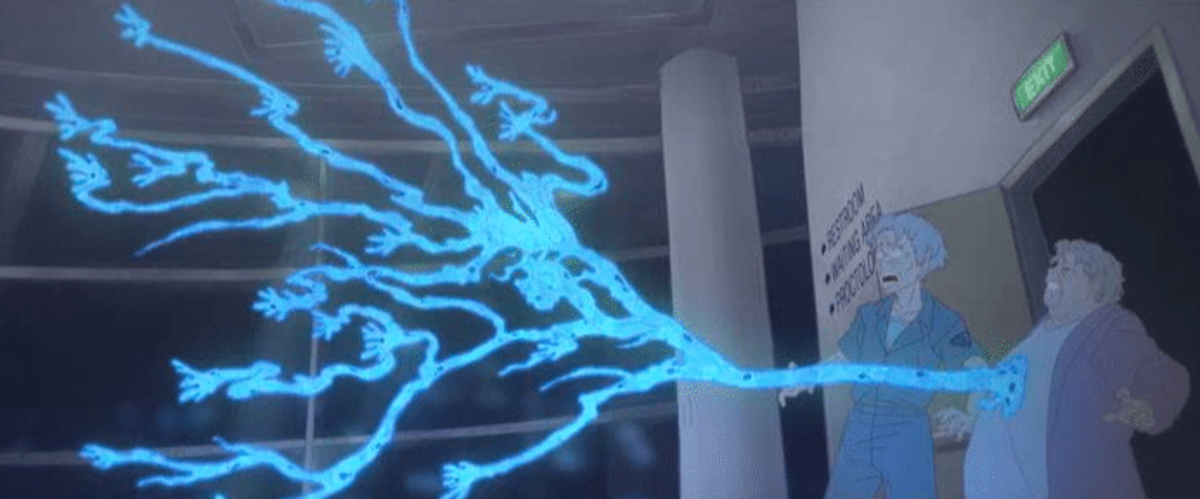 They almost escape the city before the powers inside her rip out of her body. The Compound V gave superpowers to the tumor inside Sun-Hee too and it's pissed. It starts absorbing everything around it and grows just like a tumor does. But this one is eating literally everything, bullets included.
The only way to stop the Supe-Tumor is Sun-Hee figuring out her own powers and fighting it one-on-one.
Episode 8: One Plus One Equals Two
The final episode is dedicated to Homelander, and Anthony Starr does what he does best in The Boys: become a psychopathic, raging, homicidal maniac. In this episode, we see the beginning of Homelander's relationship with Vought.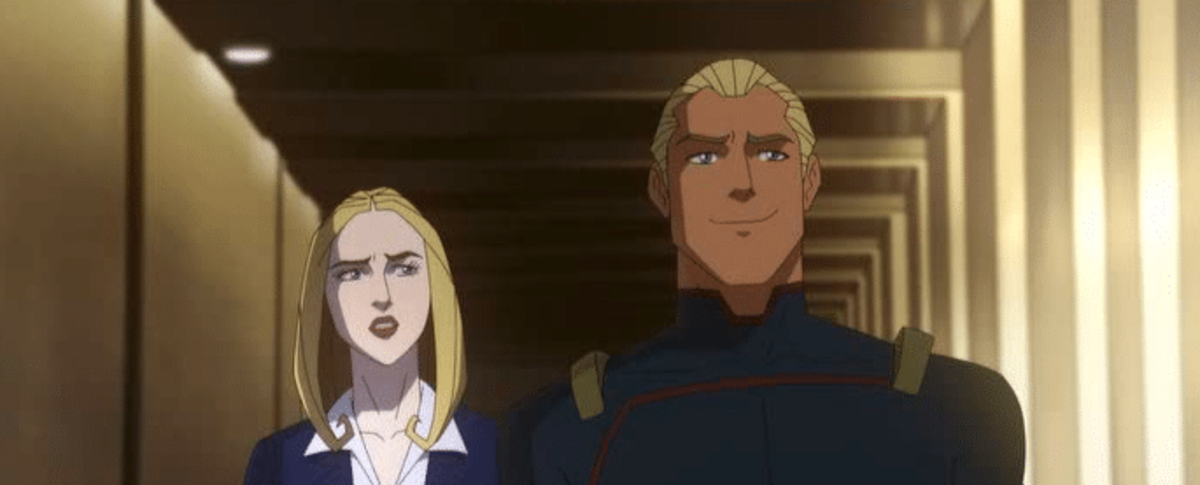 They bring him in to join the team but he is overshadowed by Black Noir. Knowing Homelander, he doesn't like not having the spotlight. They team up on a mission but Homelander decides not to wait for Black Noir and he goes in by himself. He tries to be non-violent at the start but his treacherous ways kick in. He kills everyone, including the hostages they were sent to save, and blows up the facility.
Black Noir saw everything and Homelander is about to kill him when they reach an "agreement". They take to the evening news to report what went wrong and are paraded like heroes. The Homelander we know has now been born.
Conclusion
Overall, I'm thoroughly impressed with these short but jam-packed eight episodes. Diabolical delivers on every aspect from comedy, love, fear, loneliness, and depression to murder, betrayal, and brutal gore. It's a fantastic series and is well worth the roughly two hours it takes to complete the first season.
Be sure to follow On Tap Sports Net's pop culture team for previews, reviews, and predictions from these shows and more throughout the year.
Follow On Tap Sports Net on social media!