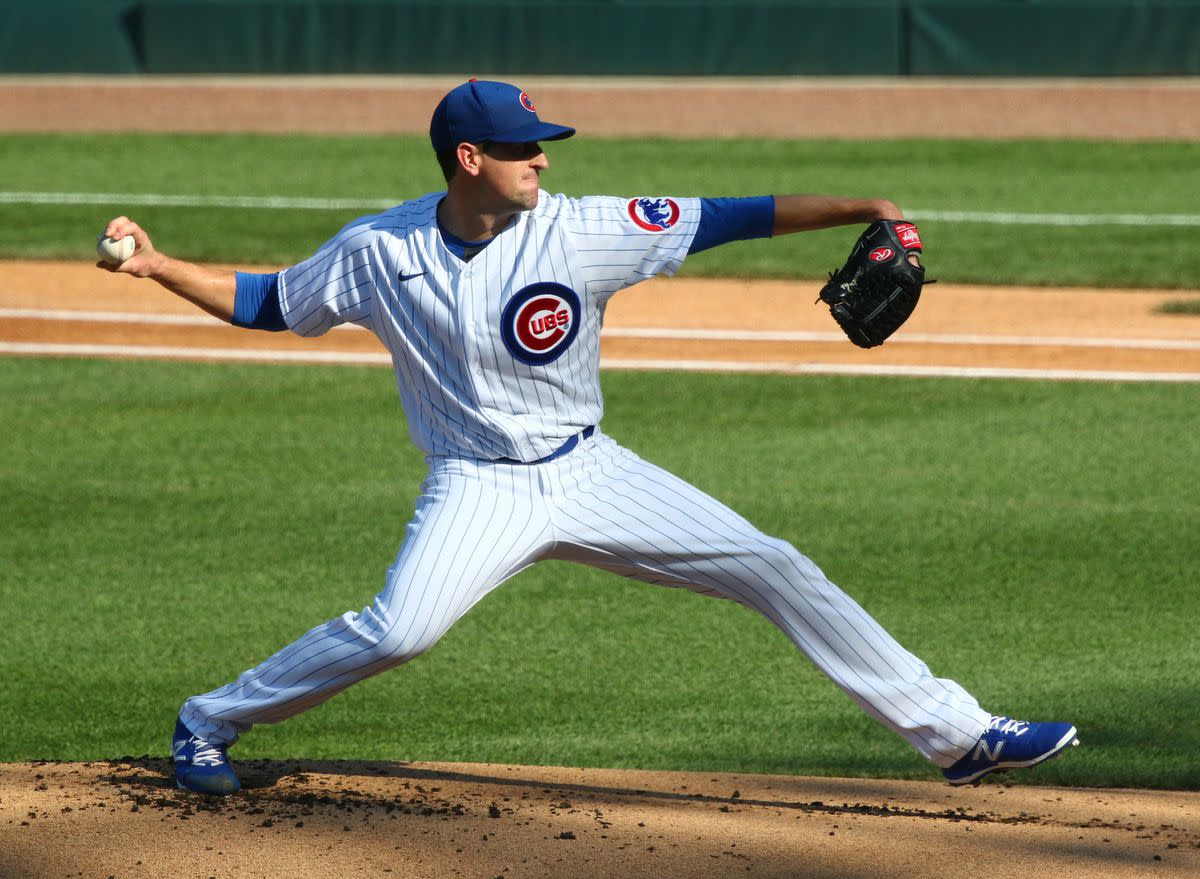 Chicago Cubs manager David Ross announced on Saturday that veteran Kyle Hendricks will be his starting pitcher on Opening Day.
There have been a lot of questions about the starting rotation this spring, but one thing that was certain was that both Hendricks and Marcus Stroman are Ross' top two arms in the rotation. With Hendricks getting the nod on Opening Day, it's clear that Stroman will be the game two starter when the Cubs host the Milwaukee Brewers at Wrigley Field.
In an interview with Maddie Lee of the Chicago Sun-Times, when asked about the decision, Ross contributed his choice on the righty's consistency:
"The steadiness of who he is and his routine, that's just something you learn to love and you can rely on," Ross said. "Reliability, consistency (are) the things that make up major league players that are playing this game for a long time, and Kyle has a lot of those attributes."
Kyle Hendricks Makes it Three in a Row
This will be Hendrick's third straight Opening Day start for the Cubs, who has proven to be a quality starter to kick off the season. In 2020, the righty was in full Professor mode when he tossed a complete-game shutout against the Brewers to kick off the 60-game season. Hendricks will join thirteen other Cubs pitchers in history to have made three or more straight starts on Opening Day.
So far this Spring Training, Hendricks has not been himself. In four starts for the Cubs, the righty has given up 12 earned runs in 11.1 innings, including 17 hits, and six home runs. Baseball-Reference has projected Hendricks the righty to have a 12-8 record with a 4.24 ERA this season.
With the reported Wade Miley injury , there are still a few questions as far as who fills out the rest of the starting rotation at the start of the season. With Hendricks, Stroman, and Drew Smyly already penciled in, it's likely that Justin Steele and Alec Mills will get the final two spots. Ross did say earlier this week that there was a "strong chance" that Steele is in the rotation, but we'll just have to wait and see what the final decision will be.
Follow On Tap Sports Net on social media!