Offensive playmakers in the NFL are players who come through big when the team needs someone to step up. They are more than just guys who catch the football or make big runs though. Key factors that define offensive playmakers include converting first downs, forcing missed tackles, gaining yards after contact or after the catch, and leaping into contested situations and coming down with the football. They transcend scheme. No matter where they are, or what the circumstances may be, they make plays. Previously, we looked at the nastiest offensive linemen and the top playmaking defenders in the draft. This time around, we are searching for the top offensive playmakers in the 2022 NFL Draft.
To measure "plays made", I considered a few key factors for the 2021 college football season. On any given play, each of these factors was weighted ⅓. So to get a full "play made" for a given target, they must have achieved all three of these items. I also adjusted targets for QB accuracy using PFF's "on target passes" statistics. For pass-catchers, the factors include:
First Downs and Touchdowns
Contested Catches
Missed / Broken Tackles Forced
For ball carriers, the criteria are similar:
First Downs and Touchdowns
Explosive runs (10-plus yards)
Missed / Broken tackles forced
I included numbers for yards after contact and yards after the catch in the tables below, but these numbers are not part of the calculations.
Offensive Playmakers: RB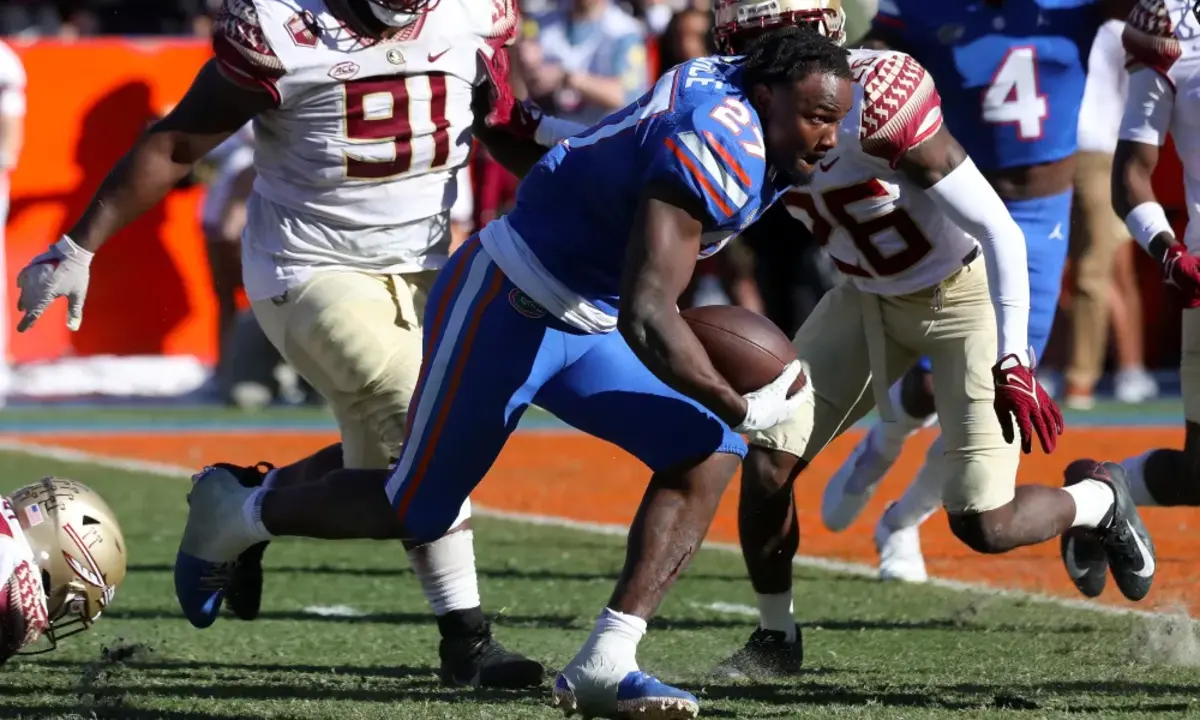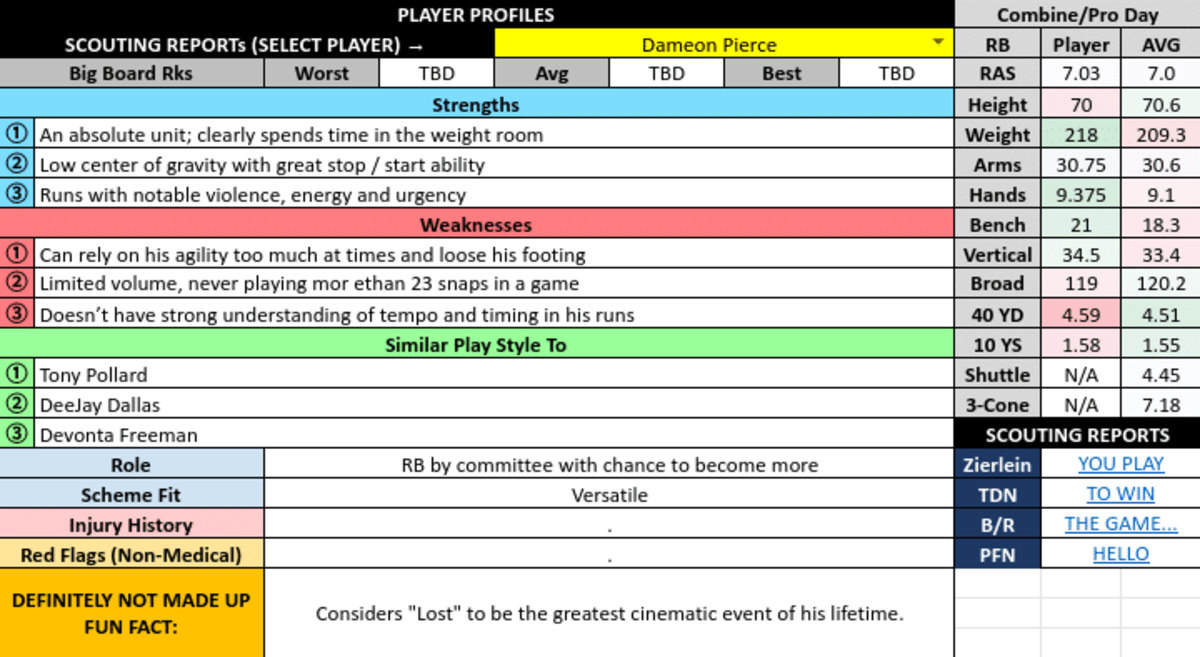 Seeing Pierce on the field is kind of like seeing a total solar eclipse. It is rare, but you do not want to miss it. Pierce leads all draft-eligible RBs with a playmaker rating of 32.2%. While he only carried the football 100 times in 2021, he registered a first down once every four touches and a TD once every seven touches.
In Dan Mullen's pass-heavy attack, Pierce led the Gators in non-QB rush attempts. An angry runner, he looks to collide into defenders and leave them in the dirt. Looks like Tarzan, plays like Tarzan. Additionally, he shows good burst and footwork through traffic. While his running style could use a little more patience and nuance, it is hard to argue with his results.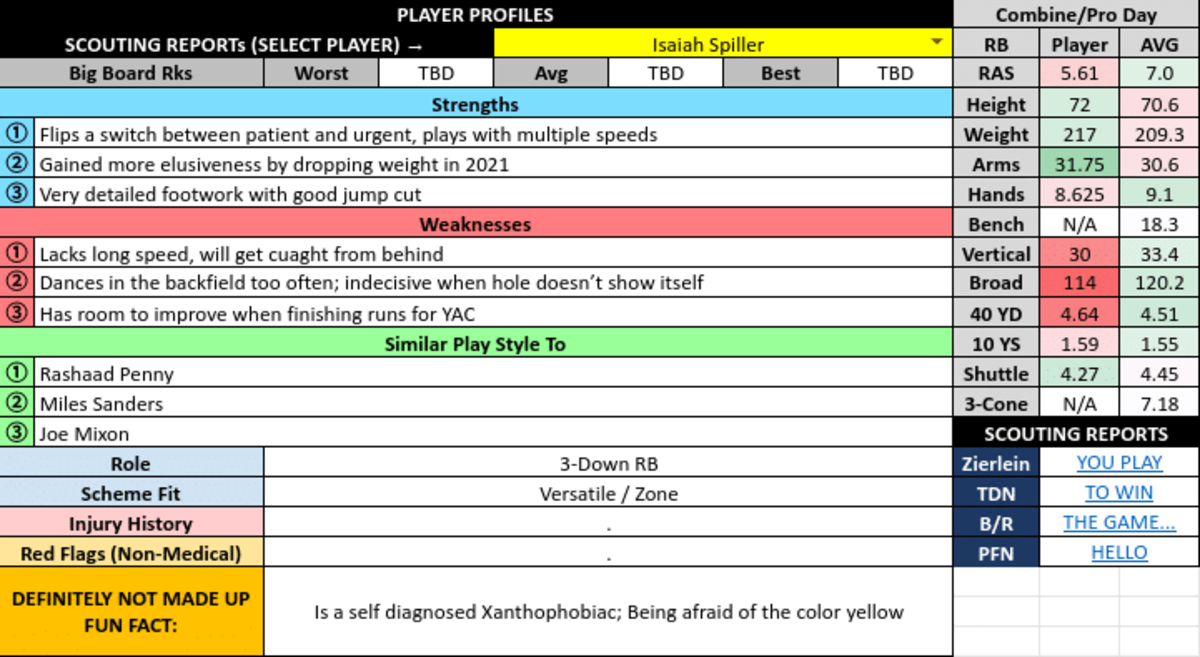 Coming second in playmaker rating among running backs is Texas A&M product Isaiah Spiller. Serving as the Aggies' bell cow, Spiller has accumulated 3,005 yards over the past three seasons. Breakaway runs (15-plus yards) account for 43% of that yardage.
Spiller is a springy runner that jumps around the backfield like he is wearing moon boots. With elusiveness that plays to the second and third levels of the field, he is always a threat to cut backside. Although his testing speed and explosiveness are below average, his understanding of running lanes paired with his foot speed and agility make him slippery to corral.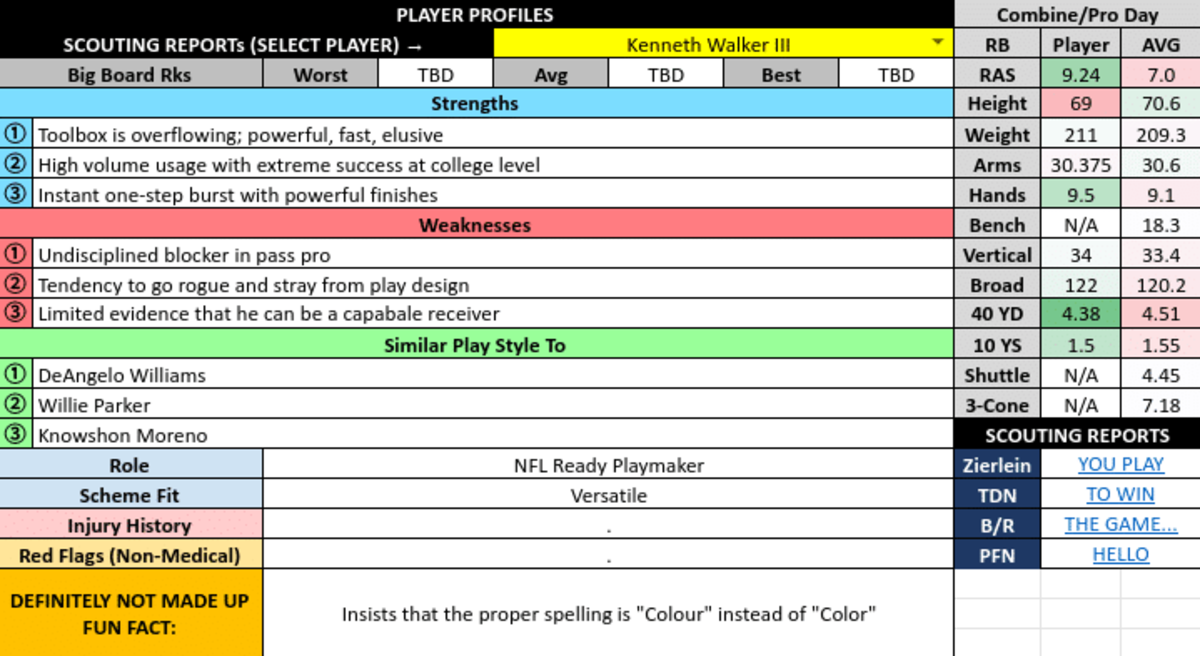 The third-ranked RB in playmaker rating is Kenneth Walker III out of Michigan State. Carrying the load for the Spartans in 2021, he broke out with 1,634 yards and 18 touchdowns. A whopping 54% of his yards came on breakaway runs (15-plus yards) as he averaged 4.46 yards after contact per carry.
Walker is a dynamic playmaker with the ball in his hands. He plays an urgent brand of football, aggressively accelerating through the hole and looking for paydirt on every play. With the strength to play through arm tackles, speed to threaten at every level, and tempo to play to the concepts, this is a prospect with few weaknesses as a runner. His abilities in pass protection and as a receiver are lacking, but his abilities to get north-south with the football are impressive.
Offensive Playmakers: WR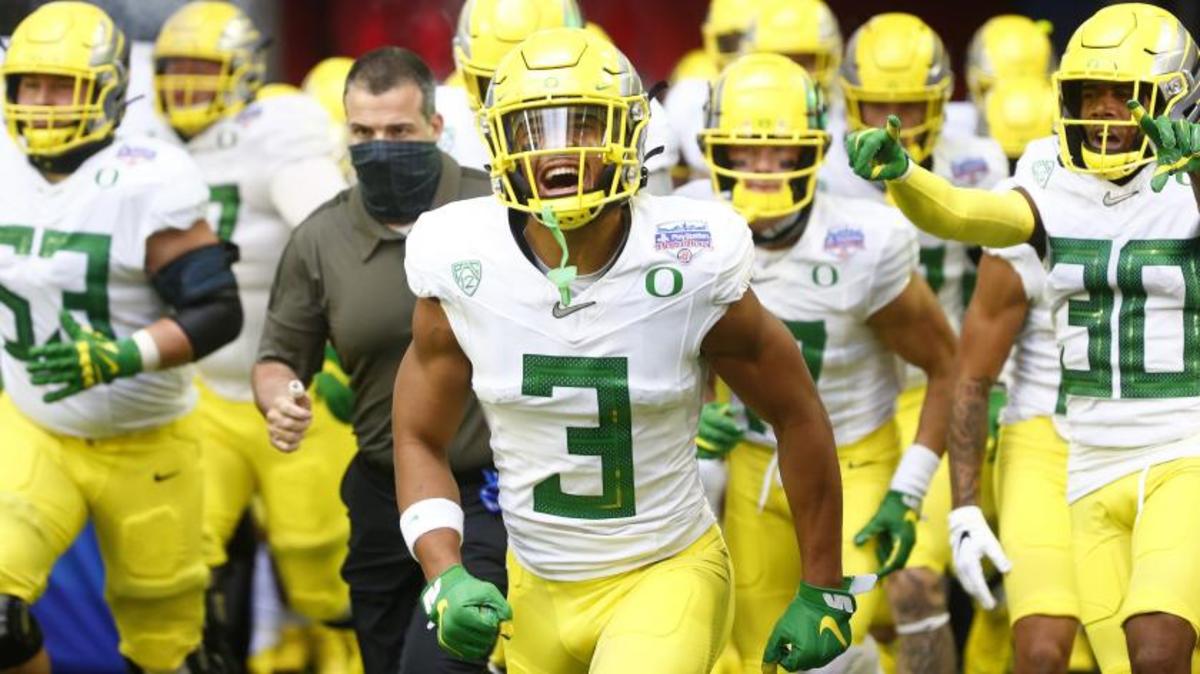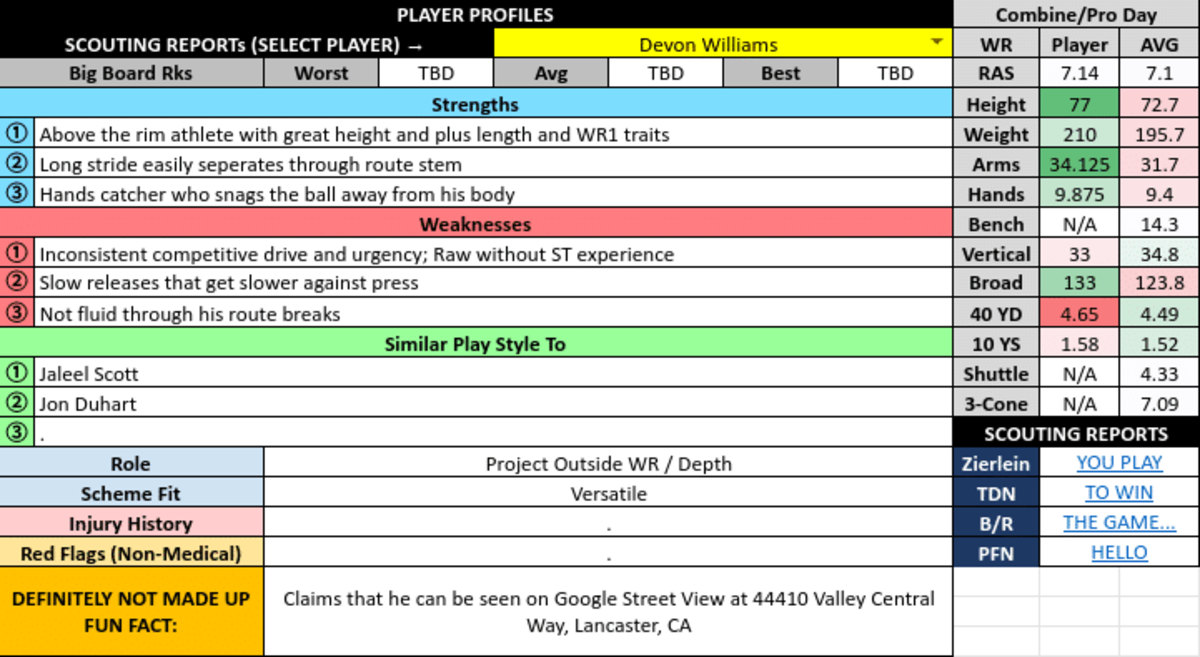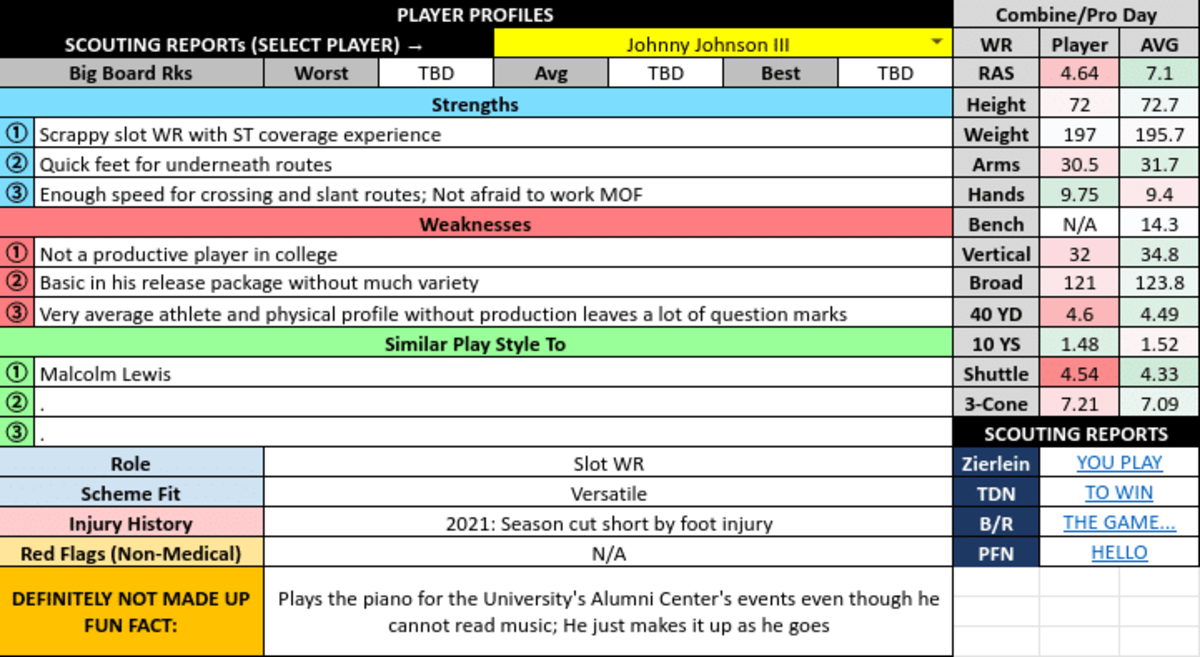 The top-ranked wide receiver in playmaker rating is Devon Williams out of Oregon. Also coming out of Oregon and ranking second in playmaker rating is Johnny Johnson III. Both Williams and Johnson have not been targeted enough in recent seasons to truly be considered among the top playmakers in this draft. In 2021, Williams averaged four targets per game while Johnson averaged 3.4 targets per game. That sample size does not exactly meet the smell test.
Williams does have some appealing size traits, but his lack of speed and route discipline might limit his upside. Johnson could stick on a roster as a slot WR and has some plus traits but is a middling athlete who likely benefited from Oregon's offense.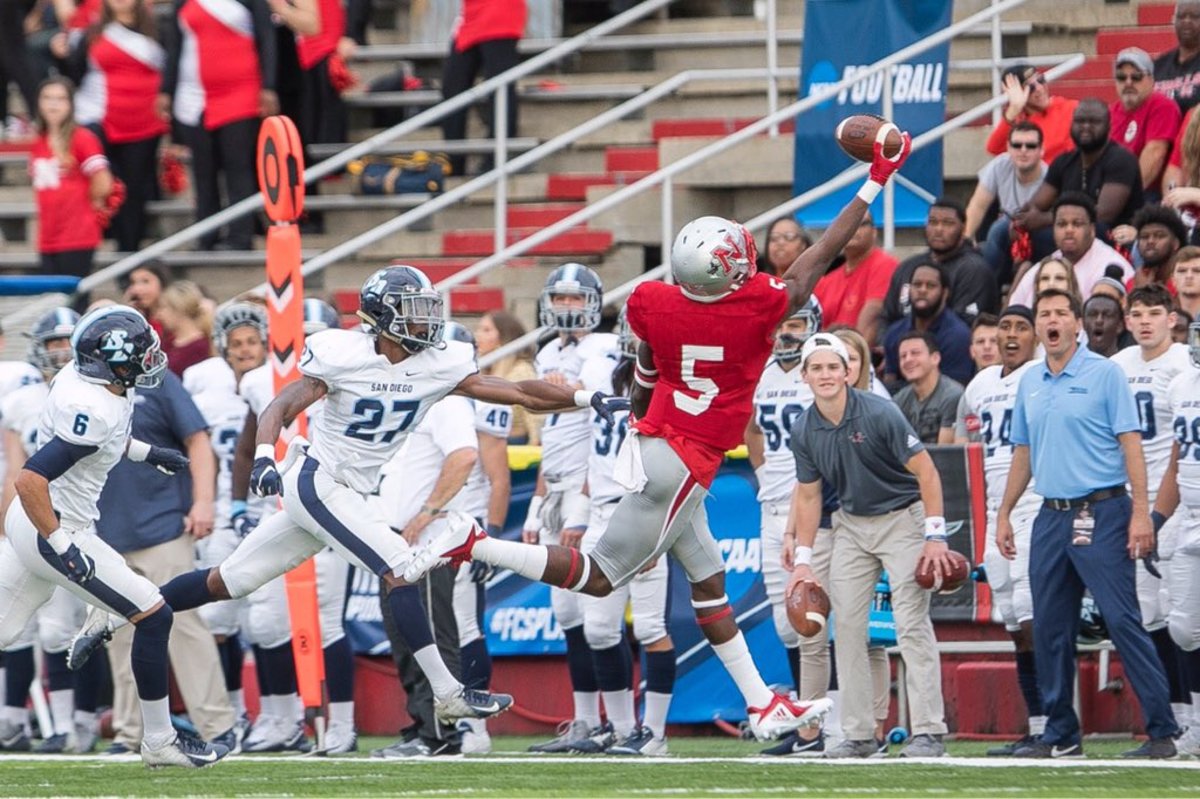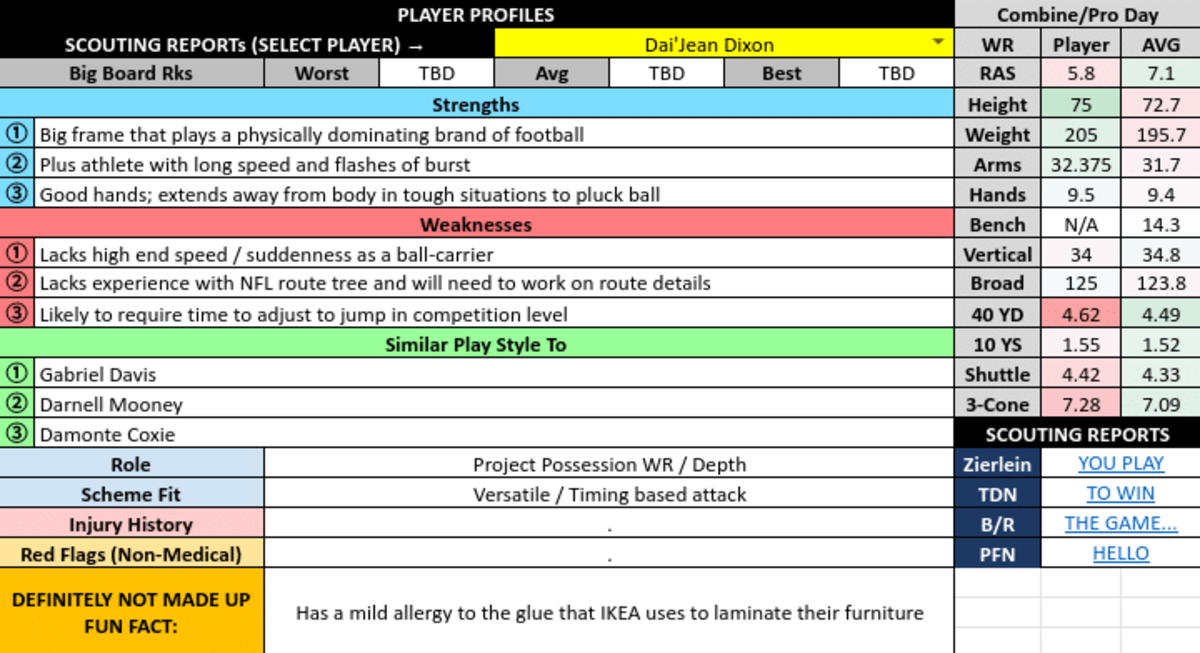 Coming out of the FCS, we find Nicholls WR Dai'Jean Dixon. Dominating against the lower-level competition, Dixon caught 34 of 57 contested targets in his college career (60%). In 2021, he accounted for 40% of his team's first downs when passing, and 37% of their passing yardage.
Standing 6-foot-3 with above-average arm length, Dixon has an imposing size that he lives up to with his playstyle. Although he lacks the speed to threaten NFL defenses downfield, he does have a natural feel for creating space at the catch point. He will need to buckle down on his route technique and details to stick to the next level. But his competitive nature and hard-working demeanor will give him a chance.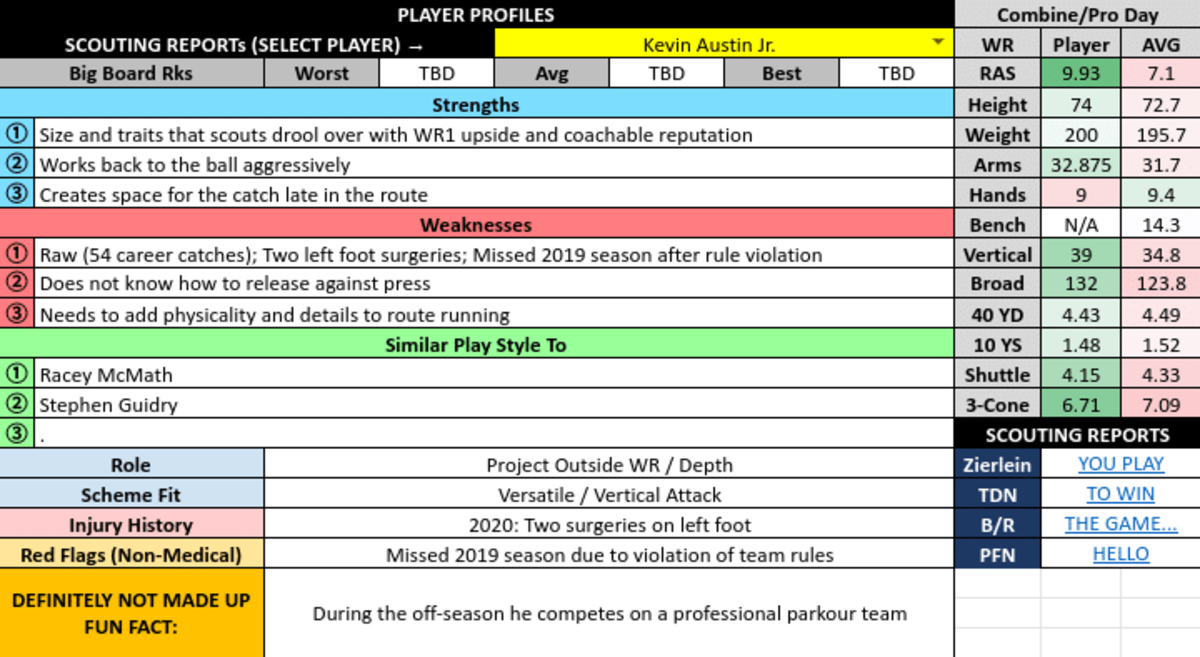 Moving on to the freak list, we find Kevin Austin Jr. out of Notre Dame. After being suspended by the team for the 2019 season due to undisclosed reasons, he broke his foot in the second game of 2020. But 2021 was finally his time to shine as he put up 888 yards on 48 catches (18.5 yards per catch) across 12 games. He hauled in 12 of 23 contested targets (52%) and was nearly unstoppable deep. On passes more than 20 air yards downfield, he caught 11 balls for 415 yards and five touchdowns. In the deep area of the field, he hauled in nine of 13 contested targets. Over the final five games of the year, he caught 70% of his targets and accumulated 496 receiving yards.
Austin boasts a long, tall, and powerful frame with high-end athletic traits to match. In athletic testing, he came out above average in every area except for hand size, where he was only slightly below average. While he may be raw and need some time to find more nuance to his game, Austin has an NFL-ready body type that could develop into something special if he puts in the work and stays healthy.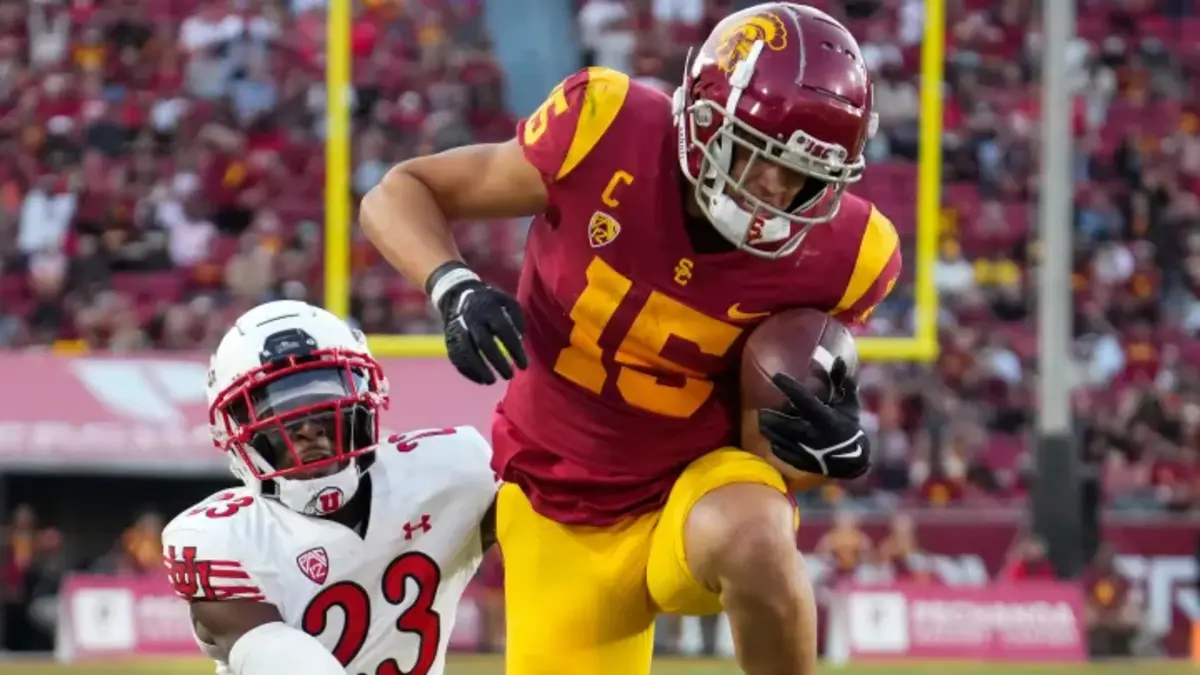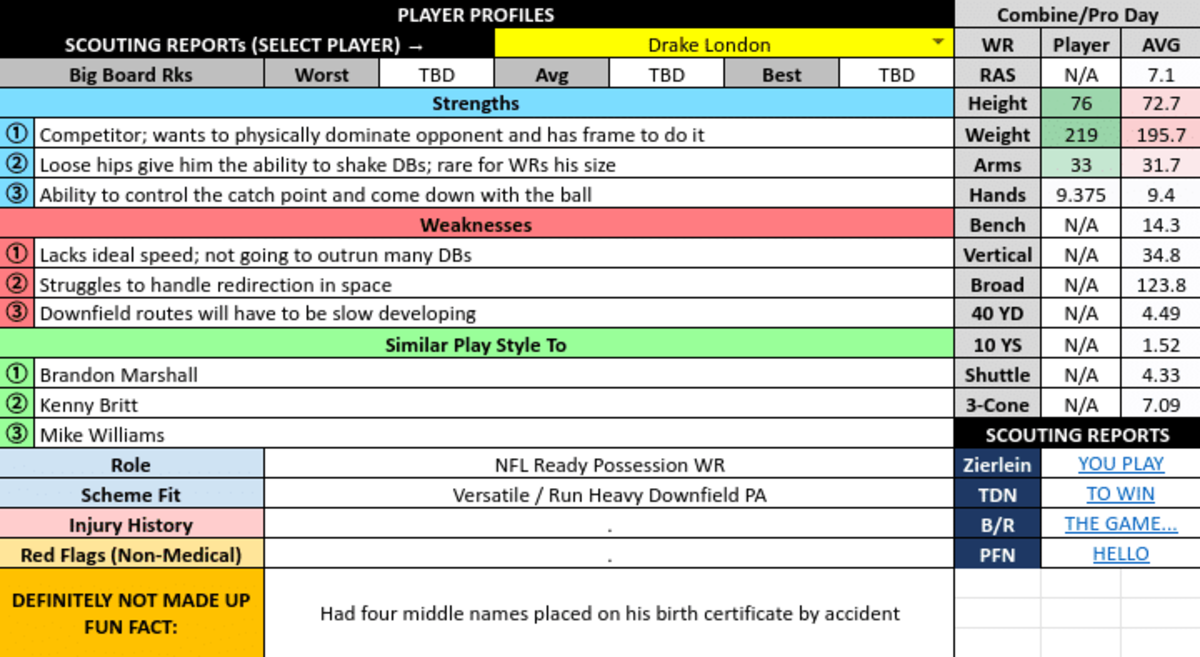 Coming in at fourth is USC product Drake London. In 2021, London totaled 1,084 receiving yards on 88 receptions in only eight games. Among those catches, 54 went for either first downs or touchdowns. Additionally, he hauled in 19 of 28 contested targets (68%). For his career, 100 of his 160 receptions have gone for first downs or touchdowns, and he has caught 27 of 46 contested targets (59%).
London boasts a big and long frame. While he lacks ideal speed and quickness, he possesses good technique and a smooth athleticism that works. Bringing basketball skills to the turf, London contorts his body to the ball and does an excellent job of finding angles to the high point.
Offensive Playmakers: TE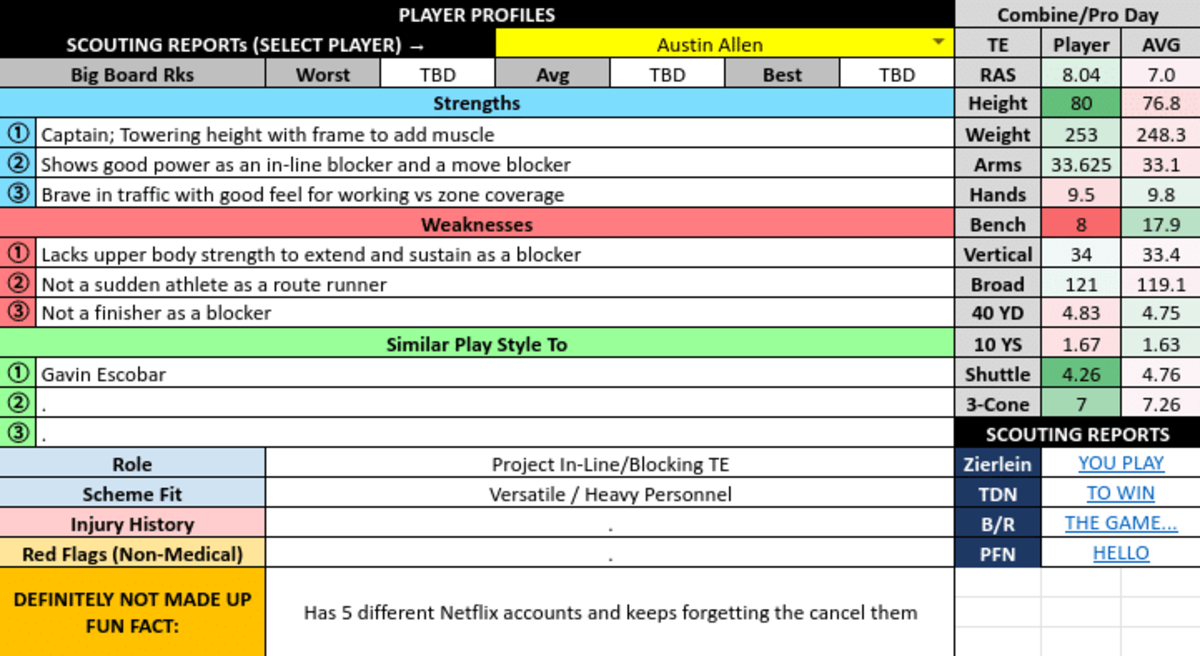 Coming in as the top playmaking TE in the 2021 class is Austin Allen out of Nebraska. In college, Allen relied on his towering height (6-foot-8) and above-average vertical and length to win jump ball situations. Even against Big Ten competition, Allen was able to bully his way to contested catches. Over the past two seasons, he hauled in eight of 11 contested targets. In that span, he totaled 838 yards and 42 first downs or touchdowns on 56 catches.
In the NFL, Allen will need to become more consistent with his blocking as an in-line TE. While his size, length, and leaping ability will continue to serve him well, his advantage will be watered down by below-average speed and explosiveness.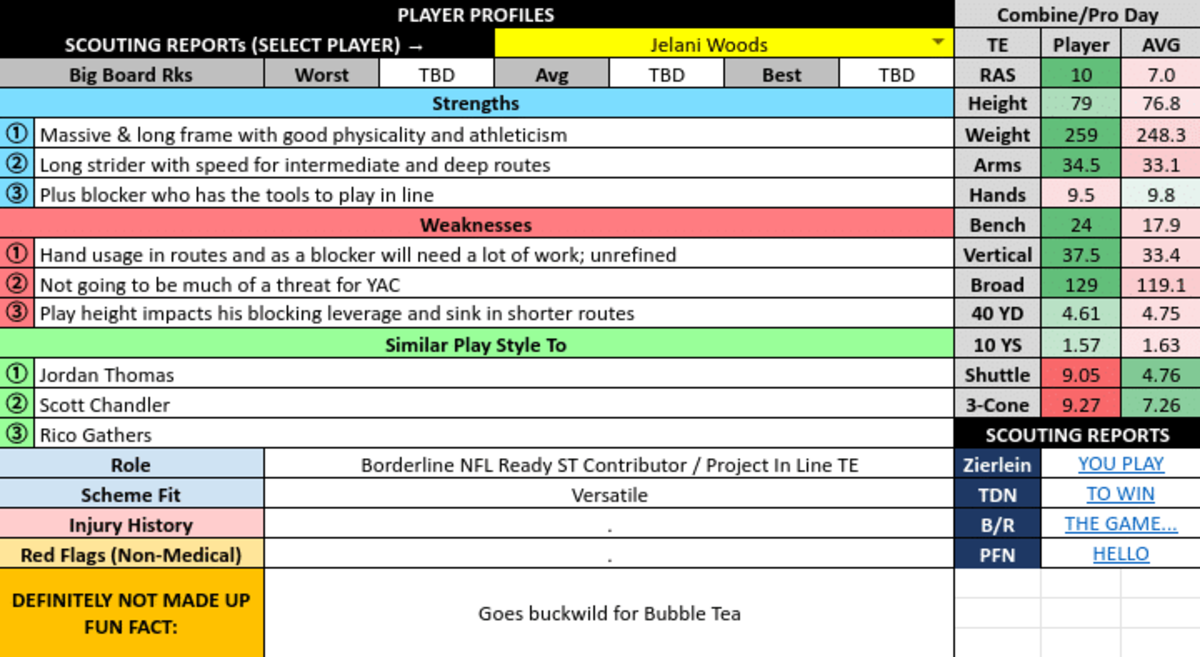 The second-ranked playmaker among tight ends is Jelani Woods out of Virginia. Woods was a top-25 QB recruit out of high school but made the move to tight end after his freshman season. After transferring to Virginia in 2021, he posted 44 catches for 598 yards and eight touchdowns. Woods achieved a first down or touchdown on 31 of 44 receptions. Additionally, he hauled in 11 of 18 contested targets.
Coming into the NFL, Woods brings a physical presence as a pass-catcher. He showed surprising upside as a pass-catcher in 2021 and was considered more of a blocker before his breakout season. With excellent size and athleticism, Woods can bully smaller and less gifted defenders. While he is limited laterally, his straight-line athleticism is extremely appealing.
Follow On Tap Sports Net on social media!