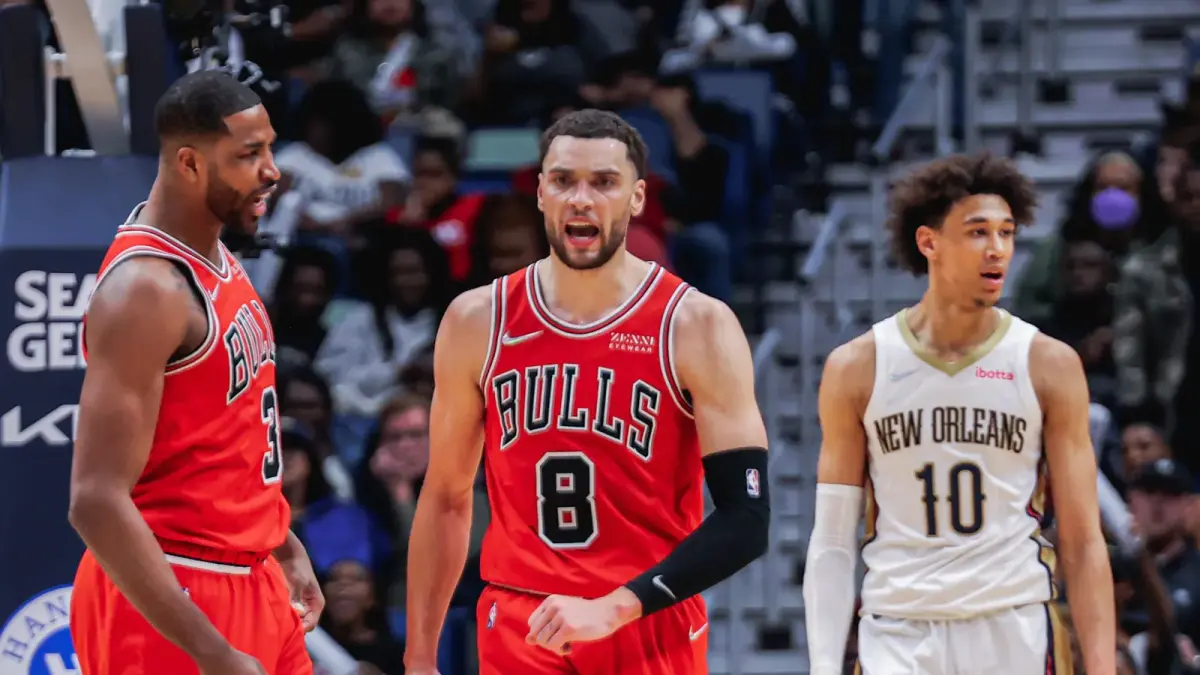 The Chicago Bulls are gearing up for their first playoff appearance since 2017. Midseason addition Tristan Thompson has a ton of postseason experience, including an NBA title on his resume. According to K.C. Johnson of NBC Sports Chicago, Thomspon pulled All-Star teammate Zach LaVine aside and told him he needs to "take the playoff stage."
Be Like Booker
Thompson used Phoneix Suns All-Star guard Devin Booker as an example.
Booker appeared in the playoffs for the first time in 2021. He helped lead his team to the NBA Finals, where they eventually lost to the Milwaukee Bucks. Despite the coming up just short in the Finals, Booker showed out during the Suns' playoff run. He averaged 27.3 PPG, 5.6 RPG, and 4.5 APG.
Devin Booker was instrumental to Phoenix's success on their road to the Finals, and Thompson wants to see that same determination from LaVine.
LaVine has never appeared in the postseason in his seven-year career. He is fresh off of two consecutive NBA All-Star selections and likely on his way to an NBA 'supermax' contract extension. The 27-year-old is surely anticipating his playoff debut, but Tristan Thompson's request may be very difficult for LaVine to take head-on.
Back in January, LaVine tweaked his left knee in a game against the Golden State Warriors. He didn't miss many games due to this ailment, but it was clear that his playstyle had changed a bit. After suffering the injury, LaVine wasn't as explosive as he was to start the 2021-22 NBA season.
But after having a week off to rest, maybe his knee will be good-to-go and LaVine can show the world what he can do on the big stage.
Zach LaVine and the Chicago Bulls will be in action this Sunday as they travel to Milwaukee to take on the Bucks in the first round of the NBA Playoffs. Tip-off is scheduled for 5:30 PM CT and the game will air on TNT.
RELATED: Full Bulls vs. Bucks Playoff Schedule
Follow On Tap Sports Net on social media!