"The Other Guys" is a series of articles focusing on sleeper candidates in the 2022 NFL Draft, and next up is Rutgers WR Bo Melton. These articles will focus on prospects projecting to go in the fourth round or later. If you like the graphics and stats outlined here, be sure to check out the entire On Tap Sports Net FREE 2022 NFL Draft Guide for yourself. It includes scouting reports on 300-plus prospects, athletic testing, team profiles, trade calculators, advanced stats, and more!
Profiles already completed:
WR – Bo Melton – Rutgers
Bo Melton Background
Bo Melton is the middle child amongst three boys who grew up in Mays Landing, NJ. His parents are both former Rutgers athletes, and they met on campus. His father, Gary, played WR for Rutgers. Meanwhile, his Mother Vicky played basketball for Rutgers. Additionally, Bo's younger brother (Max) is currently a Junior CB at Rutgers, and his older brother (Gary Jr.) played DB at the FCS level.
Playing both ways on the football field in high school, he saw snaps at RB, WR, and DB. In his three years starting for the varsity squad, Melton earned First-Team All-State honors twice. The team won a South Jersey Championship in his Junior season. Additionally, Melton won league titles in track running the 100 -meter and 200-meter.
In the 2017 recruiting class, Melton was ranked as the No. 37 WR in the country. Despite boasting offers from Michigan, Ohio State, Oregon, Penn State, Wisconsin, and Michigan State, Melton elected to play for his parents' alma mater at Rutgers.
Bo Melton Draft Profile
Over the past two seasons, Melton hauled in 62.4% of his targets with 1,282 receiving yards on 103 receptions (12.45 yards per catch) and nine touchdowns (5.4% of targets). Through that same span, Rutgers QBs have accumulated a completion percentage of 60.4%, with 9.4 yards per completion, and 23 touchdowns (3.2%). Despite the poor QB play, Melton ranks 19th among Power 5 players in deep receptions (15) despite seeing the second-most uncatchable deep targets (23).
He caught 15 of 24 (63%) deep targets deemed catchable, along with three drops. Speaking of drops, Melton has had issues in that department in the last two years. In 2020, he dropped 8.2% of his catchable targets (223rd out of 300 in FBS). Similar issues exist in his 2020 stats with a drop rate of 11.3% (231st out of 268).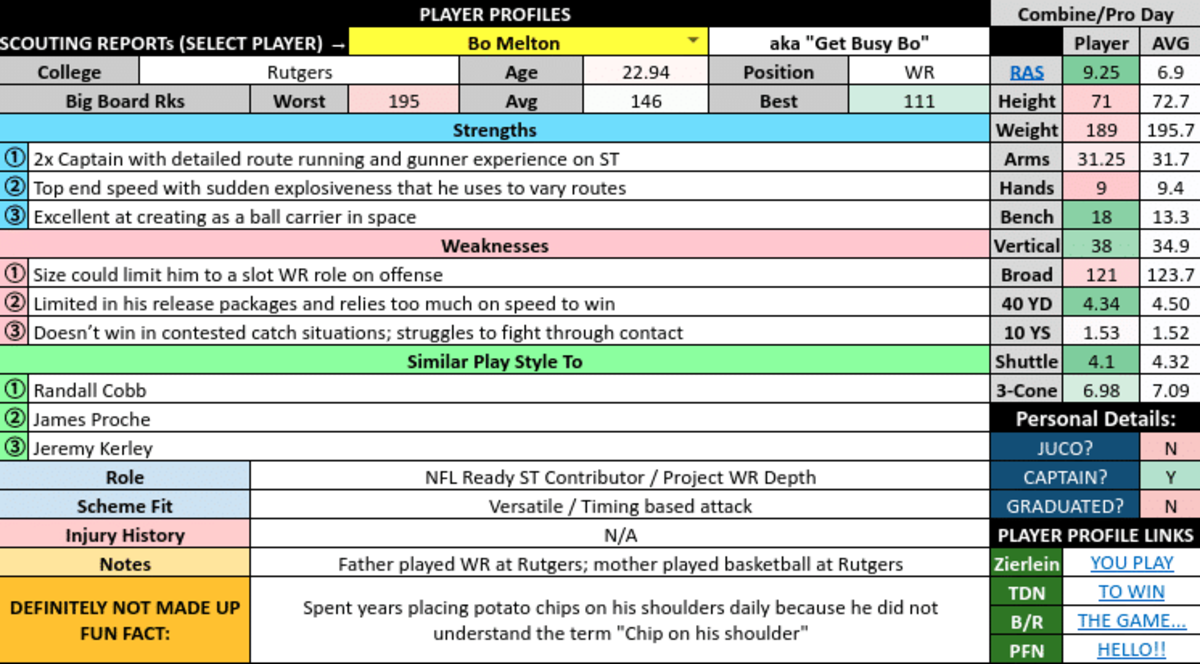 Melton possesses elite athletic traits relative to the rest of the WR draft class. He ran a 4.34-second 40-yard dash (draft class average is 4.5). Additionally, he timed at 4.1 seconds in the shuttle (draft class average is 4.32). Surprisingly, he also put up 18 bench press reps and a strong vertical jump of 38 inches.
Athletic testing makes up some for size limitations, standing 5-foot-11 and weighing in at 189 lbs. With only average arm length and below-average hand size, Bo may never become a true contested-catch target.
With his speed and YAC ability, Melton is a threat anywhere on the field. He does a good job of selling vertical routes with his speed to create space on breaking routes. His ability to separate shows through in the numbers. He ranks in the 86th percentile for separation over the last two years (per PFF). While he has primarily lined up outside (75%) over the past two seasons, he has experience in the slot (25%).
Bo Melton Stat Breakdown
For 2021, Melton ranks 20th in screen targets among WRs. Screens account for 28.6% of his targets, 25.9% of his receiving yards, and 35% of his first-down receptions. He ranks 132nd in slot targets among WRs, accounting for 26.4% of his targets. Slot targets make up 31.1% of his receiving yards, and 35% of his first downs.
Ultimately, Bo Melton is a player that has led his team in receiving in each of the past three seasons. He has shown the ability to produce through poor QB play. Bo is a threat to all three levels of the field due to his athletic gifts, in spite of his size limitations. Pairing an understanding of how to manipulate coverages with high-end speed makes him a fun player to watch.
While he struggles with physical coverage outside, he has upside in the slot. He will need to add to his route tree inside to meet that upside. Additionally, his threat of speed could provide enough buffer to work outside with an upgraded release package. Entering the NFL, Melton needs to refine his game as he serves a special teams and depth role. But he is a developable talent with traits you cannot teach. I envision him playing a role on offense by the end of 2022 with a path to starting in 2023.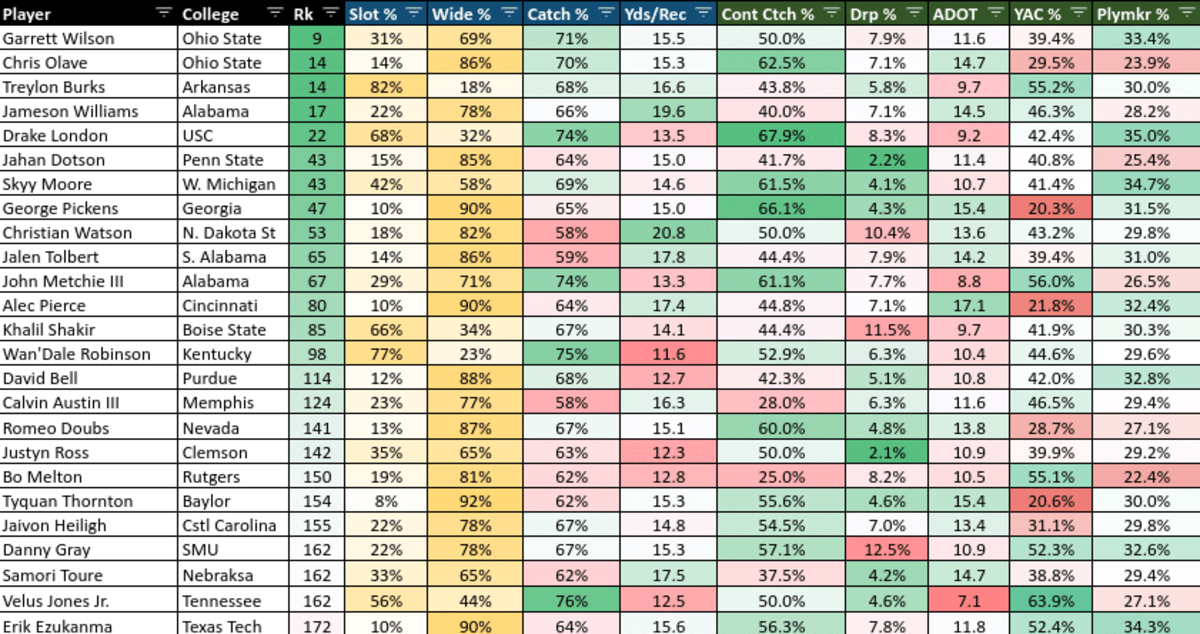 Best Team Fits: Kansas City Chiefs, New England Patriots, Pittsburgh Steelers, Indianapolis Colts, Chicago Bears
Projected Draft Round: 4th-5th Round (per Dane Brugler)

Follow On Tap Sports Net on social media!