"The Other Guys" is a series of articles focusing on sleeper candidates in the 2022 NFL Draft. First up is Nevada QB Carson Strong. These articles will focus on prospects projecting to go in the fourth round or later. If you like the graphics and stats outlined here, be sure to check out the entire On Tap Sports Net FREE 2022 NFL Draft Guide for yourself. It includes scouting reports on 300-plus prospects, athletic testing, team profiles, trade calculators, advanced stats, and more!
Carson Strong: Nevada QB
The youngest of two kids, Carson Strong was born and raised in the California Bay Area. In high school, he starred on the football field and on the hardwood. At least until he started to feel discomfort and clicking in his right knee after a basketball tournament. That discomfort led to surgery with eight biodegradable screws inserted into the joint. Because of the surgery, Strong did not play any football or basketball his senior year of high school.
As Strong was stuck on the sideline, he saw major college interest dry up. Luckily, he had one previous offer in his pocket in Nevada, which offered him a scholarship before the injury. Nevada kept its word and stood by the offer despite his injury, and Strong made it worth the while.
"I love football, I love winning, so I'm always going to give it my all out there."

– Nevada QB Carson Strong via Nevada Sports Net
Despite impressive stats at Nevada, Strong still dealt with knee issues in his college years. After playing through discomfort in 2020, he underwent surgery that inserted cartilage into his knee using a cadaver from his own hip. The surgery typically requires a recovery time of up to 12 months, but Strong returned to the field in only six months to play out the 2021 season.
He showed off his impressive arm talent all year long while enduring bone-on-bone right knee pain. As a right-handed passer, that means the pain is in his plant leg. Not an easy thing for an air-raid QB with a downfield tendency to play through. This is evidenced by his drop in ADOT in 2021 (8.6 in 2021 vs. 10.1 in 2020). Despite the drop-off in ADOT, Strong maintained his big-time throw rate amongst the best in the country (5.6% in 2021 vs. 6.1% in 2020).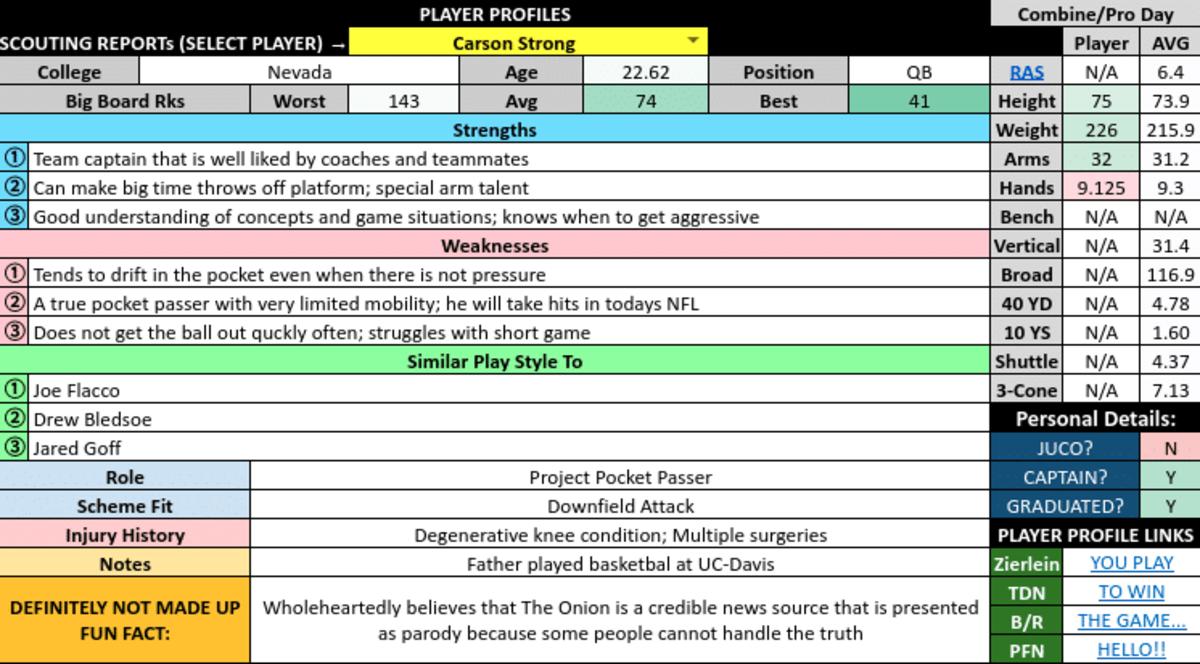 Over the last three seasons, the two-time Mountain West Offensive Player of the Year played in 31 of 34 games, only missing three games in 2019 due to a broken collar bone. With special arm talent, ideal size, and an ability to throw a very catchable ball, Strong has obvious upside. Strong has received praise from coaches for the amount of information he is capable of processing and his coachable traits.
Strong will not make many people miss, as he is a true pocket passer without much speed to work with. Unsurprisingly, Strong shows a tendency to rely too much on his arm and not involve his lower body enough in his mechanics. While that is obviously a result of his knee issues, it could be something that is difficult to alter. Additionally, his superior arm talent masks some issues with anticipation and timing. As the play speed around him gets faster, he could lose some effectiveness.
Carson Strong represents a boom-or-bust sleeper scenario in this year's NFL Draft due to his knee concerns. Despite good returns on a recent MRI, there is still valid concern about whether Strong's knee will hold up long-term. If not for his knee, I am confident he would be considered a first-round pick.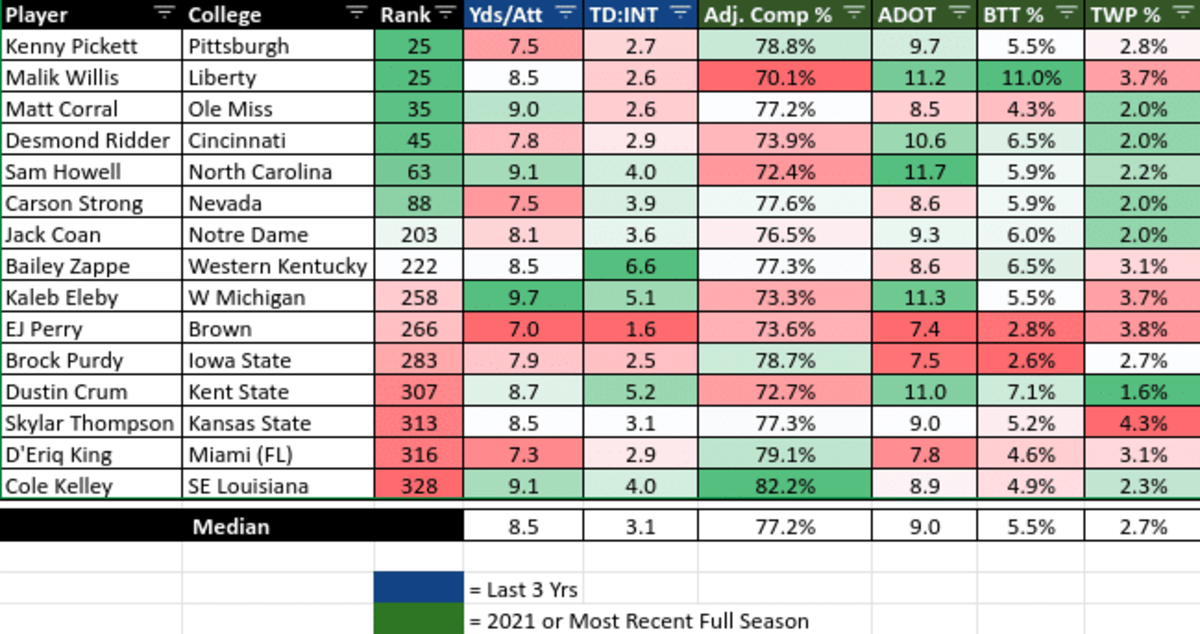 Best Fits: Tampa Bay Buccaneers, Indianapolis Colts, New Orleans Saints
Projected Round: 4th-5th (per Dane Brugler)
Follow On Tap Sports Net on social media!