"The Other Guys" is a series of articles focusing on sleeper candidates in the 2022 NFL Draft, and next up is Virginia Tech TE James Mitchell. These articles will focus on prospects projecting to go in the 4th round or later. If you like the graphics and stats outlined here, be sure to check out the entire On Tap Sports Net FREE 2022 NFL Draft Guide for yourself. It includes scouting reports on 300+ prospects, athletic testing, team profiles, trade calculators, advanced stats and more!
TE – James Mitchell – Virginia Tech
Background
James Mitchell grew up in the Big Stone Gap, VA. The small town is located on the western tip of Virginia and is known for it's history of coal mining. Mitchell's father is a pastor and coaches football at Big Stone Gap High School, where he coached former NFL running backs Thomas and Julius Jones. Meanwhile, his mother is a former basketball player who played at Brown. She ranks top 10 in school history in total rebounds.
"Long before James Mitchell was a starter in the ACC, he was running layup drills on the court under his father's supervision. Those drills gave way to more advanced practice habits as the years went on. Jimmy Mitchell woke his son up every morning once he started Pee Wee football to do pushups and run laps."

– Mike Niziolek of the Roanoke Times
In high school, James was all over the football field, spending time at QB, WR, TE, LB, and S. Additionally, he sometimes returned kicks on special teams. Mitchell earned First Team All-State considerations every year of high school, winning Offensive Player of the Year honors as a senior. He was also a four-year starter on the basketball team.
In the 2018 recruiting class, Mitchell was ranked as the No. 62 WR in the country. His final five schools came down to Duke, Georgia, South Carolina, Tennessee, and Virginia Tech before committing to the Hokies.
As a true freshman in 2018, Mitchell played in every game, primarily on special teams. In 2019, he paired with Dalton Keene to form a dynamic tight end duo. Starting in 8 of 13 games played, he totaled 21 receptions for 361 yards and six touchdowns (four receiving, two rushing). By the 2020 season, Mitchell had become a known offensive threat and started in 9 of 10 games played. He recorded 26 receptions for 435 yards and five touchdowns. Entering 2021, Mitchell was named a team captain and saw action in two games before tearing his ACL, requiring surgery. He hopes to be clear of any limitations by the time he is drafted.
"I'm on pace, so I hope by April I'm cleared to do a lot more stuff, and by the time I get to training camp, I'll be no reservations at all."

– James Mitchell h/t Andy Bitter of The Athletic
Athletic Traits
Mitchell comes in around average for most height, weight, and size related metrics when compared against the 2022 TE draft class. Due to the torn ACL in September 2021, he did not perform any athletic testing in the pre-draft process. However, he did participate in the bench press at the Virginia Tech pro day, putting up 18 reps of 225 lbs. This was slightly above average for the 2022 TE draft class.
Prior to enrolling at Virginia Tech, Mitchell participated in athletic testing that we can try to build a baseline from. He ran a 4.77 40-yard dash, which comes in right around average (4.76) for the 2022 class. Additionally, he performed the 20-yard shuttle at a time of 4.41, which is well above average (4.7). His vertical jump came in at 30″, which would be slightly below average (32.8″). If we input these metric into the RAS calculator, Mitchell shows a RAS of 4.28. Although, I should note that his athletic traits have likely changed (for better or worse) over four years of college athletic training.
James Mitchell Draft Profile
Mitchell shows plus athletic traits on tape, with good acceleration in and out of routes. He is a fluid mover who has WR-like route running abilities. His speed appears to be good enough to beat linebackers and work into the deeper portions of the field. Being a natural hands catcher who plucks the ball away from his frame, his size, athleticism, and hands play well near the end zone. He can contort his body to the catch point in ways many his size simply cannot. James Mitchell brings constant effort as a blocker, taking each rep personally. While he has some technique issues to clean up, his effort and work ethic make me a believer. Mitchell is considered to be highly coachable with a workmanlike demeanor on and off the field.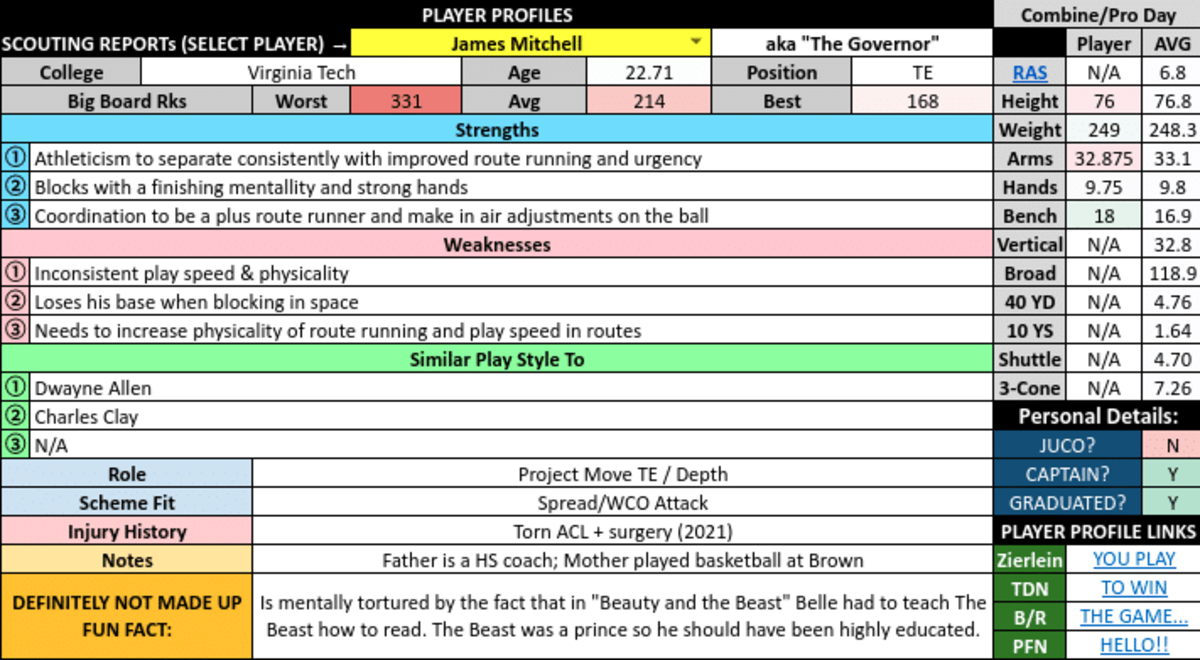 On the flip side, Mitchell can stand to clean up his route breaks and find more tempo in his route cadence. While he shows a lot of yardage after the catch, he did not excel at making people miss. Much of his YAC is from schemed up looks that opened clean running lanes. As a blocker, his lack of length has been an issue in the past. While he does possess strong hands, he will need to become a technician with his hand placement and timing in order to deal with longer defenders.
After four years, Mitchell's traits have never truly resulted in a "break-out" campaign. He has been solid at Virginia Tech, but he never broke through to reach his potential. Part of that may have to do with the torn ACL his senior year, but it holds true regardless. Mitchell might be drafted higher if not for the knee injury, and therein lies the conundrum that makes him a sleeper. While his risk is elevated due to the torn ACL, there will be an opportunity where the upside of drafting him outweighs the risk.
Stat Breakdown
At Virginia Tech, James Mitchell lined up in-line on 40% of his snaps, and in the slot on 45% of snaps. Additionally, he played out wide on occasion. So he has plenty of experience playing from multiple alignments.
From the slot, he saw 28 career targets and brought in 16 catches (57%) for 262 yards (16.4 yards per reception). That represents 37% of his career targets and 32% of his career receiving yards. The yards per catch of 16.4 is impressive. In addition, his air yards per reception from the slot sits at 8.4, meaning that he was more of a downfield threat from the slot than in-line.

Overall, Mitchell shows excellent ability to pick up chunk yardage with a career clip of 16.4 yards per catch. This is well above the average draft class tight end, which sits at 11.4 yards per catch. However, there is concern about his schemed up looks. His air yards per reception comes in slightly below average at 5.9 yards downfield.
Despite seeing more contested targets than most tight ends, Mitchell generally came down with the ball more often than most. Additionally, with above average drop rates and excellent first down rates, Mitchell proved to be a capable weapon as a receiver at the college level.
At Virginia Tech, Mitchell got experience run blocking in both zone and gap looks. The team ran zone based schemes on roughly 50% and gap schemes on roughly 40% of his run block snaps (per PFF). Over the past three seasons, his run block grades came in between 50 and 62. In 2020, he ranked 45th among 64 qualifying tight ends in run block grade. The previous year, he ranked 38th among 50 qualifying tight ends in run block grade.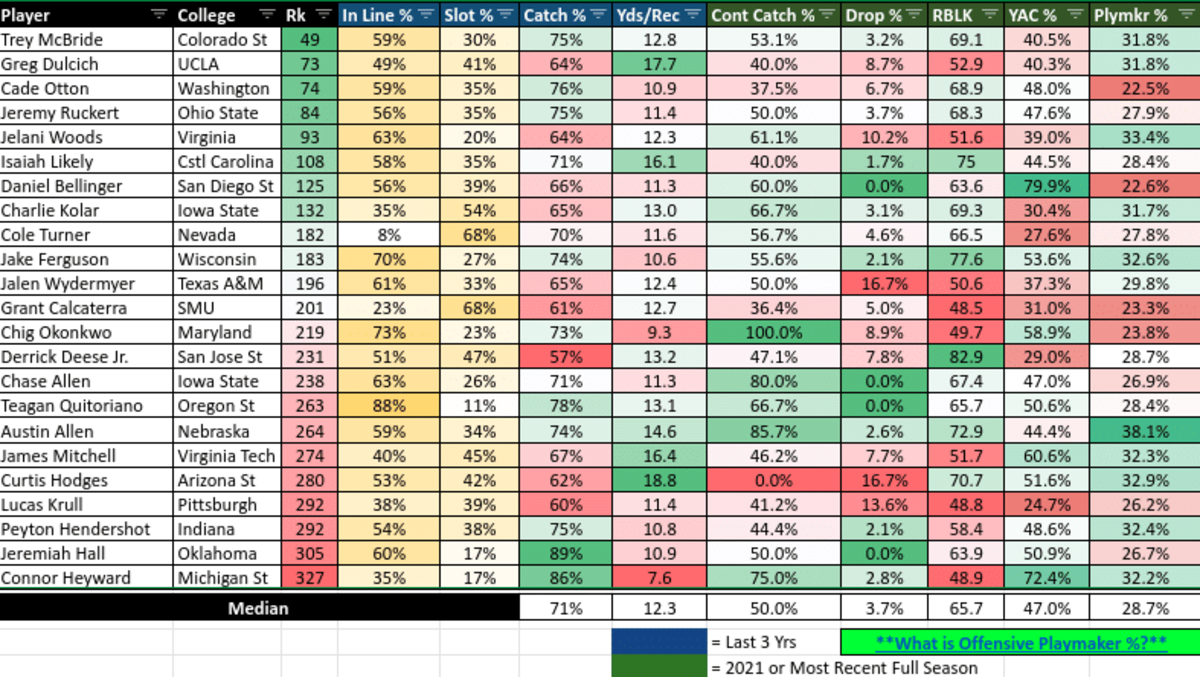 NFL Team Fits: Bills, Cardinals, Commanders, Cowboys, Patriots, Raiders
Projected Draft Round: 4th-5th Round (per Dane Brugler)

Follow On Tap Sports Net on social media!