With less than 24 hours separating fans, teams, and prospects from the NFL Draft, it's time to squeeze in one last mock draft. As many know, the Pro Football Focus mock draft simulator has been used by many to construct mock drafts of their own. That said, the Chicago Bears are our pick to run a mock draft for.
Myself (Ron Luce) and my cousin, Eric Nelson, served as GM and assistant GM on this little project. We didn't keep the screen grab of our picks (idiots), but we did write them down. Without further ado, let's dive into our mock draft and our logic behind each one of our picks.
Second Round, Pick 39: S Lewis Cine, Georgia
The No. 31 ranked prospect according to PFF fell right into our lap at 39. We fielded some propsed "calls" for the pick, but with a hard-hitting, long safety on the board that can compliment Eddie Jackson perfectly, we weren't going to pass this up.
Cine stands a hair over 6-feet tall and weighs around 200 pounds. Although he's not super heavy, he has a hard-hitting nature that feels perfect for Chicago. In addition, head coach Matt Eberflus loves safeties that play the pass and run in his 4-3 defense. Cine feels like a perfect candidate to line up opposite of Jackson, defend the pass well, and fill heavy in the running game when needed. This pick felt like a steal for the Bears.
Second Round, Pick 52 (TRADE): G Sean Rhyan, UCLA
Before we dive into the pick, let's explain the trade. The Chicago Bears traded pick 48 and pick 150 to the Pittsburgh Steelers for pick 52 and pick 84. We felt like this trade made a lost of sense by adding a third-round pick to fall back about five spots.
From the start, we were targeting Sean Rhyan. The UCLA product is 6-foot-5, 320+ pounds and is widely considered the No. 2 guard in the draft. Currently, the largest hole the Bears have on the line is at one of the guard spots. Sure, they might be able to use a tackle, but if Rhyan is on the board here, the pick makes a ton of sense. There is little doubt in our minds that he comes in and starts at one of the two guard spots opposite of Cody Whitehair on his first day.
Everyone wants Justin Fields to remain upright. Well, this pick helps us do just that.
Third Round, Pick 71: CB Tariq Woolen, UTSA
It's no secret that the Bears have a huge question mark at the corner position opposite of Jaylon Johnson. Johnson profiles well in the Eberflus defense as more of a physical corner. Why not pair him with an absolute physical freak on the other side? Insert Tariq Woolen.
Woolen stands 6-feet-4, 205 pounds… as a corner! The UTSA product is a converted wide receiver, so he is new to the cornerback position. However, his length, speed, and ball-tracking ability profile him as a very successful corner at the next level. He is a freak athlete that the Bears would love to have in their secondary.
However, if he were that great right now, he would be a top ten pick. In this case, Woolen is sadly not polished. He is guilty of face guarding receivers and playing the man more than the ball. But, although negatives now, good coaching can clean some of that up. You cannot teach freakish athletic build and attributes. You can coach bad habits out of a player. Let the Bears' defensive staff work with him (as they did so well in Indianapolis) and he can be a meaningful contributor.
Third Round, Pick 96 (TRADE): WR Calvin Austin III, Memphis
This is a loaded pick between the trade and the player, so read all the way through. For starters, remember that No. 84 pick we acquired earlier? The Denver Broncos came calling and we couldn't resist. We did send a 2023 fifth-round pick to Denver (oh well), but received pick 96 and 112 to move back about 12 spots. The trade worked out in our favor too because we got some decent value at 112.
Alright, let's talk about the player. We all know the Bears could use some more receivers for Fields. At this point in the draft, we went with an explosive receiver that receives high remarks. That said, we understand if you have bad flashbacks with another Memphis wideout from the past. However, Austin III's attributes suggest he can be a successful receiver at the next level. The only concern is his height. He's only 5-foot-7, but he is considered a fairly complete receiver in terms of his skillset. We've seen smaller receivers do well in Green Bay. If any of that follows Luke Getsy to Chicago, they'll find ways to get him open and with the ball in his hands.
Again, he's not the big receiver that a lot of people hope Chicago gets. However, he can still be a valuable asset in the receiving game and is once again another weapon for Justin Fields to operate with.
Fourth Round, Pick 112: RB James Cook, Georgia
Hear us out. I can already hear people screaming, "but we have David Montgomery and Khalil Herbert!" You're right. However, when is too much talent a bad thing?
Cook brings exceptional value to the Bears. When considering Montgomery and Herbert, both can operate in the passing game, but are better options for running the ball. Cook brings the ability to line up as a traditional running back, or out wide. He has impressive receiving skills aside from being a dynamic runner out of the backfield.
If the Bears add Cook, they have more options. In addition, a friendly weapon for your young quarterback on third down is a check down player. At any time, Cole Kmet and James Cook can be safety valves for Fields if the play on third down doesn't go according to plan. That in itself makes it worth using this pick on Cook. Yes, the backfield becomes crowded, but Cook adds depth now and later when money is due to certain players.
Fifth Round, Pick 148: LB Terrel Bernard, Baylor
Terrel Bernard is a rather small linebacker, hence a major reason for his slip this far. The Bears have an obvious opening next to Roquan Smith, and a number of players might get a look at the role. As of now, Nicholas Morrow looks like the favorite to assume the spot, but having depth at linebacker is certainly never a bad thing.
Although small, Bernard plays big against the run and isn't afraid to fill gaps. He's quick and can close quickly on opposing ballcarriers. He's 6-foot-1, but only 220 pounds, well undersize for even today's NFL linebacker. However, if he can add some meaningful weight, and continues playing with the explosion he has, he might still be a valuable player and a gem of a pick at this point in the draft. Check out the video and see for yourself.
Sixth Round, Pick 186: WR Danny Gray, SMU
Once again, we said the Bears need receivers. Here, we'll take a flyer on a guy with some upside. Plus, he's really fast. He makes fast guys look, not fast. (IYKYK)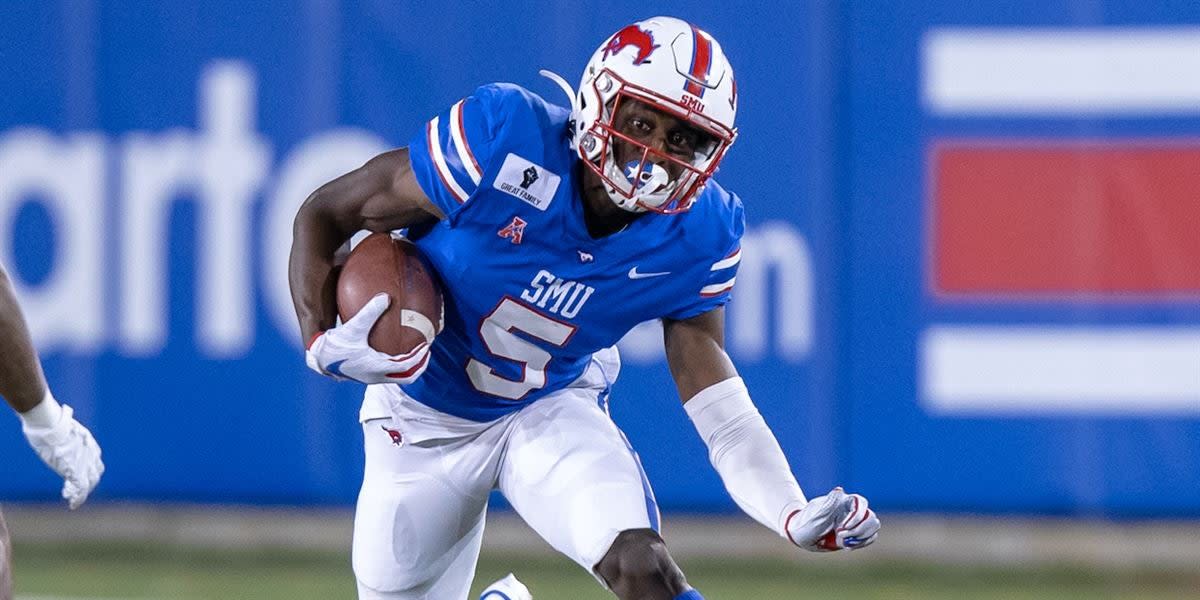 Fun fact about Danny Gray, our guy @ButkusStats on Twitter (Quintin), wrote extensively about Gray as a value pick in this year's NFL Draft. His largest downside is his size. He's a small, wiry player that might struggle against physical corners at the next level. However, his blazing 4.33 40-yard dash speed is impressive. In addition, he operates well as a YAC player due to some punt return ability he has as well. If Gray can find the weight room, and bring all the value that Quintin explains (go read it), then he's worth a flyer at this point.
Sixth Round, Pick 206 (TRADE): OG Cordell Volson, North Dakota State
Big, nasty, physical. Those are the vocab words used to describe the 6-foot-7 tank from FCS North Dakota State. Although a FCS player, Volson's size is too good to pass up this late in the draft. We like the idea of an absolute unit coming in as a depth piece in 2022.
Volson is everything you want in an offensive lineman. So if that's the case, why is he available this late in the draft? Well, with huge size comes higher pad levels. His pass protection is also not perfect and needs work. He is very much a project. He played a lot of time at the tackle position in college, and needs to work on lateral movement. If Volson can develop his footwork and technique, he has a chance of being a value pick for the Bears in the sixth round.
Summary
Overall, Eric and I thought this draft addressed a lot of needs the Bears have while taking top talent on the board. Yes, we could have looked for defensive line depth, better receiver options, or different secondary players. However, we enjoyed these picks and think these make the Bears better entering 2022 following the NFL Draft.
It's going to be a wild weekend. Let's see if any of our picks are Chicago Bears draft picks by the end of the day on Saturday.
Follow On Tap Sports Net on social media!