"The Other Guys" is a series of articles focusing on sleeper candidates in the 2022 NFL Draft, and next up is Wake Forest OL Zach Tom. These articles will focus on prospects projecting to go in the 4th round or later. If you like the graphics and stats outlined here, be sure to check out the entire On Tap Sports Net FREE 2022 NFL Draft Guide for yourself. It includes scouting reports on 300+ prospects, athletic testing, team profiles, trade calculators, advanced stats and more!
OL – Zach Tom – Wake Forest
Background
Zach Tom grew up in the Baton Rouge, LA as the youngest of two boys. His older brother, Cameron Tom, played offensive line at Southern Miss and has spent five years at the end of NFL rosters. Both of Zach's parents are professors at LSU.
In high school, Zach primarily played left tackle for Head Coach Delanie Walker. He earned All-District, All-Area, All-Metro, and All-State honors over the course of his high school career. Additionally, he earned All-State honors in shot put his senior year.
In the 2017 recruiting class, Mitchell was ranked as the No. 150 OT in the country. With little Power-5 interest, he received offers from Louisiana, Louisiana-Monroe, and Southern Miss before his senior year. Initially, he committed to play at Southern Miss alongside his brother. However, Wake Forest entered the conversation during his senior year, and Zach flipped his commitment to the Deacons.
Wake Forest
As a true freshman, Tom redshirted and was named to the ACC Academic Honor Roll. In 2018, he saw the field in 12 games, starting one game at center. He played a total of 119 snaps at center, while pitching in an additional 135 snaps on special teams. Entering the 2019 season, Tom earned the starting job at center. He started all 13 games and earned honorable mention All-ACC honors.
Moving on to 2020, Tom had entrenched himself as a reliable start for the Deacons. However, he was asked to play at a new position. He started all nine games at left tackle in the COVID-19 shortened season. Switching from center to guard is not unheard of. But seeing a player switch from center to tackle is rare because of the difference in athleticism needed to play in space.
His play at left tackle was strong enough to start there again in 2021. Starting at left tackle in all 14 games, Tom was named 2nd Team All-American and 1st Team All-ACC. Additionally, he won the Jim Tatum Award, given annually to the top senior student athlete. He was named to the All-ACC Academic team in each of his final three seasons. Tom also graduated cum laude with his degree in business and enterprise management. He recently enrolled in the Wake Forest MBA program.
Zach Tom Draft Profile
Zach Tom has a smaller than ideal frame to play offensive tackle. Standing 6-foot-4, 304 pounds with 33.25″ arms, his weight and length point to a move back inside to center or guard. However, his athleticism is elite. With combine and pro day testing near the top of the offensive line class, he would be a fit for zone blocking schemes that like to get their blockers out in space.
"For Zach, what is going to make him a good pro player is how he adapts to things. He's balanced and he is smarter than a lot of guys and he is so athletic so the adjustment is going to be keep doing what he's doing and don't try to be something else."

Former Wake Forest and current NFL DE Boogie Basham; h/t John Dell of Winston-Salem Journal
Tom shows off his plus athletic traits on tape, with quick feet and lateral fluidity to change course. In pass protection, he is patient to shoot his hands and does a good job of working them independently. His one measurable that comes in above average is hand size, and it is evident in his ability to latch onto defenders. When Tom gets into poor positions, he shows the mental awareness and athletic ability to adjust and reset like a veteran. He plays with a determined demeanor, and his high IQ shows up often.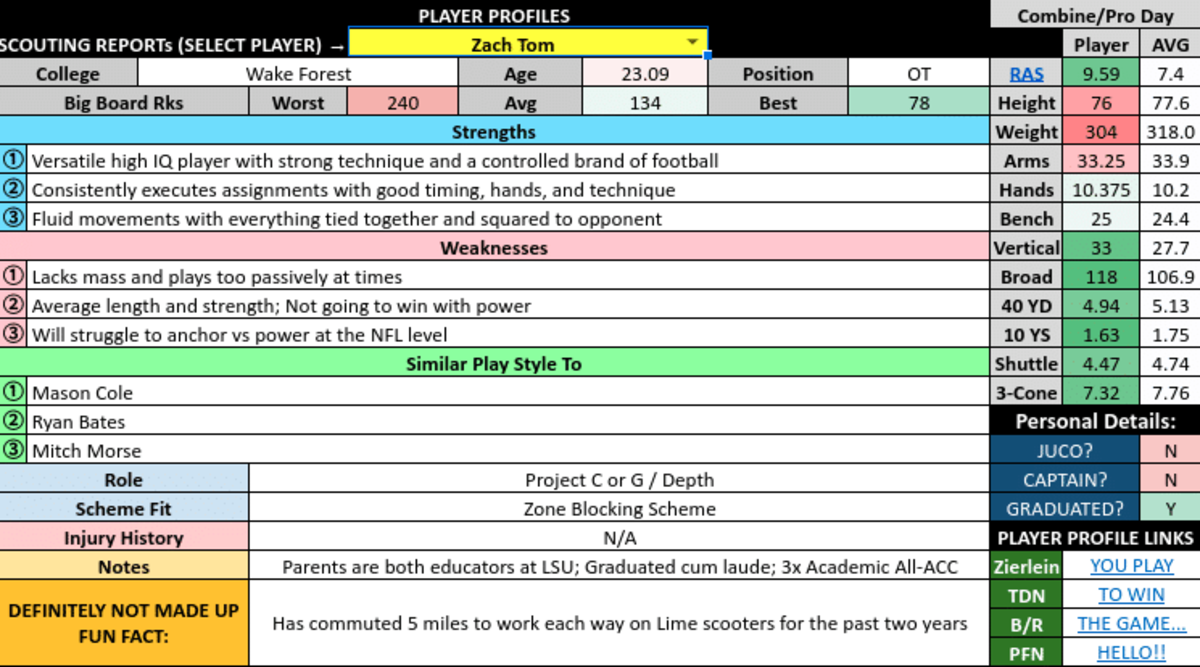 But there are reasons he is not going to be picked high in the draft. While he does boast a strong upper half, he will need to add more power to his lower body. As it stands, his inability to anchor against larger defenders could inhibit his success in the NFL. Especially when considering his less than ideal length. In the run game, he possesses average drive off the ball at best. This is something he can improve with added lower body and core strength, but is not up to the standard currently. He will also need to up his awareness of stunts and delayed blitzers.
While at Wake Forest, Tom played in an RPO focused offense. Until he adds more lower body and core strength, he will lose blocks in power situations and need help from the players around him. However, his athletic traits and intelligence will serve him very well at the center position. With added mass and more experience against multiple fronts, I believe that Zach Tom has the upside to become a plus starter in the NFL.
Stat Breakdown
Across his career at Wake Forest, Zach Tom played 41% of his snaps at center and 59% of his snaps at left tackle. While he did play seven snaps at right tackle in 2021, that is too small of a sample size to make any determinations. Despite playing left tackle the last two seasons, his most likely position in the NFL is center, with potential for some guard flexibility.

In his four years at Wake Forest, Tom played in a pass-heavy offense that threw the ball over 54% of the time every year except for 2018. For the 2018 season , Tom only played 199 snaps, so take those numbers with a grain of salt. In general, Wake Forest ran a balanced mix of zone and gap looks. When Tom was playing center in 2018 and 2019, he graded out better in gap run concepts than he did in zone concepts. However, when he moved to left tackle he performed better in the zone concepts.
The constant for Tom was always in pass protection. He was above average in most pass protection metrics every year at Wake Forest, and never allowed a sack from the center position. His pass block grade, per PFF, never dipped below 76.8 in his four years with the Deacons.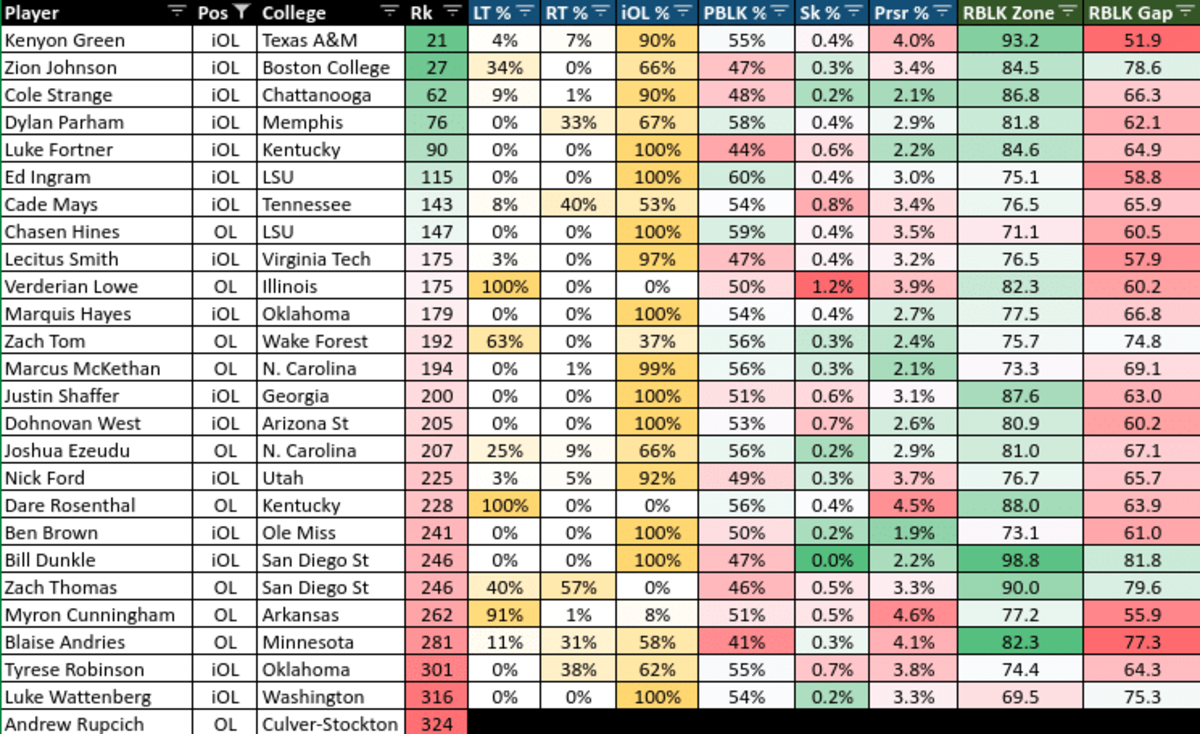 NFL Team Fits: 49ers, Bears, Colts, Dolphins, Panthers, Patriots, Ravens, Titans
Projected Draft Round: 4th-5th Round (per Dane Brugler)

Follow On Tap Sports Net on social media!