Over the course of the last few months, NFL Prospects have been preparing for this moment. Whether it be the combine, interviews, or pro days, all eyes are on these prospects in NFL circles. After many discussions and tweaks to the Mock Draft, we are ready to release it in anticipation of tonight's draft.
Now you're probably wondering, why did he say we? For this year's NFL Draft Coverage I will be working alongside Bears On Tap contributor Quinten Krzysko who was able to complete one of the best NFL Draft guides I've ever seen. I linked his draft guide below, as it was what we used to assist us in making the initial 32 picks of this year's NFL Draft. In addition to the Mock Draft article you are currently reading, we will be hosting a live stream during the 2nd round of the draft to discuss picks, speculation, and most importantly break down what our Chicago Bears do in the draft.
Pick 1, Jacksonville Jaguars: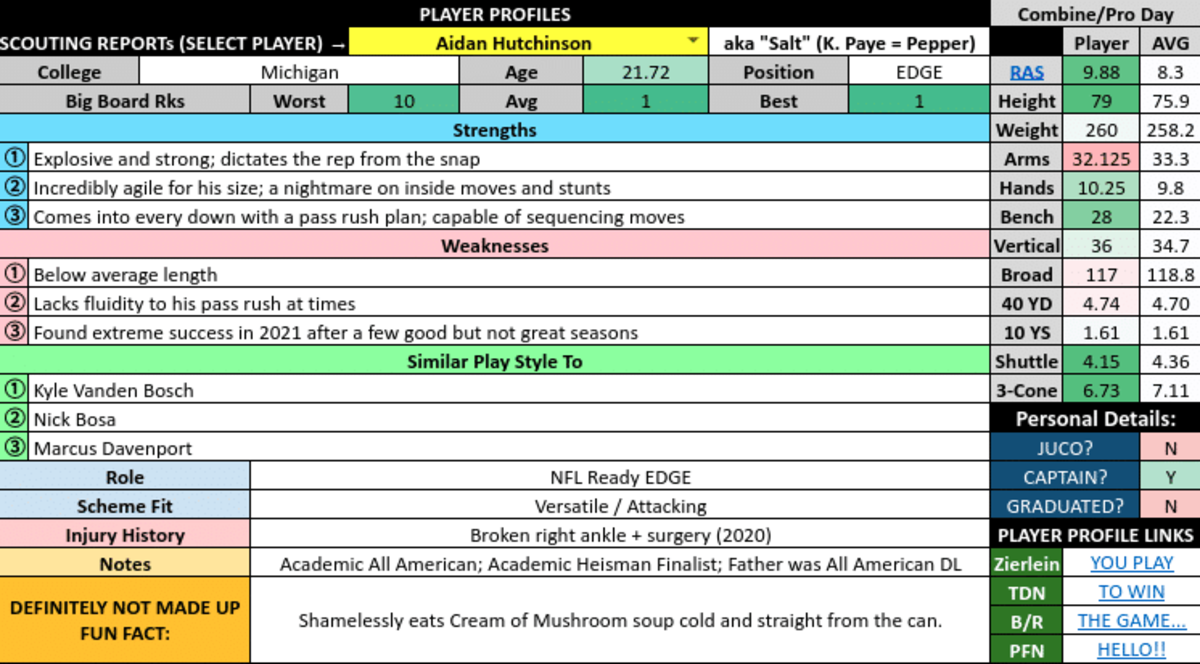 It's clear that Shad Khan and the Jaguars will look to attack the defensive side of the ball with this pick. In my opinion, Aidan Hutchinson is the more polished pass rusher over Travon Walker and for that reason, he deserves to be the first pick tonight.
Pick 2, Detroit Lions: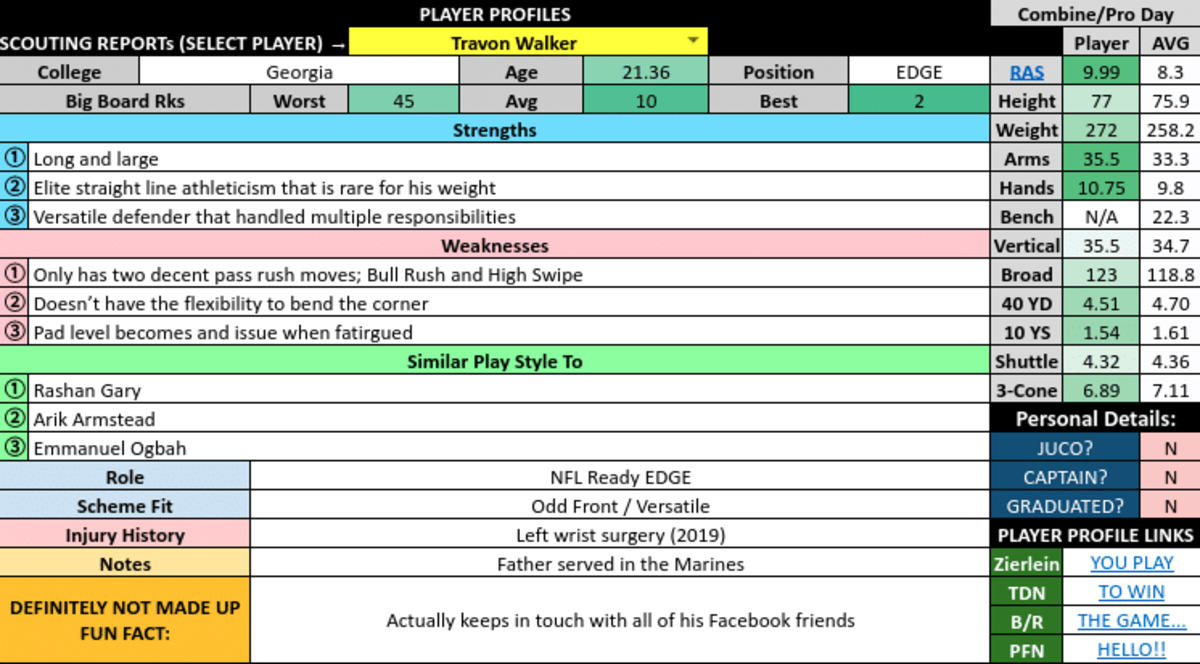 Travon Walker has been the most intriguing prospect during the last few weeks of the process. While he is not as talented of a pass rusher as Aidan Hutchinson, he is still a phenomenal talent off the edge at defending the rush. He has that level of toughness desired by head coach Dan Campbell.
Pick 3, Houston Texans: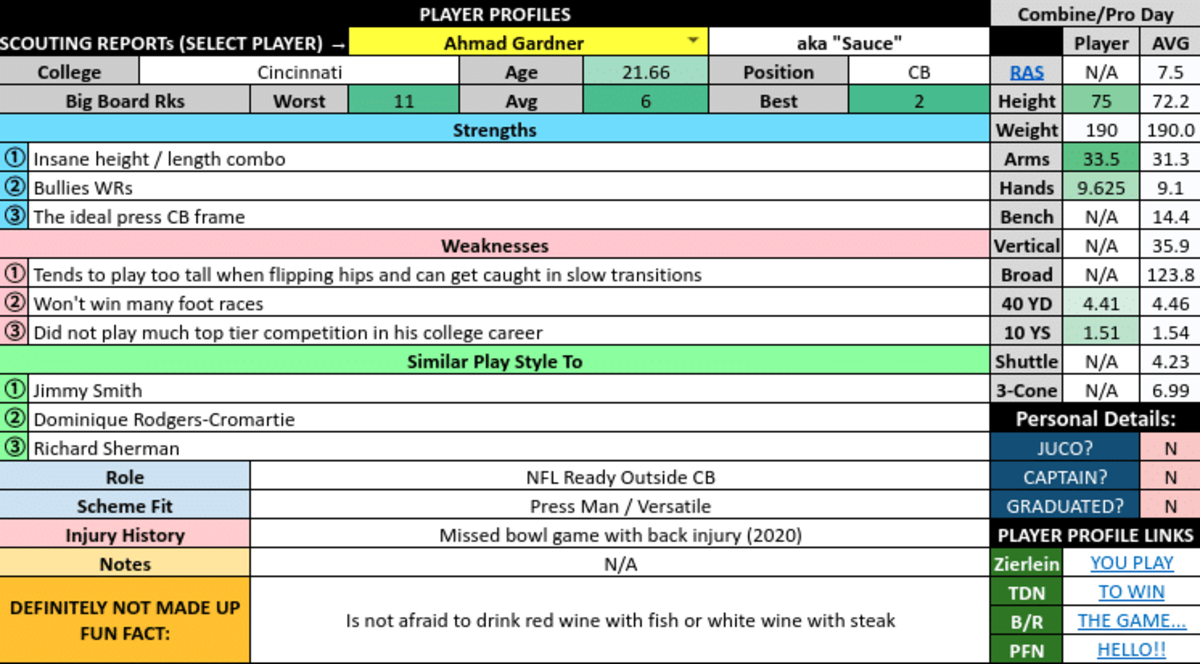 The Texans can go a variety of different ways with this pick as they are a team that is definitely in the lower third of the NFL talent wise. But, they also have multiple picks on the first day. With that being said, going with the best player available when you have so many gaps on your team is not a bad strategy. Tonight, the Texans will take who many see as the top corner in this draft with the third pick.
Pick 4, New York Jets: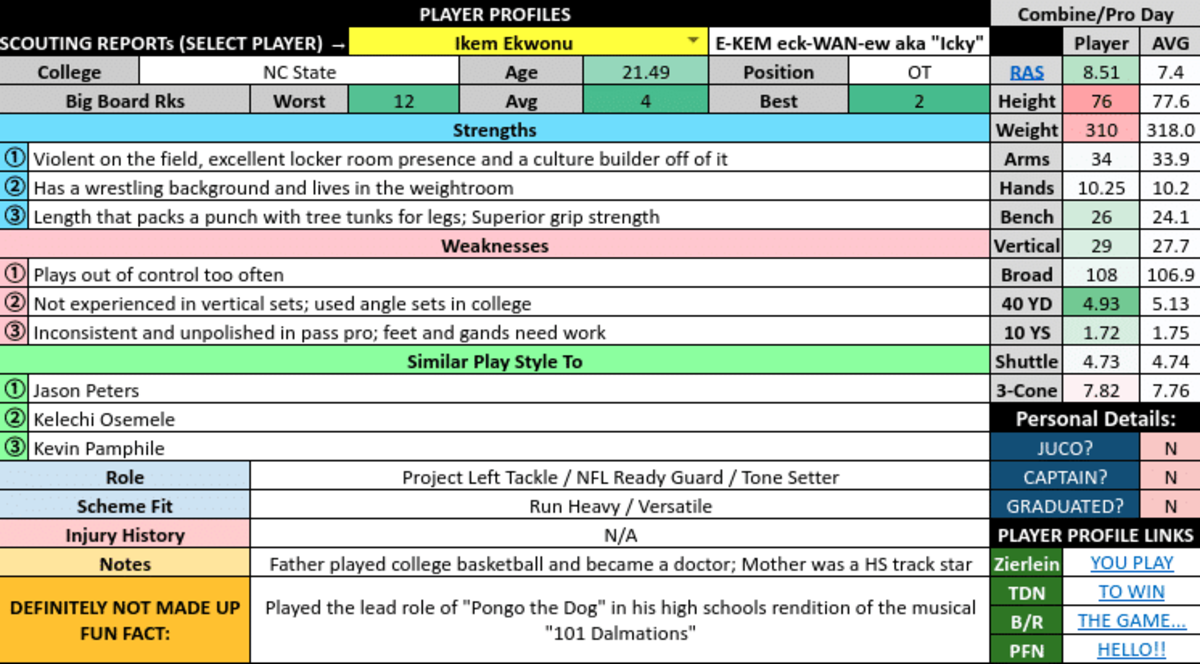 I feel like there are three guarantees in life. Death, taxes, and the New York Jets selecting an offensive lineman in the first round of the Draft. Ikem Ekwonu is arguably the most complete tackle prospect in this year's NFL Draft and would instantly help sure up a below average offensive line.
Pick 5, New York Giants: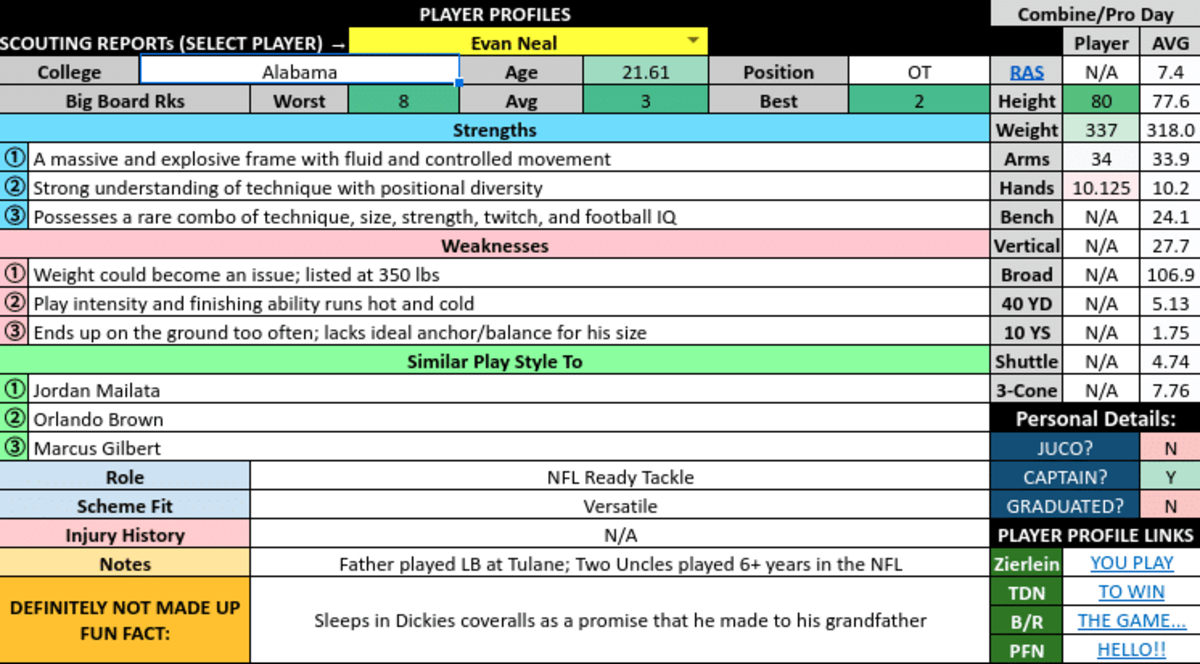 The Giants simply had one of the worst offensive lines in all of the NFL last season, which left quarterback Daniel Jones and running back Saquon Barkley more prone to injury. In order for their offense to get back on track in 2021, it starts up front with an offensive line. What better guy to draft than Evan Neal in this spot?
Pick 6, Carolina Panthers:
Matt Rhule has had some of the worst quarterback play in the NFL since he joined the Carolina Panthers. The Panthers have been linked to Kenny Pickett and Malik Willis, but for some strange reason I have this feeling that Pickett is their guy and ultimately the first quarterback off the board on Thursday.
Pick 7, New York Giants: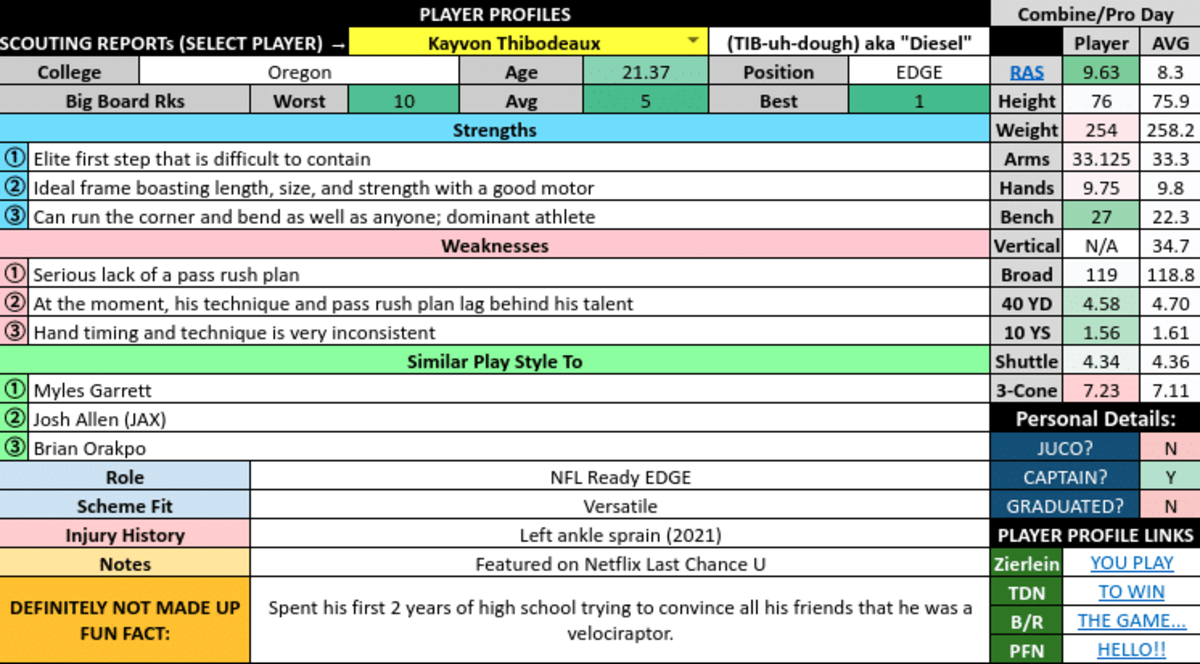 Throughout the Draft process, nobody has seen more movement up and down the board as Kayvon Thibodeaux. I have seen him as high as No. 1 on certain mocks and various other spots in others. The fact of the matter is the Giants simply can not pass up on Thibodeaux at this spot. This immense value at the seventh pick, as they will be getting a top three talent. They have multiple picks in the first round and multiple spots to fill on their roster. Why not go with the best player available here?
Pick 8, Atlanta Falcons:
Malik Willis is an athlete, he has a cannon for an arm, and can hurt you with his legs on any given play. The Falcons said goodbye to Matt Ryan this offseason and now need to look towards the future. I have a hard time believing that Marcus Mariota is there long-term plan. The Falcons are at the mercy of a division foe in the Carolina Panthers being two picks ahead of them. In this case, it's even more interesting with both teams needing to fill the quarterback position. However, I absolutely love Willis in this spot.
Pick 9, Seattle Seahawks: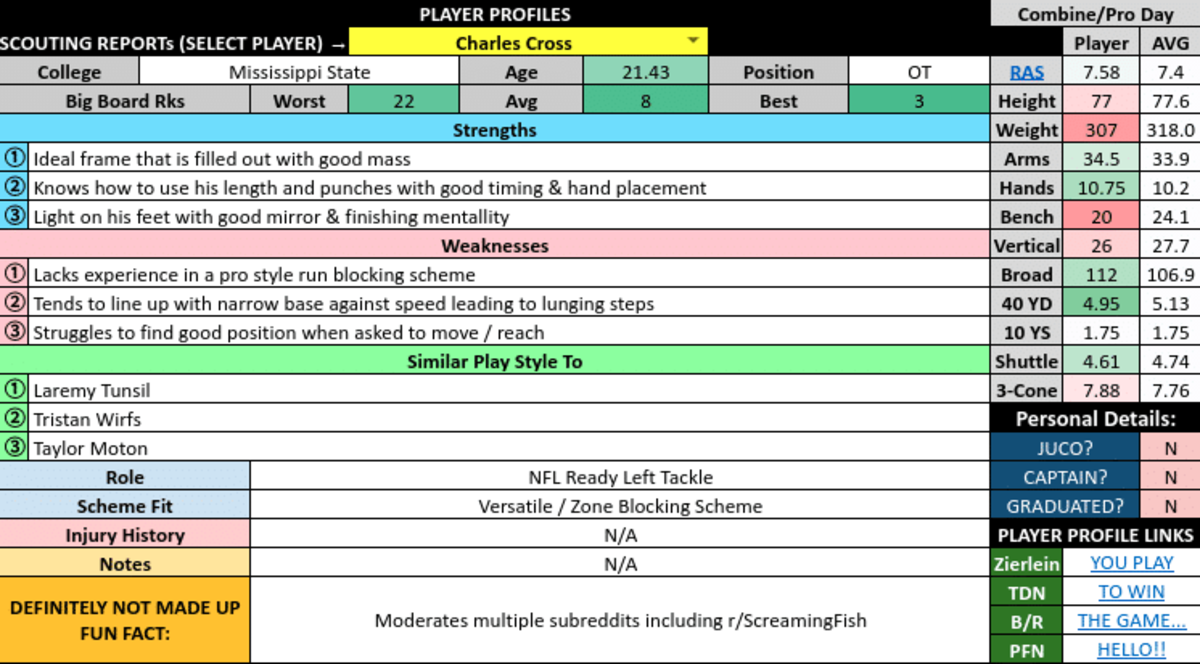 The Seahawks could not keep a quarterback or running back healthy last season to save their lives. Many of their issues on the offensive side of the ball stemmed from lackluster O-line play. I don't think there is any scenario that the Seahawks are competitive this year, so go with the safe pick in Charles Cross and start rebuilding that line from the ground up.
Pick 10, New York Jets: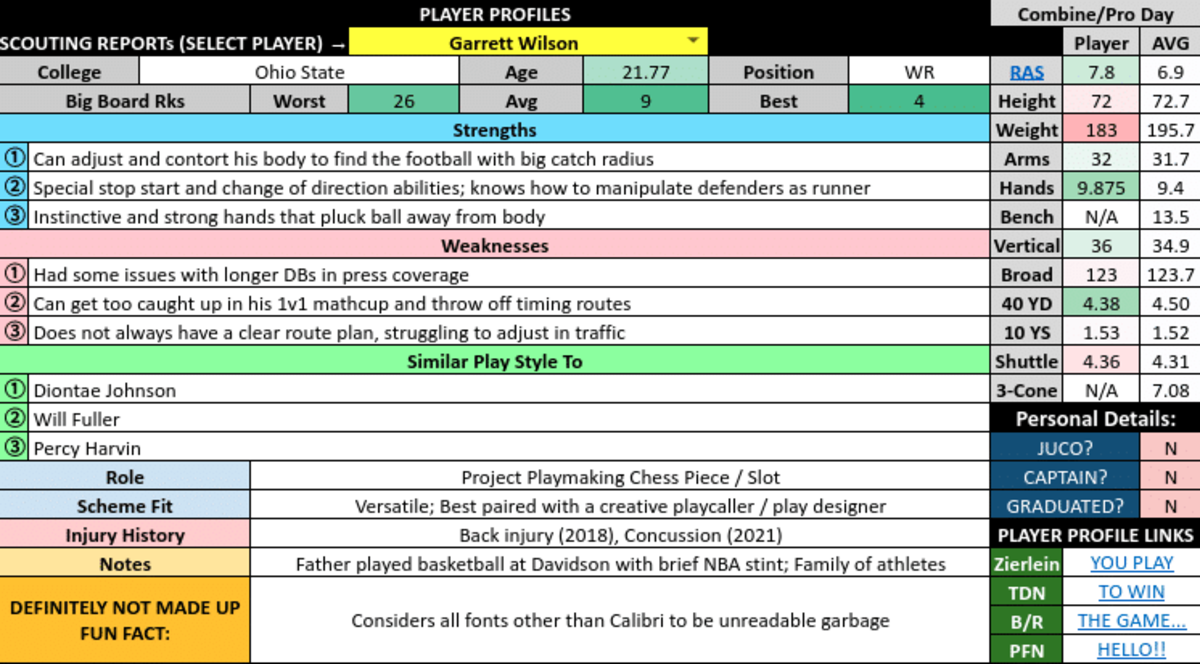 Matching Garrett Wilson with Zach Wilson is a match made in heaven. A receiver that can take the top off the defense like Wilson is impossible to pass up on when your returning leader in productivity at the receiver position is Braxton Berrios.
Pick 11, Washington Commanders: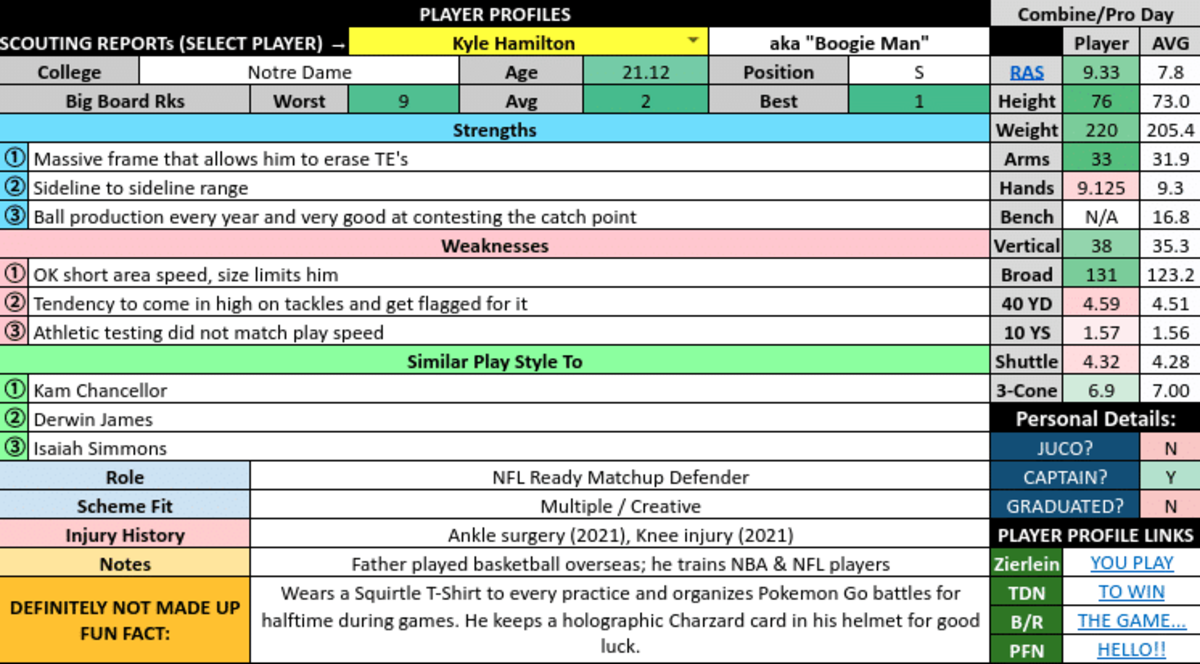 The Commanders defense significantly fell off in the 2021 campaign compared to the dominant force that they were in 2020. Adding arguably the best defensive prospect in this year's draft at 11 to their secondary could see them return to their old form. Kyle Hamilton possesses all the qualities you want to see in an NFL safety and has been seen going as high as No. 3 in other mock drafts. This could be the value pick of Day 1 if Hamilton slides to this spot.
Pick 12, Minnesota Vikings: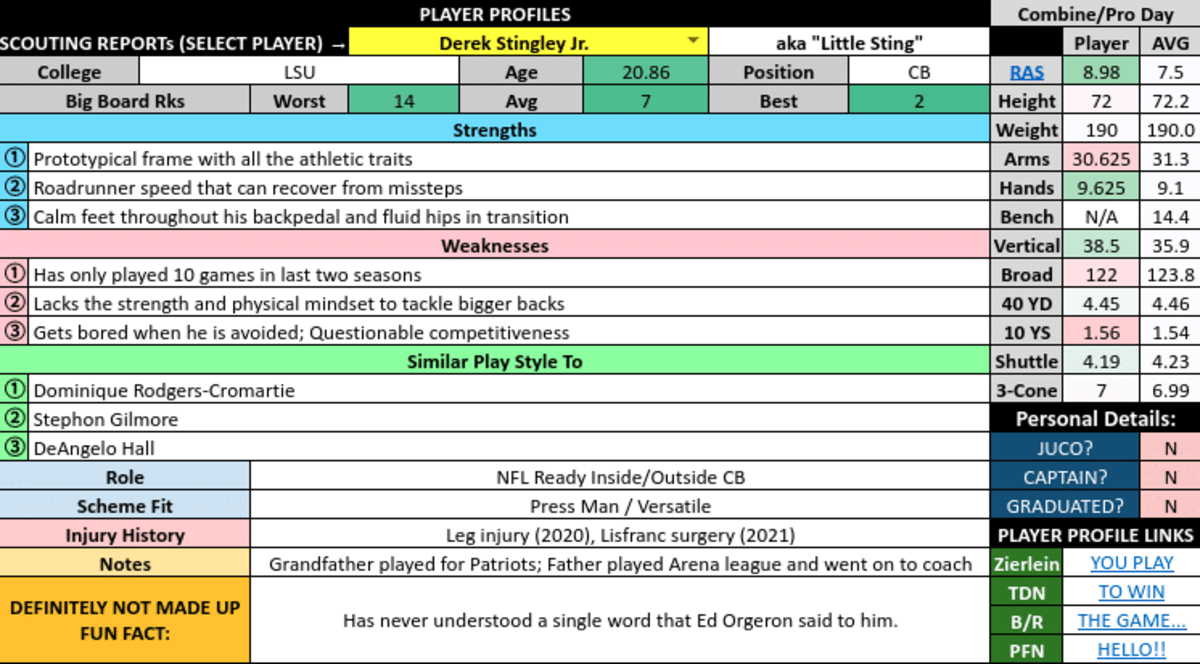 Derek Stingley Jr. had somewhat of an inconsistent career at LSU, but when he is at the top of his game he is a top three corner in this draft. It's no secret that the Vikings defense had issues in the 2021 season. They would benefit greatly by grabbing Stingley in this spot as he instantly fills the cornerback void they have going into this season. This is especially valuable in a division where you'll see Aaron Rodgers twice.
Pick 13, Houston Texans:
Jermaine Johnson's best football is ahead of him and the perfect pick for defensive-minded head coach Lovie Smith. Johnson is a player that possesses the abilities to come in right away and compete for a starting job on one of the worst rosters in the NFL.
Pick 14, Baltimore Ravens:
The Baltimore Ravens have proven over time that they are one of the best teams in the NFL at building through the NFL Draft. While some may argue they could go receiver here, I believe they attack their depleting defense by adding a quality pass rusher in George Karlaftis.
Pick 15, Philadelphia Eagles:
Before the injury, many saw Jameson Williams being the first wide receiver off the board in this year's draft. After the injury, as expected, he will slide a little bit down the board. With the Eagles having two picks on Thursday, they simply cannot pass on a receiver of his caliber given their recent blunders with drafting wide receivers.
Pick 16, New Orleans Saints:
The Saints run game was almost non existent at times last season, and with a running back of Alvin Kamara's caliber, that should never happen. By adding a mauler in Trevor Penning, they can solidify their line and try to get their offense back on track after a down season in New Orleans. Quarterback Jamies Winston is fresh off an injury and it is of the utmost importance that the Saints keep him on the field if they want to win football games.
Pick 17, Los Angeles Chargers:
The Chargers run defense couldn't stop a cold in 2021. Adding Jordan Davis to Khalil Mack and Joey Bosa on the defensive line would change that.
Pick 18, Philadelphia Eagles:
Going with the popular pick here in Devin Lloyd. Linebacker has been a need in Philly for years now. Drafting Lloyd here would finally fill that void.
Pick 19, New Orleans Saints:
The Ohio State product just seems like a New Orleans Saint. In New Orleans, he could be a good compliment for Michael Thomas or a replacement, depending on what happens with Thomas in 2022.
Pick 20, Pittsburgh Steelers:
Too early? Never too early for a quarterback when you have CONVICTION! All reports point to the Steelers loving Desmond Ridder. Maybe it's smoke. It is lying season after all. But, we are buying it here.
Pick 21, New England Patriots:
In one of the shocks of the draft, Drake London falls all the way to the evil empire. Unlikely? Sure. Impossible? No.
Pick 22, Green Bay Packers:
With Davante Adams out of Green Bay, the Packers are in need of a top wide receiver. Burks is the best available, and could theoretically fill a role that Adams played by moving all over the formation. The biggest question will be about whether he can grasp that large of a role.
Pick 23, Arizona Cardinals:
If McDuffie is on the board, the Cardinals picking him seems like a lock. In the pre-draft process the Cardinals have built a strong relationship with the CB out of Washington. Source: (https://cardswire.usatoday.com/2022/04/05/cardinals-washington-cb-trent-mcduffie-have-built-strong-relationship/)
Pick 24, Dallas Cowboys:
The Dallas Cowboys are at their best when they have a dominant offensive line. After Connor Williams moved on this offseason, there is a need at the guard spot. Don't forget, they also lost La'el Collins to the Bengals in free agency. Kenyon Green brings a big solid body who can probably start on his first day in Dallas.
Pick 25, Buffalo Bills:
Tre White is a monster. But, the Bills need someone across from him. In Andrew Booth, the Bills get a scheme versatile CB that can improve the coverage across from White.
Pick 26, Tennessee Titans:
Leaving college, Zion Johnson is a polished player who will instantly step into a starting role at guard or center and help his new team. The Titans have had a revolving door at OG the last few years and Johnson would close that door. Also, Johnson was teammates and roommates at Boston College with Mike Vrabel's son, Tyler.
Pick 27, Tampa Bay Bucs:
Ndamukong Suh remains unsigned. While Vita Vea is still there at NT, the Bucs need a 5T who can spell Vea at times. Wyatt fits the bill.
Pick 28, Green Bay Packers:
While Kenny Clark is still one of the best NT's in the NFL, the Packers could slide him over to 5T and slide Jones into the nose, or vice versa. With Dean Lowry and Jarran Reed starting at the 5T spots, they could use an upgrade.
Pick 29, Kansas City Chiefs:
The Honey Badger is gone, meaning there is a hole at S and nCB. Don't fret though, because Daxton Hill can theoretically play a similar role as a safety who can roam around and drop down into the nickel.
Pick 30, Kansas City Chiefs:
Coming in with the boom! We know from recent history that KC drafts on their own terms. They drafted Patrick Mahomes and Clyde Edwards-Helaire well ahead of where projections had those players going. This pick lands Moore with his dream fit, where he can play as a mismatch chess piece.
Pick 31, Cincinnati Bengals:
The Bengals signed Ted Karras to play center. While Karras is a center, he can also play guard, where the Bengals have another hole. This pick would give them the best center in the draft class while gaining flexibility along the OL.
Pick 32, Detroit Lions:
I could see Howell biting some kneecaps. While this would be a little early for him, that fifth-year option makes pick 32 a prime spit for a QB. I think Howell is a Dan Campbell kind of guy.
What do you think of our mock draft? Let us (@Bdon300 & @ButkusStats) know on Twitter and be sure to interact with us throughout the whole weekend! Who doesn't love the NFL Draft? What a weekend we have ahead of us.
Follow On Tap Sports Net on social media!