Things finally went right for the Chicago White Sox on Saturday. In their 4-0 win over the Los Angeles Angels, the Sox put together a complete effort for the first time in almost two weeks. Strong starting pitching from an unexpected source, a 10-hit, two-home run showing from the bats, and sound defense were the victorious ingredients. Moreover, team morale seemed to rebound and Sox baseball was fun again.
DJ Vinny Vibez
The White Sox picked up Vince Velasquez in the offseason on a one-year, $3 million deal to supplement their starting rotation depth. But on Saturday, Vinny Vibes delivered a top-of-the-rotation type of outing. Velasquez spun 5.2 innings of shutout baseball, allowing four hits and no walks while fanning six in a much-needed win to close out April.
Angels manager Joe Madden was impressed. "We saw Velasquez in Spring Training, and he was a totally different person than what we saw in camp," said the Angels skipper. In that exhibition contest against the Angels, Velasquez struggled, giving up five runs (three home runs) in just 2.1 innings.
Saturday was a much different story for him.
The right-hander faced an Angels lineup featuring former MVPs Mike Trout and Shohei Ohtani. The Halos had won six straight games and ranked first among MLB clubs in runs (104) and third in batting average (.258).
Velasquez didn't back down, instead attacking the potent Los Angeles lineup. He trusted his stuff and put together his best outing of the season before a rain delay ended his day in the sixth inning. He relied heavily on his fastball to get ahead in the count and located his secondary pitches very effectively. The righty used his mix when he went right at Trout and Ohtani in the fourth. The results were two punch-outs on two beautifully placed changeups, and both were in 3-2 counts.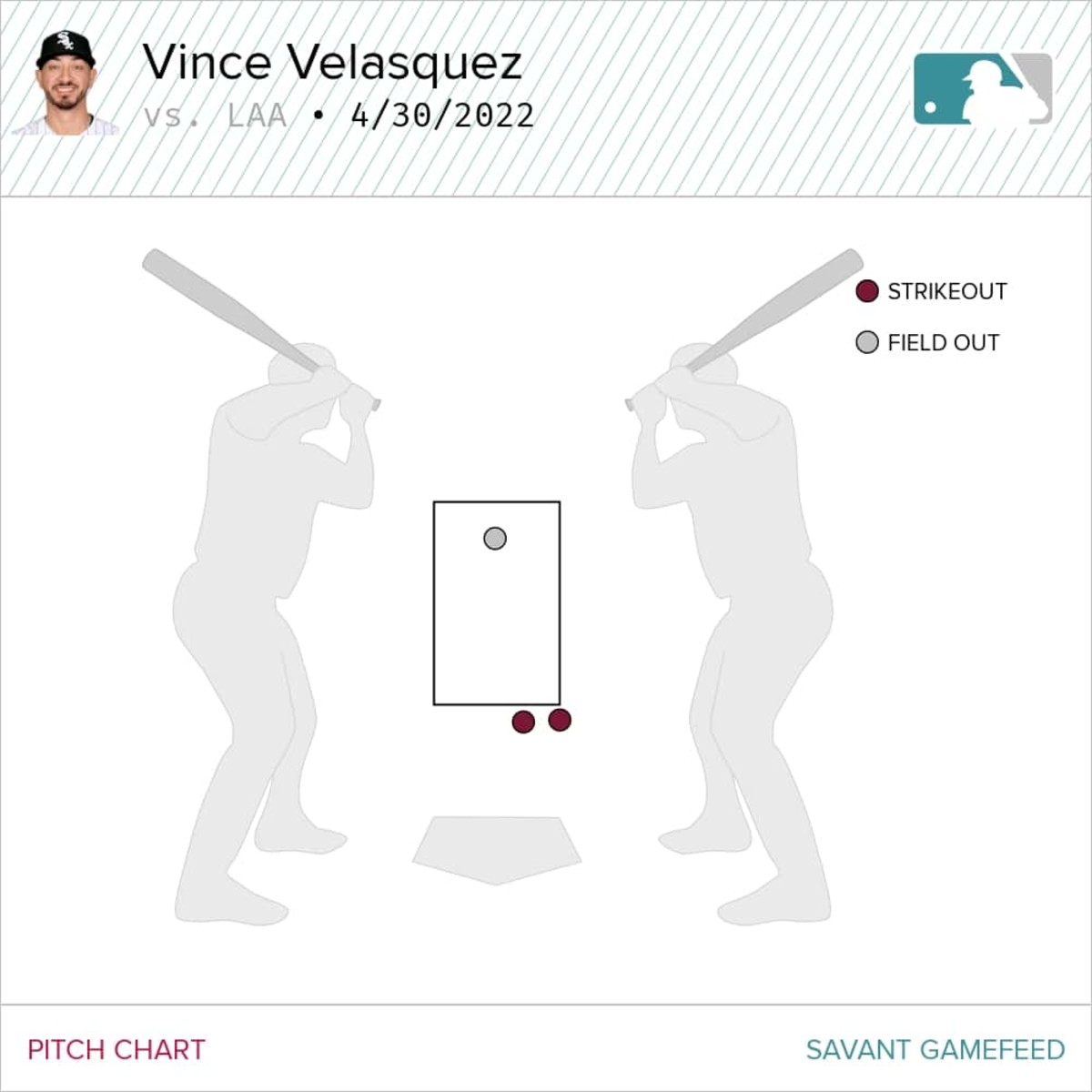 Even when the game paused, on a 2-2 count, Velasquez was vibing so hard that he didn't want to stop for some rain, even if Mike Trout was at the plate.
White Sox Offense Scores and Struggles
The White Sox got on the board early to set the tone when Tim Anderson homered in the first inning. Anderson took the first pitch he saw into the right-field seats to give the Pale Hose an early cushion.
The Sox got on the board again in the fourth thanks to MY centerfielder Luis Robert. Josh Harrison (2-2) led off with a double and Anderson reached on an infield single. Robert then hit an 0-1 pitch from Jose Suarez for a homer with two on and no outs.
The blast to right-center field landed in roughly the same area as Anderson's first-inning shot. However, besides Robert's homer in the fourth, The Sox were hitless (0-12) with runners in scoring position. They continue to struggle in these situations, striking out four times and grounding into double plays twice.
Notes
Andrew Vaughn's x-rays on his right hand came back negative. He is day to day.
The White Sox's win snapped the Angels' six-game winning streak.
Rain delayed the game for 61 minutes.
Vince Velazquez earned his first win since June of 2021.
What's On Tap Next?
The Chicago White Sox will send lefty Dallas Keuchel to the mound on Sunday. The Los Angeles Angels will counter with Michael Lorenzen for the 1:10 PM contest. Keuchel was shaky but effective in his last start against Kansas City, but the Angels present much more of a challenge at the plate. For Keuchel's and the Sox's sake, a more stable outing would go a long way toward helping right the ship to begin this grueling stretch of the schedule.
Tune in to the Sox On Tap podcast for additional postgame reaction and further White Sox commentary all season.
Follow On Tap Sports Net on social media!