As fate would have it, Ayo Dosunmu's rookie year was neither a referendum on how the Chicago Bulls used their 38th pick last July nor his G League crash pad.
No. With injuries to Alex Caruso and Lonzo Ball thinning out the team's stable of guards, the city's native son and All-Rookie standout was worth his weight in gold—or if measured by win shares, 15 Sharife Coopers.
Offense
At an 8.8 points-per-game clip, Dosunmu didn't fill it up like some of his fellow draftees. But thanks in part to his strict shot diet—nearly twice as many of his shots came from inside the paint than beyond it—he canned more than half of his attempts and 66.8% of those at the rim.
With a mind like a sponge and a bulldog spirit, Dosunmu milked his opportunities for all they were worth. He recorded two 20-plus-point games in January and a season-best 10.8 points per game in February. The University of Illinois product also slung 78 assists in a dozen games that month, 27 of which were tossed in Nikola Vucevic's direction. 
(Not for nothing, but Vucevic wound up scoring a season-best 21.4 points per game in February.)
With the gravitational pull of Vucevic, DeMar DeRozan, and Zach LaVine, Dosunmu can stand to dial up his three-point volume next season. But after making 37.6% of his threes on 2.4 attempts and becoming the franchise's highest-scoring second-rounder since Toni Kukoc, he's off to a pretty good start.
Defense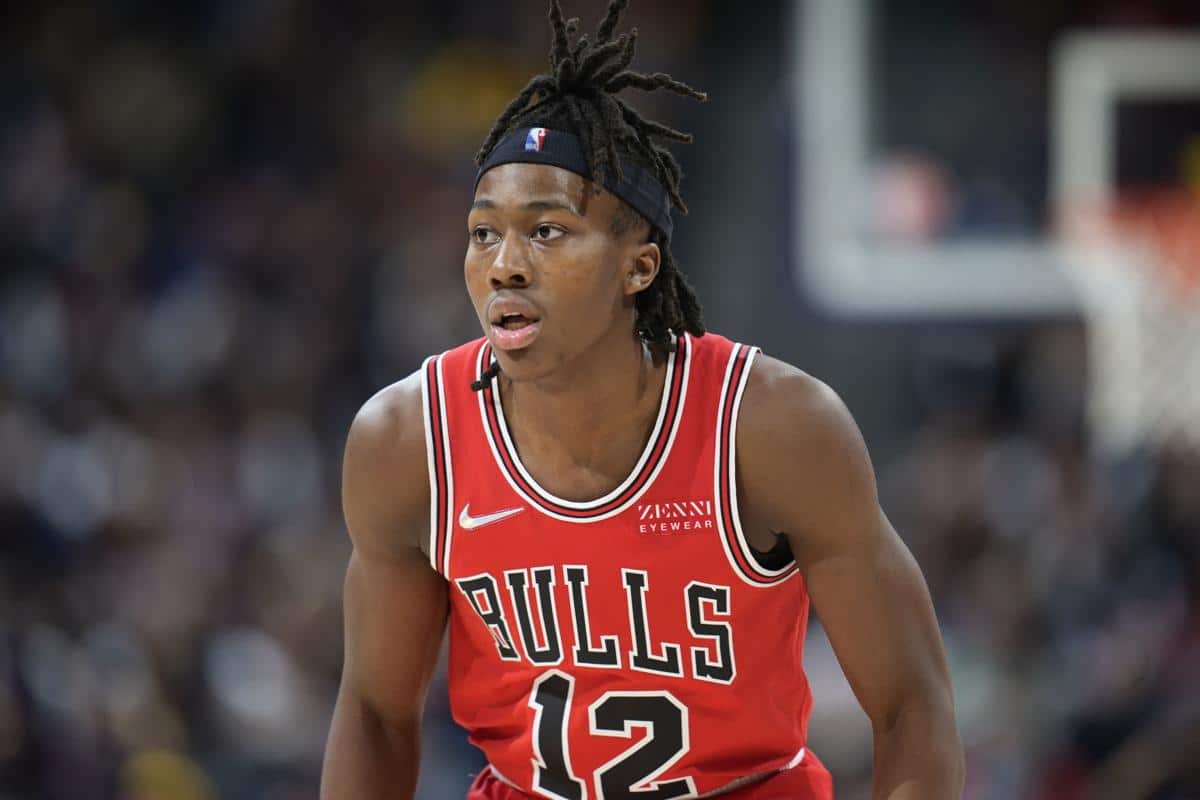 Pressed into an unexpected volume of action by way of the Bulls' injury bug, Ayo Dosunmu was oftentimes the only thing standing between the ball and Vucevic's chained feet. The results varied.
The "hidden gem" was at his best in space, finishing in the 75th percentile of isolation defenders. Of the seven players who attempted at least 15 shots against Dosunmu over the course of the season, only De'Aaron Fox and Dejounte Murray shot better than 43.8%.
In his first three matchups with Atlanta's Trae Young, Dosunmu held the two-time All-Star, who led the league in total points scored this season, to 17 points on 5-of-19 shooting. Young's fellow All-Star, Darius Garland, didn't fare much better. The Cleveland Cavaliers' guard scored 38 points across four games, but needed 31 shots to do it and turned the ball over nine times as well.
And, in two meetings with Detroit's Cade Cunningham, Dosunmu forced the first overall pick into 4-of-11 shooting with more turnovers (7) than assists (5).
But when involved in two-man actions, which he was more often than any other player in the league, Dosunmu's effectiveness took a hit. Though, to be fair, the team's general discombobulation on that end of the floor didn't do him any favors.
It's fair to assume Dosunmu will make offseason homework of the lessons he received during his rookie campaign. But what's clear as day is that, while not everyone in the fan base celebrated his arrival, Dosunmu was one of the reasons the Chicago Bulls crashed the postseason party for the first time in five years.
Grade: B+
Follow On Tap Sports Net on social media!