Can NFL defenses, and more specifically the Chicago Bears defense, create luck when it comes to turnovers? In recent years, NFL analytics have told us that turnovers are largely a product of luck. But there is one outlier that I am constantly coming back to; the Lovie Smith Bears.
NFL Turnover History
History tells us that teams rarely produce more than three consecutive seasons above average in forcing turnovers. Since 2000, only two teams have produced more than five consecutive seasons above average in this area.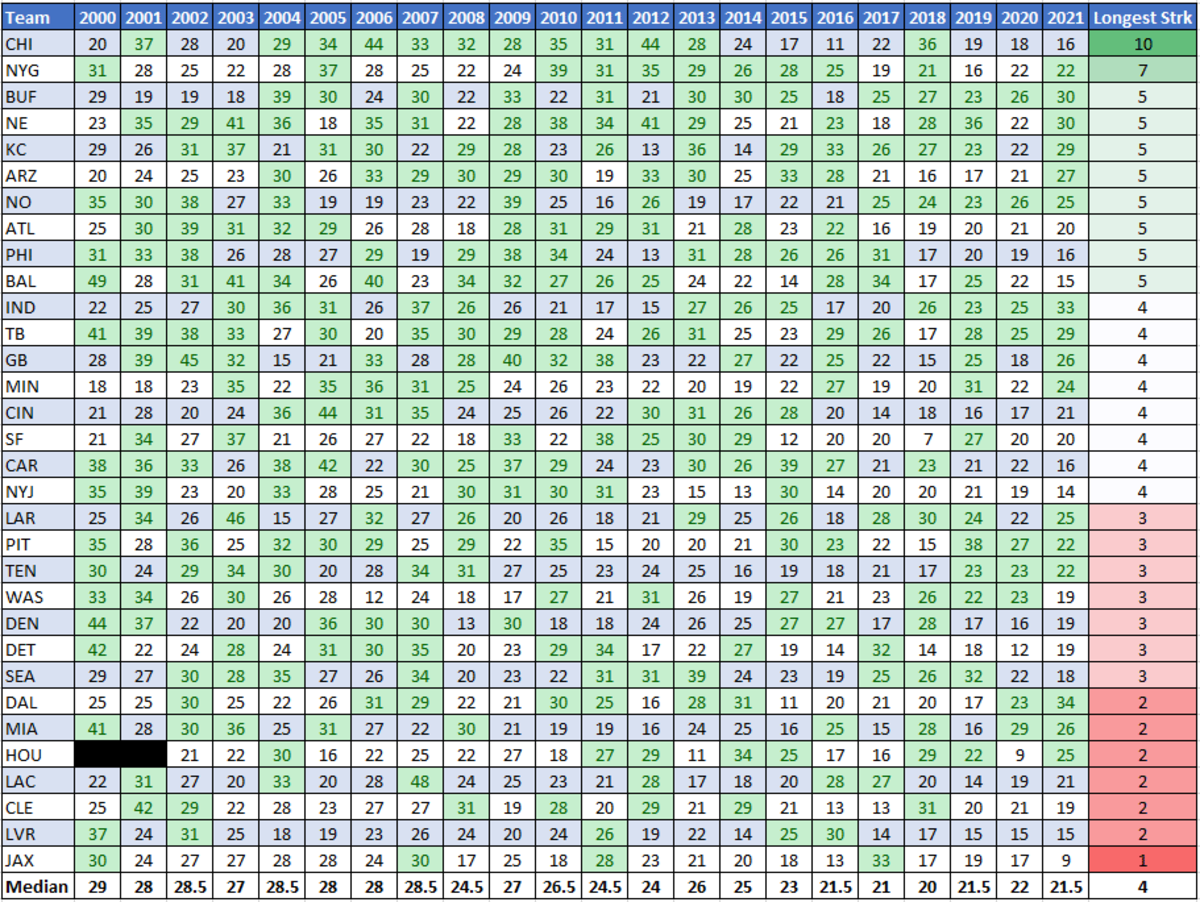 The 2010-2016 New York Giants were above average in creating turnovers for seven consecutive years. But one team stands alone at the top, the 2004-2013 Chicago Bears. Over those 10 years, the Bears ranked in the top half of the NFL in forcing turnovers every single year. The chart shows how many turnovers each team produced since 2000. The cells highlighted in green mean that the team was above the league median in that year.
How the Lovie Smith Bears Created So Many Turnovers
In the nine seasons with Lovie Smith at the helm, the Bears' defense created 310 turnovers, an average of 34 per season. That was not luck. Instead, it was the result of Smith's philosophies becoming a way of life for the team. Getting the football was a focus of every practice and defensive meeting that translated onto the football field on Sundays. 
Like Matt Eberflus' H.I.T.S. philosophy, Lovie was quick to set expectations for hustle, discipline, and leverage. That meant gang tackling with all 11 defenders flying to the football whether the play was over or not. Creating the opportunity to capitalize with hustle and energy. And once those turnovers started growing, it had an impact on the opponent's psyche.
"We became what we thought about. We thought about takeaways all the time. And we spoke it into existence. … Takeaway, takeaway, takeaway — every other sentence had takeaway in it. So when we started to do it, it wasn't surprising. We had our 10,000 hours of practice in to master it."

– Charles Tillman h/t Dan Weiderer
Can Matt Eberflus Bring that Attitude Back to the Bears Defense?
As mentioned above, the H.I.T.S. principle is not dissimilar to what Lovie was preaching. This outlines Eberflus' expectations for his players and his day-to-day mentality. Some of the talking points he has mentioned include speed, quickness, high-tempo practices, and maximum effort always.
These principles helped Eberflus' unit in Indianapolis become a top 10 defense every season he was there. In each season that Eberflus served as defensive coordinator with the Colts, they were top 12 in the NFL in turnovers. In addition, he acknowledged that his principles are like those Lovie Smith used in Chicago. For example, Eberflus' point system and t-shirts for ballhawks were similarly existent in Chicago when Brian Urlacher, Lance Briggs, and Charles Tillman roamed the defense. With all that said, it certainly seems like he can.
Follow On Tap Sports Net on social media!