Thursday, June 9, 2022, will be remembered as a landmark day in the world of professional golf. As the golfers all teed off to start the inaugural LIV Golf Invitational in London, the PGA Tour announced all participants would be suspended. Here are my thoughts on the first round of the LIV Golf Invitational.
Pros of LIV Golf Invitational Series
The Shotgun Start
Streaming Accessibility
No Cut
The Shotgun Start
This is what I liked most after watching the first round of the LIV Golf Invitational Series in London. A shotgun start sees every golf pairing on a different hole's tee box to start. A horn sounds, and all golfers begin at the same time.
There are a few things that make this format appealing to me. If everyone starts together, they finish together too. On the final round, it will be cool to see the excitement and pressure as it comes down to the wire simultaneously. It also means that playing conditions are level for the field. On the PGA Tour, your start time can massively impact your course conditions. In the LIV Golf tournaments, weather and other elements should impact everyone.
The time it took for the round was also great. If you love having golf play on your TV all day — like on the PGA Tour — this may be a negative for you.
Streaming Accessibility
Plainly put, it was very easy to watch. I streamed through YouTube, but there were other options such as Facebook and the LIV Golf website. I had no issues getting it up on my laptop, my phone, or my TV. While not a traditional way of watching golf, streaming is the future.
No Cut
The cut offers some excitement, no doubt. But some of that excitement, in my opinion, comes with the plodding pace of the initial rounds with a full field of a standard tournament. With everyone golfing at the same time in the LIV Golf Invitational Series, that's not an issue.
Additionally, I feel that players will be willing to take more risks, especially in the early rounds. Trying to cut corners, or clubbing up more often with a hope of lower scores and access to the riches at the end of the tourney. Just wait until Bryson is out there!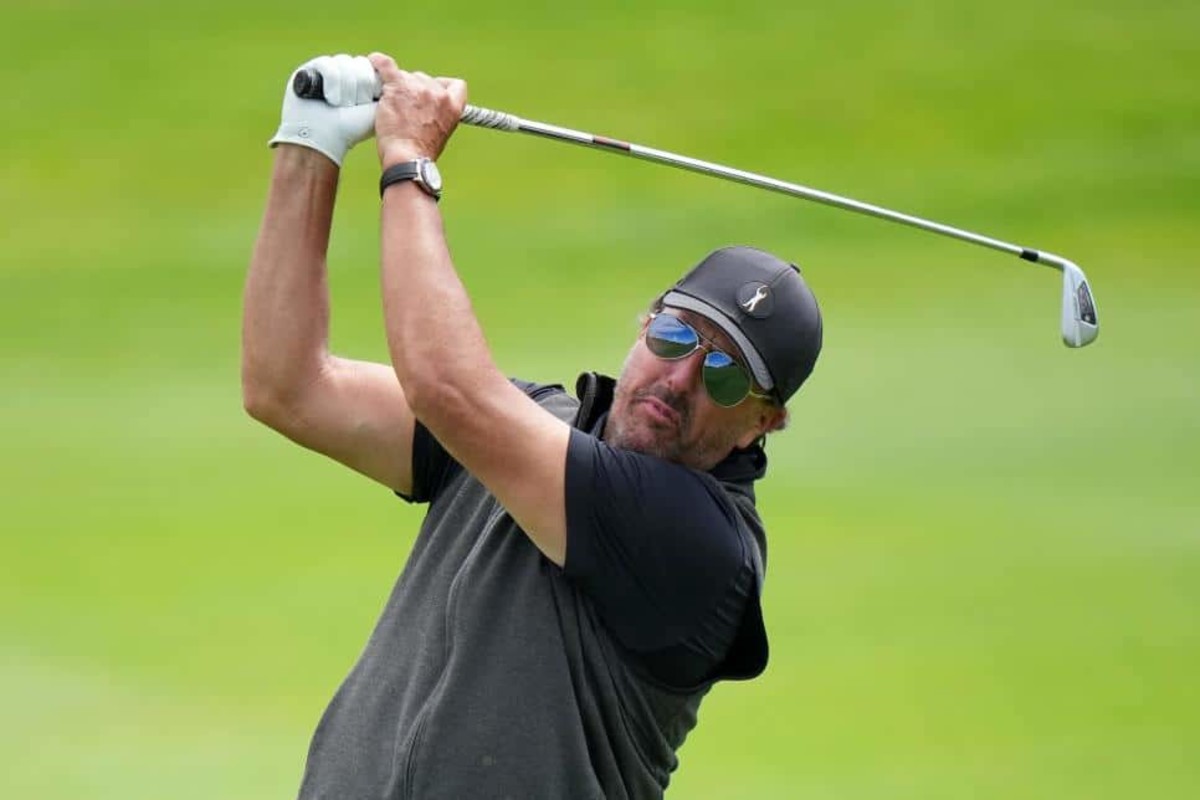 Cons of LIV Golf Invitational Series
Unrefined Stream Presentation
Rusty/Unfamiliar Broadcast Team
Unrefined Stream Presentation
I've heaped a lot of praise on the shotgun format, but for a streaming broadcast, it did pose some problems. With so many golfers in action at the same time, it can be a bit overwhelming to the viewers and the broadcast team alike (more on them later). With time, LIV Golf will bring on network partners and further dial in their streams. Options to follow specific groups or players on a team will be a welcome, and highly likely, future enhancement.
For the moment, it's a little chaotic, but not too bad. Worth noting, I only watched the YouTube stream, it's possible that the LIV Golf website has a different experience. I'll check it out tomorrow.
Rusty/Unfamiliar Broadcast Team
Considering it was the first stream, this critique isn't too surprising. The glorious vocal cords of Arlo White are always a calming, welcome sound. That said, there were a number of moments where the broadcast team felt disjointed. Issues included not knowing which golfer the video feed would cut to and confusing events as they took place.
With the pace of play, this is going to be a tough one to solve for. Adding additional broadcast options focusing on smaller chunks of the event may help calm the chaos a bit. If you go that route, LIV Golf, holler at your boy. I can hook you up with a hilarious 18+ broadcast option.
Final Thoughts
In my opinion, the PGA Tour has a big problem on its hands. LIV Golf has the financials in place to not worry about being in the red for years. They will have the opportunity to continue to siphon off fringe Tour players and fading stars. And as LIV improves the delivery of its product, the viewers will follow.
Without sweeping changes to the PGA Tour format, the old guard's only hope is that the major events will disqualify golfers for playing in LIV events. The 2022 U.S. Open will allow LIV golfers to play, at least for this year. If golfers can still compete for the only trophies people really care about — the trophies that legacies are built around — many will follow the money.
Follow On Tap Sports Net on social media!