If you have been following along with Lonzo Ball news this offseason, you have probably heard that the Chicago Bulls' point guard has been making "progress" as he rehabs from his knee injury last season. You know, progress. Everyone from Billy Donovan to Marc Eversley to Arturas Karsinovas really wants you to know—in incredibly vague terms—that Ball is progressing. While they are all saying they hope Ball will be ready for training camp, there has not been much to offer hope that that will be a reality.
Anyway, in more positive Lonzo news, The Athletic's Seth Partnow released tier four of his top 125 players yesterday (subscription required), and Ball was a representative for the Bulls. In case you missed it, we filled you in on Partnow's ranking system yesterday when Nikola Vucevic, Alex Caruso, and Ayo Dosunmu were named to tier five.
For a quick recap, those in tier four are players that Partnow's analytical formula finds to be top starters or key reserves. While they aren't ranked specifically, this means Ball is resides in the 41-84 range.
Lonzo Ball's Slot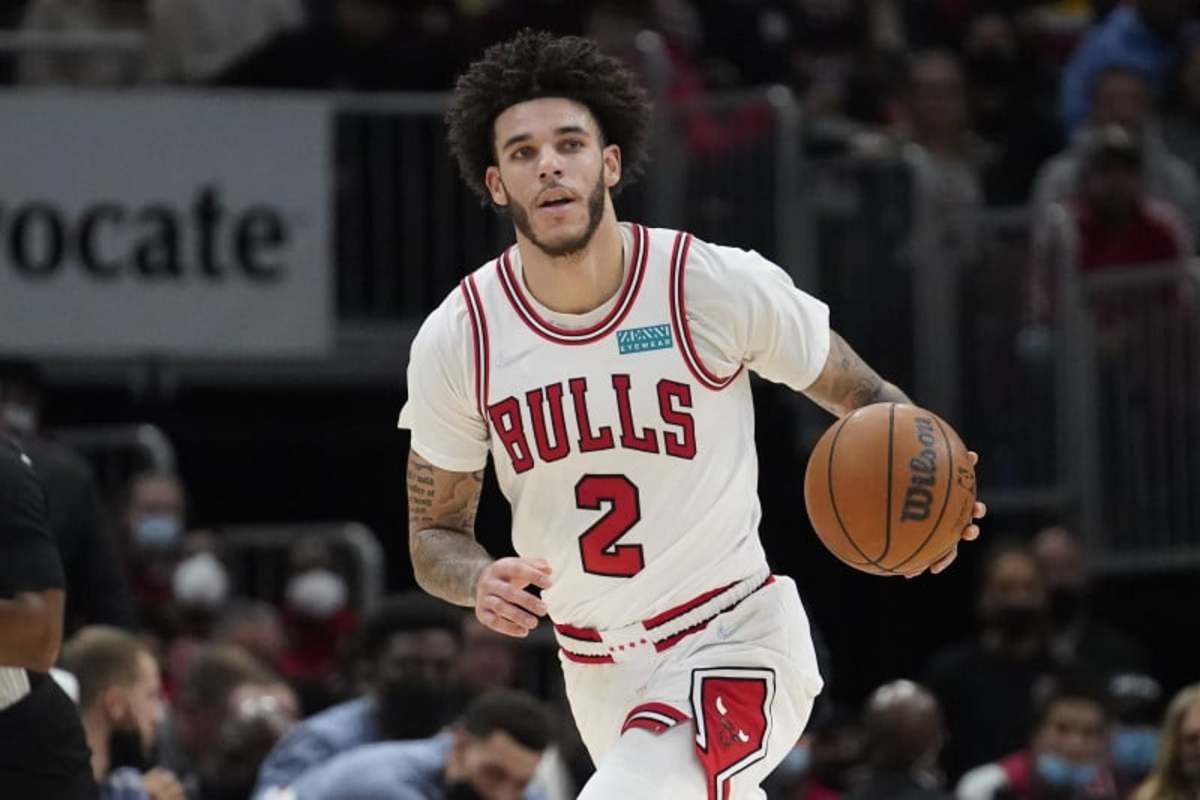 Lonzo Ball enters tier four after starting last season in tier five. Essentially, the analytics/Partnow saw enough in 35 games to improve Ball's ranking. That's impressive for a couple of reasons.
First, Partnow takes players' proneness to injuries into account when making these rankings. Ball has dealt with injury concerns his whole career, but he still makes tier four. Secondly, this means that Ball probably would have ascended even higher if not for the injuries.
Ball's estimated plus/minus (EPM) regarding wins comes in at 4.7. That, in addition to Vucevic, Caruso, and Dosunmu's combined 8.1 wins, means this quartet is projected to add nearly 13 wins to the Chicago Bulls. It's safe to say Ball probably blows his EPM wins out of the water if he stays healthy. Remember, the Bulls were 22-13 with Ball and 24-23 without him. Having a point guard who shoots 42.3% from deep on 7.4 attempts per game is—you know—good.
4B or Not 4B
Partnow breaks tier four into 4A and 4B, and Lonzo Ball is in 4B. This puts him between slot 60 and 84 in the NBA. 4B is also the home of players like Tobias Harris and Tyrese Haliburton, to give you some reference. Obviously, the hope is that Lonzo outplays this tier. Truly, the hope is that he plays. If Ball stays healthy and plays like he was playing last season, it's easy to see him start next season in 4A or even tier three.
We'll keep you updated as Partnow releases his future tiers. Now, it just comes down to where Zach LaVine and DeMar DeRozan slot it. My guess is they'll be in tier two or three—probably either on the low end of two or high end of three. We'll let you know, Bulls Nation.
Follow On Tap Sports Net on social media!