As the Chicago Bears build toward the future, their success hinges on quarterback Justin Fields. Many people around the league believe Fields possesses all the talent to become a franchise quarterback. During his rookie season, his development lagged due to a shoddy offensive line and Matt Nagy's inept scheme. The newly released Madden 23 quarterback ratings sparked debates about players around the league, including Fields.
Justin Fields Madden Rating
Madden 23 grades Justin Fields at 74 overall, which ranks 25th among quarterbacks. The game lists him at 90 for speed, which is a dynamic part of Fields' play. It puts him fourth overall in speed among quarterbacks. In 2021, Fields was tested on his ability to evade defenders on the rush. This year, the hope is that the offense features rollouts and designed runs to help keep opposing defenses honest.
Fields received a 92 on throw power, good for 11th overall. The Bears come into this year with a questionable receiving core, according to Madden ratings. Darnell Mooney, who poses a downfield threat, will be the No. 1 wideout. Luke Getsy's offense should incorporate more deep balls, which should allow Fields to show off his arm strength.
Fields' ratings in the aforementioned areas are pretty high compared to the other quarterbacks with similar overall ratings.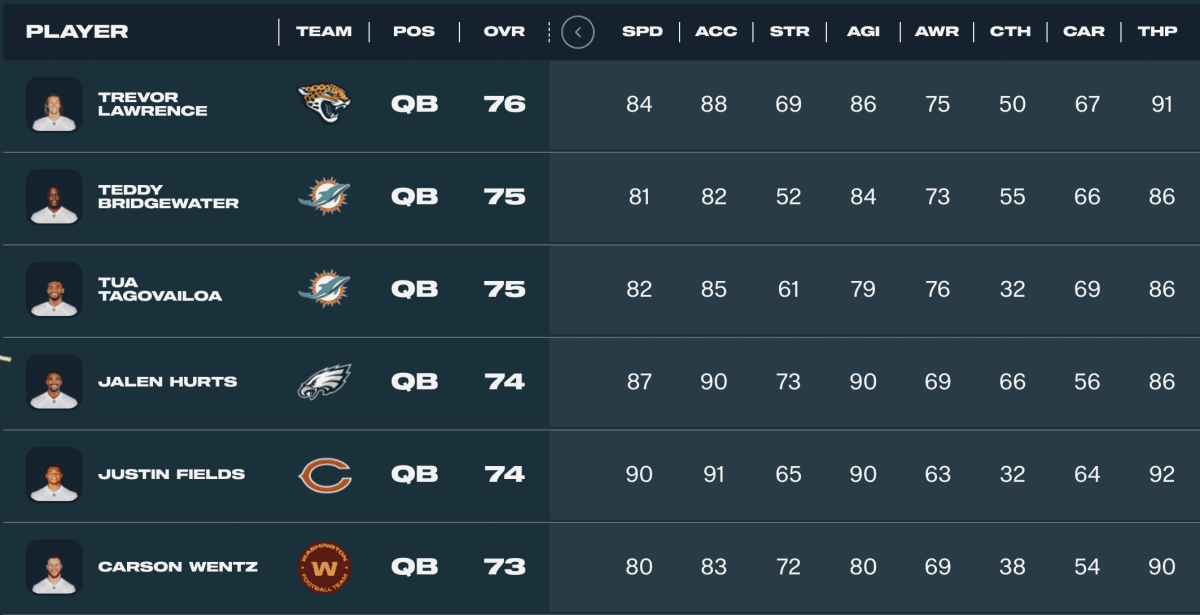 But when it comes to awareness and decision-making, Fields lacks. Having better offensive minds around him should help Fields improve in both areas. In turn, his speed and arm power should gain more respect from defenses. With a proper growth trajectory, Fields could quickly climb into another tier as the season progresses.
Follow On Tap Sports Net on social media!