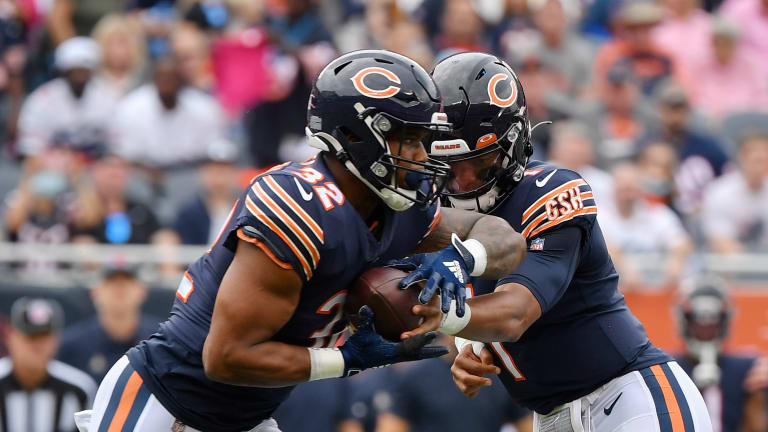 3 Key Concepts for Bears vs. Lions
How the Bears fare in these areas against the Lions will likely determine their fate on Sunday.
The Chicago Bears play at Soldier Field for the second consecutive week for a noon matchup against the Detroit Lions on Sunday. Over the last three weeks, the Bears have averaged 31.3 points per game (sixth in the NFL) and 376 yards per game (10th in the NFL). However, their defense has allowed 32.7 points per game (31st in the NFL) and 360.3 yards per game (21st in the NFL). This is uncharted territory for us Bears fans. It's rare that we see this many points scored on either side of the field.
The Bears will face the Lions, who have been largely up and down offensively this season. While they have had three games with 30+ points scored, they have also had three games with 15 or fewer points scored. Meanwhile, their defense has sat near the bottom of the NFL all season, allowing an average of 29.3 points per game. But they are coming off a game against Green Bay where they limited the Packers to only nine points. I expect a lot of points in this game, with coaching decisions, player execution, and "want to" deciding the outcome.
Keep an eye out for these key concepts in the Bears vs. Lions game Sunday:
1. Limiting the Lions Offense
D'Andre Swift is a playmaker, though you would not really know it looking at his volume stats this season. But don't be fooled. While Swift only has 391 yards, he has done that on just 50 touches due to being injured for a large portion of the season. He has averaged 7.8 yards per touch (first among RBs with 50+ touches).
Additionally, he has generated an explosive play (20+ reception or 15+ yard rush) on 14% of his touches (NFL Team Average is 7.2%). After coming off the injury report this week, Swift should see an increased workload. The Lions use him in the backfield, the slot, out wide, and inline.
Amon-Ra St. Brown, brother of Bears' wideout Equanimeous St. Brown, is the Lions top receiver. Technically, he has only missed one game due to injury. But he missed most of two other contests where he tried to play but could not stay on the field. In games that St. Brown has started and finished, he has averaged 6.8 catches on 10.4 targets for 75 yards. Overall, he has generated an explosive play on 14.6% of his touches (NFL Team Average is 7.2%). St. Brown has played the majority of the last two games and should be full-go for Sunday. On the season, 51% of his snaps have come from the slot, while 45% have come out wide. He has also spent some time in the backfield and inline.
Chicago must know where these two players are at all times, as both offer positional versatility and mismatch potential. The Bears will need to maintain sound gap integrity against the run in nickel. Because if they cannot stop the run from nickel, the Lions will just run the ball down their throat. But if they go heavy (three LBs), the Lions will use that to get Swift or St. Brown against the LB in space. Putting together a solid plan for this and executing it will go a long way toward limiting the Lions' offense.
2. Long, Sustained Touchdown Drives
This has not been a major issue for the Chicago Bears, especially in recent games. On the season, the Bears rank 12th in the NFL in time of possession per drive and ninth in third down conversion rate (43.4%). Additionally, they are converting those drives into touchdowns at a 55.2% clip, which ranks 16th in the NFL. Over the last three games, they have converted third downs at a 64% clip.
Consistently marching down the field for touchdowns will be important this week. And that means converting third downs and getting into the end zone on red zone appearances. Why will it be more important this week? Because the Lions have shown that they can score points, even if they are erratic. If they Bears stall out on multiple drives early, there is a chance that they fall behind by multiple scores. And if that happens, I am not sure that Chicago's defense has the horses to give the offense time. That would result in the Bears relying on Detroit making mistakes to get back into the game.
So the Bears need to flip that script. Put the pressure on the Lions to answer them. Then turn that pressure into impatience and capitalize on the mistakes that result from the risks born from impatience. The Bears need to set the pace early and make the Lions match them, not the other way around.
3. Finish
"Never die easy. Why run out of bounds and die easy? Make that linebacker pay. It carries into all facets of your life. It's okay to lose, to die, but don't die without trying, without giving it your best."

- Walter Payton
This is a hungry Detroit Lions team. We can make all the jokes and memes that we want about biting kneecaps and their 5-19-1 record under Dan Campbell. But at the end of the day, this is a team that has grit and fights to the last minute.
Against the Eagles, the Lions trailed 31-14 midway through the third quarter. Fast forward to the final three minutes of the game, and the score was 38-35. They fell behind 31-15 early in the third quarter against Seattle, but only lost by three points. Additionally, they have surprised a few teams this year. Like when they entered the fourth quarter against the Vikings leading 24-14. Or when they led the Cowboys at halftime 6-3.
Do not sleep on the Lions. This team is built around their offensive line and defensive line. They are strong physically, and do not quit. While they are certainly not a good football team, they have proven that they can be a dangerous one. Because of that, the Bears need to have a finishing mentality on every play. Never die easy. Finish your man to the ground up to the whistle. Step on their throat when given the chance. Because if you leave even an inch of daylight, they are going to fight and tear and claw with their fingernails to find it.