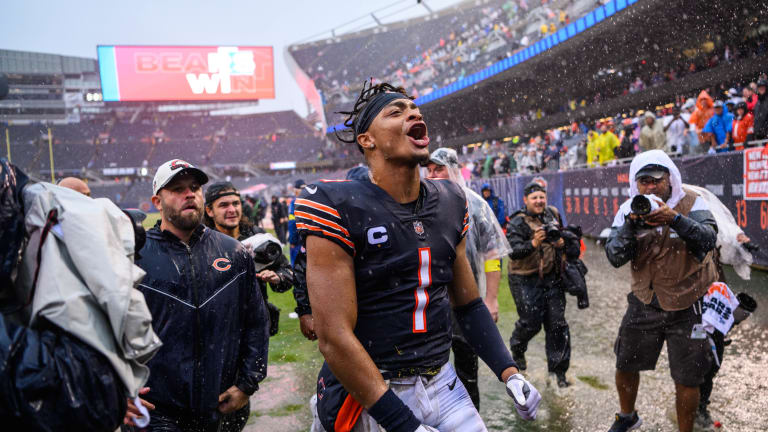 The Most Impressive Bears' Win Since 2018?
Was the Bears' win over the 49ers in Week 1 their most impressive victory since 2018? Vegas thinks so.
The Chicago Bears' win over the San Francisco 49ers on Sunday was quite the sight. The rain-soaked Chicago victory was especially impressive because the 49ers betting win total is set at 9.5 wins this season. For the 2022 NFL campaign, 15 teams have a win total of 9.5 or more. While this is thrown off a little bit by the 17-game season that was instated in 2021, we are just going to roll with the number 9.5.
Since 2015, the Bears have only played 35 games against teams with a preseason win total of 9.5 or higher. Over that span, they have a record of 9-33 against such teams. But much of that damage came in 2018 when the Bears twice beat the Vikings while also getting the best of the Rams and the Packers.
Bears' Record Against High-End Opponents
During the John Fox era, the Bears won two of their 10 contests against such teams. Then, in the Matt Nagy era (2018-2021), the Bears won six of 22 games. However, if we exclude 2018 from that number, then the win total falls to two of 16 games.
But that is all in the past as the Bears have entered the Eberflus era (2022-?). And Coach Flus kicked off his first season with an upset victory over the San Francisco 49ers, who have a 2022 win total set at 9.5 wins.
Bears' Most Impressive Wins Since 2015
To nobody's surprise, the most impressive Bears' win in this time span is the 2015 Thanksgiving victory over the Packers at Lambeau. It was a wonderful way to celebrate the holiday. Next up, we have the overtime thriller against the Steelers from 2017. The next four all occurred in 2018, with only three wins against high-end opponents since.
With a little luck and some quality coaching, we can all hope that Sunday's win is a sign of things to come for the Eberflus-led Chicago Bears. We will have our chance to find out against the Packers (10.5 O/U), Vikings (9.5 O/U), Cowboys (10.5 O/U), Eagles (9.5 O/U), and Bills (11.5 O/U).