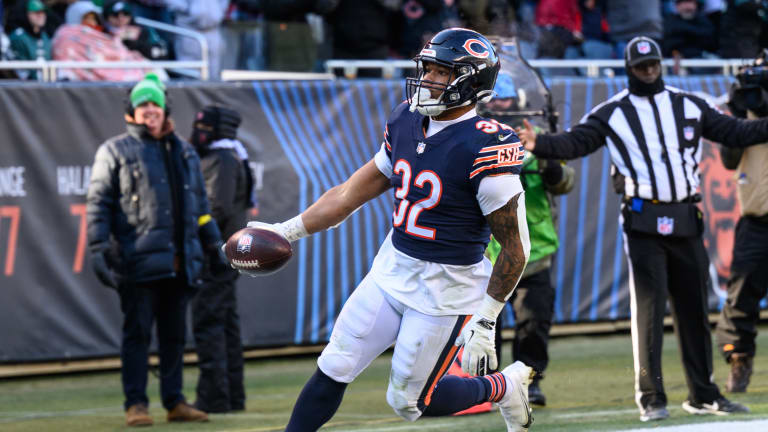 NFL Week 16: Bears vs. Bills Best Bets
Earn a little extra holiday cash with these prop bets for Bears vs. Bills on Christmas Eve.
The weather outside is frightful. But the NFL season is so delightful…Well, at least for one of these two teams. On Christmas Eve, the 11-3 Buffalo Bills visit frigid Soldier Field, where they can clinch a third straight AFC East title with a victory over the 11-3 Chicago Bears.
The Bills are no stranger to blizzard-like conditions. As of this writing on Friday afternoon, it's below zero degrees near Chicago, with a feels-like temperature near 30 below zero.
When these teams square off on Saturday afternoon, it's expected to be around 10 degrees with a feels-like temperature of 10 degrees below zero. The wind is the most impactful force to watch for. Forecasters are also predicting Chicago to get 20 MPH sustained winds with gusts around 35 MPH, which can negatively impact the passing game. Both quarterbacks have strong arms, but Josh Allen has repeatedly proven that he can cut passes through the wind.
With that in mind, here are my favorite bets for this Week 16 game.
Justin Fields Over 211.5 Passing + Rushing Yards (-114 FanDuel)
Welcome to the weekly trend. I'm not sure I've seen a bad Fields prop bet this season. However, I've been leaning especially hard on his combined passing and rushing yardage prop. Fields can beat you in multiple ways, and he always seems to bail the offense out, whether the line can't hold up long enough in pass protection or his receivers can't get open.
Sitting at 1,000 rushing yards for the season, not only did Fields break a 50-year-long franchise record for most rushing yards in a single season by a quarterback, but he is 207 yards away from breaking the all-time record set by Lamar Jackson in 2019. Again, as I mentioned in last week's picks, he's well aware of the record, and I believe he'll try extremely hard to break it.
The Bills present a top-five Total DVOA defense while being top 10 in both Pass DVOA and Rush DVOA. Injuries are mounting for the Bears. Two key offensive linemen are listed as doubtful for the game, with both left and right guards, Cody Whitehair and Teven Jenkins, getting hurt in last week's game. As if it wasn't already, Chicago's wide receiver corps is further in shambles with Darnell Mooney still on IR, Chase Claypool doubtful, and Equanimeous St. Brown out.
How Fields will pick up the yards necessary in the passing game is beyond me, but he's shown the ability to pull a rabbit out of his hat whenever needed. Fields has combined to go over 211 passing and rushing yards in nine of his last 10 games while averaging 265.6 total yards during that span. In the only game in which he didn't surpass 211 yards, he finished right at that number against the Dallas Cowboys in Week 8. (Play to 215.5)
I still prefer Fields' combined yardage because there are many routes he can get there. However, if you're in favor of one over the other and looking for individual prop lines of each, here are the best numbers I could find.
Justin Fields Over 130.5 Passing Yards (-113 BetRivers)
Fields has surpassed this in nine of his last 10 games.
Justin Fields Over 70.5 Rushing Yards (-120 PointsBet)
Fields has surpassed this in seven of his last eight games.
Justin Fields Over 0.5 Passing Touchdowns (-129 BetRivers)
Until last week's game against the Philadelphia Eagles, Fields had rushed for a touchdown in six straight games. He was held out of the end zone last week. However, he threw for two touchdowns, marking eight of his last nine games where he's thrown at least one touchdown. Windy conditions aside, he can toss at least one for a score.
I'd play this bet up to -138 odds. Anything richer than that feels like a less-than-advantageous wager.
David Montgomery Over 11.5 Receiving Yards (-117 BetRivers)
As previously alluded to, the Bears have very few viable options to catch passes from Justin Fields, and they have a banged-up offensive line, which will keep long, drawn-out pass plays in check. Montgomery is a threat to catch passes out of the backfield, and he's been targeted a bunch over the last four games.
Although fellow running back Khalil Herbert has returned from IR, Monty is the Bears' preferred receiving back. Over the last four games, he's averaged four targets, 3.3 receptions, and 33 receiving yards per game. The Bills allow nearly 31 receiving yards per game to opposing running backs. Montgomery should easily crack 15-plus yards. (Play to 14.5)
Stefon Diggs Over 63.5 Receiving Yards (-113 FanDuel)
For the most part, we've seen the Chicago Bears' secondary play well this season but get zero help from the defensive line. The Bears can't get a steady pass rush to save its life, which leads to issues, especially later in games, as evidenced last week against the Philadelphia Eagles. Jaylon Johnson played tight coverage against A.J. Brown most of the game, yet he still caught nine passes for 181 yards. DeVonta Smith added five catches for 126 yards.
Although I'm a Bears fan, Diggs is easy to root for, especially after his positive impact on a young fan's life, which made its way to social media last week.
The Bears placed Jaylon Johnson and Kindle Vildor on IR this week, joining starting safety Eddie Jackson. Their swiss cheese defense just got even worse, with rookies Jaquan Brisker and Kyler Gordon as the only remaining starting secondary members.
Diggs hasn't broken 60 receiving yards in the last two games. However, before the previous two, from Weeks 5-13, he went on a stretch with at least 77 receiving yards in seven of eight games. I expect him to crush the Bears and get closer to his season average of 92.8 per game. (Play to 71.5)
---
Happy Holidays to all. We could all use a little extra holiday cash. Best of luck this week, and let's cash some tickets.