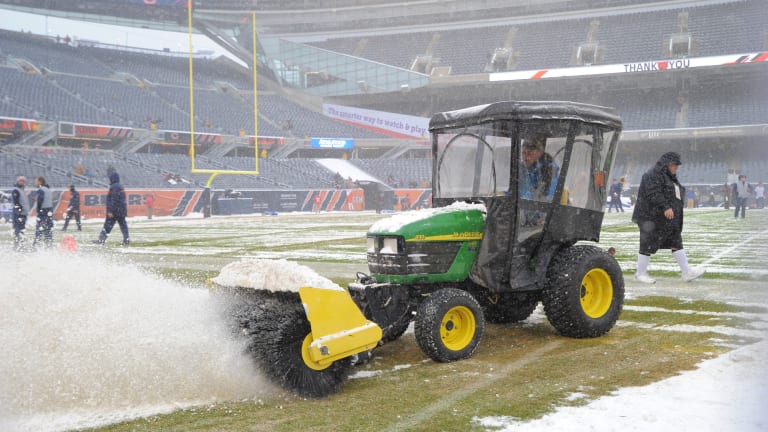 How Will The Weather Impact Bears vs. Bills in Week 16?
Saturday's forecast calls for overcast conditions with heavy wind gusts and an arctic blast.
The Chicago Bears and Buffalo Bills hit the field Saturday for a Christmas Eve matinee matchup. Looking at the weather forecast, the conditions will be less than ideal for players, coaches, and fans. However, that comes with the territory of playing outdoors in Chicago in the middle of December.
Currently, the forecast calls for overcast conditions with heavy wind gusts and an arctic blast. The high temperature on Saturday will be 9º F with 20-30 MPH winds and gusts over 40 MPH.
Those wind gusts coupled with the already cold temperature will bring sub-zero wind chills.
Luckily, this matchup will likely dodge the massive winter storm that's expected to hit the region on Thursday and linger into Friday.
It seems wherever the Bills go, inclement weather seems to follow. Saturday will mark the third time this season that significant winter weather will impact the AFC East leaders.
The Bills had to move their Week 11 contest against the Cleveland Browns from snow-blanketed Buffalo to Ford Field in Detroit. And last week against the Miami Dolphins, they barely avoided blizzard-like conditions, which did start to creep in late in the fourth quarter.
Nevertheless, with gusty winds expected Saturday, both teams will have to alter their game-plans and rely more on the running game. Both Josh Allen and Justin Fields are mobile QBs and can run the ball themselves.
For the Chicago Bears, potentially getting Khalil Herbert back helps them tremendously. Herbert and David Montgomery comprised a two-headed monster when both were healthy earlier this season. As for the Buffalo Bills, they may have to rely more on James Cook and Devin Singletary. Nyheim Hines and Duke Johnson may also be in the fold as well.
As things currently stand, there are no plans to move the Week 16 contest from Saturday to Sunday. However, Andrew Siciliano of NFL Network reports both teams are prepared for any potential changes.