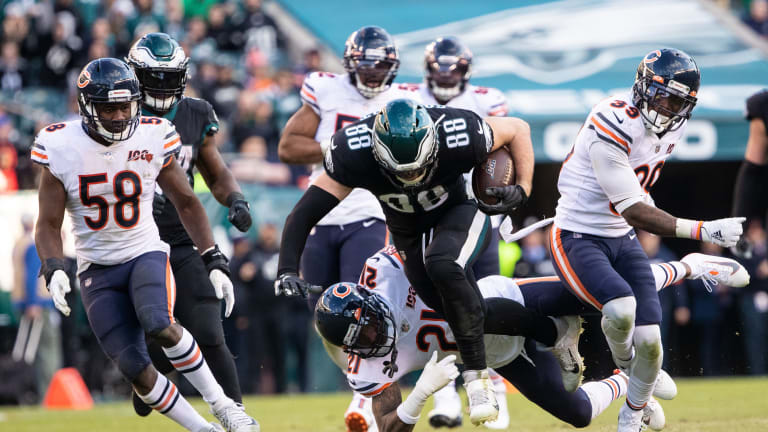 Bears Matchup Flashback: It's NOT Always Sunny in Philadelphia
Three years ago in Philadelphia, the final score did not properly reflect the Bears' ineptitude on offense.
On Sunday, the Chicago Bears take on the Philadelphia Eagles at Soldier Field. The Week 15 showdown features two teams headed in different directions.
On one hand, the Bears sit at 3-10 and are in the driver's seat for a top-three pick in the 2023 NFL Draft. Meanwhile, the Eagles are cruising atop the NFC at 12-1.
However, Chicago is coming off a long rest as Week 14 was their bye week. Philadelphia enters this contest following a thorough thrashing of their divisional rivals, the New York Giants, in the Meadowlands.
Bears vs. Eagles: Head-to-Head History
Believe it or not, Sunday will be the 47th head-to-head meeting between these two teams since the rivalry started in 1933. In the 46 matchups to date, the Bears hold a commanding 29-16-1 lead in the series.
Likewise, Chicago is outscoring Philadelphia 958 to 727 all-time head-to-head.
Bears: 20.8 PPG
Eagles: 15.8 PPG
This rivalry has been like an NBA game — a stretch of runs. The first-ever Bears and Eagles matchup resulted in a tie before the Bears won 10 in a row. And in the first 20 instances, the Bears held a 17-2-1 record over the Eagles.
This rivalry was predominately owned by the Bears until 1993. During a stretch from 1994 to 2004, the Eagles went 6-1. Then from 2007 to 2011, it was the Bears going 4-1. Since 2011, Chicago has gone 0-5 against Philadelphia.
Additionally, these two teams have met in the playoffs four times — twice in the NFC Wild Card game and twice in the NFC Divisional game. Sadly, the Bears are 1-3 in those games, which includes the infamous 2018 NFC Wild Card game.
In Chicago (Home):
Games Played: 23
Record: 16-7-0
Points Scored: 497 (21.6 PPG)
Points Allowed: 385 (16.7 PPG)
Differential: +112 (4.9 PPG)
In Philadelphia (Away):
Games Played: 23
Record: 13-9-1
Points Scored: 461 (20.0 PPG)
Points Allowed: 342 (14.9 PPG)
Differential: +119 (5.1 PPG)
Previous Matchup
The last matchup was on November 3, 2019. A Week 9 contest that saw the 3-4 Chicago Bears take on the 4-4 Philadelphia Eagles at Lincoln Financial Field.
The Bears entered the game led by head coach Matt Nagy and quarterback Mitchell Trubisky. Meanwhile, the Eagles had HC Doug Pederson at the helm and QB Carson Wentz under center.
First Half
If offense is what you crave, the first half was not for you. The Bears got the game started by going three-and-out and only managing one yard of offense.
Following the punt, the Eagles marched 70 yards on 12 plays in six and a half minutes. However, the Bears' defense made a stop near the goal line and held the Eagles to a 28-yard Jake Elliot field goal, which gave Philadelphia an early 3-0 lead.
In response, the Bears did what they knew best. It was another three-and-out resulting from a three-play, -2 yard drive that lasted only 1:07. Once again, they punted the ball to the Eagles.
Similar to their first drive, Philly stormed 61 yards on 12 plays in 7:16. But the Bears' defense held tough inside the red zone, which resulted in a second 28-yard Elliot FG. The Eagles increased their lead to 6-0.
On their third drive, the Bears went three-and-out...AGAIN. This time a three-play, -6 yard drive that took a tick over three minutes off the clock. Once again, Chicago punted. 
Consequently, the Eagles cashed in for a third time. On this drive, they went 62 yards on seven plays in just under four minutes. However, Carson Wentz connected with TE Zach Ertz for a 25-yard touchdown pass. But the Bears caught a bit of a break as Elliot missed the extra point. Nonetheless, the Eagles were out to a 12-0 lead.
Unfortunately, the rest of the first half was a snoozer as each team just could not muster any offense. 
Bears: 3 plays, -2 yards, 1:42 (Punt)
Eagles: 3 plays, -12 yards, 1:34 (Punt)
Bears: 3 plays, -11 yards, 1:05 (Punt)
Eagles: 3 plays, 6 yards, 0:57 (Punt)
Bears: 5 plays, 34 yards, 0:36 (Punt)
Eagles: 5 plays, 26 yards, 0:27 (End of Half)
At halftime, the Bears trailed 12-0 and had only logged 14 yards of offense on 20 plays (0.7 Yds/Play). Absolutely disgusting.
Second Half
The second half featured a lot more offense than the first half, though it wasn't a very high bar to top. The Eagles came out of the gate and moved 84 yards on eight plays in 4:23. Former Bears running back Jordan Howard found the end zone for a 13-yard touchdown to give the Eagles a 19-0 lead.
Surprisingly, the Bears' offense had an answer. Go figure. They stormed 75 yards on seven plays in just over four minutes. David Montgomery rushed it in from one yard out to cut the Eagles' lead to 19-7. 
Then, both offenses went into hiding again.
Eagles: 6 plays, 11 yards, 2:31 (Punt)
Bears: 3 plays, 4 yards, 1:23 (Punt)
Eagles: 3 plays, 1 yard, 1:31 (Punt)
Finally, the Bears' offense broke the dullness of the game. On a drive led by Trubisky and Montgomery, Chicago stormed 58 yards on eight plays in 3:21. Montgomery broke the plane from one yard out to cut Philly's lead to 19-14 and make it a game again.
In response, the Eagles ran five plays and moved 11 yards in two and a half minutes before punting the ball. However, the Bears fared no better. Their drive lasted just four plays and netted 18 yards in 1:35 before a punt back to Philadelphia.
The Eagles had one push left in them. They grinded out a 16-play, 69-yard drive that spanned 8:14. Ultimately, Philadelphia settled for a 38-yard Elliot field goal to push the lead to 22-14.
Down eight points with 0:25 left, the Bears had a chance. However, Adam Shaheen had other plans as he fumbled the ensuing kickoff. The Eagles recovered and that was all she wrote. After one kneel-down, the Bears fell 22-14 to the Eagles. 
Overall
All things considered, the Bears made a game out it after trailing 19-0. Still, the offense was horrendously bad in the first half.
All in all, they put up 164 yards of offense on 42 plays (3.9 Yds/Play), which was amazing given that they averaged 0.7 Yds/Play in the first half.
Nevertheless, Mitch Trubisky had a rough day at the office. He went 10/21 for 125 yards (6.0 avg), 0 TD, 0 INT, and a 66.6 QB Rating. The Bears' QB also took three sacks for a loss of 23 yards.
David Montgomery was the leading rusher with 40 yards on 14 carries (2.9 avg). It wasn't a whopping total, but he did score two touchdowns. Additionally, the rookie RB was active in the passing game as he caught three passes for 36 yards.
Taylor Gabriel was leading pass catcher for the Bears. He hauled in three receptions for 69 yards.
Defensively, the Bears did an okay job. The Eagles racked up 373 yards on 78 plays (4.8 Yds/Play) thanks to a decent game by Carson Wentz. He went 26/39, 239 Yards (6.1 avg) for 1 TD, 0 INT, and a 91.1 QB Rating. Although, the Bears' pass rush did bring him down four times for a loss of 12 yards.
In the running game, Jordan Howard and Miles Sanders combined for 124 yards on 29 carries and one touchdown. 
Howard: 19 carries, 82 yards (4.3 avg), 1 TD
Sanders: 10 carries, 42 yards (4.2 avg)
And finally, Zach Ertz was the Eagles' biggest playmaker of the game. He hauled in nine catches on 11 targets for 103 yards (11.4 avg) and one touchdown.
As for the special teams, both punters had a busy day, but Pat O'Donnell should be the MVP. He booted eight punts for 372 yards (46.5 avg) with his longest going for 72 yards.
The NFC foes combined for only one turnover, which came on the Adam Shaheen muffed kick at the end of the game.
Aftermath
The loss dropped the Chicago Bears' record to 3-5. In their final eight games, they went 5-3 and wrapped up the season with an 8-8 mark. It was a four-game fall-off from their 12-4 campaign in 2018. The .500 record saw them miss the playoffs.
The 2019 season began to raise red flags surrounding Matt Nagy as a head coach and play-caller.
As for the Philadelphia Eagles, the win over the Bears boosted them to 5-4. They proceeded to lose their next three games and drop to 5-7. However, they won their last four games and finished the season 9-7, which was good enough to earn them a playoff spot.
However, they were a one-and-done postseason squad as they lost to the Seattle Seahawks in the Wild Card game.
RELATED: Bears vs. Eagles: Week 15 Preview, Predictions, Odds, Matchups