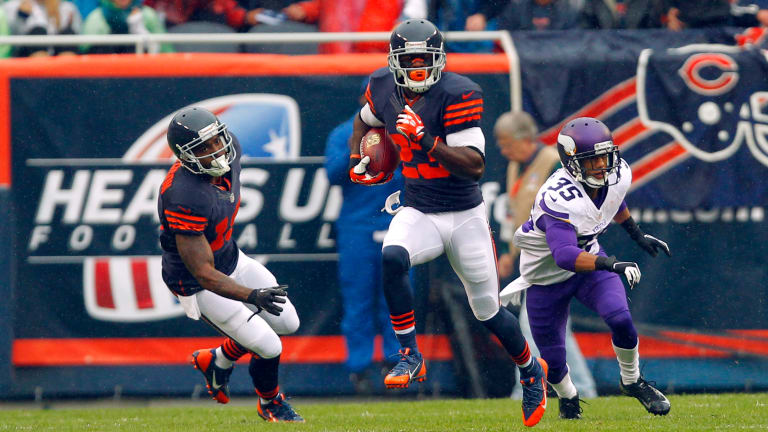 Bears Legend Devin Hester HAS To Get Into The NFL Hall Of Fame This Time
The best return man to ever step on the gridiron is a semifinalist for the Hall of Fame once again.
Almost one year ago exactly, the NFL Hall of Fame named Devin Hester a semifinalist for the 2022 class. On Tuesday afternoon, they revealed the list for the 2023 Hall of Fame class and the Chicago Bears great is once again on it.
Devin Hester HAS To Make It This Year
It was an absolute travesty that the NFL didn't award Hester with the honor that is the Hall of Fame on his first ballot. There aren't that many notable kick and punt returners throughout the history of the NFL and it's widely accepted that Devin Hester is the greatest one of all time.
Granted, he didn't find too much success as a wide receiver and is mainly known for his return abilities. There's also the aspect of the NFL not selecting players only as returners. But that shouldn't take anything away from one of the single most dangerous players when he has the football.
There were stories upon stories of Hester running right through a special teams unit and coaches trying to scheme around him. It never worked and if he wasn't scoring, he was gaining a big chunk of the yards back.
Make no mistake, the Chicago Bears have had a lot of success on special teams in recent decades. Nathan Vasher, Cordarrelle Patterson, and Jakeem Grant have all made impressions in the return game in addition to their primary position.
But that's what should make Hester so spectacular. He made a difference in the game that few players did before and after he did. There isn't another special teams player the opposition couldn't scheme against like Hester.
The NFL must select Devin Hester for the Hall of Fame in 2023 and Chicago Bears fans need to really bump up the support.